I recently fell in love with the idea of these cute little air plant terrariums at Viva Terra, but I wasn't in love with their price tags ($69 each, on sale!) or the fruit shaped glass.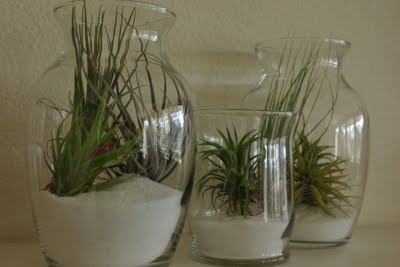 (Pardon the horrible photos! I couldn't seem to avoid the glare of the sun no matter where I tried to photograph them!)
Oh, did I mention that my eBay auction win actually contained TEN plants (the Viva Terra terrariums only come with four!)? That means that I have enough air plants to spread the love throughout the house!
They look so pretty and delicate, but they "thrive on neglect" according to the care directions. PERFECT! I can successfully garden like crazy outdoors, but I seem to have a knack for killing every house plant that has ever come in my general direction. Fingers crossed that air plants are the solution to my lack-of-indoor-greenery problems!
In the end I spent $22 on this project (I clearly should have gotten a couple more glass containers because I didn't realize how big a few of these plants are! I plan to get two more to split up some of the more cramped looking arrangements.), but I was able to get a TON more bang for my buck as I now have SIX air plant terrariums bringing some much needed greenery indoors!