I've been having so much fun making baby shower gifts for my cousin! She's due with a baby GIRL in July, so you can bet I've been taking advantage of the opportunity to create some girly things for a change! Her baby shower was this past weekend, so I can finally reveal some of the cute things I made for her without ruining the surprise 🙂
It wouldn't be a baby shower without lots and lots of onesies!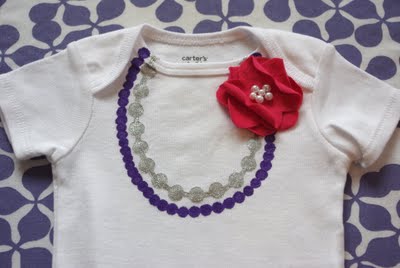 To make this flower necklace onesie, I freezer paper stenciled the silver necklace and used a pen cap dipped in fabric paint to create the purple necklace. The flower was made with fabric that I had leftover from a t-shirt that I had used for another craft and pearls from an old wedding dress. I overheard someone at the shower say, "Awww, now she'll always have a bib on!" so maybe I kind of missed the mark on this one since it was supposed to look like two necklaces…at least it looks like a fancy bib, right?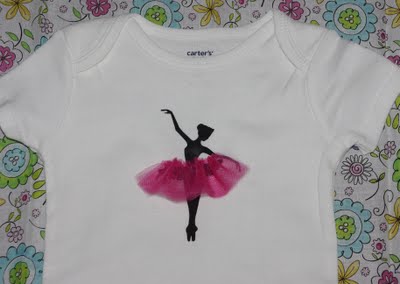 The ballerina onesie was my favorite by far (and everyone else's too, it seemed!)! It was made with a black iron-on transfer that I cut on my Silhouette and a few layers of hand-stitched and trimmed tulle. Super easy peasy!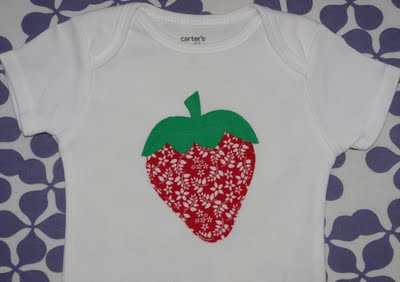 The strawberry onesie was supposed to be entirely appliqued, but my first attempt at applique didn't exactly go according to plan. After sewing on the red fabric for the berry, my green fabric just would NOT cooperate – fraying deeply at the edges and refusing to stick to the onesie despite a layer of Heat N' Bond. In the end I quickly used another freezer paper stencil to paint the green top, because it was late, and I was running out of time! This is my least favorite of the bunch, but I adore strawberries, so I still can't hate it too much 😉
Next up: A Taggie-style ribbon blanket tutorial and personalized name plaque!