Back-to-School Essentials
This post and its photos may contain affiliate links. As an Amazon associate I earn from qualifying purchases. If you make a purchase through these links, I may receive a small commission at no extra cost to you!
This is a sponsored post written by me on behalf of The makers of the HORMEL™ NATURAL CHOICE™ brand. All opinions are 100% mine.
Head back-to-school with these essential school supplies! Make sure you're prepared for the new school season with all of these must-have back-to-school necessities!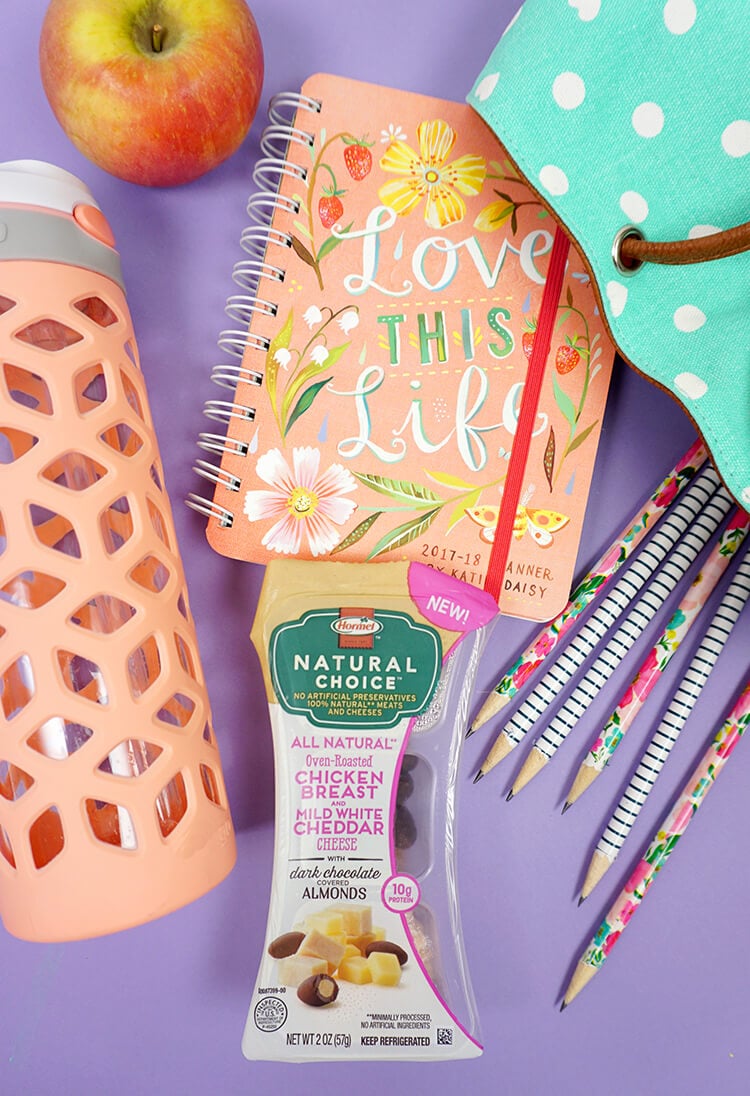 Summer is winding down, and back to school time is just around the corner! I can't believe it's that time of year again already! When I was growing up, back-to-school shopping was one of my favorite things in the world, and I loved buying new school supplies and clothing for the occasion. Actually, I still really love back-to-school shopping, and I definitely still have a notebook obsession!
When you get ready to head back to school, your child's teacher will provide you with a list of supplies that are needed for the students in their classroom, but there are a few basic must-have essentials that EVERY student needs at back to school time!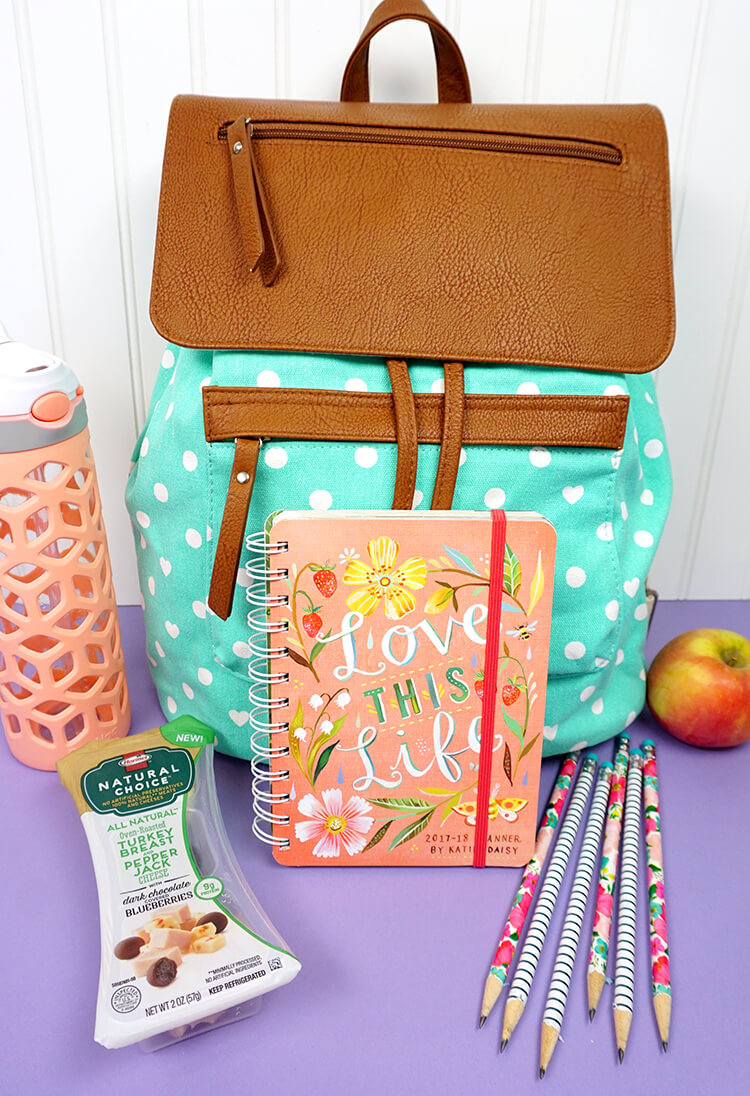 No matter if your child is headed to kindergarten or off to college, these basic essentials are necessary for all levels!
Back-to-School Essentials:
Backpack

– a sturdy backpack is an absolute must-have, especially for older children. Choose a backpack with padded straps and a wide base for comfortably holding school books and binders.
Pens and Pencils – you can never have enough pens and pencils! Younger students may need washable markers, crayons, and colored pencils. Older students may require highlighters, mechanical pencils, and erasable pens.

Water Bottle

– Stay hydrated all day long with your personal water bottle. Stainless steel water bottles are a great choice for younger children, and glass bottles with a silicone sleeve are another option for careful older children.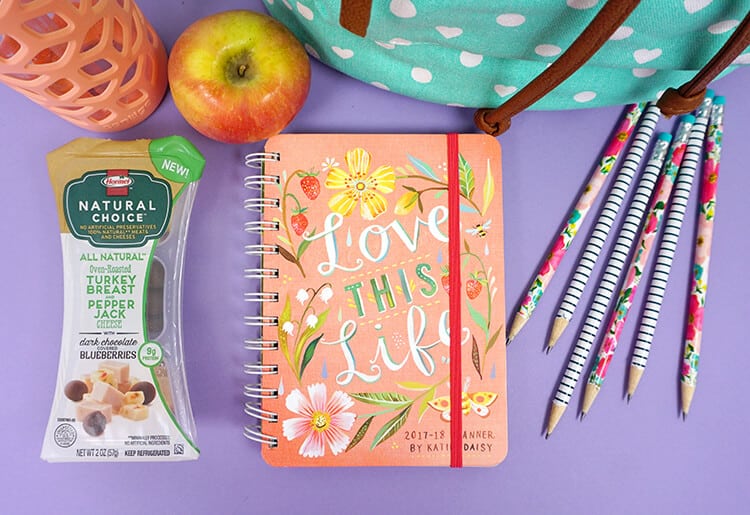 Notebooks and Planners – Notebooks are required for most grade levels, and planners are a necessity to help older students to keep track of homework assignments, study sessions, and due dates.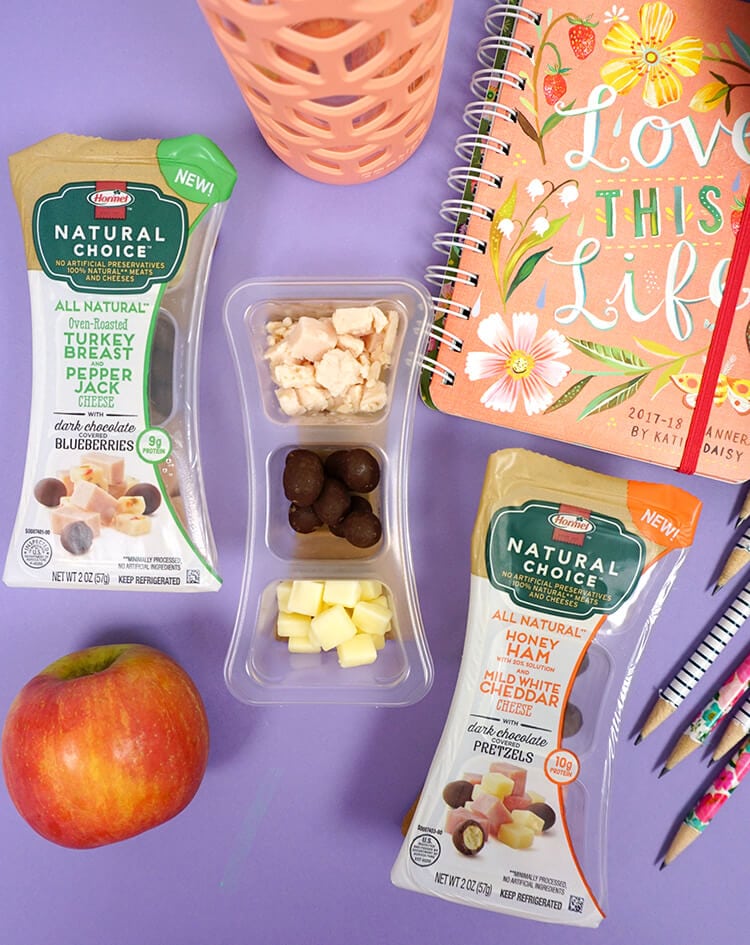 Lunchbox – today's lunch boxes come in all different shapes and sizes to suit your student's needs. Choose one with adequate insulation to last until lunchtime and be sure to check out our favorite super easy bento lunch box ideas. We also have a collection of over 350 printable lunch box notes – one for every day of the school year!
Snacks – nutritious snacks are an absolute must to make it through the school day! Selecting protein snacks can also help to maximize cognitive function. We've been hooked on HORMEL™ NATURAL CHOICE™ snacks lately because we can't get enough of the yummy bite-sized pieces of 100% natural meat and cheese!* HORMEL™ NATURAL CHOICE™ snacks come in four different delicious flavor combinations – Oven-Roasted Turkey with mild white Cheddar cheese and chocolate covered pretzels, Honey Ham with mild white Cheddar cheese and chocolate covered pretzels, Oven-Roasted Turkey with Pepper Jack cheese and chocolate covered blueberries, and Oven-Roasted Chicken with mild white Cheddar cheese and chocolate covered almonds – they're the perfect size for snacking between classes or after school!
Did you notice that each HORMEL™ NATURAL CHOICE™ snack ends with a yummy chocolate covered treat!? That's my favorite part! Actually, my favorite part is that all HORMEL™ NATURAL CHOICE™ meat and cheese are minimally processed with no preservatives** or artificial ingredients. Find out more here, find a store in your area that carries HORMEL™ NATURAL CHOICE™ snacks, and be sure to download a coupon here to save on your next purchase!
Happy back-to-school season!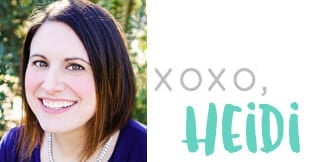 * Minimally processed. No artificial ingredients. ** No nitrates or nitrites added except for those naturally occurring in cultured celery and cherry powder.
If you like this back-to-school post, don't forget to pin it!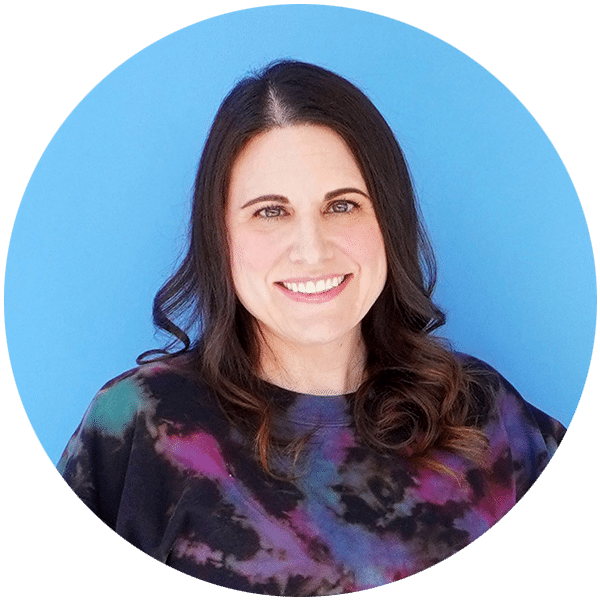 Heidi Kundin has captivated the hearts of millions with her colorful and inspiring approach to crafting, celebrations, and family fun. With over 15 years of experience, Heidi's website has become a must-visit destination for those seeking quick and easy creative ideas and last-minute solutions. Her warm personality shines through her posts, inviting readers to join her on a creative journey that's fun, rewarding, and achievable.