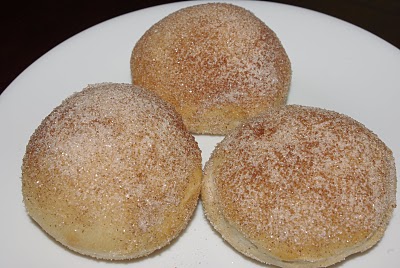 Yum! The boys are on Summer break from school, round two, for the next two weeks, so I've been trying to come up with some new ideas to keep us all entertained (since it's been hot and no one wants to play outside after 10 am!). Today's inspiration came from The Artful Parent who linked to THIS RECIPE for baked cinnamon sugar donuts. I cheated a little bit and let my bread machine mix the dough for us, but in retrospect I'd mix it by hand next time because it was a little tough and overworked so it didn't roll out as nicely as I had hoped. The only change we made to the recipe was to add about 1 tsp. of cinnamon to the donut dough mix. I guess I should actually call these donut puffs since I was too lazy to dig out the small circle cutter to cut the holes from the middle 🙂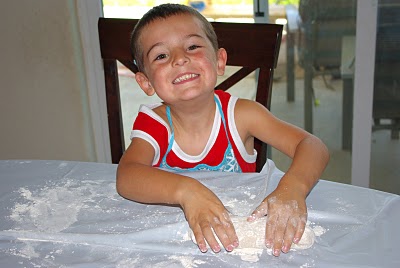 When I suggested that we make donuts, I might as well have told this kid that we were going to discover a million dollars today…he was beyond thrilled and couldn't wait to get his hands into the dough!

This guy was more annoyed with the fact that I wouldn't let him eat his entire pile of raw dough, but he still had fun shaping it and making "snakes."
The donuts that the boys shaped were a bit more, um,
rustic
looking…I told them they reminded me of churros, and that made them even more proud of them.