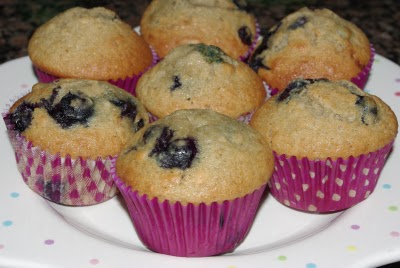 My nesting mode seems to have shifted gears into the kitchen this week, and today the boys and I made a giant batch of blueberry muffins – some for now and some to freeze for a quick breakfast treat after the new baby gets here. We're definitely a muffin-lovin' family, and we make lots of different kinds of muffins quite often, but I have never had very much success making blueberry muffins from scratch. They always end up too bland or too spiced or just kind of gross and mushy. Today, I think we finally tweeked and twisted a few of the old recipes and created the perfect blueberry muffin recipe!
Ingredients:
4 eggs
1 1/2 cups white sugar
1 1/4 cups brown sugar
1 cup vegetable oil
1 tablespoon vanilla extract
4 cups flour
1 teaspoon cinnamon
1 teaspoon salt
1 teaspoon baking soda
1 cup sour cream
1 cup applesauce
2-3 cups blueberries
Directions:
1. Preheat oven to 400 degrees. Grease or line 24 muffin cups with paper liners.
2. In large bowl, beat eggs and gradually add white and brown sugar. Continue beating and slowly add in the oil and vanilla. In a separate bowl, stir together the flour, cinnamon, salt and baking soda.
3. Stir the dry ingredients into the liquid mixture, alternating with sour cream and applesauce. Do not overwork the batter! Gently fold in the blueberries.
4. Scoop batter into cups and bake for 17-20 minutes.
Makes 24 muffins.
Okay, so I admit that this isn't exactly the healthiest blueberry muffin recipe I've ever come across, but oh my it is super YUMMY! Maybe I'm just having a tough time resisting the temptation of baking sweet goodies since I'm supposed to be avoiding sugar right now, but I can't wait until this little baby arrives and I can indulge in these tasty treats properly! Until then, enjoy an extra one for me! 🙂