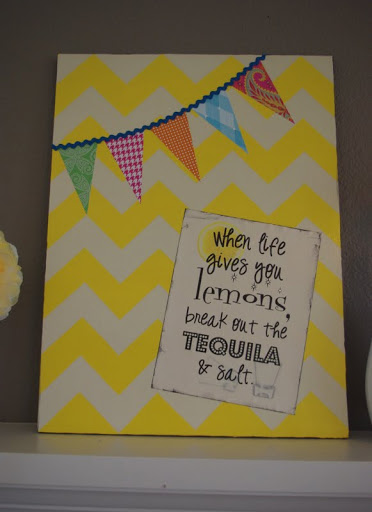 A couple of weeks ago one of my Bloggy BFF's, Mel @ The Crafty Scientist, posted a super cute {free} printable. She put hers inside of a frame that she painted with a yellow and white chevron pattern, and I absolutely loved it so much that I decided to recreate it…on a slightly larger scale 😉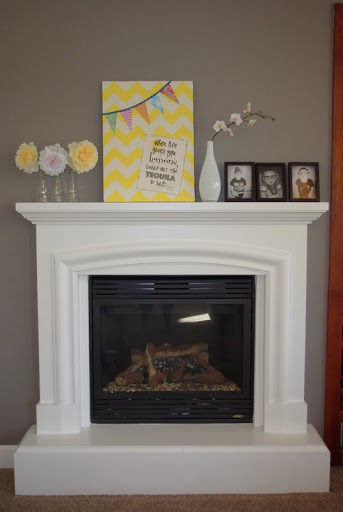 (P.S. Like our new wall color? This wall is the darker accent wall to make the fireplace and crown moulding really POP!)
I had an 18″x24″ canvas that my boys had painted a few summers ago, long neglected and sitting around in my closet waiting to be repurposed (trust me, it was not one of their finer pieces of work lol), and I figured it would be perfect for recreating Mel's look.
The first thing I did was give it a coat of primer to cover the old artwork, and then I painted the base a soft white. There are some great chevron pattern templates available here, but since I'm a perfectionist and uber picky I took the time to layout my design in Adobe Illustrator first because I wanted to know exactly what size to make my chevrons so that it would fill my canvas perfectly. Once I had my canvas designed, I printed out a section to serve as a template and used the template as a guide to tape off my pattern.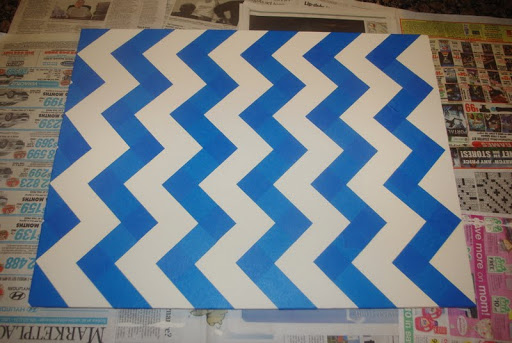 See, a perfect fit!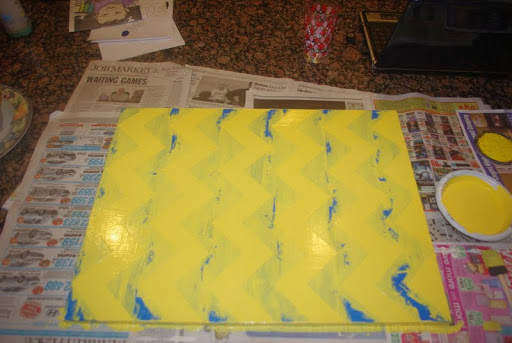 Paint your accent color (mine was yellow too, naturally, since it's my favorite color!) and after letting the paint set for a few minutes (but before it's completely dry), peel off the tape. You might need to touch up the edges a bit, but the painters tape is pretty good about making straight lines.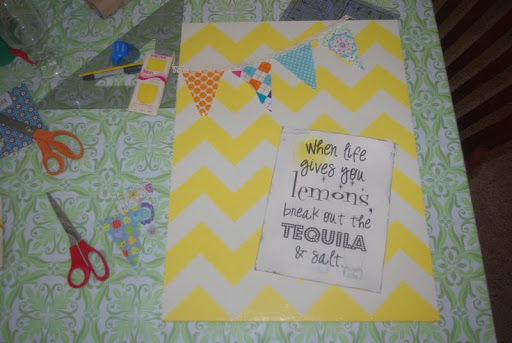 I printed the quote, inked the edges a bit to make them stand out, and then Mod Podged it on to the canvas. Then this project got incredibly difficult for me…because I'm sooooo indecisive! I played around with a zillion different combinations of fabric, ribbon, paper and ric rac to make the banner. I started with fabric because I wanted it to have a 3-D aspect to it, but in the end I just didn't love any of the fabric combos, and I was afraid I'd end up with dozens of tiny triangles from every single fabric I own. So I walked away for a few days and decided to try again with scrapbook paper in a more specific Summery/sherbert color palette.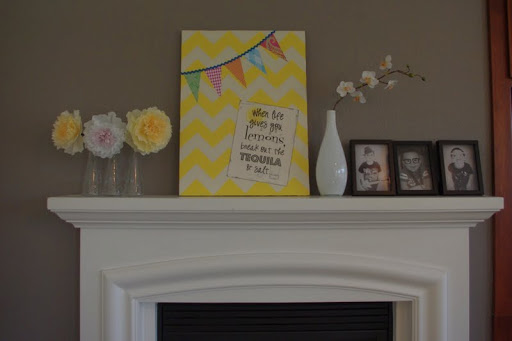 With lots of opinions and input from the hubby, we finally decided on the colors and patterns. He liked the idea of using five flags instead of four so that we could add an extra color, but in the end I wish we had only used four since they're a bit too elongated for my liking. Oh well! I guess that when you stare at something for too long and have too many options you're probably never going to be completely satisfied with the end result! I Mod Podged the papers on, and then gave the entire canvas a coat of glossy Mod Podge to seal it. A piece of ric rac trim hot glued to the canvas completes the banner.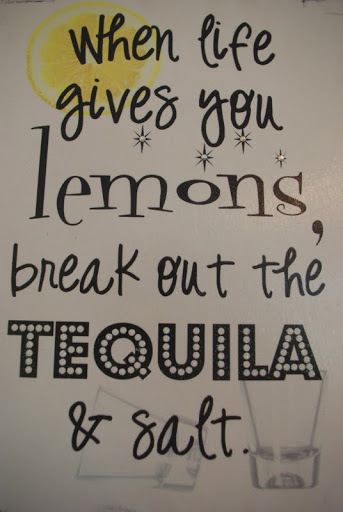 It's hard to see, but the paper flags and the quote both have some iridescent glitter and rhinestone bling to give it some sparkle! Now we just need to finish painting our living room so that it can get hung up in it's proper place (all that stuff on the mantle is just stuff I threw up there to keep away from little hands lol). Thanks so much for the creative inspiration Mel! ♥
If you don't want to spend a lot of time planning out, taping off and painting your canvas by hand, you can use your favorite design program and digital scrapbook papers to quickly create this layout and have it printed on canvas at
Online Poster Printing
. They offer great quality and affordable
canvas prints
that are sure to brighten up your home decor – go check them out!