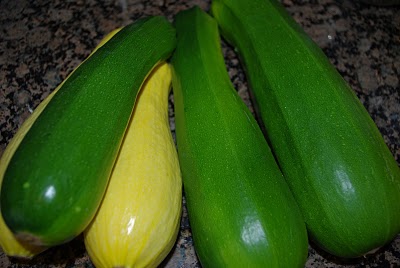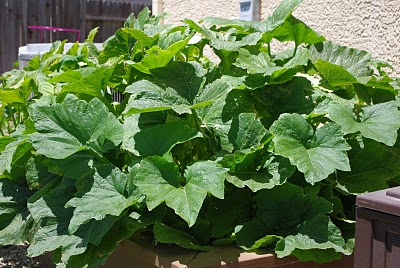 It's that time of year again, and our garden is overflowing with goodness, especially zucchini and yellow squash. I finally broke down and bought myself an inexpensive food processor so that I can stop using the hand grater every time I want to shred something…and I figured that was the perfect excuse to try out a new zucchini bread recipe. I scoured the internet and found a few recipes that sounded promising, and then tweaked and combined them like I usually do.
The result…well, let's just quote a few of my favorite guys:
Sawyer: "This muffin is so SO good, I just chowed it down!" [Without realizing he just ate a good sized serving of vegetables. I feel like The Sneaky Chef right about now!]
Mitch: "How did you make these? Did you just add zucchini to a muffin mix? [as if!] They're ridiculously good!"
Sutton: [was too busy trying to shove the entire muffin into his mouth in one single bite to comment] 🙂
Note: Since I followed recipes that were intended to make zucchini loaves instead of muffins, it ended up making 24 muffins. You might want to half the recipe and just make a dozen, but trust me, even if you do make 24 muffins they won't last long!
Ingredients:3 cups all-purpose flour
1 teaspoon salt
1 teaspoon baking soda
1 teaspoon baking powder
3 teaspoons ground cinnamon
3 eggs
1 cup vegetable oil
1 1/4 cups white sugar
1 1/4 cups brown sugar (packed)
3 teaspoons vanilla extract
1 cup semi sweet chocolate chips
2 1/2 cups grated zucchini (packed loosely)
[Note: I chose to peel my zucchini before shredding it, just to avoid most of the telltale green bits in the muffins that might tip the kids off!]
Directions:Line 24 muffin cups with baking papers (I wouldn't recommend just using cooking spray on the pans since the muffins come out so moist that you might run into trouble with them falling apart if you don't contain them in the papers). Preheat oven to 325 degrees F (165 degrees C).
Sift flour, salt, baking powder, soda, and cinnamon together in a bowl. Beat eggs, oil, vanilla, and sugars together in a large bowl. Add sifted ingredients to the creamed mixture, and beat well. Stir in zucchini and chocolate chips until well combined. Batter will be really thick and chock full of zucchini shreds…don't worry though, the zucchini literally disappears during cooking and becomes the liquid needed in the recipe! Pour batter into muffin pans. I filled mine almost all the way to the top of the muffin papers because there was a ton of batter, and I was surprised that the tops didn't really rise very much (maybe next time I'll try adding an extra tsp of baking powder and see if it makes them a little fluffier?). Bake for 30 to 35 minutes, or until tester inserted in the center comes out clean.
YUM!
Heidi Kundin has captivated the hearts of millions with her colorful and inspiring approach to crafting, celebrations, and family fun. With over 15 years of experience, Heidi's website has become a must-visit destination for those seeking quick and easy creative ideas and last-minute solutions. Her warm personality shines through her posts, inviting readers to join her on a creative journey that's fun, rewarding, and achievable.