This weekend was incredibly wet and stormy outside, so we decided that it was the perfect time to stay snuggled up indoors and decorate our Christmas tree.
Mitch stopped by Sam's Club on his way home from work the other night and picked up our traditional Tree Decorating Day breakfast – Artisan Fresh Cinnamon Rolls from the bakery department. Yum!
He also grabbed a bag of Starbucks Holiday Blend fresh ground coffee. I generally choose tea over coffee, but the promise of holiday flavors in a warm coffee drink sounded too good to pass up! Some Sam's Club locations have a holiday themed endcap display for the Holiday Blend coffee, but our store carries it on the shelf along with all the other Starbucks coffee choices.
I have to admit…we brewed up a pot as soon as he got home! It smelled too good to resist until breakfast the next morning! The coffee has notes of ginger, pumpkin, cinnamon, nutmeg, orange and cloves, so it truly tastes like Christmas in a cup.
Look at that poor lonely mug just waiting to be filled up! Once I had the fresh brewed coffee steaming in my mug, I just couldn't help but think that I might need one of those cinnamon rolls to go along with it. The coffee is delicious on it's own, and you can really taste the holiday spices, but with a cinnamon roll it's even better! The two blend perfectly, and the holiday flavors of cinnamon and nutmeg play off of each other like a match made in holiday heaven. Definitely a delicious pairing! #DeliciousPairings
The next morning the kids were super excited to wake up and eat their cinnamon rolls. They devoured them so quickly that I couldn't even get everyone together for a photo before the cinnamon rolls were completely gone!
Luckily I saved one aside for myself! Time for Round Two of my Starbucks Holiday Blend and cinnamon roll while we decorate the tree.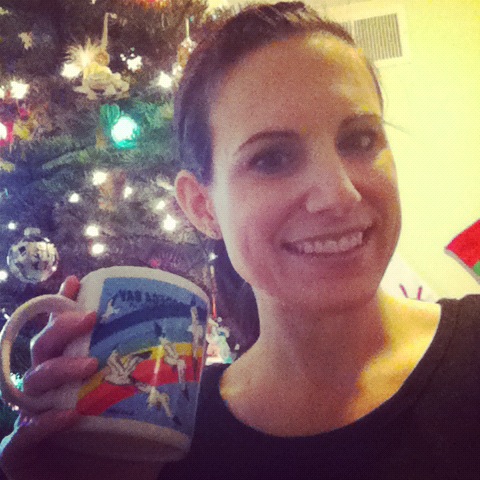 Tree decorating time! Keepin' it real…I think this actually Round Three shown here since I clearly moved on to using a different mug! Who knew I would become such a coffee fan in less than 24 hours?!
The kids like to display their ornaments in clusters, so I'm sure that I'll need to do some strategic rearranging again once they've gone to bed. Almost every ornament on our tree is sentimental, handmade or personalized (or a combo of all three!). While I love to look at photos of picture perfect and beautifully color coordinated Christmas trees that look pretty enough to display in a store window, those kinds of trees are definitely not what we have in our own home.
Our ornaments may be mismatched and kid-made, and the lower portion of our tree doesn't even have any ornaments since we have both a kitten and a toddler, but it's absolutely perfect for us. With every ornament that we pulled from the box the kids reminisced and retold stories about how we made or acquired them. They laughed and snickered at some of the old fashioned ornaments that I've had since I was a kid. They oohed and aahed over beaded bells that used to hang on my grandmother's tree. To me, that's better than any store bought perfection.
The ONLY photo I could get of all three of my boys in front of near the tree. The little one was too busy reveling in the joy of running around in his diaper, but the big guys were all too happy to pose for a few silly shots. I'm thinking all that cinnamon roll sugar might have gone to their heads a little bit 😉
Happy Holidays!

I am a member of the
Collective Bias®
Social Fabric® Community. This shop has been compensated as part of a social shopper insights study for Collective Bias™; however, all opinions are my own. #CBias #SocialFabric