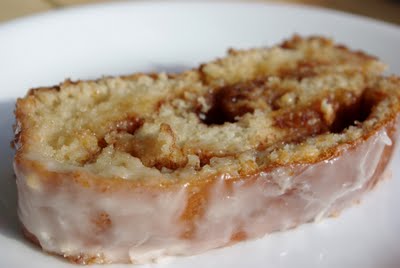 This recipe originally came from Taste of Home, and I tweaked it just a very minor bit to make one of the yummiest cinnamon breads that I've ever had! It makes two loaves, so we glazed one and left the other plain…tomorrow morning it will become delicious cinnamon french toast!
INGREDIENTS:
1 cup warm milk (70 to 80 degrees F)
1/4 cup water (70 to 80 degrees F)
2 eggs
1/4 cup butter or margarine, softened
1 teaspoon salt
1/3 cup sugar
5 cups bread flour
2 1/4 teaspoons active dry yeast
1 teaspoon cinnamon
FILLING:
4 tablespoons butter or margarine, melted
1/3 cup sugar
1/3 cup brown sugar
1 1/2 tablespoons ground cinnamon
GLAZE:
1 cup confectioners' sugar
4 teaspoons milk
1/2 teaspoon vanilla extract
DIRECTIONS:
In bread machine pan, place the first nine ingredients in order suggested by manufacturer. Select dough setting (check dough after 5 minutes of mixing; add 1 to 2 tablespoons water or flour if needed). Note: This bread can also be made by hand if you don't have a bread machine.
When dough cycle is completed, turn dough onto a lightly floured surface; divide in half. Roll each portion into a 10-in. x 8-in. rectangle. Brush with butter. Combine sugar and cinnamon; sprinkle over dough. Roll up tightly jelly-roll style, starting with a short side. Pinch seams and ends to seal. Place seam side down in two greased 9-in. x 5-in. loaf pans. Cover and let rise in a warm place until doubled, about 1 hour.
Bake at 350 degrees F for 25 minutes. Cover with foil; bake 5-10 minutes longer or until golden brown. Remove form pans to wire racks to cool completely. Combine glaze ingredients; spoon over loaves.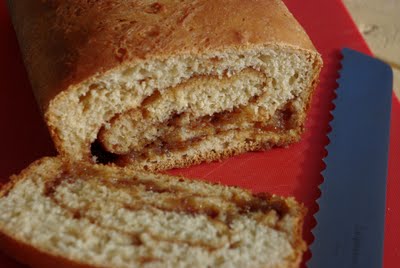 I ♥ Baking. Yum!