Life with my three boys can be incredibly messy. Dirt seems to find its way to their clothes like a magnet, they track mud into the house, and naturally they drop and spill things…lots of things. I am constantly vacuuming and cleaning the house behind them, and I needed a vacuum that could stand up to boy-style messes. I needed #EurekaPower!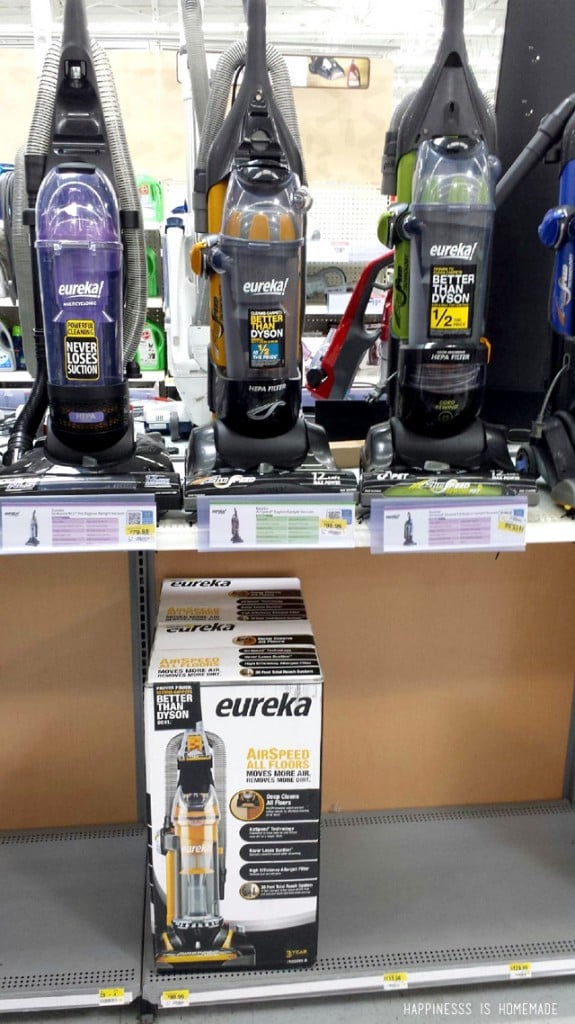 I heard through the grapevine and around #CollectiveBias that the Eureka AirSpeed vacuums from Walmart work really well, so I went to my local store to take a peek. The only model that they had in stock was the AirSpeed All Floors, which was actually exactly what I was looking for. The All Floors model has an easy button that turns the brushes off and on to make switching between cleaning different types of flooring a breeze. We are in the middle of home renovations, so we currently have an eclectic mix of flooring – carpet, tile, rugs, and concrete!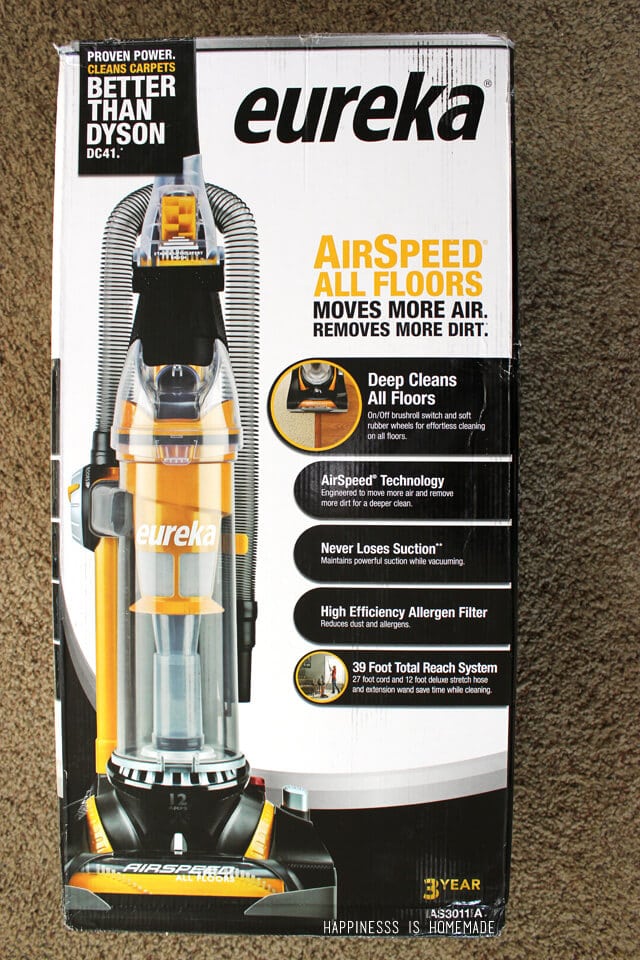 I was intrigued by the AirSpeed's claims that it is "engineered to move more air and remove more dirt for a deeper clean." We had just had our carpets professionally vacuumed a few days earlier, so I was curious to see exactly how much dirt and debris this new vacuum would be able to remove on it's first inaugural trip around our house.
Three of my favorite bed-headed guys put together the new vacuum for me in just a couple of minutes. The parts and pieces all click together easily, so the assembly was literally a snap!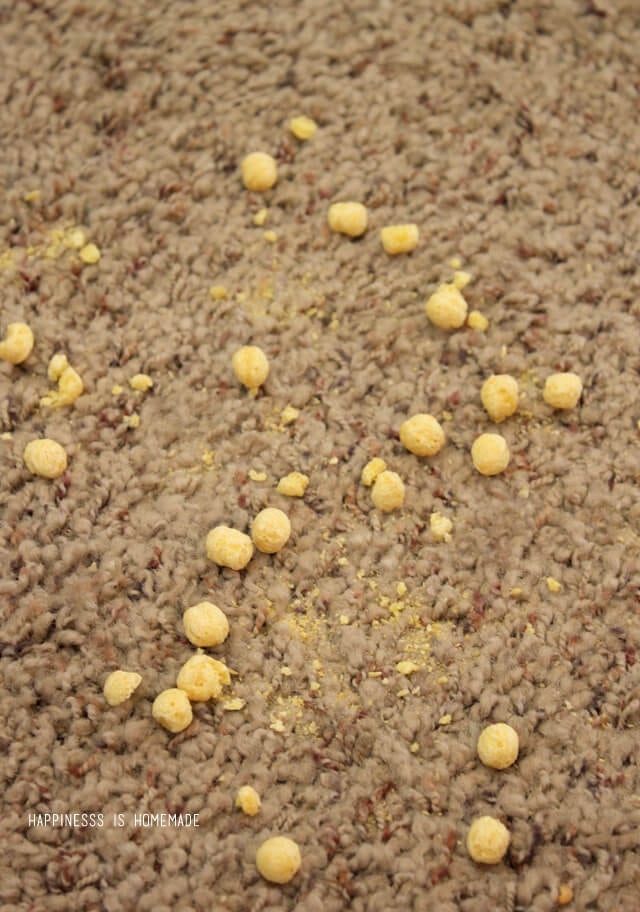 It wasn't long before my three-year-old spilled and crushed his dry breakfast cereal all over the carpet, and I had my first mess to vacuum up.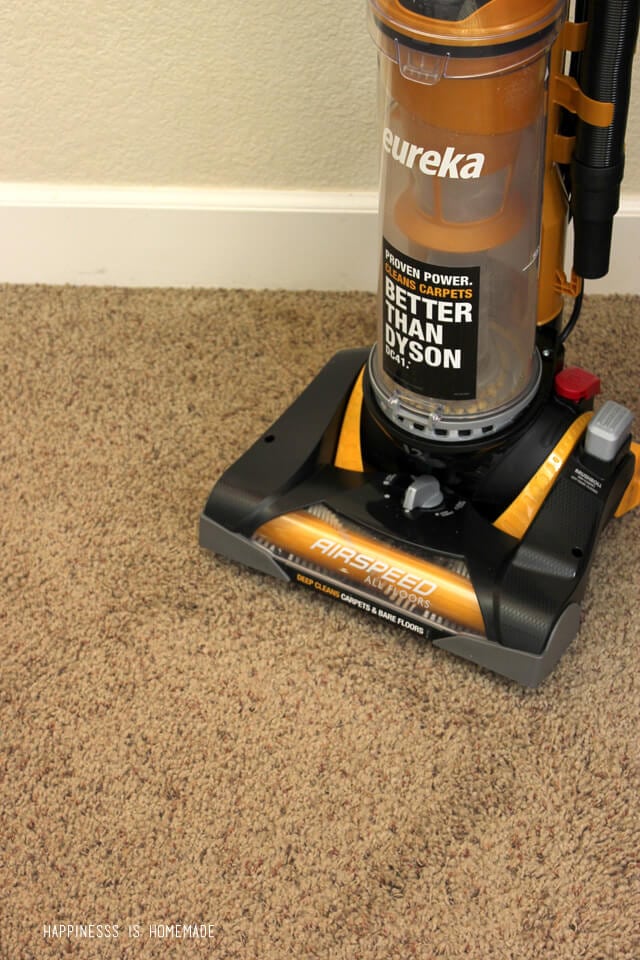 If you look closely enough you can see the faint wheel lines from the ONE single pass that it took to clean up the crushed cereal – ONE pass! Seriously, not a single straggler was left behind! How often does that happen? Color me impressed. Apparently spilled cereal = a laughable opponent for the AirSpeed.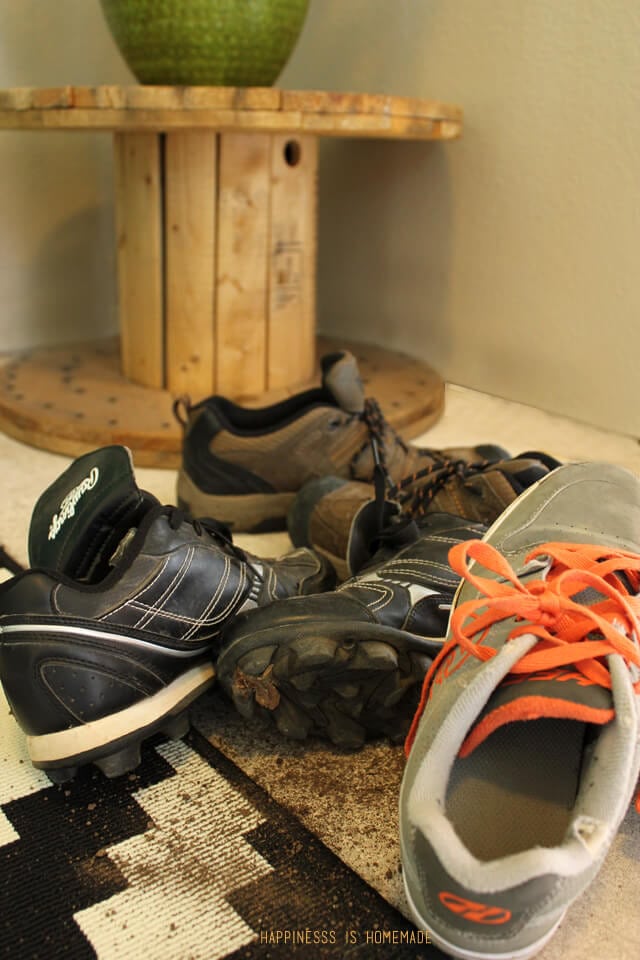 When we returned home from baseball later that day, a pile of dirty cleats and shoes appeared near the front door, and I was not happy about it. I was about to shout at the boys to keep their mess off of my new rug,  but then I realized that it was another perfect opportunity to test out the abilities of the AirSpeed. With a pile of dirt on both the rug and the concrete, I decided to put the AirSpeed All Floors' on/off brushroll feature to the test.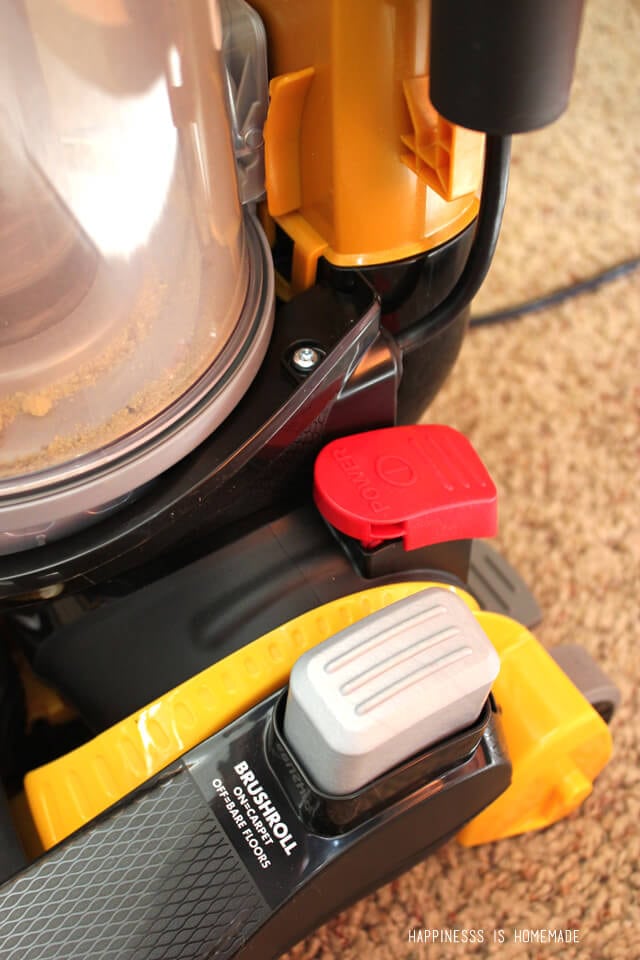 The brushroll can be turned on and off with a simple tap of your foot, and the clear brush window on the front of the vacuum allows you to see whether or not the brushes are employed and spinning. I have to say that I really love this feature so much already! My old vacuum had a cumbersome dial to adjust the brushes, and this hands-free option is a zillion times easier – especially since I have to switch floor types so often!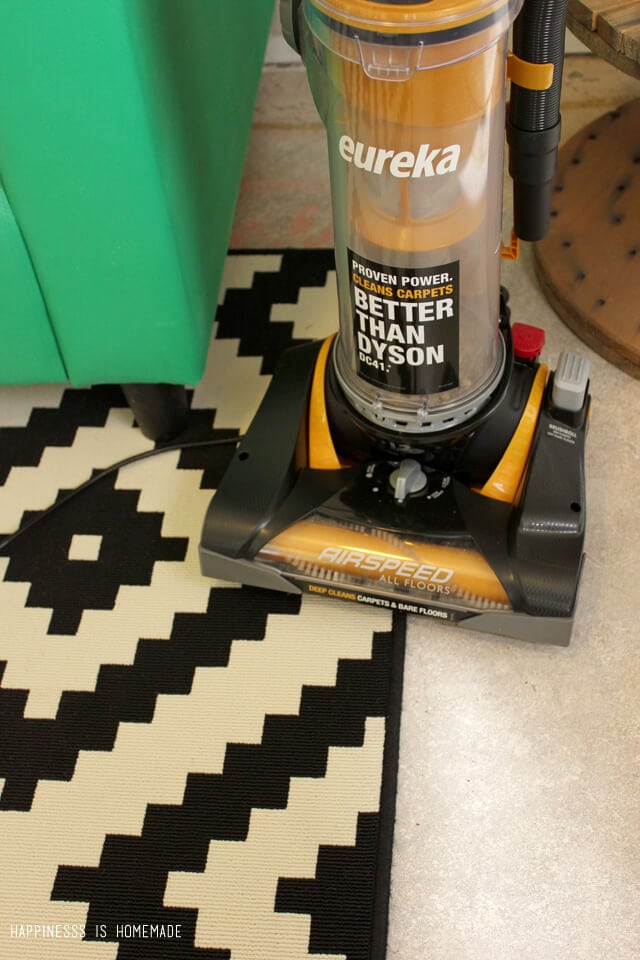 I had planned on turning the brushes off while I vacuumed the concrete and then switching the brushes back on to vacuum the rug, but I didn't even need to! I gave the entire rug/concrete area a quick pass with the brushes off, and it cleaned both surfaces perfectly. You can't even tell that there was just a big pile of dirt on my white rug – thank goodness!
For the final ultimate challenge, it was Eureka AirSpeed vs. Mealtime, my biggest cleaning nemesis.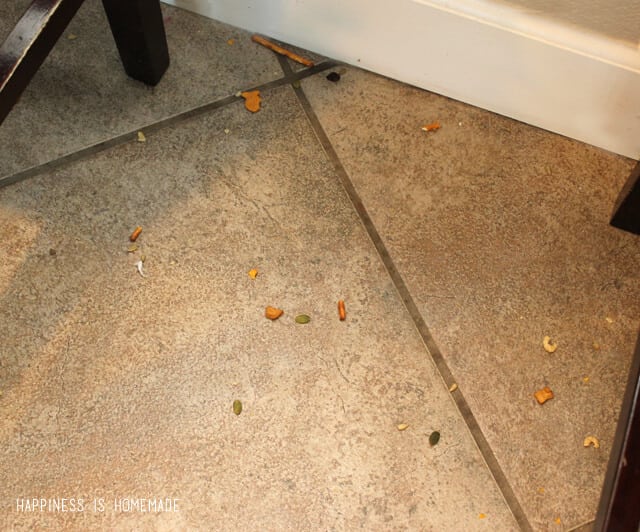 I spend a ridiculous amount of time cleaning the tile floors under the table and bar after mealtimes. I'm not exactly sure how this much of my boys' food always ends up on the floor, but this is a perfect messy example (this is a combination breakfast and lunch disaster). I spy trail mix, pretzels, raisins, goldfish crackers and more cereal…yuck! With my old vacuum I would have had to use the hose attachment to suck up the larger pieces of this mess, but since I was feeling confident about the AirSpeed's other cleaning successes, I opted to use the vacuum as normal on the bare floor setting.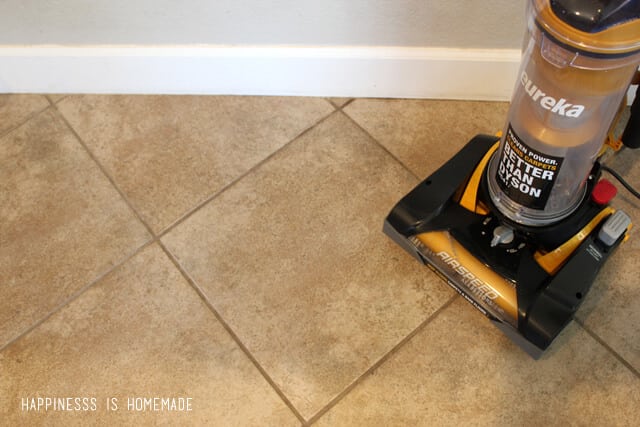 Holy wow, you guys! The AirSpeed is ah-maze-ing! It sucked up ALL of that mealtime mess (including an entire pretzel stick that was lodged up next to the baseboard) in only one pass! My whole cleaning world has been revolutionized!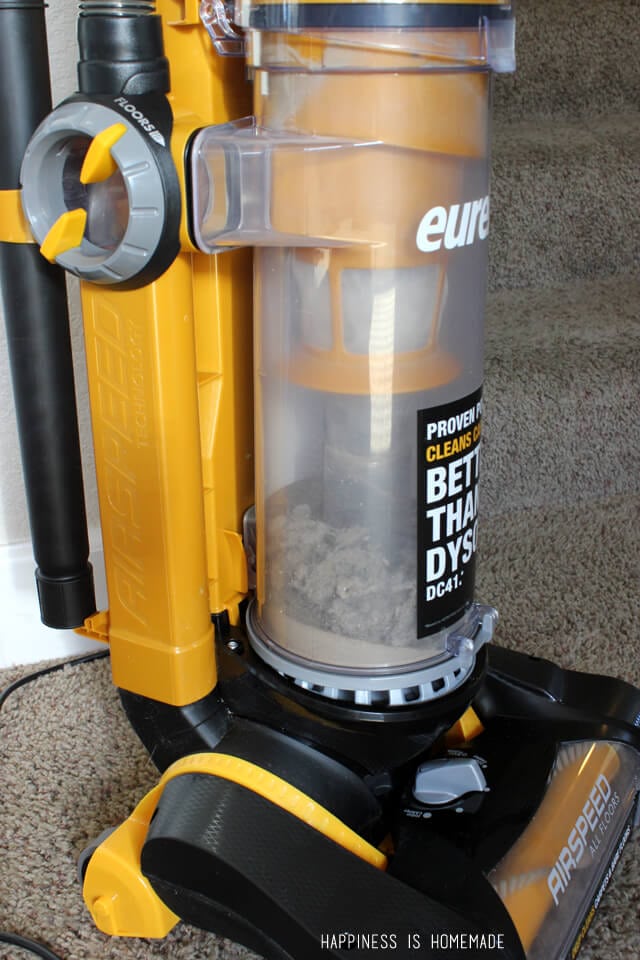 Remember how I mentioned that we had just had our carpets professionally vacuumed two days earlier? The powerful suction of the Eureka AirSpeed All Floors was able to deep clean our carpets and pull out this giant ball of nasty dust and dirt that was left behind by the professionals. Oh, and this was only from the family room! I'd say that those claims of removing more dirt for a deeper clean are 100% true!
When it comes to cleaning up the kinds of messes that my boys often make, I'm convinced that the Eureka AirSpeed vacuum truly is exceptional!