Colorful Outdoor Entertaining Area
This post and its photos may contain affiliate links. As an Amazon associate I earn from qualifying purchases. If you make a purchase through these links, I may receive a small commission at no extra cost to you!
This colorful outdoor entertaining area incorporates bold pops of bright color and an inviting glow thanks to durable weatherproof Enbrighten Cafe Lights. A fun outdoor space that's perfect for lively evenings with friends or a quiet family evening making s'mores around the campfire!
Last week I shared our progress in turning our unused side yard into a large garden and outdoor entertaining area. At last check, we had built and planted our raised garden bed, added DIY colorful benches made from salvaged parts, and restored our old fire pit back to its original black luster.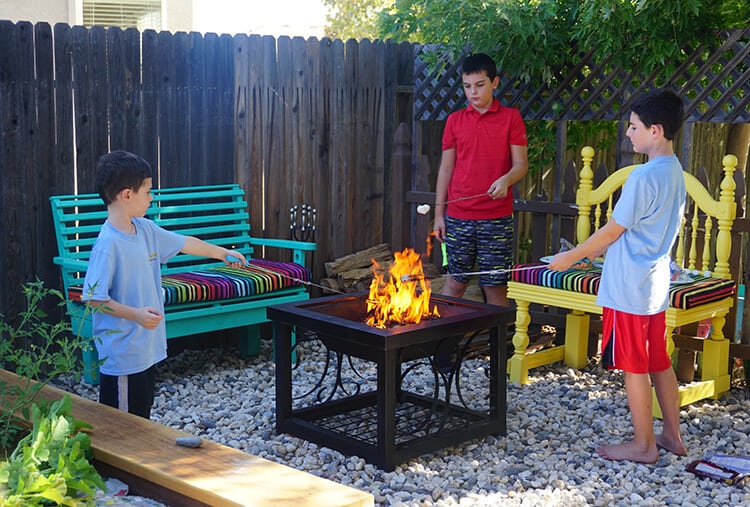 We have been having a ton of fun using the space, especially for s'mores nights! The fire pit is definitely the boys' favorite thing about the space, and as long as there's a campfire, marshmallows, and a place to sit, they're happy! I love the bright and cheery vibe in the space, but I wanted to amp up the color just a bit more to finish off the area.
Also, for as much as I love the warm glow of the fire pit, the fire just wasn't emitting enough light for us to see by. Three boys + pointy marshmallow skewers + near darkness = a disaster waiting to happen. We wanted to add some outdoor lighting, but I wanted to make sure that it would be durable enough to stand up to these three kiddos and their friends.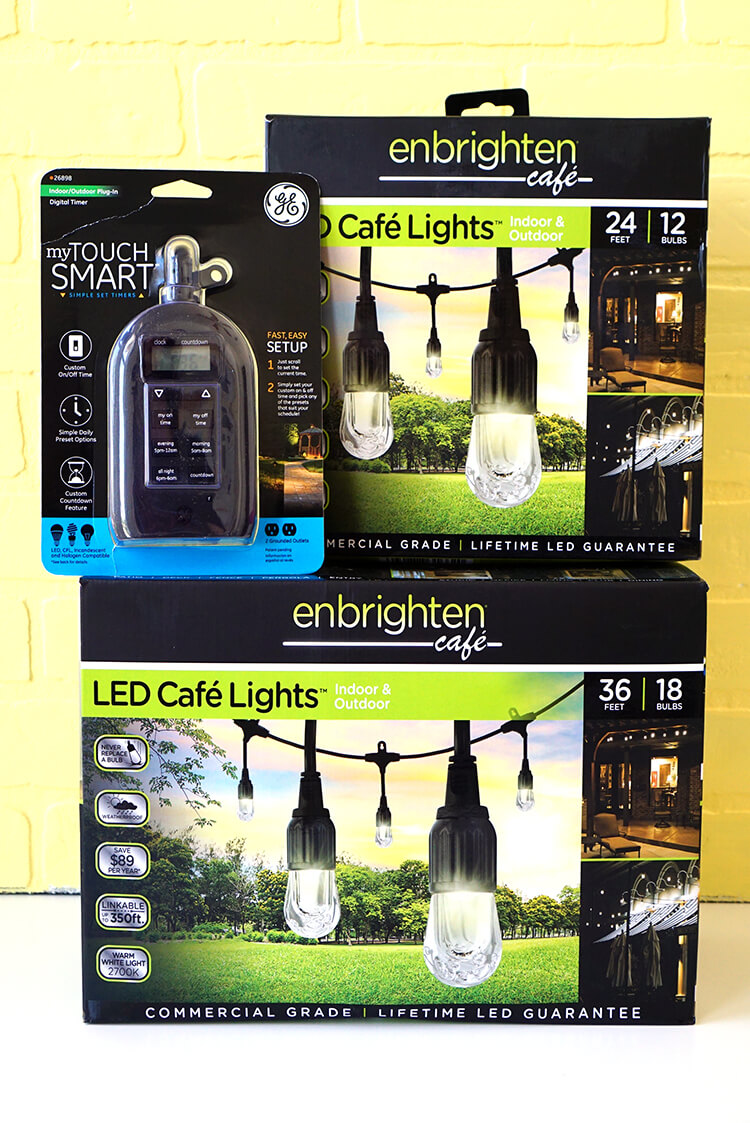 After doing a bit of research, we discovered that Enbrighten Cafe Lights would be a great solution for our needs because they're built to last FOREVER! With commercial grade LED bulbs and a lifetime guarantee, I knew that these lights would be perfect for our space.
Even better, the Enbrighten Cafe Lights are designed to be used outdoors all year-round (they're weatherproof!), so I never have to worry about putting them up and taking them down as the seasons change.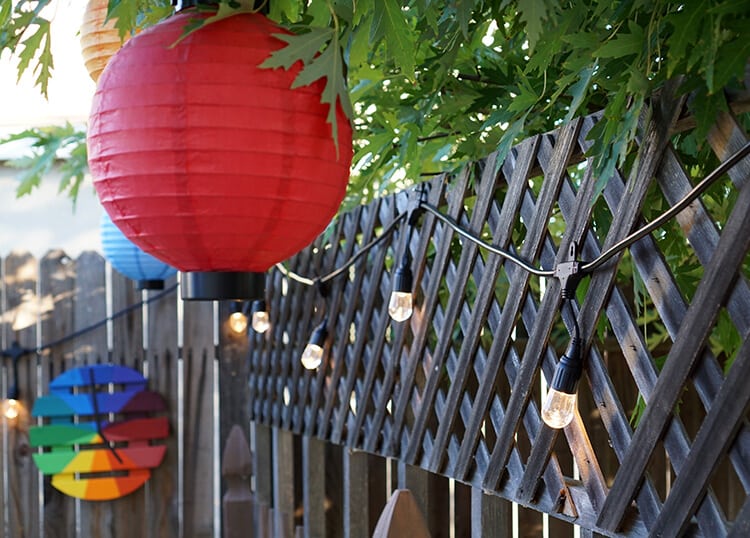 The lights were a breeze to install by simply screwing the attached hangers directly to the fence – easy peasy!
See, I told you it was super quick and easy!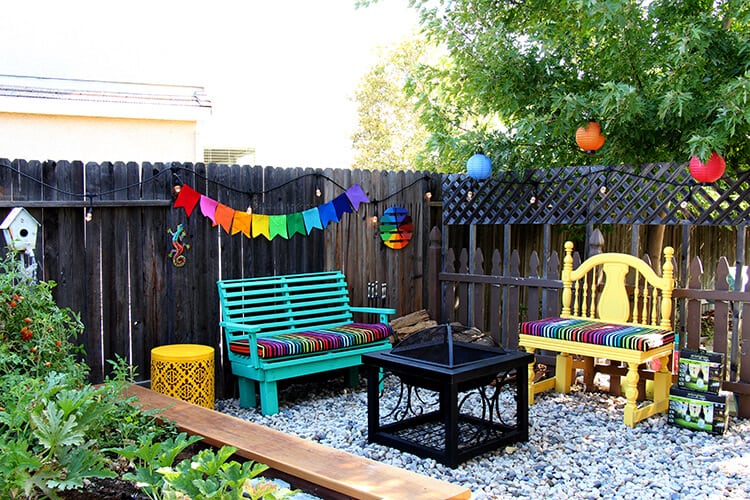 To bring some more pops of color into the space, I added a rainbow felt banner, a bright yellow garden stool/table, my rainbow outdoor clock, a few hanging lanterns, and one of my favorite travel souvenirs.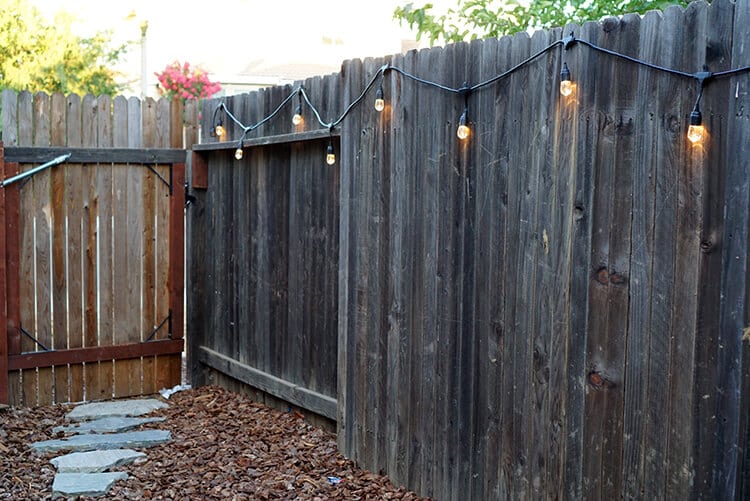 We ended up running the lights all the way along the fence behind the garden and down the pathway to the gate. It was the perfect length!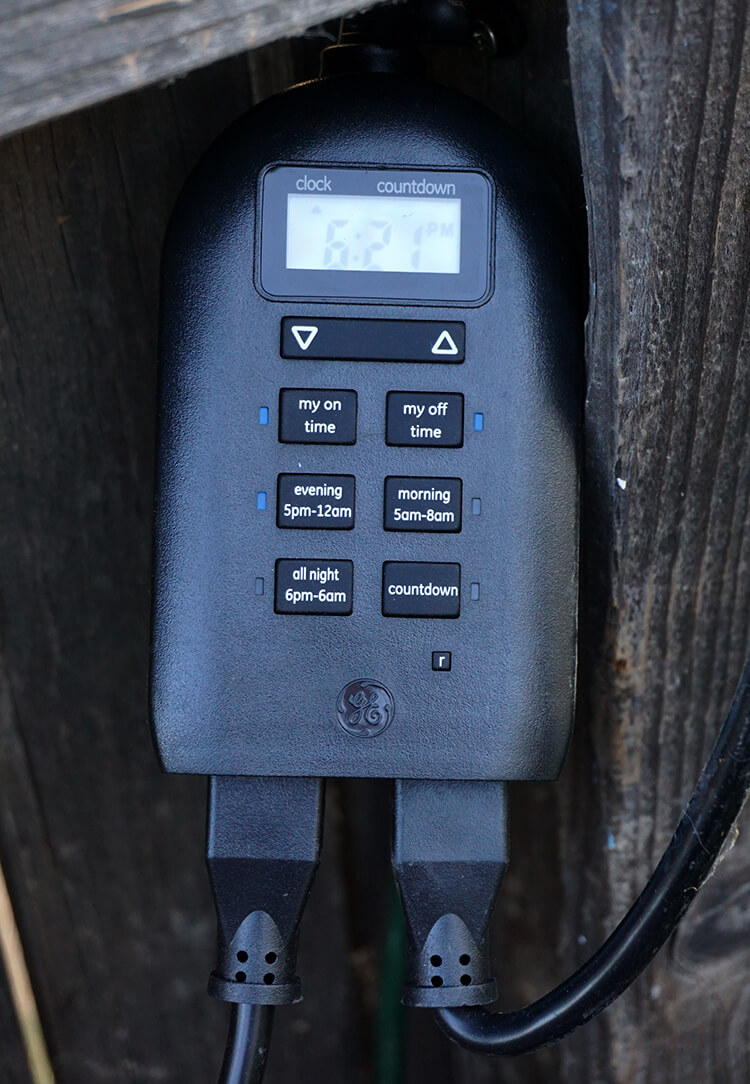 We used the GE TouchSmart Timer to automate the system, and it couldn't have been easier to set up. We set it so that the lights turn on automatically at dusk and then stay on until late into the evening. Honestly, I'm feeling kind of spoiled now that I don't even have to turn the lights off and on by myself (and I LOVE it!)!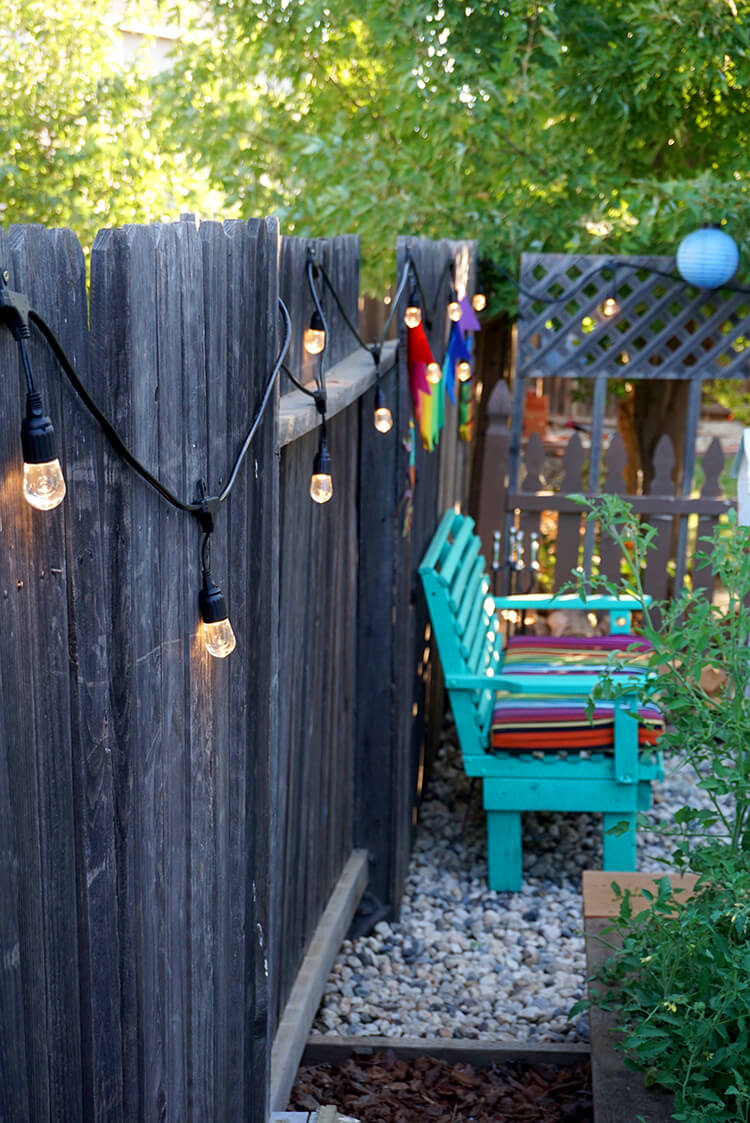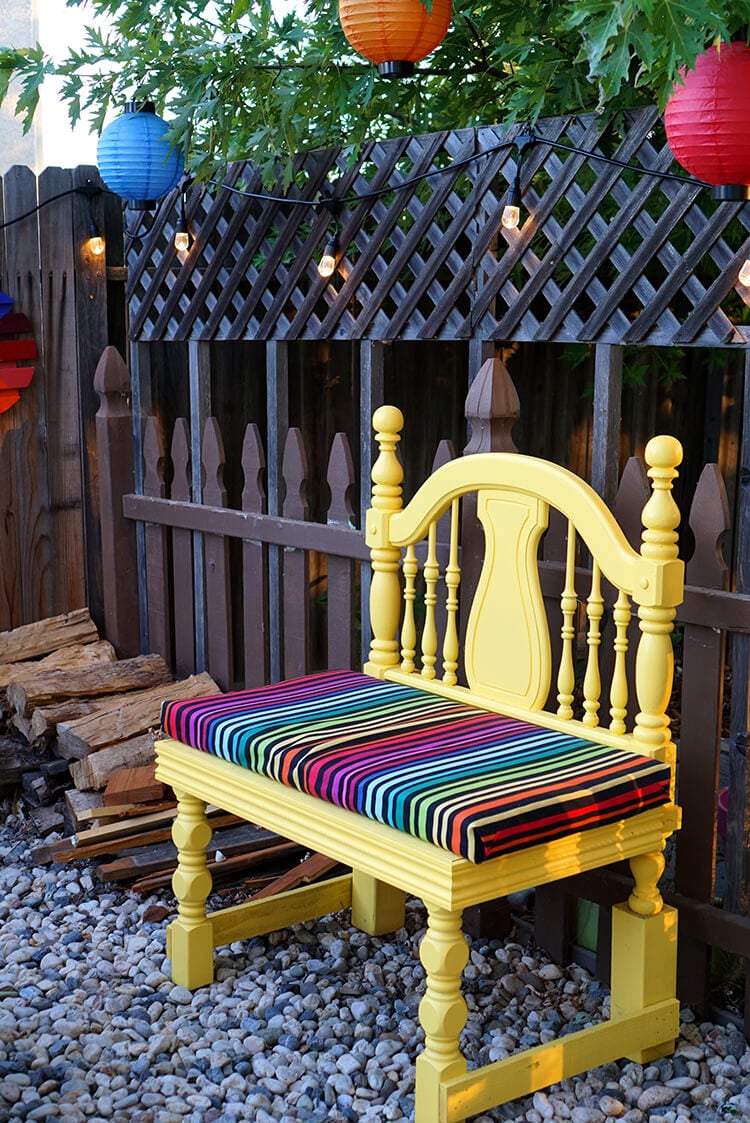 The cafe lights look really pretty as the sunlight begins to fade from the garden area, but after the sun sets, they look absolutely magical!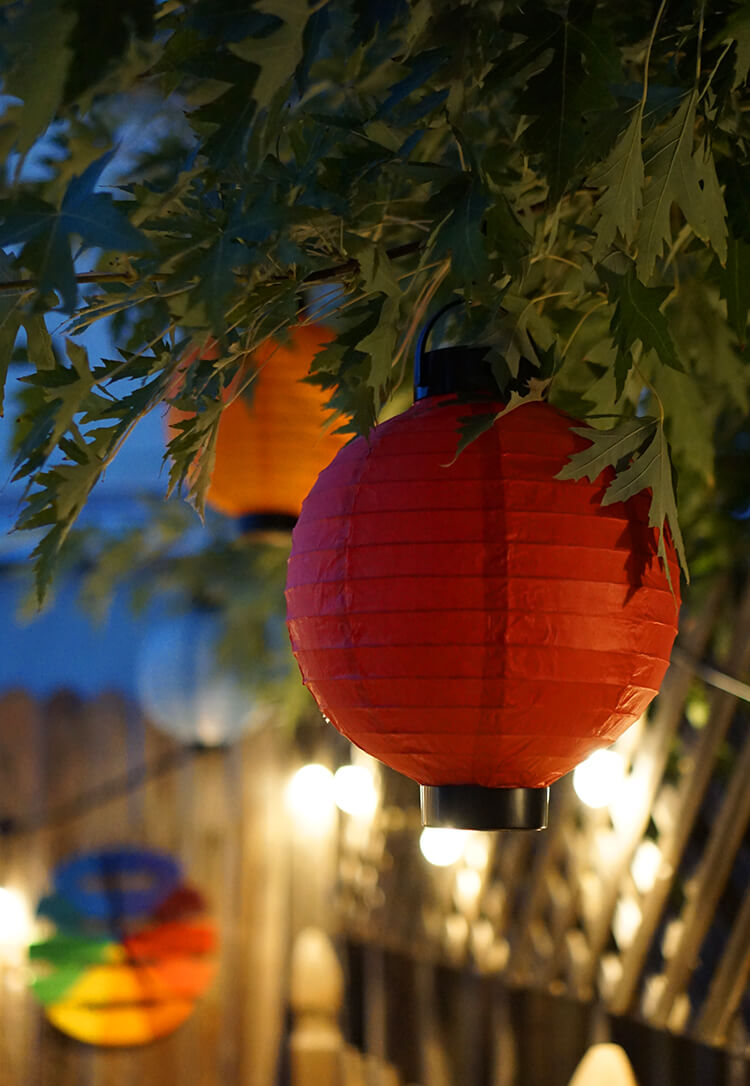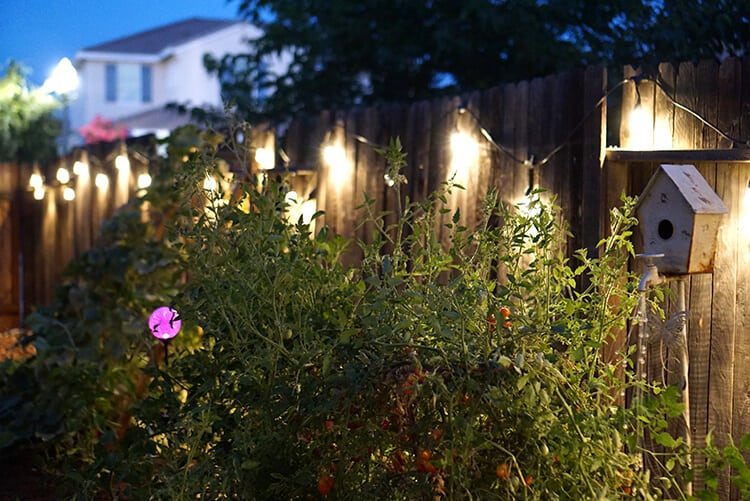 The Enbrighten Cafe Lights give the entire garden a gorgeous glow, and I'm really happy with the new level of safety and security that they bring as well.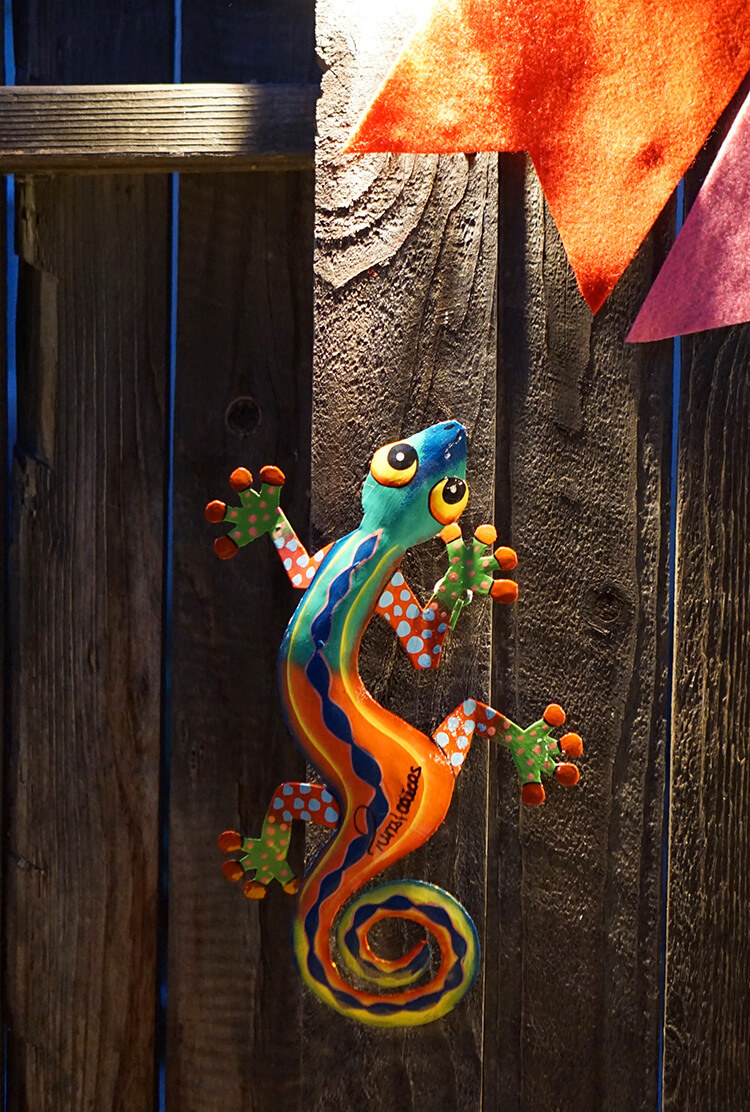 This colorful lizard came home with us from our trip to Beaches in Turks and Caicos last year, and he's one of my favorite things in our yard. We're headed back to Beaches Resorts next month (Jamaica this time!) so I may need to bring back a similar friend from our next adventure!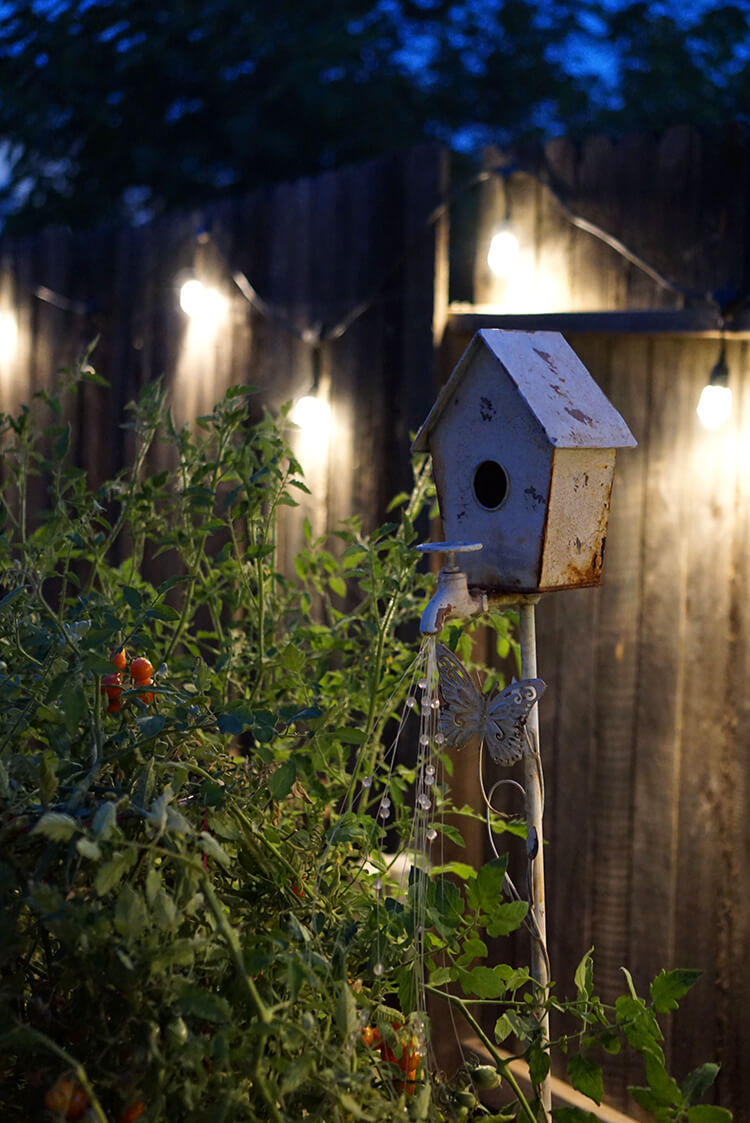 Now that our garden and our outdoor entertaining area is so bright and inviting, I'm sure that our summer s'mores nights will continue long after summer has ended. Here's to a fresh new season and lots of fall evenings around the campfire!
Wait, before you go, take a moment and enter to win a $250 Amazon gift card courtesy of Jasco and Enbrighten Cafe Lights!
Enbrighten Cafe Lights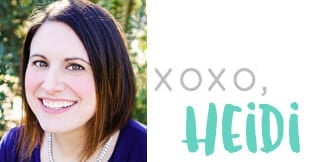 If you like this idea, don't forget to pin it!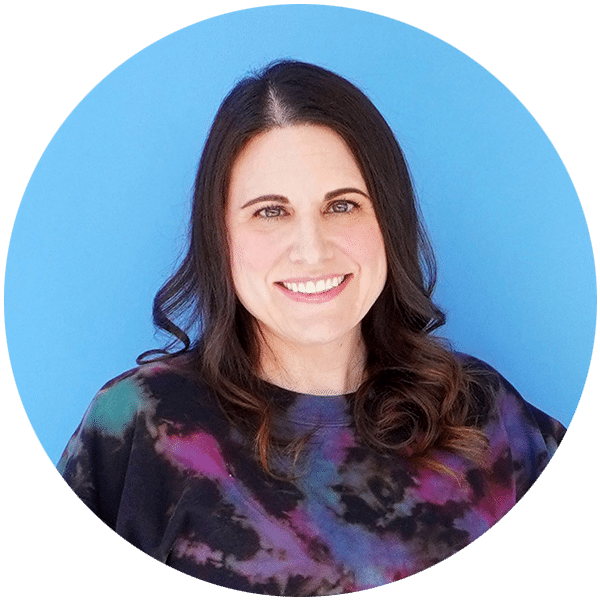 Heidi Kundin has captivated the hearts of millions with her colorful and inspiring approach to crafting, celebrations, and family fun. With over 15 years of experience, Heidi's website has become a must-visit destination for those seeking quick and easy creative ideas and last-minute solutions. Her warm personality shines through her posts, inviting readers to join her on a creative journey that's fun, rewarding, and achievable.