A few months ago we signed up for Little Red Farm's cultural exchange. We mailed packages of goodies and information representing California/USA to people from England, France, Nigeria, Australia and USA (East Coast), and in return we will receive a package from each of them.
In between all the holiday madness and sickness (Simon is slowly trying to recover from the stomach flu and an ear infection), I completely forgot to take pictures of the packages that we sent – oops! They included a USA map jigsaw puzzle, postcards from northern California, California state information and coloring pages, eagle and flag stickers and die cut shapes, crazy straws (just because my boys can't get enough of them!), lip balm in patriotic packaging, pencils and a few sweets. Each box was slightly varied to suit the number of children in the family. We can't wait for the recipients to get their packages!
The first package that we received was from a sweet family in South Carolina who shared some of their local customs and traditions with us.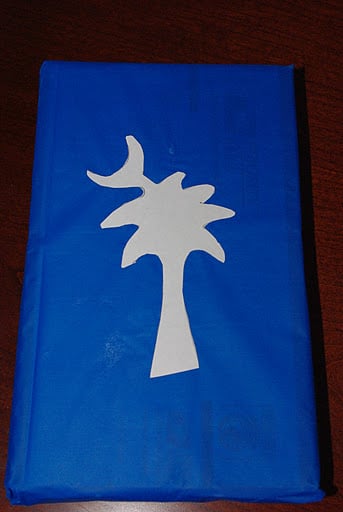 The package was wrapped in the South Carolina state flag (made from a plastic tablecloth and white paper). How cute is that!?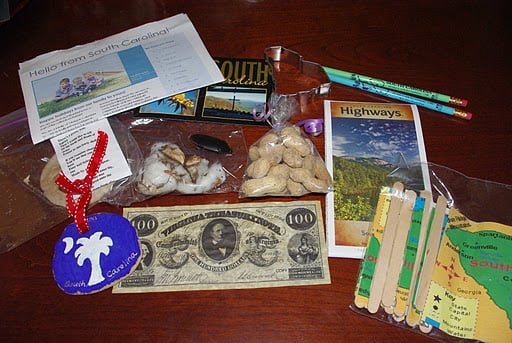 It contained: a postcard, South Carolina state shaped cookie cutter, SC pencils, SC roadmap, SC popscicle stick puzzle, Confederate money, peanuts, cotton, a sand dollar, a plastic palmetto bug and a state flag dough ornament (that went straight up on the boys' Christmas tree!). There was also a nice letter from the family and some papers describing the items and their history.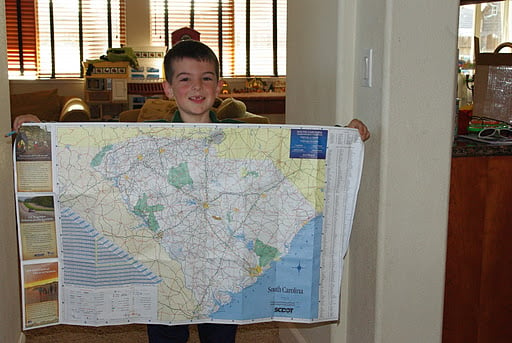 Sawyer was totally excited about the map, and he spent a really long time trying to read all the different city names.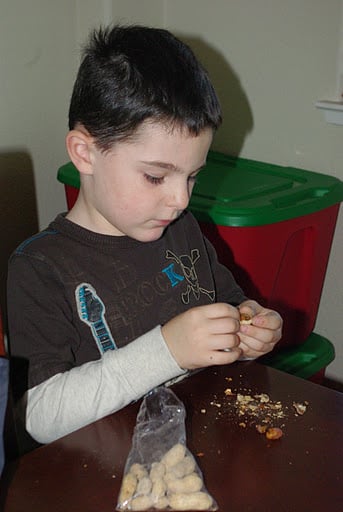 Sutton immediately dove into the bag of peanuts – they didn't last long!
They both took turns trying to put the puzzle together. It took them awhile, but they finally got it when they worked as a team!
Thank you so much for our package! We loved receiving such fun mail, and it was great to learn a bit about an area of the US that is so historically different than ours. If you're interested in participating in the next cultural exchange, Little Red Farm already has a link to
sign up for the 2012 exchange
.
Heidi Kundin, the vibrant force behind Happiness is Homemade, has captivated the hearts of millions with her colorful and inspiring approach to crafting, celebrations, and family fun. With 15 years of experience, Heidi's website has become a must-visit destination for those seeking fresh and engaging ideas. Her warm personality shines through her posts, inviting readers to join her on a creative journey that's not only fun but also achievable and budget-conscious. As a mother of three, Heidi expertly balances family life and her passion for creativity, proving that with a little imagination and dedication, happiness truly can be homemade!