DIY Backyard Plinko Party Game
This post and its photos may contain affiliate links. As an Amazon associate I earn from qualifying purchases. If you make a purchase through these links, I may receive a small commission at no extra cost to you!
Make a fun DIY backyard Plinko game that is perfect for parties, carnivals or school spirit activities (or drinko plinko if that's your type of game!)! Super easy and tons of fun!
I love backyard party games, and with Labor Day barbecues on the agenda for this upcoming weekend, I wanted to come up with a fun new game that my family hadn't played before. I had a few large sheets of Elmer's foam board on hand, so I came up with this fun twist on a classic game show favorite – Backyard Plinko!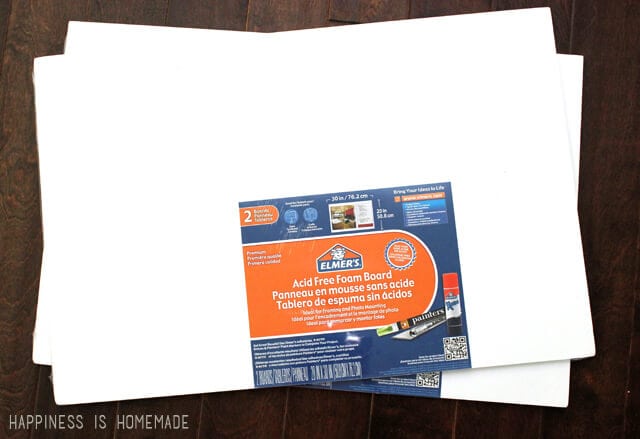 What You'll Need:
(3) 30″x20″ Elmer's Foam Boards
Elmer's Board Mate glue and/or Glue All
Duct Tape
Scissors and Xacto knife
Approximately 50 toothpicks
(3) Recycled lids to serve as Plinko Chips
Glitter, stickers, etc. for embellishment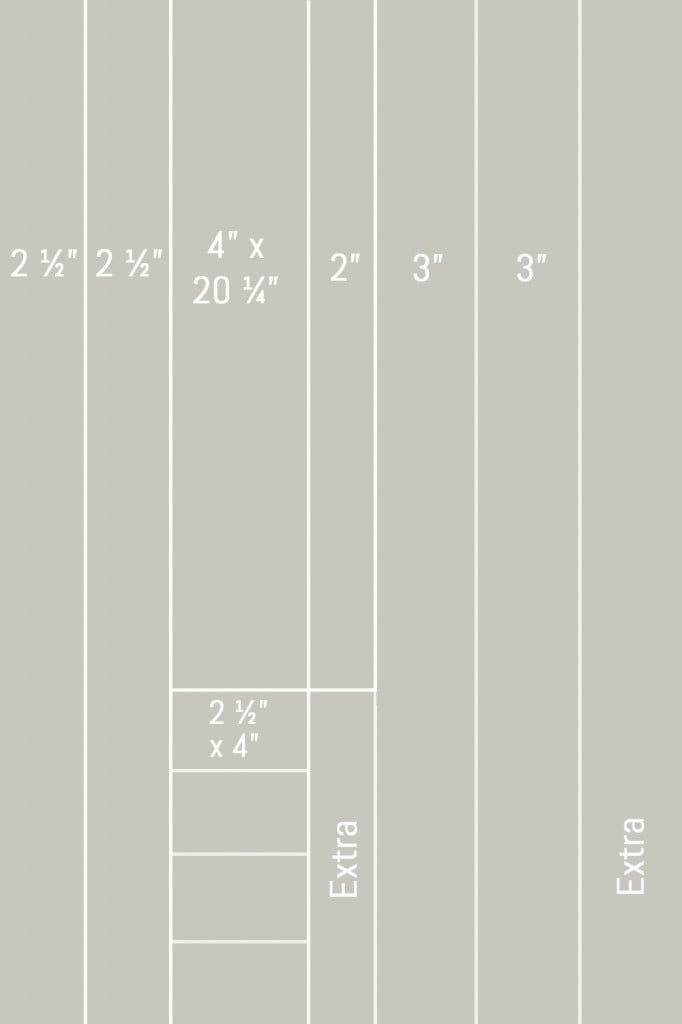 Cut one sheet of foam board as shown, and set all of the pieces aside. NOTE: The measurements above show four 2.5″x4″ pieces, however, the actual measurement should be 2-7/16″ (just slightly shorter!).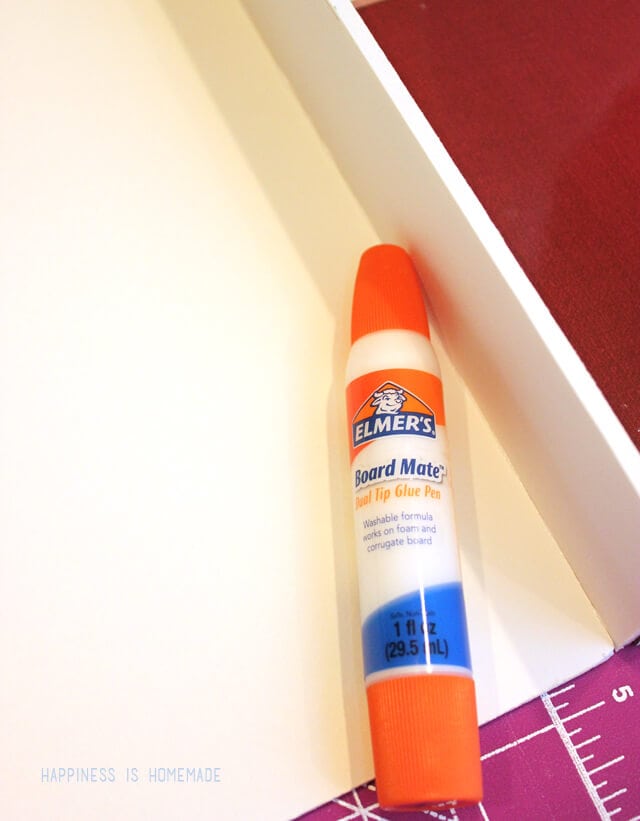 Glue the two 2.5″x30″ strips perpendicular to the sides of the second sheet of foam board.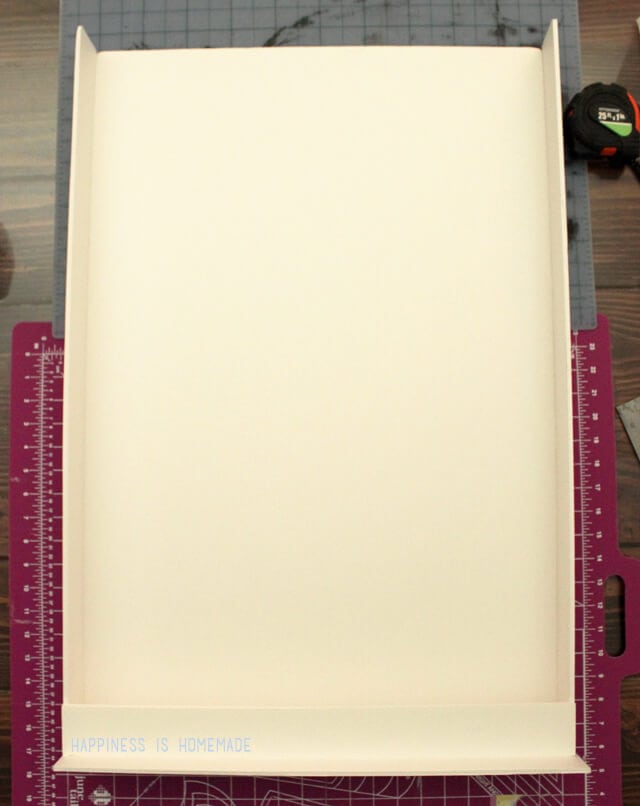 Glue the 4″ piece perpendicular to the bottom edge to serve as the base, and glue the 2″ wide piece parallel to the board across the bottom front (to serve as a lip).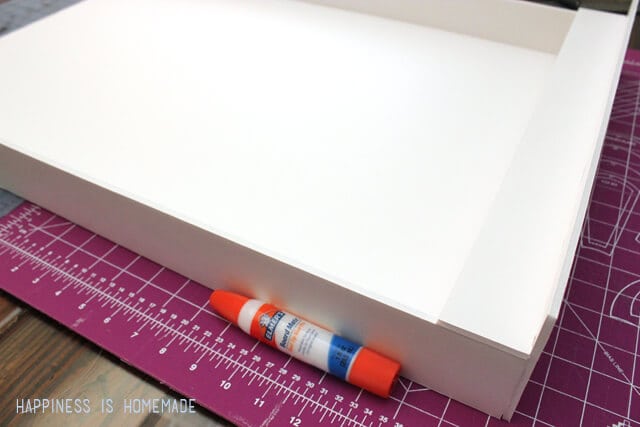 Here's a side view of how the pieces come together.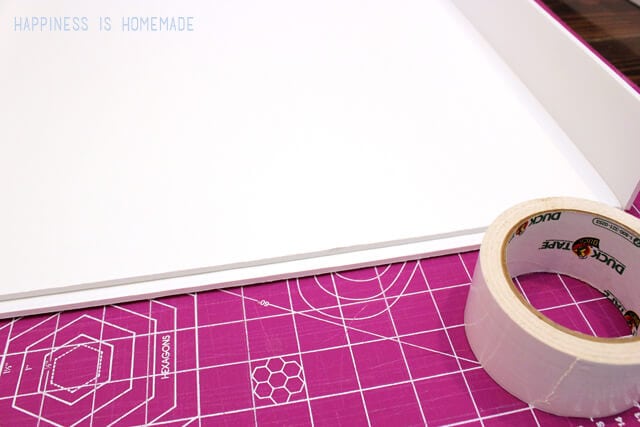 Place the game board on top of the third sheet of foam board. Use a strip of duct tape to join the two sheets together and create a "hinge" along the top edge of the game board.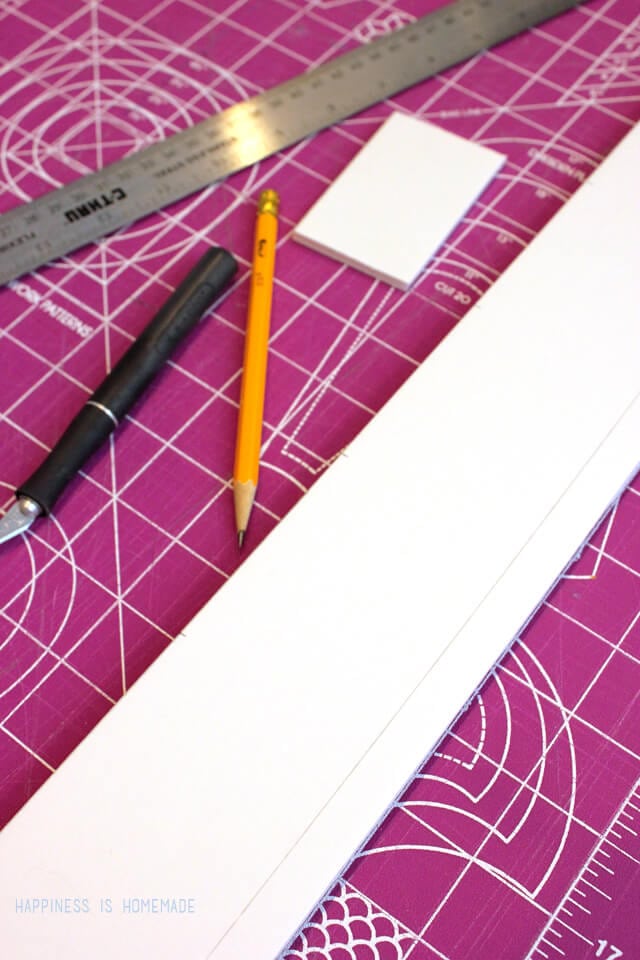 Take the 3″ wide strip and draw a pencil line 1/2″ from one edge.
Cut a series of 6″ wide triangles down the length of the foam, making sure not to cut beyond the 1/2″ line. Trace the design on to the second 3″ wide strip, and cut again.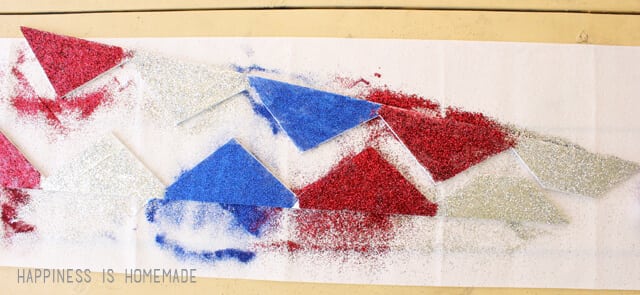 Now for the fun part – decorating! I used Board Mate glitter to give my triangles some sparkle and pizzazz. Ordinarily I would have let my boys use their imaginations and have fun with this step, but I wanted to save the finished game board as a surprise for them.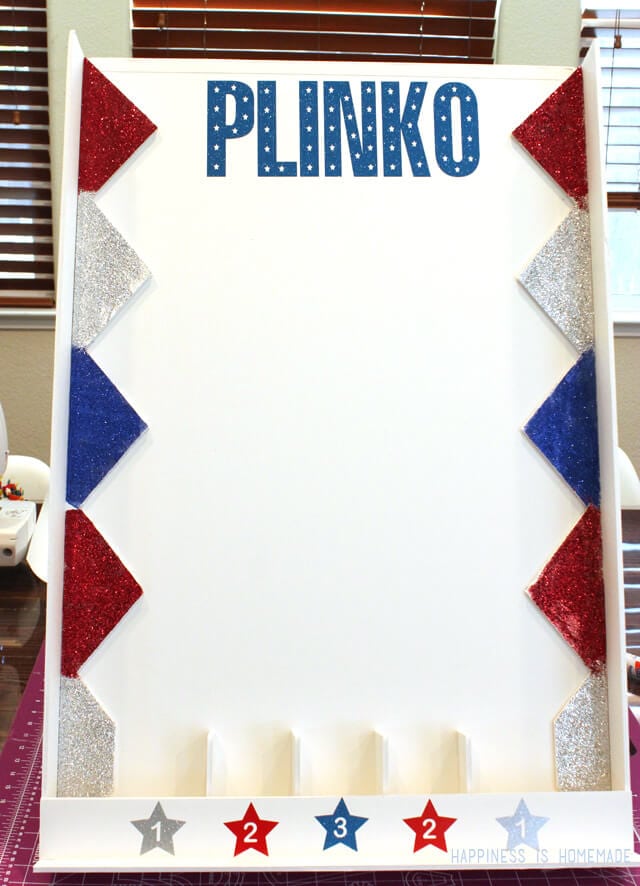 Glue the triangle pieces into place (I trimmed about 1″ from the top of the bottom triangle to make more room for the chips to land in the chutes), and glue the remaining four pieces into the bottom to create the prize chutes. Add the game name, prize/score markers, and any other embellishment that you desire. I assigned a point value to each chute for our Plinko game, but it's also fun to make each space a specific prize or reward. They're great for school carnivals and school spirit activities!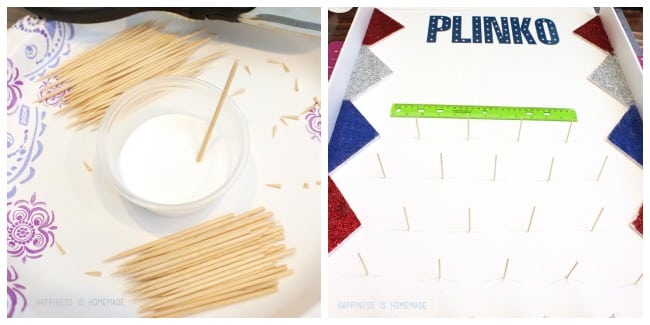 To create the pegs, I used scissors to cut the tips from one side of the wooden toothpicks. Lightweight nails would also work well, but I didn't have quite enough of them on hand, so I used toothpicks. I was really impressed with how sturdy the finished toothpick pegs were and how well they stood up to game play!
Open up the hinge of the game board so that there is only one layer of foam, and lay it flat on a hard surface (I laid mine on a cutting mat on top of my table). You only want to poke the toothpick pegs through one layer of foam, so don't skip this step! Dip the pointed end of the toothpick into Elmer's Glue All, and poke into the foam board. I didn't measure mine, but I used a ruler to help me eyeball the spacing and keep them in a straight line. I used 32 toothpicks to create my pegs, but in hindsight I would have used a few more since my Plinko chips were a bit small in comparison to the size of the spaces between the pegs.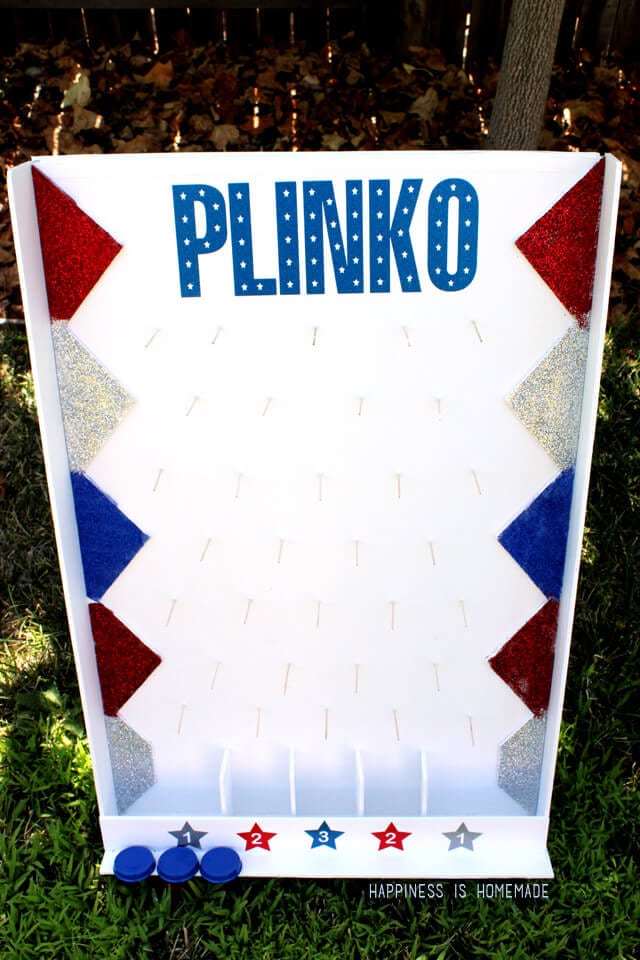 All finished and ready for game play! The "chips" are made from recycled lids that I spray painted blue.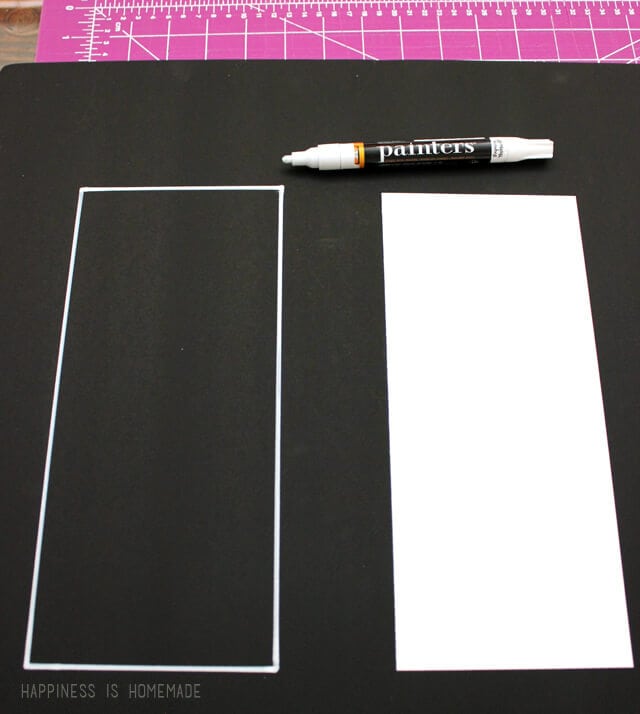 A sheet of Elmer's Chalk Foam Board makes a great scoreboard! I used a Painters paint marker to trace around a template to create two boxes for score keeping.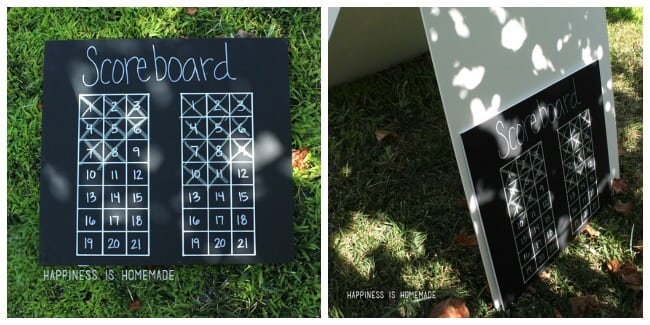 Each box is numbered 1-21, and the player uses chalk to cross off each number as they score. Both players alternate taking turns – first one to hit 21 wins! (I love that this helps the kids practice their basic math skills!) I propped the score board up on the back side of the Pinko game, and the kids crossed off their numbers and kept score as they played the game. The Chalk Foam Board will wipe clean with a lightly damp cloth, so you can use it over and over again!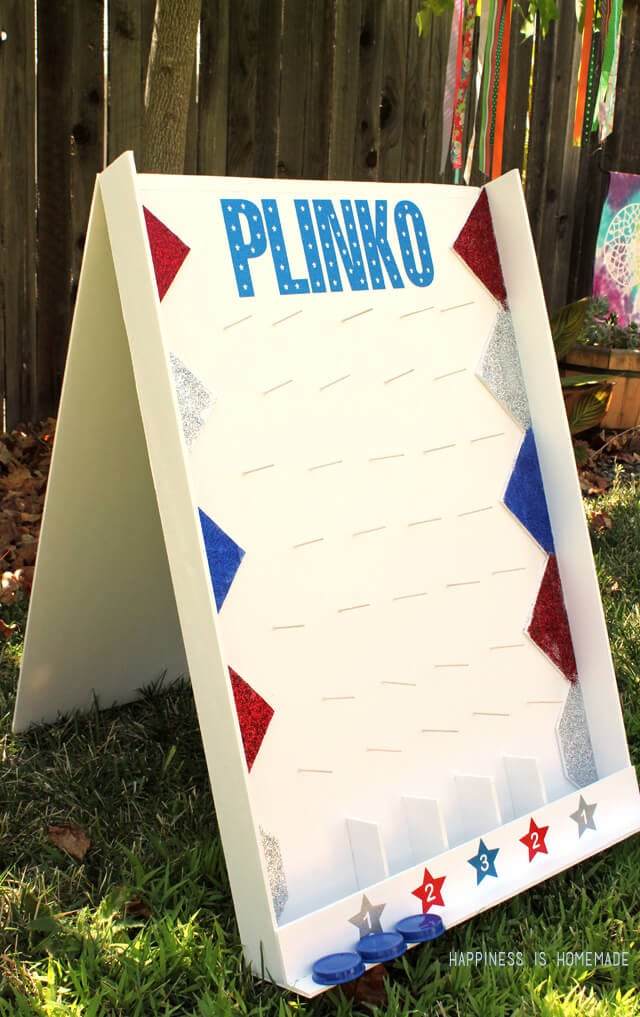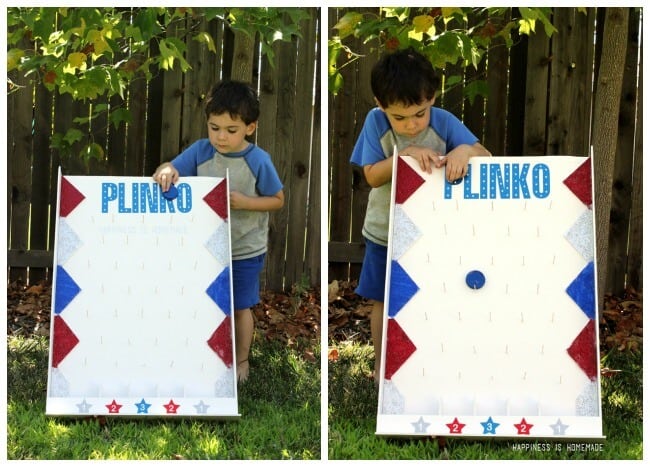 The kids had a BLAST with our new Plinko game, and we can't wait to bring it out again for some Labor Day fun this weekend!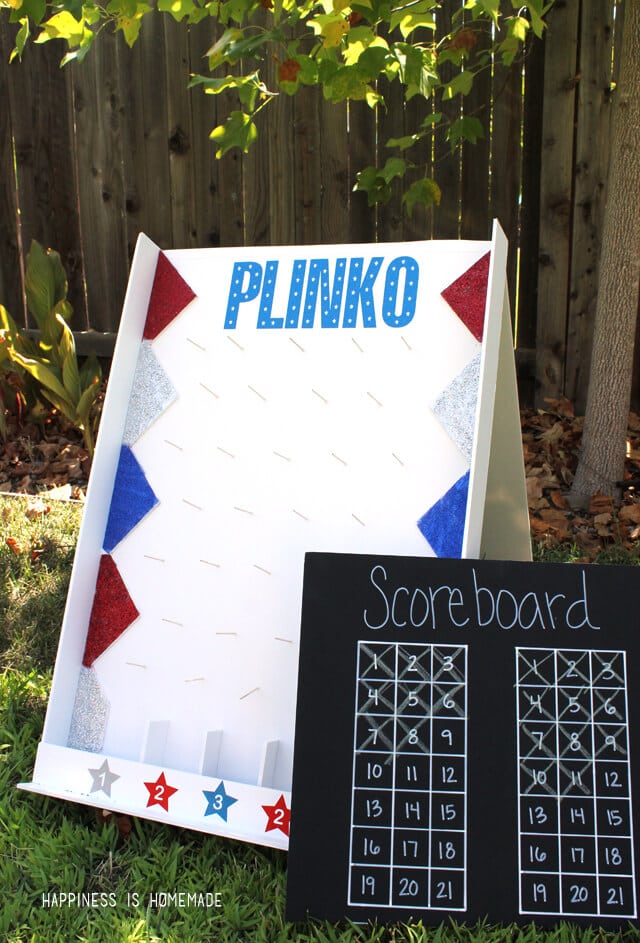 For more fun craft ideas, be sure to sign up for the Elmer's Newsletter and check them out on Twitter, Facebook, Instagram & Pinterest! Happy crafting!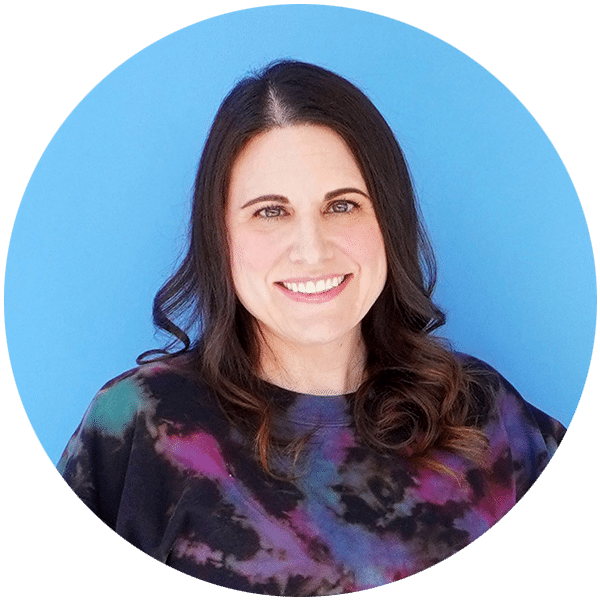 Heidi Kundin has captivated the hearts of millions with her colorful and inspiring approach to crafting, celebrations, and family fun. With over 15 years of experience, Heidi's website has become a must-visit destination for those seeking quick and easy creative ideas and last-minute solutions. Her warm personality shines through her posts, inviting readers to join her on a creative journey that's fun, rewarding, and achievable.