If you're a crafty mom like me, you probably already have all the supplies on-hand to create quick and easy paint-with-water pages for your kiddos. All it takes is a Sharpie marker, watercolor pencils and some absorbent white paper (watercolor paper, bristol or thicker construction paper work well). Since I've been busy with the new baby, our art time has been limited to whatever I can quickly whip up on the fly, and this project perfectly fits the requirements of fast, easy, FUN and little-to-no clean up.
First start with some basic doodles and drawings (and ignore the fact that mine are kind of sloppy – I was doodling on my lap while trying to feed the little guy!), and then go back and outline the drawings with a thick border of watercolor pencil. For small shapes the border of color should be sufficient, but a light shading of the entire area works better for larger objects.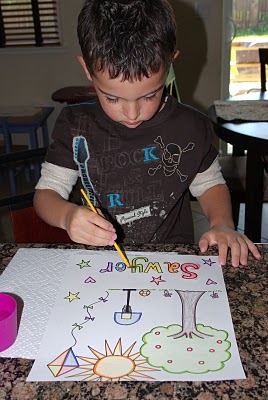 Give the kids a bit of water and a paintbrush, and let them have at it!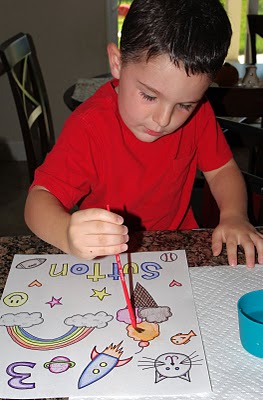 If your kids love to send cards and letters like mine do, these paintings are perfect for cutting out the individual shapes to accent homemade greeting cards!