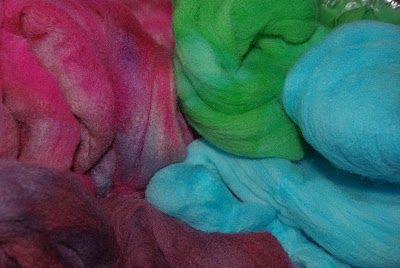 One of the homemade holiday projects I'm going to make for the boys this year is felt play balls – the older boys' will be wrapped around a rubber core, so hopefully they will still be bouncy like a tennis ball, and the baby's ball will have a jingle bell core. Since pre-dyed wool roving costs around $3 at the craft store (for a 0.7 oz bag, so around $4 an ounce), and I'm trying to craft on a tighter buget this year, I decided to see if I could dye my own roving for much cheaper.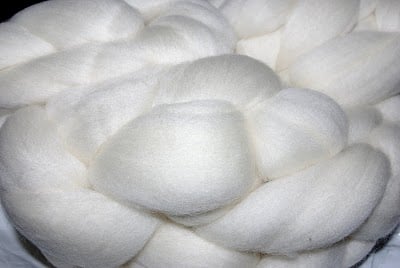 First, I found an Ebay seller who sold me an entire POUND of natural wool roving for $18 including shipping (woohoo, that's only $1.12 an ounce, shipped!). Unfortunately, she doesn't seem to have any current listings or I would have added a link…just look around Ebay because there are lots of sellers!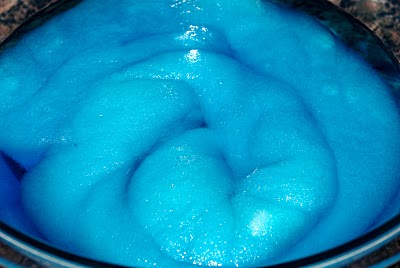 I tried two different dye methods: food coloring and Kool Aid. For both, you'll need boiling hot water (cooled just enough that it's no longer actively boiling…you don't want any motion to start the felting process), vinegar and your choice of dye medium. You can use any bowl/pan/tray you have, because the food dyes are non-toxic, and it shouldn't permanently stain your cookware. I chose to use my larger Pyrex bowls and a few disposable roasting pans that I had left over from one of the boys' marble painting projects.
I started with grape Kool Aid, because I had read a lot about the process, and it seemed easy peasy. I added two packets of Kool Aid to about 6 cups of hot water. Since it was recommended that you add 1/4 cup of white vinegar to the food coloring dye, I added it to the Kool Aid dye as well…and that was the end of my desire to use Kool Aid anymore. It probably wouldn't bother a normal person, but my pregnant sense of hyper-smell was completely revolted by the scent combo of grape and vinegar. ICK!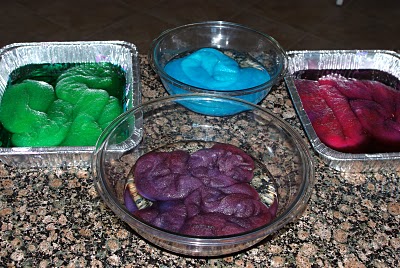 For the food coloring I used green and blue Wilton gel coloring, and mixed it with the water and vinegar until completely dissolved before adding the roving. For the pink, I attempted a tie-dye gradiant look, so I dissolved purple food coloring completely, added my roving, and then very, very gently swirled a few drops of red food coloring into the water. The Kool Aid dye naturally took on a mottled gradiant look of its own, varying in shades from pink to dark purple to light blue.
After about an hour in the dye mixture, you're ready to take the roving out and rinse it gently under cool water. You'll know when the Kool Aid dye is done because the roving will absorb ALL of the color, and you'll be left with a lump of colored roving sitting in clear water (as shown in the purple bowl above). Again, be extremely careful not to agitate the roving too much and start the felting process! After rinsing I hung mine outside in the 103 degree heat to dry, and it still took about a day and a half before it was completely dry!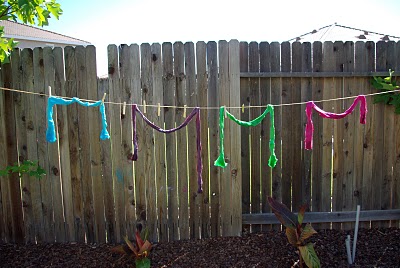 My makeshift clothesline sure is coming in handy lately!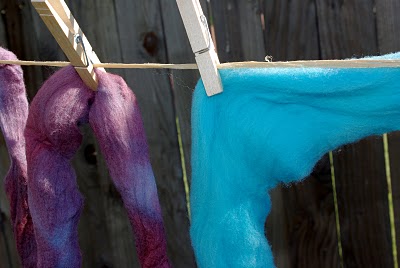 All dyed and ready to be turned into holiday gifts! I'm really happy with how it turned it! It was incredibly easy, and I love that I had complete control over the colors and whether or not I wanted them to be solid or gradiants. This batch of dyed roving represents only about 1/6 of the amount that I purchased, so I'm pretty much set for any and every felting project I could ever imagine…for WAY less than the store bought wool costs!