This post brought to you by iBulb. All opinions are 100% mine.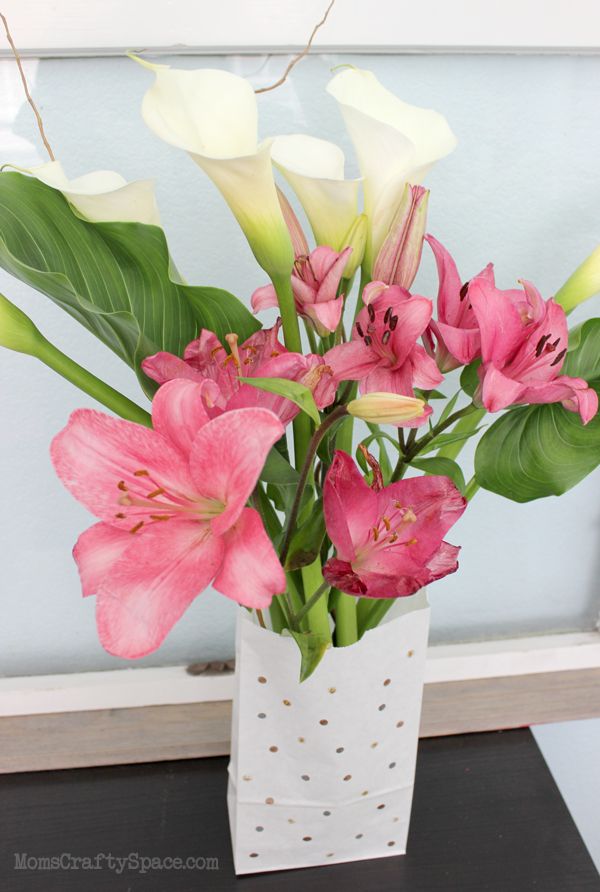 I remember hearing a story when I was younger about how my cousin's future husband swept her off her feet by showering her with a humongous bouquet of calla lilies, and consequently I've always thought that they were incredibly romantic flowers. I love their unique form, and I can remember one of my favorite interior design professors taking up an entire class discussing their architechtural appeal and similarities. Lilies have always been one of my favorites (in all of their varieties), so I couldn't pass up the deal that my local grocery store had last week – three bundles for $10!
When I got home from the store I set my bags on the table, and as I caught a glimpse of them from the corner of my eye I was inspired by how much I liked the look of the flowers all wrapped up in the paper sack. I wanted to keep a similar look but dress it up to fit with my home decor.
I found a clear glass vase that perfectly fit my lilies, and then I found a plain white paper sack that fit rather snugly over the vase. In addition to the plain white paper sack, I also used liquid gilding, a sheet of heavy cardstock and a pencil eraser. I always use a flat pencil eraser or the end of a paintbrush for painting polka dots. I covered the bag with gold and silver gilded dots and then added a few glitter paint dots as well.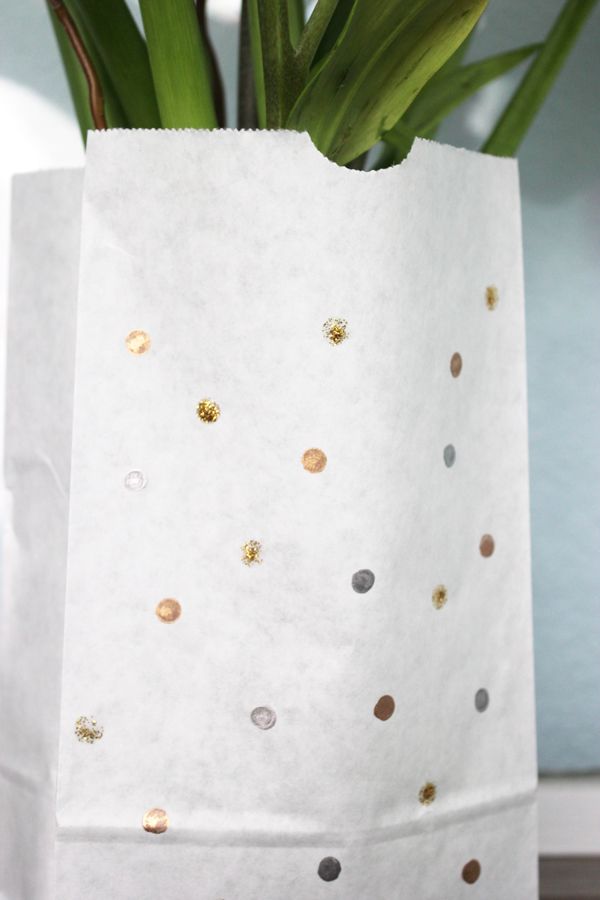 After the bag dried I simply slipped the vase full of flowers into it – easy peasy! I contemplated adding a doily and some twine as additional embellishments, but I decided to keep the lilies as the star of the show and not make the bag compete for attention.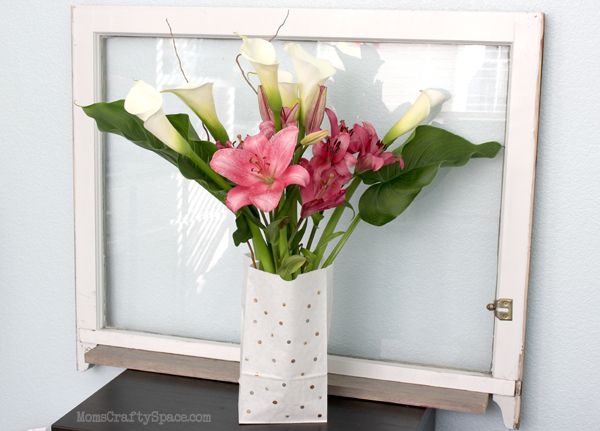 I'm in love with this look! I really like the way the simplicity of the bag balances with the intricate lines of the flowers. Lilies can be found at grocery stores, garden centers, and flower shops, so they're easy to find even though they feel unexpected and fresh (a VERY nice alternative to roses!).
One lucky reader is going to get a $25 Visa gift card to buy some lovely lilies of their own!
Just leave a comment on ths post telling me what kind of craft you'd make to go along with your lily arrangement. Please make sure that your comment includes an email address! Giveaway will close on Saturday, April 20th at midnight. Good luck!