These egg shell candles are so sweet and simple! I used a sharp awl to make a small hole in the top of the egg and then chipped away at it to make the hole larger. I washed the hollowed egg shells and allowed them to dry while I melted my wax.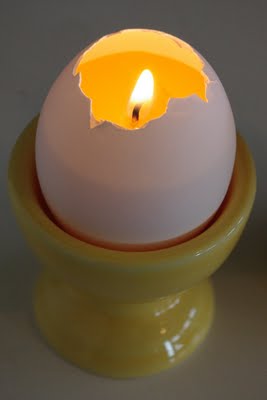 I melted my beeswax in a double boiler…well, technically I put it all inside of a Pyrex measuring cup and placed the measuring cup inside of a pot of boiling water, but I think that's the idea behind a double boiler, isn't it? It takes a good amount of wax to fill each shell. I melted about 1/3 lb of beeswax, and I was able to fill six egg shells.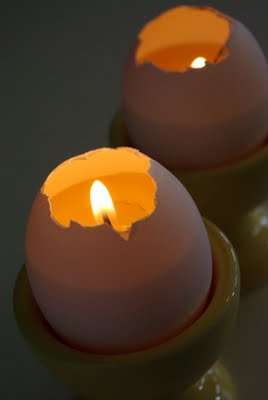 After the top layer of wax started to solidify a bit, I inserted my length of wick into the center of the candle. If you find that the top layer has become too hard, you can use a toothpick to poke a small hole in the wax and then guide the wick through (the bottom layers will still be liquid).
Light & Enjoy! 🙂