These egg shell candles are so sweet and simple! I used a sharp awl to make a small hole in the top of the egg and then chipped away at it to make the hole larger. I washed the hollowed egg shells and allowed them to dry while I melted my wax.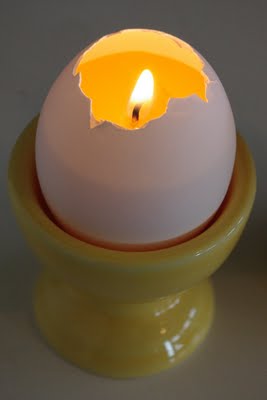 I melted my beeswax in a double boiler…well, technically I put it all inside of a Pyrex measuring cup and placed the measuring cup inside of a pot of boiling water, but I think that's the idea behind a double boiler, isn't it? It takes a good amount of wax to fill each shell. I melted about 1/3 lb of beeswax, and I was able to fill six egg shells.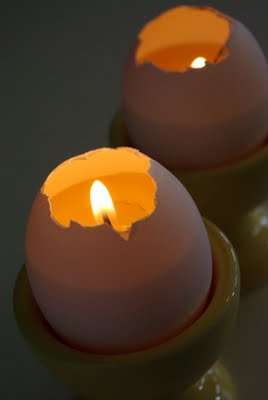 After the top layer of wax started to solidify a bit, I inserted my length of wick into the center of the candle. If you find that the top layer has become too hard, you can use a toothpick to poke a small hole in the wax and then guide the wick through (the bottom layers will still be liquid).
Light & Enjoy! 🙂
Heidi Kundin, the vibrant force behind Happiness is Homemade, has captivated the hearts of millions with her colorful and inspiring approach to crafting, celebrations, and family fun. With 15 years of experience, Heidi's website has become a must-visit destination for those seeking fresh and engaging ideas. Her warm personality shines through her posts, inviting readers to join her on a creative journey that's not only fun but also achievable and budget-conscious. As a mother of three, Heidi expertly balances family life and her passion for creativity, proving that with a little imagination and dedication, happiness truly can be homemade!