How to Establish Your Brand Identity
This post and its photos may contain affiliate links. As an Amazon associate I earn from qualifying purchases. If you make a purchase through these links, I may receive a small commission at no extra cost to you!
Learn how to create and establish your brand identity – from finding inspiration and selecting a style and color palette to choosing the perfect business cards and supplies!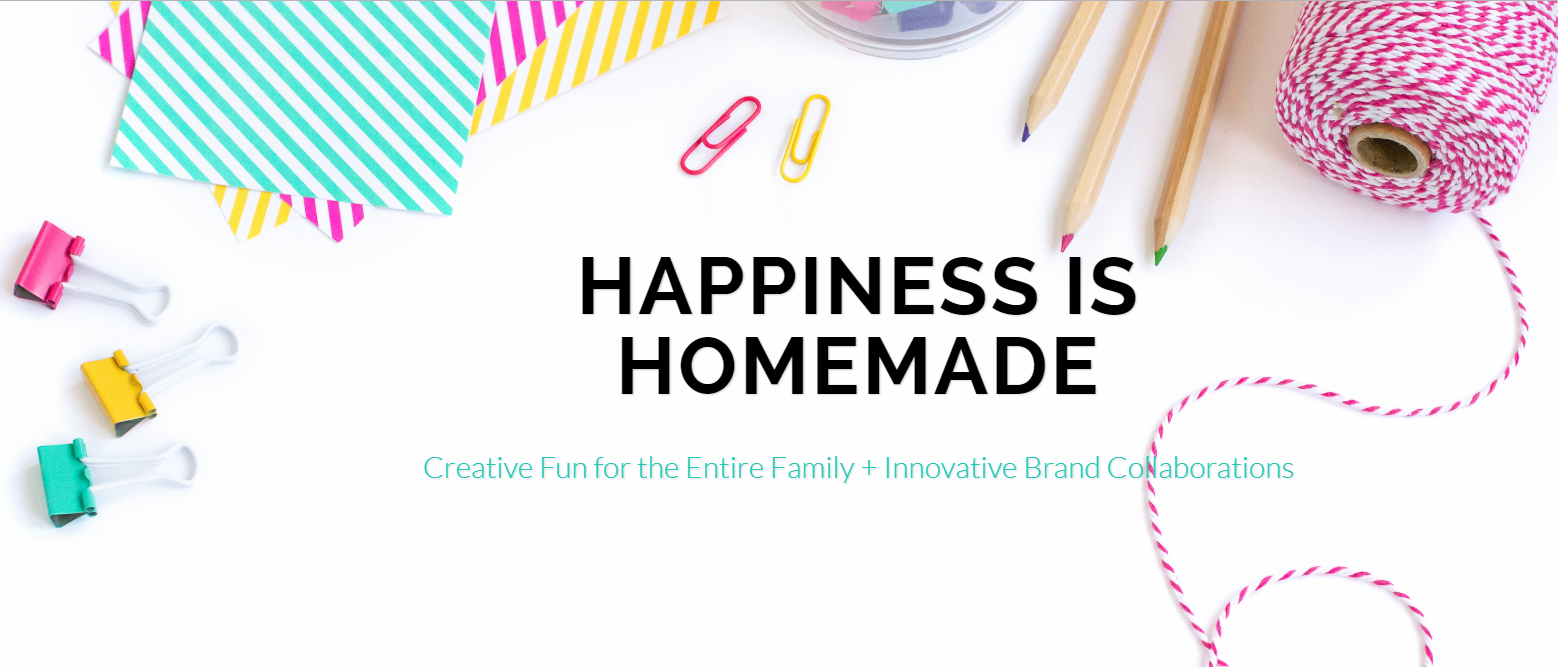 Over the last seven and a half years, my blog has gone through many phases and has had many different logos, styles, and "feels." For a long time, it never even occurred to me that I could make my blog look like a cohesive business entity – I just posted whatever I wanted, whenever, and no matter what it looked like. It wasn't until I started noticing other blogs and small businesses putting out content with a very recognizable style that I realized that was what I wanted, too. I wanted people to be able to look at a craft or DIY project and think, "Oh, that is SO Heidi!" and "That is definitely a Happiness is Homemade project!" I have a very defined personal style when it comes to fashion and home decor, so it only made sense to follow the same path when it came to branding my blog identity.
How to Create a Blog Brand Identity:
The very first thing that I did when building my brand identity was to create a "mood board" of photos (taken by others) that inspired me. These photos made me happy when I looked at them, and they gave me a cohesive color palette to work with. I'm known for my love of rainbows and the fact that I organize ALL the things in color order, so it was a natural step for me to choose an entire rainbow of colors for my branding. I also strongly dislike the color red and love what I refer to as "pastel brights," so those are the colors that I chose to work with in my branding palette.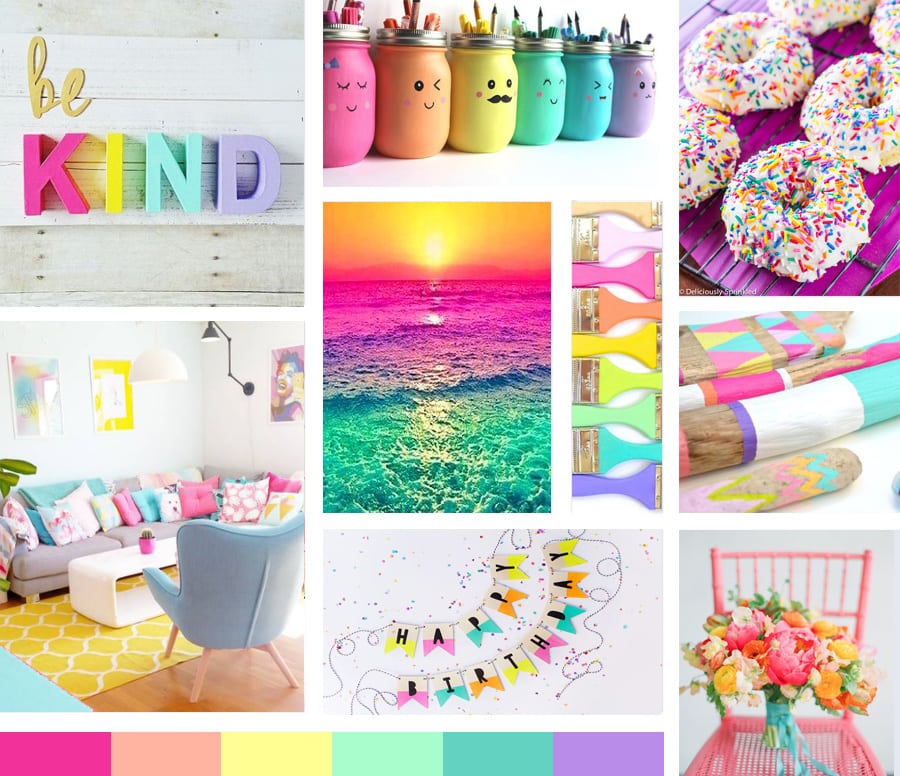 Image Sources: Be Kind Sign, Art Supply Mason Jars, Sprinkled Donuts, Painted Driftwood, Happy Birthday Banner
I actually still have this photo collage printed out and hanging front and center in my office to remind me to stay true to my brand and to the things that I love and bring me joy!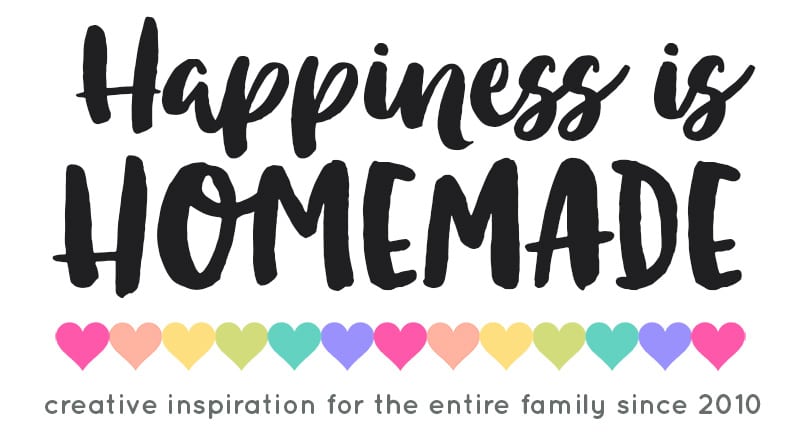 Once I had my color palette chosen, I got to work creating a logo. Just like my personal fashion style and home decor, I chose to use basic black and white with pops of rainbow colors for my logo.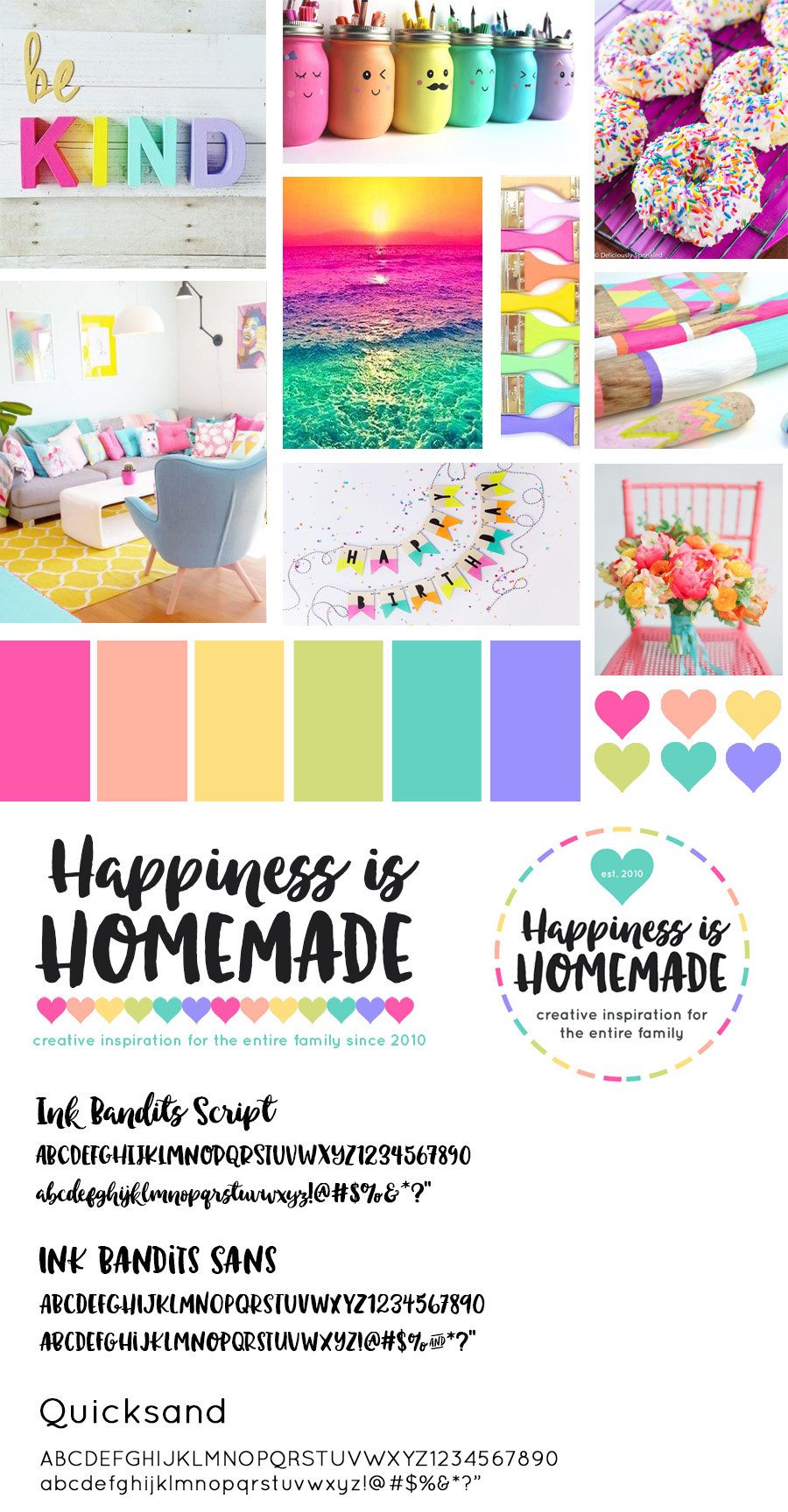 Then, I combined my mood board and my logo, along with my font choices and a few extra goodies, into a brand board. This board sets the tone for all of my blog and Instagram posts, and I refer to it frequently when making decisions about what I want to style of something to look like. Over time, the goal is to replace the images that originated from other sources with my own images, so that I will have a cohesive brand board that is 100% all of my own making.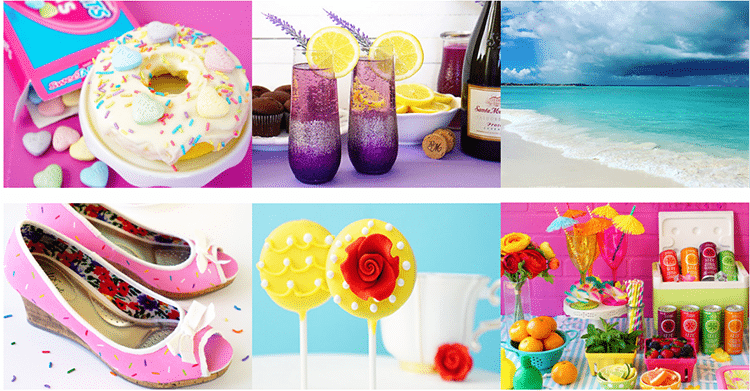 After a few months of posting using my brand board as my design guideline, my blog and Instagram feeds were full of colorful images and bright cheery photos. It was everything I had hoped for and more! Once I had created a collection of my own well-branded images, it was time to use those images for business cards and marketing materials!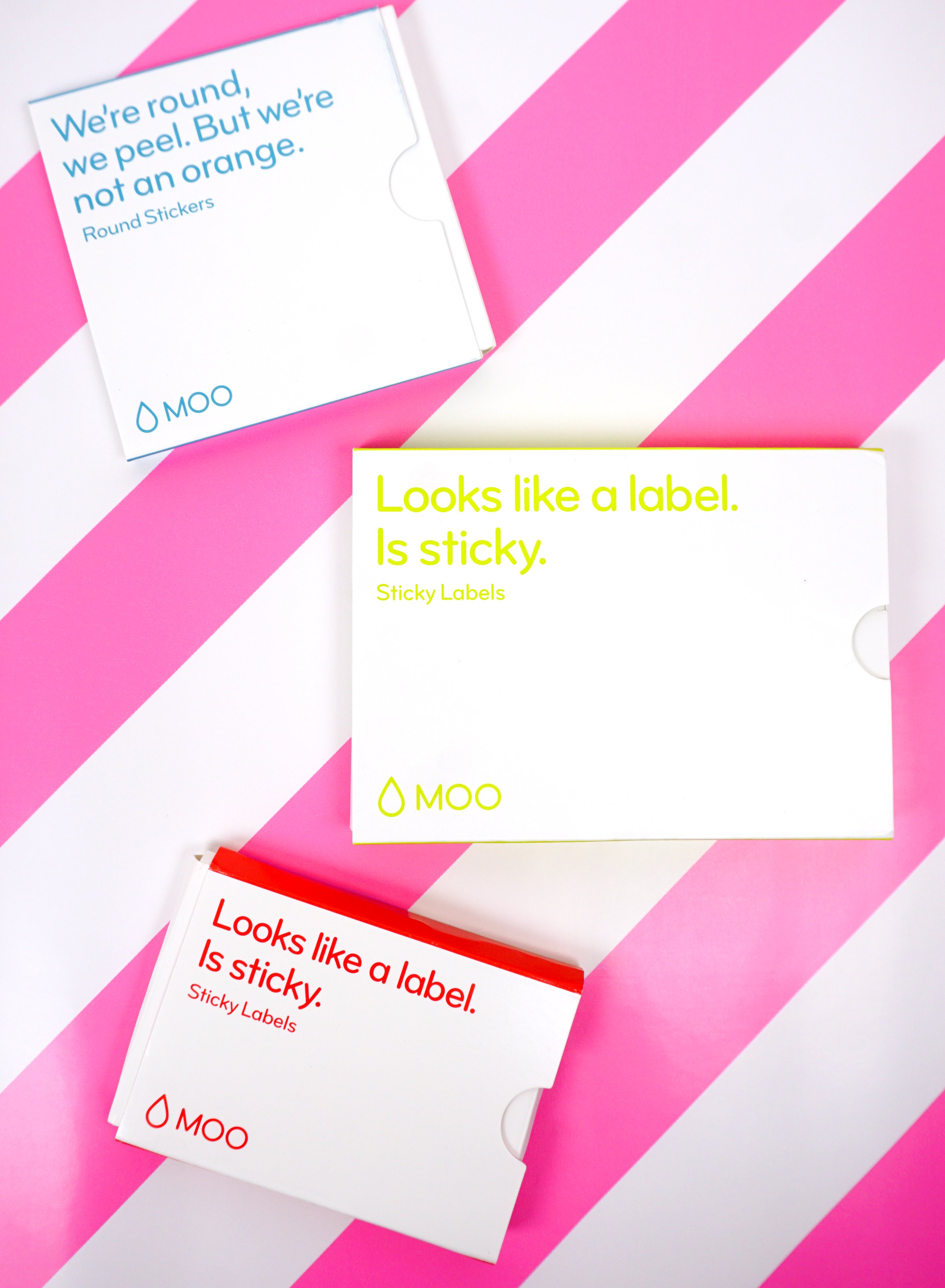 When it comes to business products, my hands-down most favorite place to shop is MOO. MOO offers everything you could possibly need to brand your business from business cards to stickers, postcards, and more. Not only do they offer a wide variety of products, their high quality is second to none! When you order from MOO, you know that you will be getting a professional product that is sure to impress your clients and customers!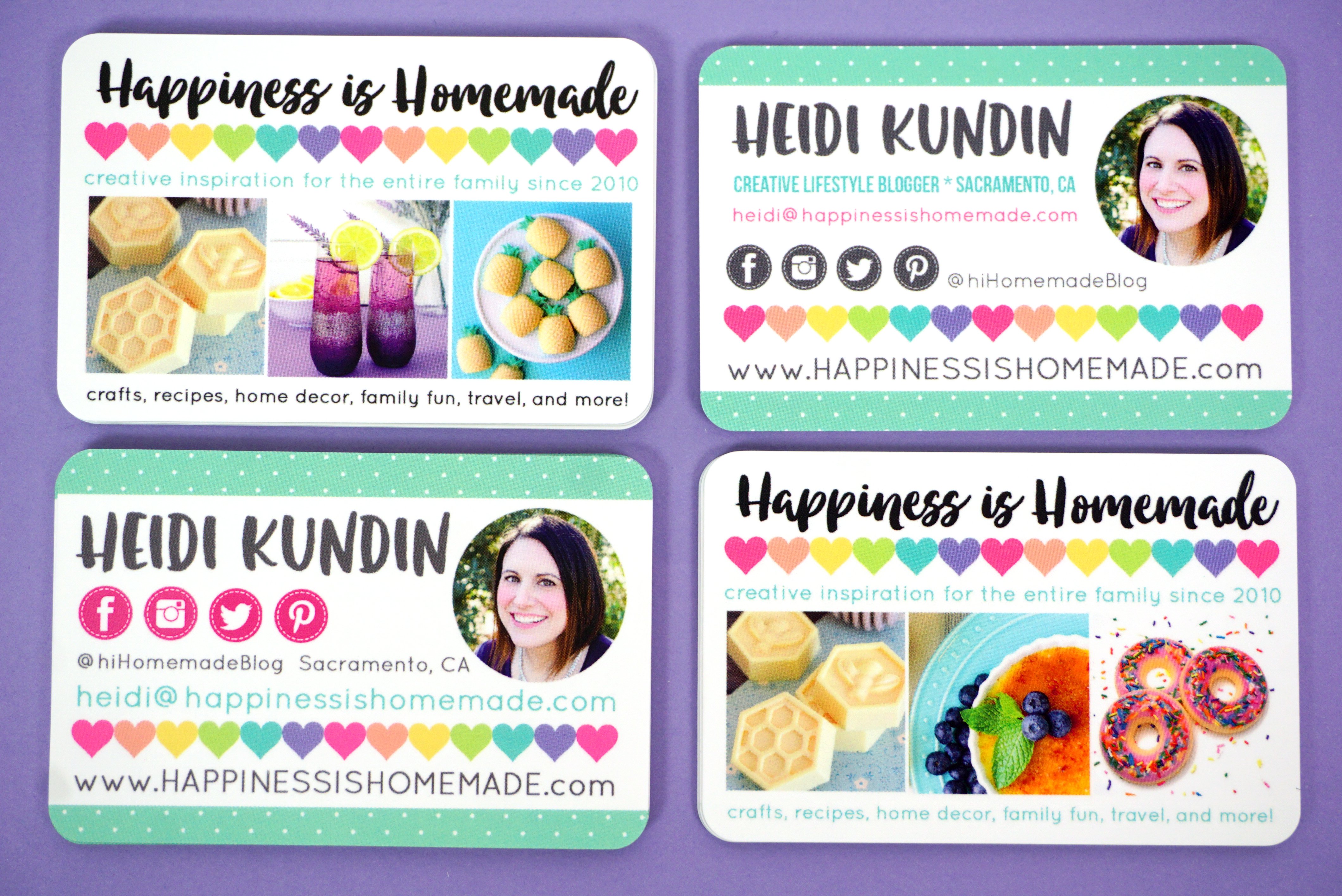 Every time I hand out one of my MOO business cards to someone, they ALWAYS comment on the feel of the paper. The premium paper that MOO uses for their original business cards is thicker than other brands' cards, and it has a velvety smooth touch that always brings a positive reaction. MOO also offers recycled Cotton cards made from t-shirt off-cuttings and extra-thick Luxe cards with colorful side seams. There are so many awesome options, and you really can't go wrong with any of them! MOO also recognizes that people are creative, and we like to have lots of options to choose from, so they offer an amazing feature called Printfinity for FREE. With 50 Business Cards in a pack, you can print a different design on every. single. one. at no extra charge! I opted for two different designs for my pack, just for a bit of variety, but if I had all the time in the world, you can bet I would have designed 50 different cards just for the fun of it!
Since we're getting ready to launch our new online shop here at Happiness is Homemade (eeeek! I'm SO excited! Be sure to follow along on Instagram for the latest news and lauch date information!), I also ordered some fun round stickers for our shop packaging. Just like the business cards, MOO stickers offer the Printfinity option so that you can design many, MANY different stickers if desired. I opted for 8 different designs since the stickers come four to a sheet.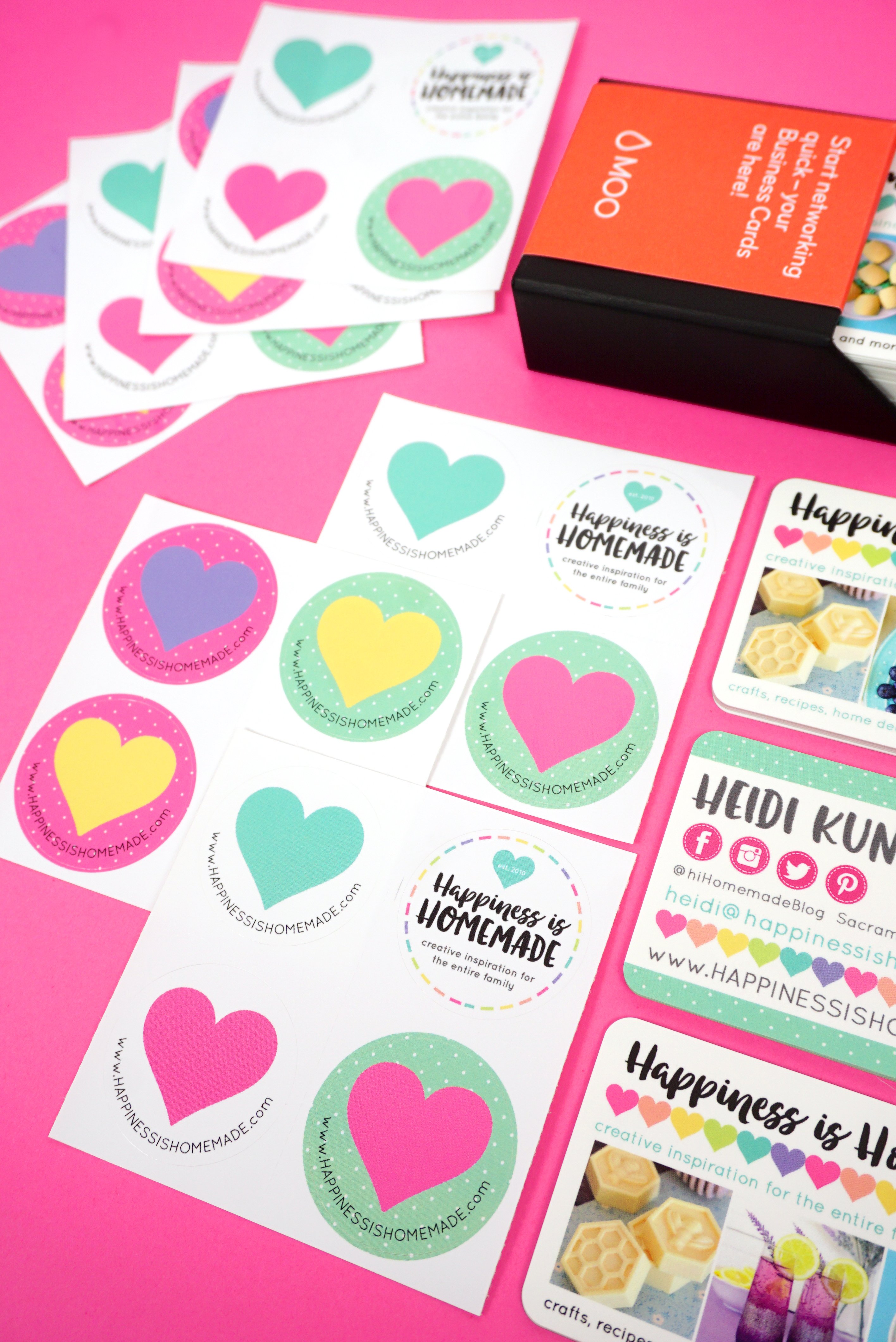 The quality of the stickers far surpassed what I was expecting, and I was blown away with how awesome they look! They have a smooth glossy finish that looks super chic and professional. I had planned on using these stickers just for packaging shop products, but now I want to use them on EVERYTHING!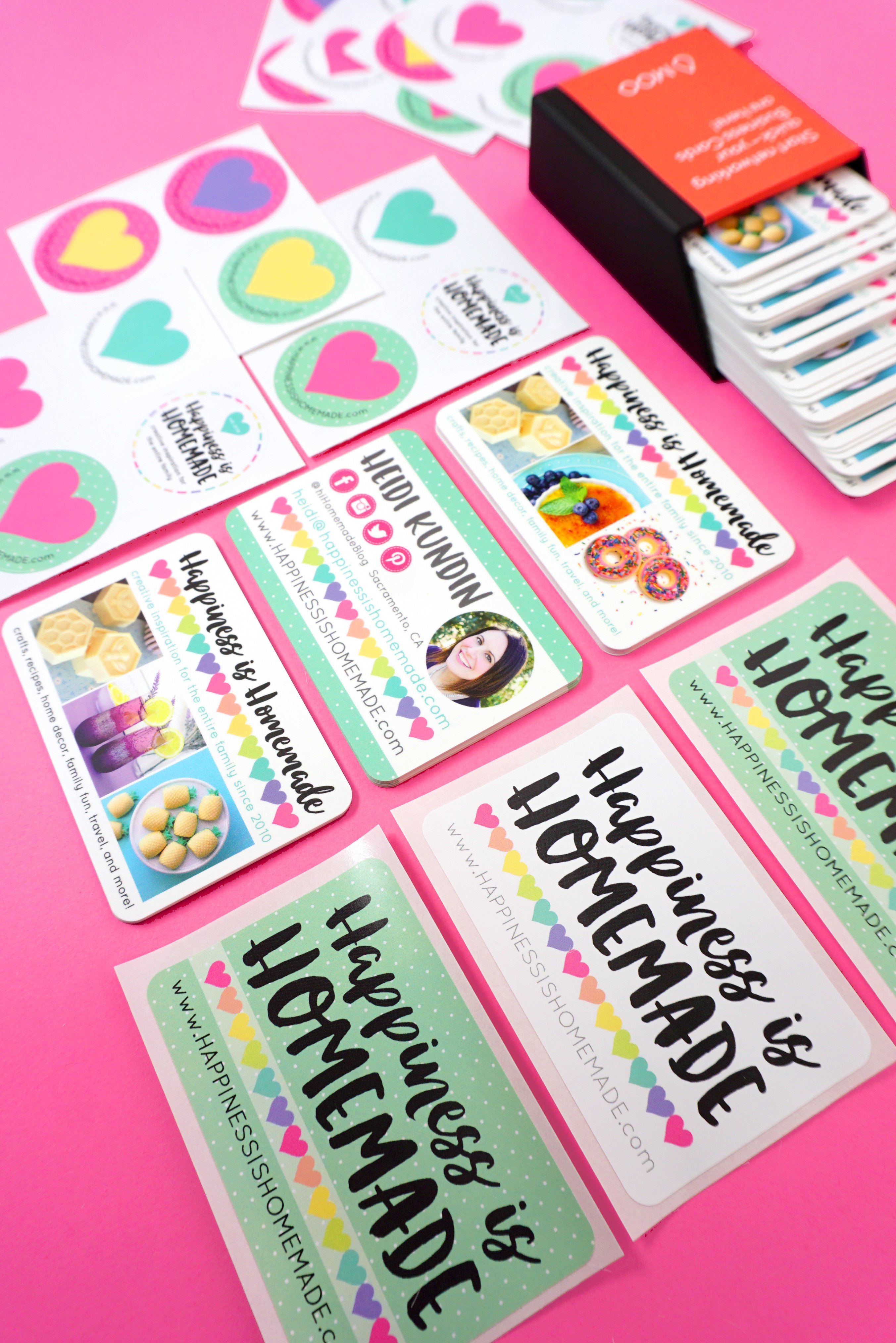 I also picked up some cute labels with our Happiness is Homemade logo to include as a fun freebie inside of our shop packages. I love how well-coordinated everything looks together! THAT, my friends, is cohesive branding for your business!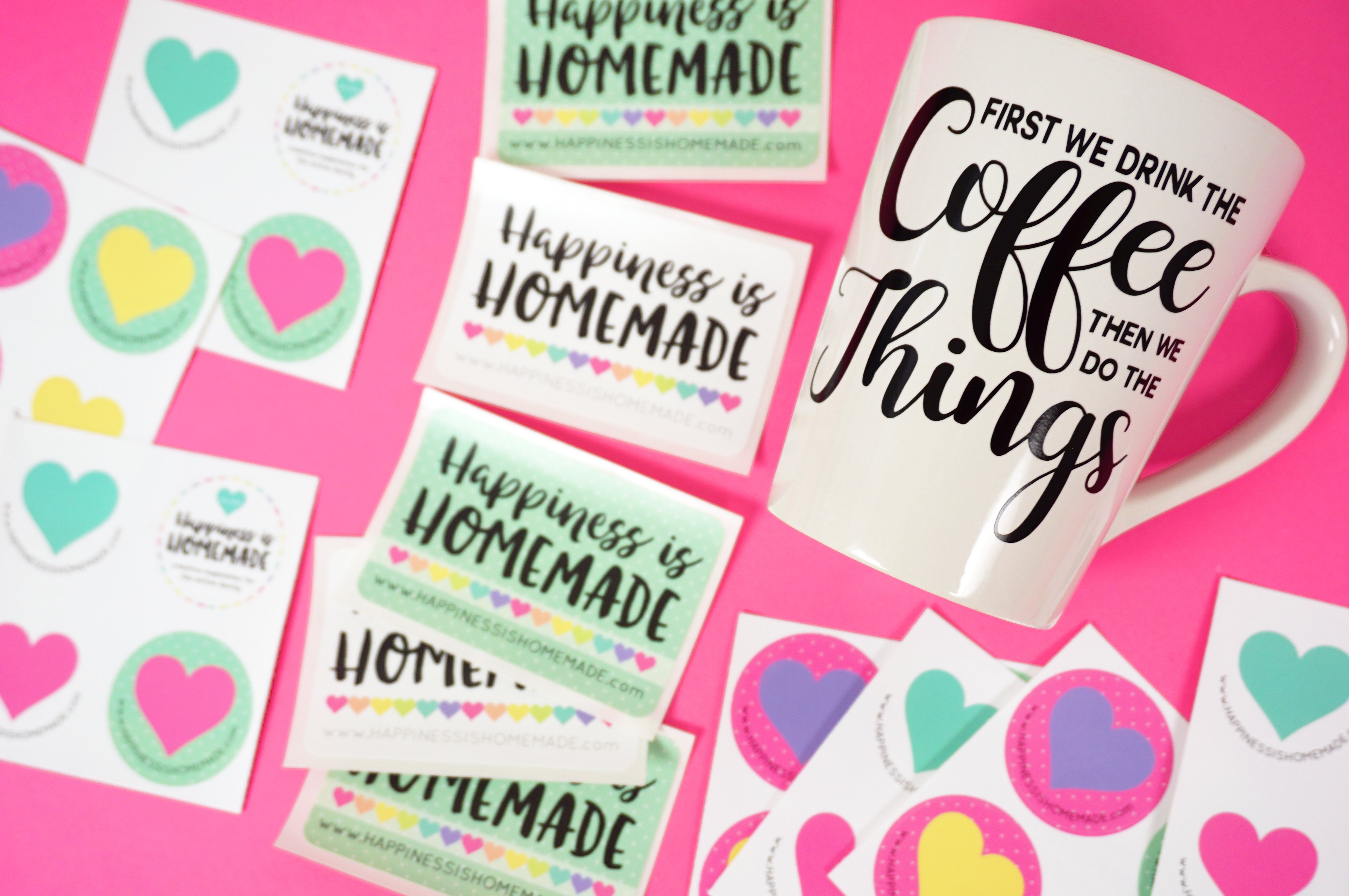 So, want a sneak peek at a couple of the products that you will soon be able to find in our Happiness is Homemade shop? For starters, we'll be bringing you some of our popular coffee mugs – these first appeared as a DIY project on HIH, but we've had SO many sales requests for them that we'll be adding ready-to-ship versions to the shop!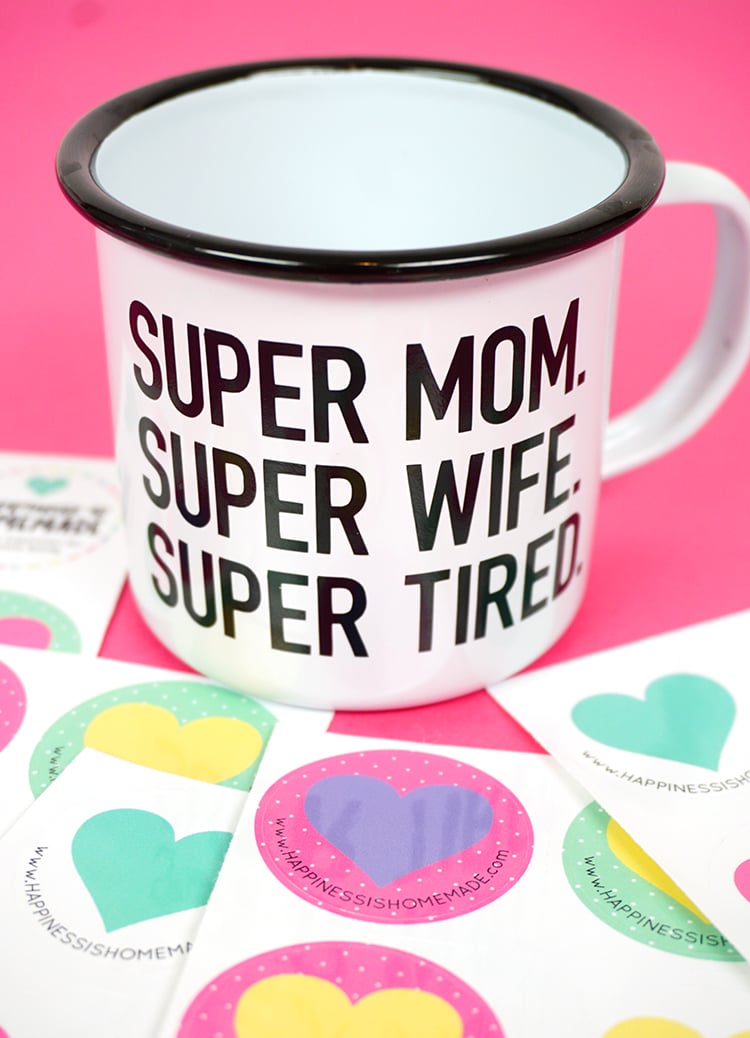 Having a unified brand style will help your business grow by leaps and bounds, so it's a worthwhile investment of your time. Start by creating a mood board and then add your logo and design elements to form a brand board that will become the cornerstone of your design choices. Purchase high-quality business cards and other branding tools from a reputable seller like MOO for a clean, polished, and professional look for your business. I can't wait to see what you come up with!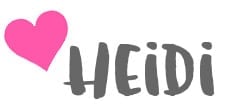 If you missed any of the posts in the "How to Start a Blog" series, check them out here:
[riview id=269 num=2000 orderby=title order=asc size=200×250 showtitle=always lightbox=0]
This is a sponsored conversation written by me on behalf of MOO. The opinions and text are all mine.
Don't forget to pin this post for later!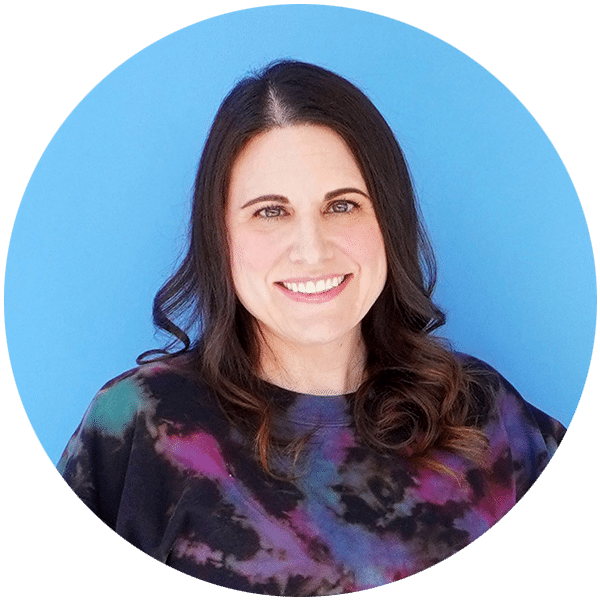 Heidi Kundin has captivated the hearts of millions with her colorful and inspiring approach to crafting, celebrations, and family fun. With over 15 years of experience, Heidi's website has become a must-visit destination for those seeking quick and easy creative ideas and last-minute solutions. Her warm personality shines through her posts, inviting readers to join her on a creative journey that's fun, rewarding, and achievable.