Fantasy Football Party + Parmesan Garlic Fries
This post and its photos may contain affiliate links. As an Amazon associate I earn from qualifying purchases. If you make a purchase through these links, I may receive a small commission at no extra cost to you!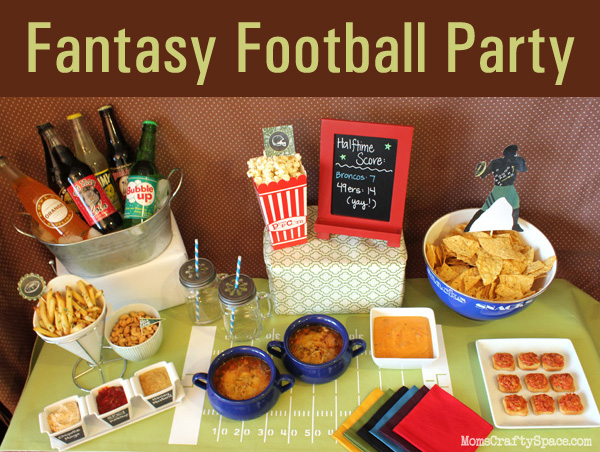 It's almost time for the Big Game, and I couldn't be more excited to celebrate! I've mentioned before that football wasn't really my favorite sport, but after joining a fantasy football league this year (and making it all the way to the playoffs!) I've totally changed my mind! I loved cheering on individual players instead of a specific team, and the camaraderie of our league was loads of fun. To celebrate the end of our season, we're throwing a football bash!
I stopped by World Market to pick up some food ingredients and found a ton of great stuff to set up our party table as well. I also found some dreamy chairs that would look great in my living room, so hopefully one day they'll show up in another post!
For parties that center around a sporting event, I find that everyone tends to gather in front of the television, so I set up small "party stations" with a few different snacks in several locations instead of one big food spread. This way people are encouraged to move around more from table to table and mingle with one another as they grab a quick bite to eat.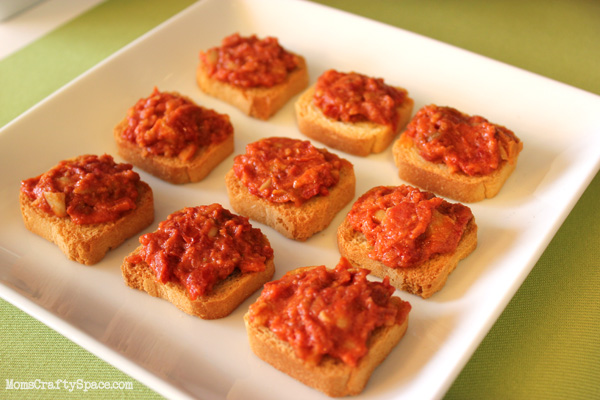 This has got to be the easiest yummy appetizer EVER. Simply spread some Tomato Garlic Bruschetta on to mini wheat toasts, and it's ready to go!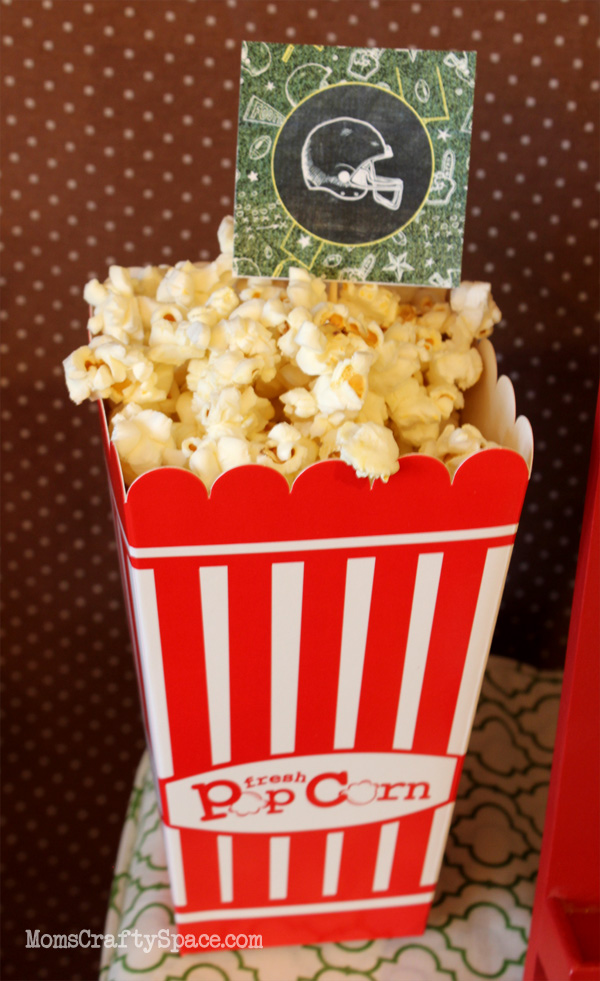 These popcorn boxes were a huge hit with the kids! Since they come in a handy 12-pack we were able to keep filling up new boxes and setting them out every time someone picked one up and walked away with it.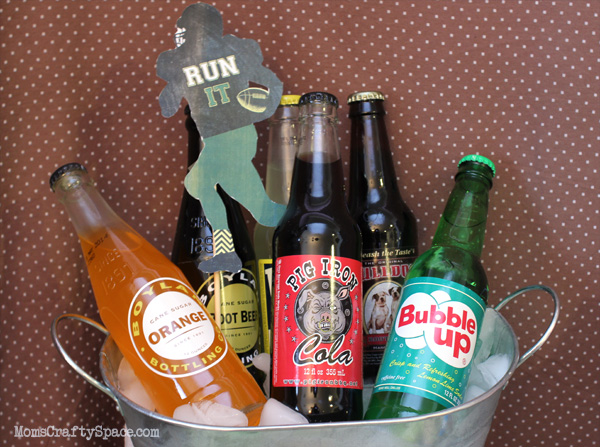 I love this selection of fun and nostalgic sodas for the non-beer-drinkers, and I also love that they're made with cane sugar instead of corn syrup. That Pig Iron Cola is seriously delicious!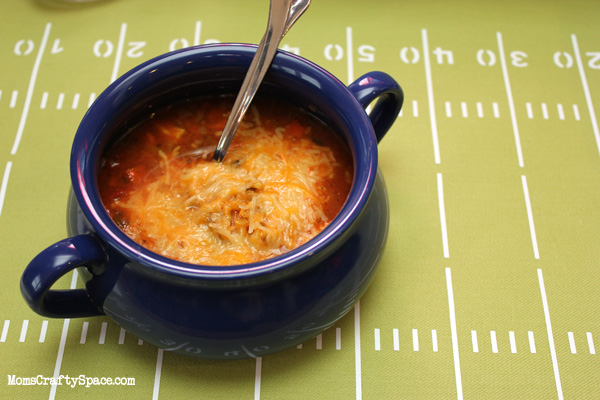 In addition to all of the snack foods, I like to serve either chili or a hearty soup at all of my parties. To make things even easier, I picked up a Tortilla Soup Mix that only required me to add chicken and water. Gotta love a tasty meal that looks like you put way more effort into it!
Seriously, how cute is my football field table runner? I simply added some strips of white vinyl along with some numbers to a green table runner for minimal effort with a big visual impact. My favorite part is that the vinyl will peel off easily afterwards so I'm not stuck with a table runner that can only be used for football parties!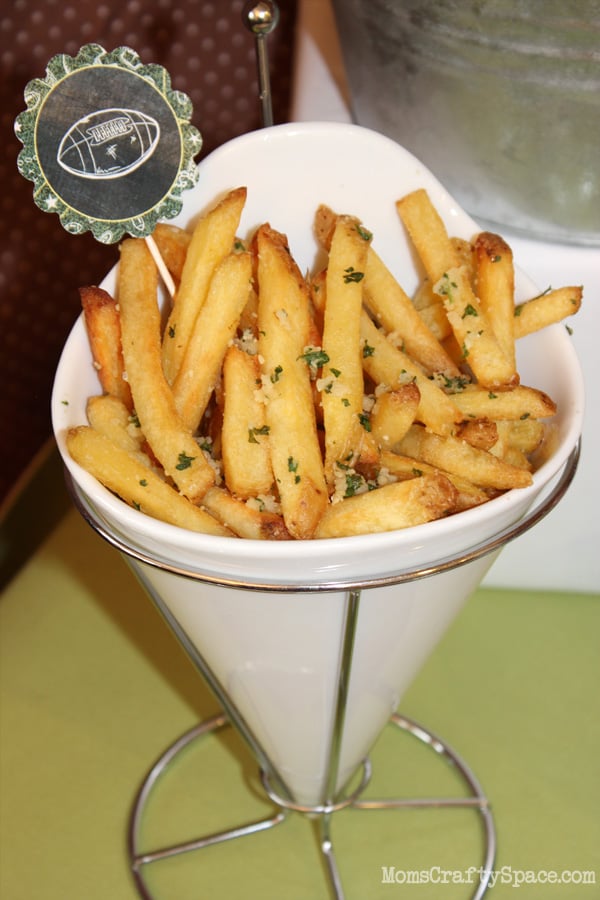 I seriously can't get enough of this fun ceramic snack cone! I only picked up one of them, and now I'm wishing that I had gotten two or three more. They're so stinkin' cute, and they hold a lot of food in that small package!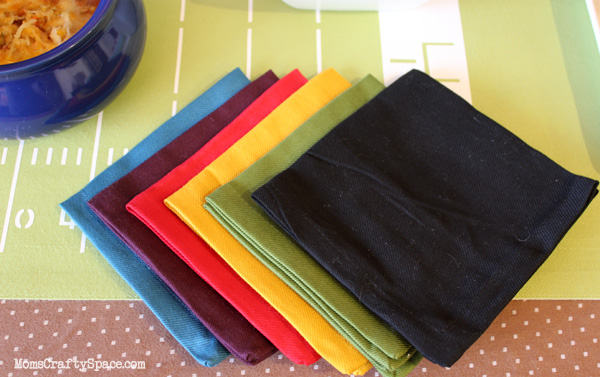 I love to use cloth napkins, and the fun assorted colors of these cocktail-sized napkins will help everyone remember which one was theirs.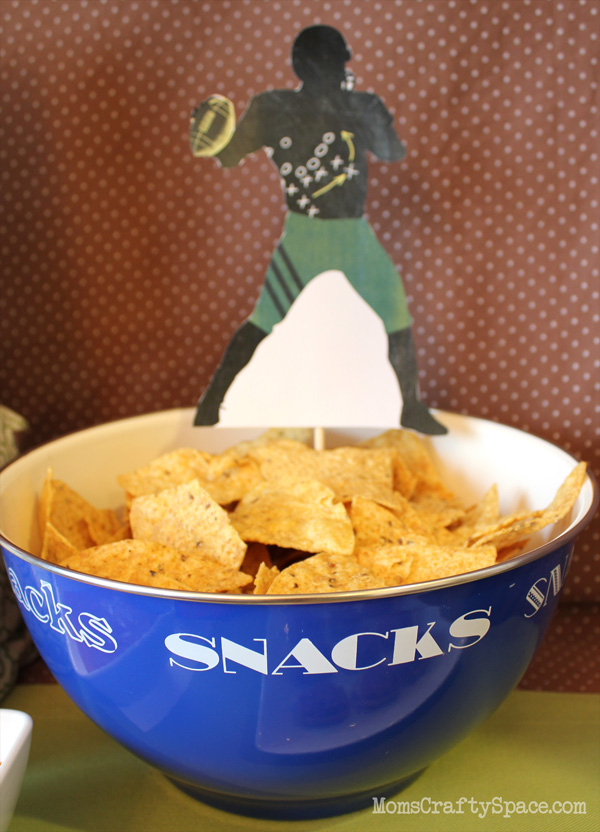 You can't have a football party without chips and queso! Bring on the snacks (in a cute snack bowl, naturally!)! Sutton started hysterically laughing when most of the chips were gone, and he saw that the inside bottom of the bowl reads, "More Snacks Please!"
My garlic parmesan french fries are always popular, and this time I made a trio of dipping sauces to go along with them. I just couldn't resist that fun chalkboard labeled dish. The habanero ketchup was the favorite of the bunch!
To turn ordinary french fries into a party favorite, spray with a light coat of olive oil and top with coarse sea salt before baking. Remove the fries from the oven when they are golden, and immediately toss with a drizzle of garlic parmesan dipping oil. I usually finish up with a bit more minced garlic and an extra drizzle of garlic oil. Yum!
To make chipotle mayo: mix 3/4 cup of olive oil based mayonnaise with 2 tsp. of roasted red pepper chipotle sauce and 1/4 tsp. of chipotle chili powder.
For honey mustard dipping sauce: mix together 1/2 cup honey with 1/4 cup mustard and 1 tsp. rice wine vinegar.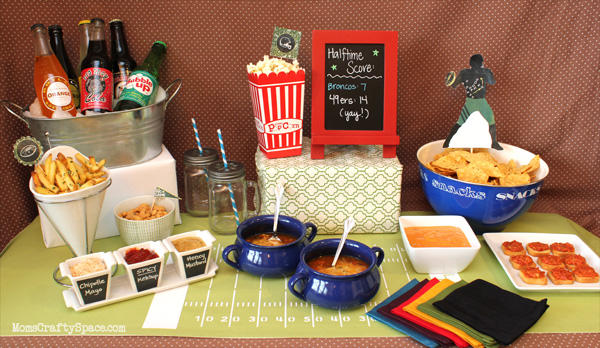 To keep up with World Market for all of the latest information and specials, be sure to follow them on all their social media channels:
Enter the World Market Football Party Sweepstakes for you chance to host the Ultimate Football Viewing Party! Like World Market on Facebook to enter for a chance to win one of (10) $500 World Market gift cards to purchase snacks, drinks, treats and decor for the Ultimate Football Viewing Party.
*Sweepstakes runs from 1/5/13 – 1/25/13
*Must be a Cost Plus World Market Facebook fan to enter the sweepstakes.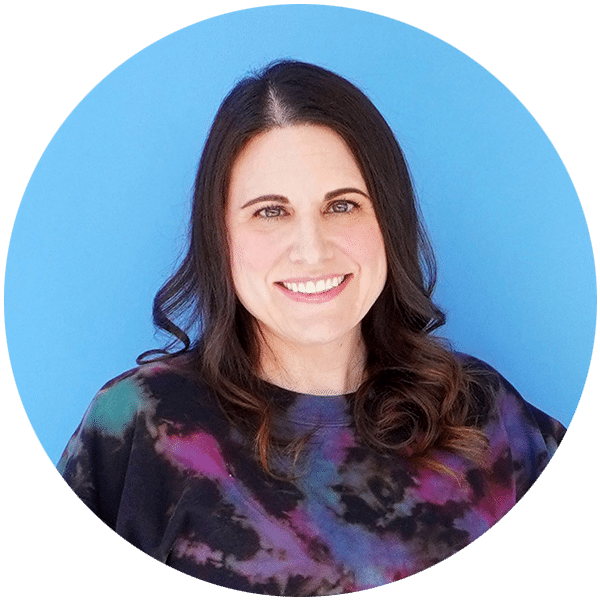 Heidi Kundin has captivated the hearts of millions with her colorful and inspiring approach to crafting, celebrations, and family fun. With over 15 years of experience, Heidi's website has become a must-visit destination for those seeking quick and easy creative ideas and last-minute solutions. Her warm personality shines through her posts, inviting readers to join her on a creative journey that's fun, rewarding, and achievable.