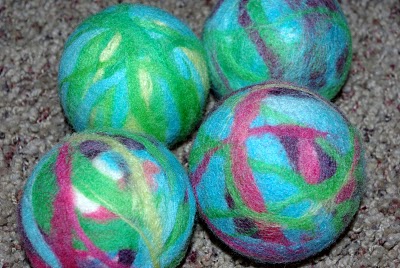 I did this craft by myself one late night last week, but it can easily be done with the kiddos as well. I'll be saving these balls (and making a bunch more – warning, it's addictive!) for one of the boys' Hanukkah gifts, so that's the only reason I chose not to include them in this one 🙂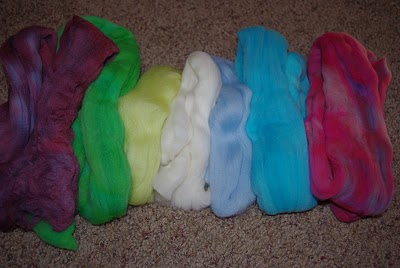 All you'll need for this project is some wool roving (scraps of 100% wool yarn will work as well) and an old pair of pantyhose. I'm using the wool roving that I dyed a few weeks ago as well as a couple of store bought skeins that I've had on-hand for awhile.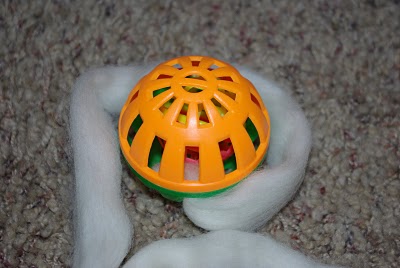 The core of your ball can be made from just about any round object, including the roving itself. Many people like to roll up a core of solid undyed wool, but since this one is going to be for the new baby, I chose a baseball-sized cat toy with a jingle bell hidden in the center (picked up in a 2-pack from the dollar store).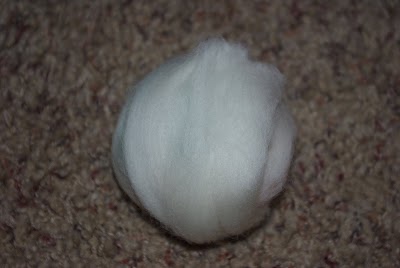 Start by winding your roving around the core. It's nice to use the undyed wool here because it's going to be hidden underneath layers of the colored wool.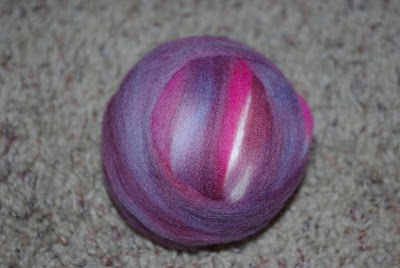 Layer by layer continue to wind the wool around the ball
Be sure to note that the finished felted ball will be smaller than what it looks like now, so plan accordingly! Depending on what you've used for your core, the finished ball will be around 1/2 – 2/3 the size that it is at this stage.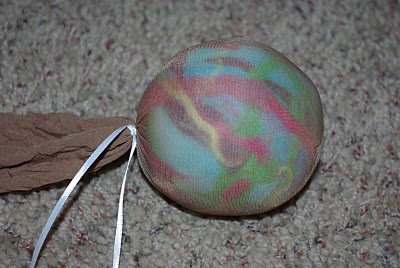 Stuff your ball into the toe of a pair of old nylon pantyhose, and tie it tightly. I chose the "lazy way" of felting in which I had my washing machine and dryer do all of the felting work for me, but alternatively you can felt the ball by hand (the kids would probably LOVE to do this!) – there's some basic directions for wet hand felting
HERE
.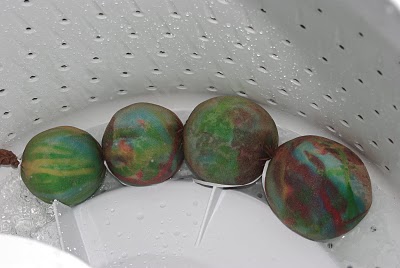 I stuffed four balls into my stocking before tossing it into the washing machine. Be sure that you set your machine to a low water setting, add an ample amount of soap (soap is essential to the felting process), and use the hottest water setting available. After they've taken a spin through the washing machine, toss them into the dryer, again using the hottest setting available.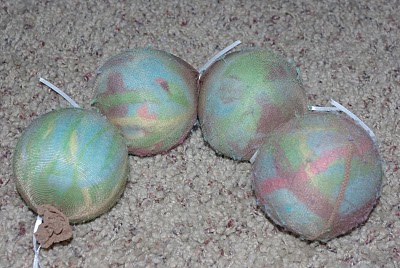 This is what it will look like when they come out. Note that there is a good deal of pilling on the outside of the stocking, and it's very likely that the stocking will be stuck tightly to the balls. Cut your ribbons/rubber bands/etc and carefully peel the balls away from the pantyhose. I had a very few loose fibers that were easily smoothed by getting them just a little bit wet again.
Beautiful! For the older boys I used a tennis ball for the core because I wanted the balls to be super bouncy after they were felted. I wasn't sure that they were still going to bounce since I added so much wool to the outside, but they work great! I think the boys are going to love them, and I can't wait to make some more!