Have you started your holiday shopping yet? Christmas is exactly two months away (that's only 60 days!), and Hanukkah comes extra early this year in only 33 days! Over the coming weeks I will be sharing some fun holiday gift ideas with you. Many will be homemade, and a few will be select store-bought items that I'm really excited about.
We recently had the opportunity to test out the new Create 2 Destroy Dino Destruction Metropolitan Mayhem play set from Crayola, and now Crayola is giving YOU the chance to win one too!

My boys seriously could NOT wait to tear into this!
The box contained:
Wreckzilla & Destructodon figures with built-in molds and catapult tail launcher
2 boulder launching volcano catapults
(3) 8 oz. tubs of Morphix
19 different molds
Metropolitan Mayhem play mat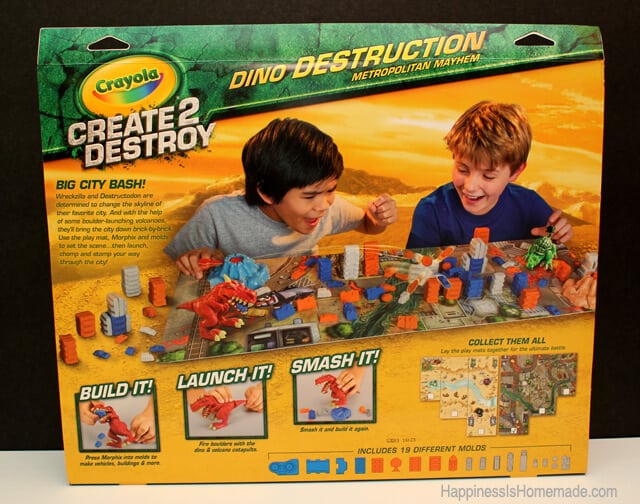 "Wreckzilla and Destructodon are determined to change the skyline of their favorite city! And with the help of some boulder-launching volcanoes, they'll bring the city down brick-by-brick. Use the play mat, Morphix and molds to set the scene…then launch, chomp and stomp your way through the city!" That sounds like a blast!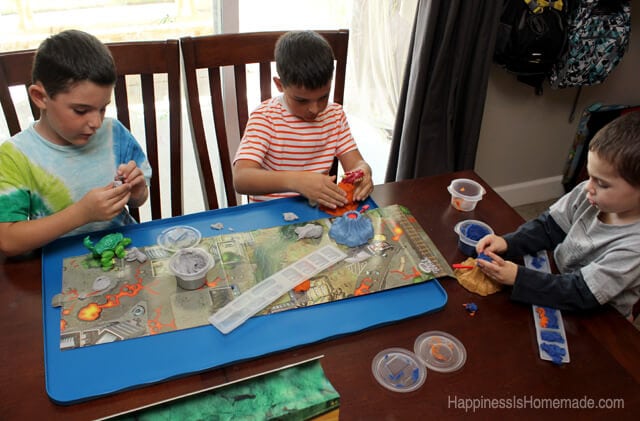 All three boys immediately set up the playmat, grabbed a tub of Morphix, and started building, launching and smashing. The Morphix colorful construction compound is seriously SO cool! It's gritty, gooey and moldable, and such great sensory fun! The recommended age is 4+, but Simon just recently turned three, and he was able to join in and play without any problems. In fact, he's the most enamored with the set, and he has played with it every day for the past week and a half! (As always, please use your own discretion in determining age-appropriateness)
Sutton, my six-year-old, made a little 15-second video to show you just how much he thinks "Create 2 Destroy rocks!"
If you liked the video, we would LOVE and appreciate  it if you would take 10 seconds to click on Crayola's Create 2 Destroy Facebook page, click "Vote for Videos" and vote for us ("Happiness is Homemade") in the
Create 2 Destroy Blogger video contest.
While you're there you will also find information on how YOU can upload your own video for a chance to win $1,000!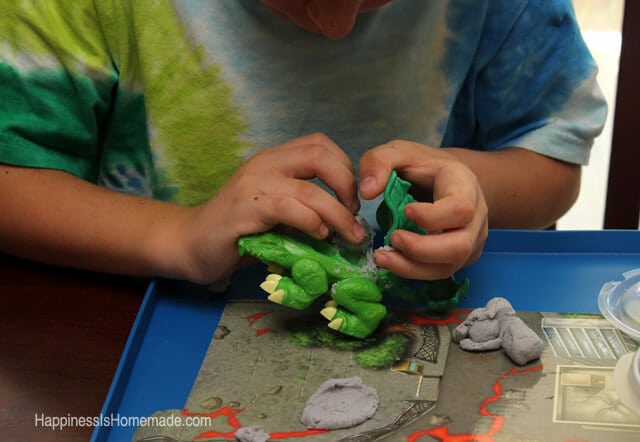 The level of detail in this set is terrific! Instead of just including a standard typical dinosaur, these guys are equipped with catapult tail launchers, tail whip action, built-in shape molds (hidden inside the mouth and under the shell) and footprints that produce fun shaped imprints.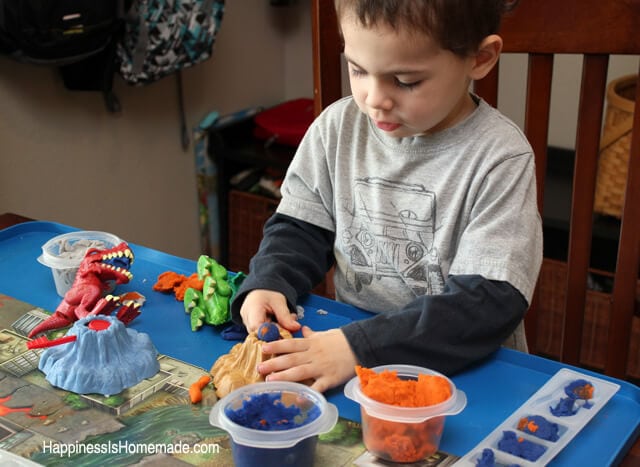 The highlight of the set, however, is definitely the volcano catapult launchers. This little kid has spent countless hours making Morphix balls and launching them across the kitchen table!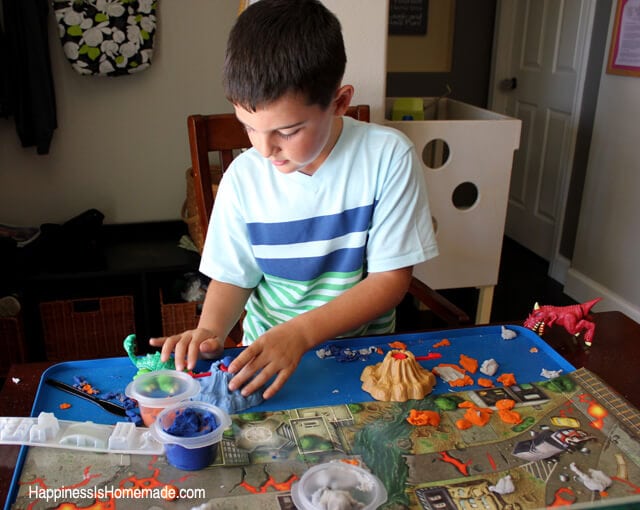 Honestly, my kids have had a ton of fun with the Create 2 Destroy set, and it has barely left the kitchen table for over a week now. Every time I try to put it away they just want to take it out and play with it again!
Crayola is generously giving away a Create 2 Destroy set to one lucky reader so that you can get a jump start on your holiday shopping! Good luck!
Please visit Crayola on Facebook and Twitter for more information on the new Create 2 Destroy sets and other Crayola products!
Disclaimer: The Crayola products, gift card, information and gift packs have been provided by Crayola; however, all opinions are my own.