Today the boys and I tried our hand at making homemade berry fruit rolls. After spending way too much money lately on the store bought kind, I did some quick internet research and came up with a way to make our own for much less! We started off with a large container of strawberries that we picked at our local farm garden.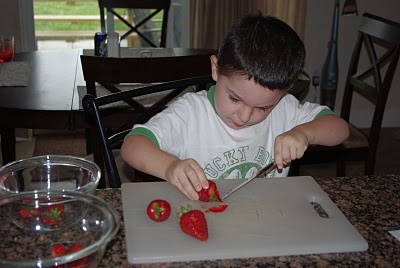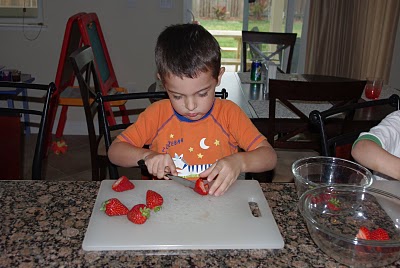 I gathered up my helpers and gave them a lesson in how to cut the stems off the strawberries and chop them into pieces. They were both so incredibly focused on the task at hand that they hardly even stopped to eat very many berries along the way!
We made two batches – one plain strawberry and one with strawberries and blueberries. Each batch requires about 4 cups of fruit, a couple tablespoons of sweetener (we used plain white sugar) and about 1/4 cup of lemon juice. Add all your ingredients to a saucepan and cook over medium-low heat until the fruit starts to break down.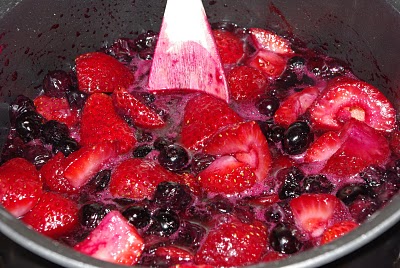 After it has gotten good and mushy, throw it into a blender or food processor and puree it all up.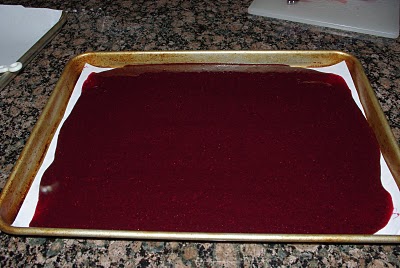 Pour it into a lined jelly roll pan and spread it out evenly. Try not to get the edges too thin or you'll end up having to cut them off later because they'll get hard and stick to the paper. The fruit will shrink as it dehydrates, so a thicker layer is better! We used freezer paper to line our pans as recommended in the recipe that I was using, but I think that parchment paper might have been a better option. In the end, we did have a little bit of trouble with the fruit rolls sticking to the paper except in the thickest parts.