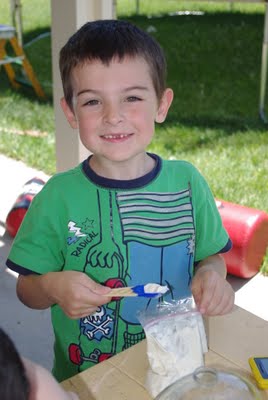 This creative idea also came from a little blurb in
Family Fun
magazine (if you don't get this magazine yet, you
have
to check it out. It's packed with resources!), but I was hesitant about how well it would work. Then I ran across a post from Christina at
2 Little Hooligans
who posted her
step-by-step photos
, and I could see for myself that it turned out wonderfully!
Ingredients:
2 tablespoons sugar
1 cup half and half
1/2 teaspoon vanilla extract
1/2 cup salt (The bigger the granules, the better. Kosher or rock salt works best, but table salt is fine.)
Ice cubes (enough to fill each gallon-size bag about half full)
1 pint-size ziplock bag
1 gallon-size ziplock bag
Instructions:
Combine the sugar, half and half, and vanilla extract in the pint-size bag and seal it tightly. (I double bagged ours, because I'm paranoid like that!).
Place the salt and ice in the gallon-size bag, then place the sealed smaller bag inside as well. Seal the larger bag. Now shake the bags until the mixture hardens (about 5 minutes). Feel the small bag to determine when it's done.
Take the smaller bag out of the larger one, add mix-ins, and eat the ice cream right out of the bag. Easy cleanup too! Serves 1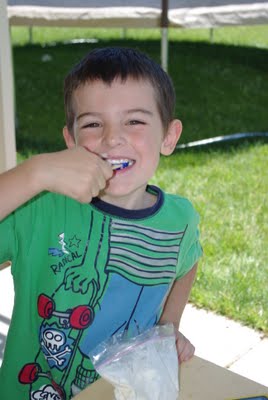 Perfect soft serve vanilla ice cream!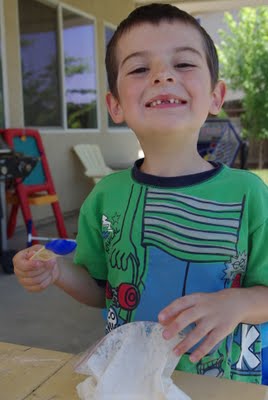 The kids were happy to devour this frosty treat after all that hard work shaking it up!
This was so much fun, we'll definitely be doing it again!