Looking for a free printable homeschool schedule template? We've got you covered! Use our free printable daily homeschool schedule to make your own routine!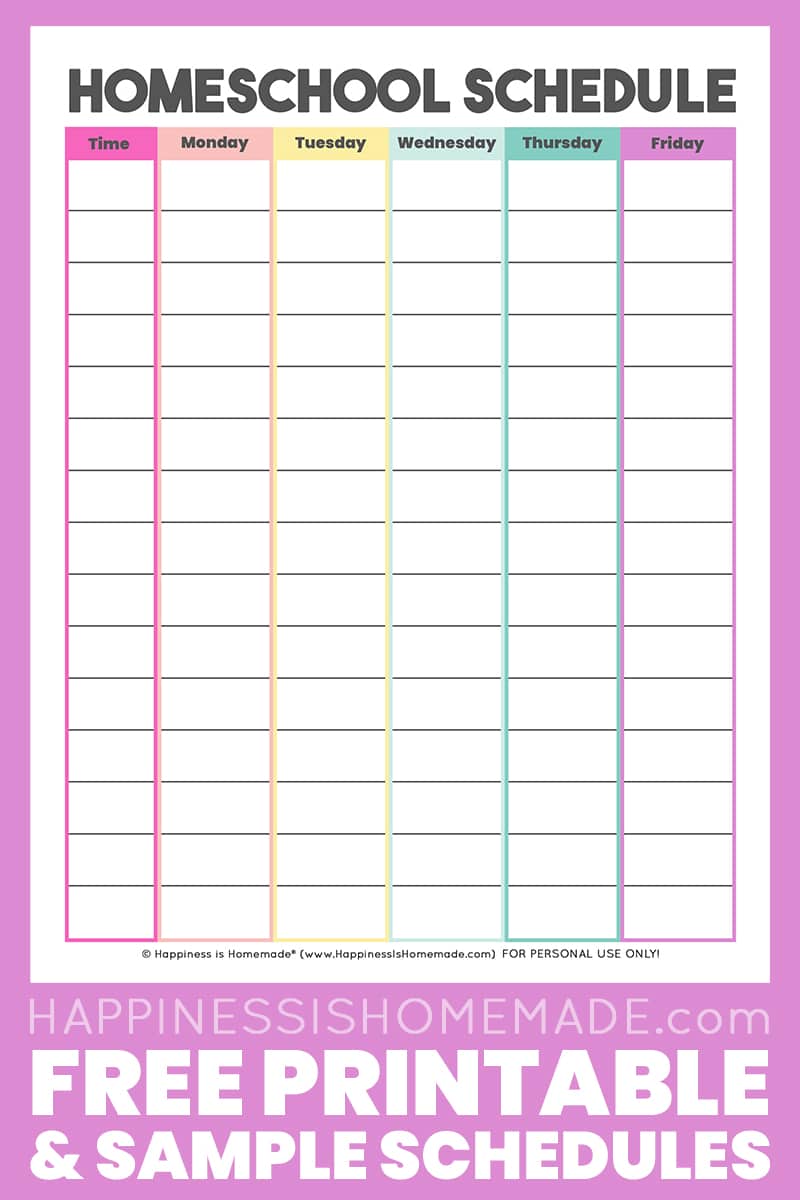 This post may contain affiliate links. I will receive a small commission from these sales at no additional cost to you!
Are you trying to figure out a homeschool schedule and feeling overwhelmed? We're here to help with a free printable homeschool schedule template and example homeschool schedules for you!
There are LOTS of new first-time homeschool families this year, and we understand that planning your daily homeschool schedule can feel like a daunting task at times…but it doesn't have to be hard! (We promise!)
We've had a TON of requests for us to share our daily homeschool schedule with you, so we thought we'd share a few different helpful resources with you!
First, we're sharing three different Sample Daily Homeschool Schedules (along with a bunch of tips, tricks, and curriculum recommendations) to give you some inspiration, and we're also giving you a FREE printable homeschool schedule template to help you create your own schedule.
We're also currently writing a detailed series of posts to help you learn how to create your homeschool schedule and plan your yearly curriculum, so if you have any questions you'd like to see answered, leave them below in the comments!
---
How to Create a Homeschool Schedule:




A Brief Overview
When you first sit down to make your schedule, it helps to prioritize your day and sort things into the "MUST Dos" and the lesser priorities categories. I like to look at my curriculum and work backwards – first, I take a look at the year as a whole and determine what the standards and requirements are. How many units or chapters are in the book/study? How much of that will we need to do each month? Each week? Once I have an idea of how much I'm trying to accomplish each week, I can set about diving up those tasks throughout each of the days.
For us, language and math skills are a must-do task every day of the week. I like to schedule these types of tasks for the first half of our day because my kids have better focus and a longer attention span in the mornings. We start with daily warm-ups and then work our way up to language and math. Since math takes the most brain power for my kids, I schedule that block of learning time for the mid-morning session, and I make sure that it is long enough to give each child some one-on-one instruction time if needed.
We add all of the classes that my kids consider "fun" after our lunch break – science, art, history, and online supplemental programs. By putting all of the fun stuff after lunch, it gives them something to look forward to and helps to carry us through the morning work.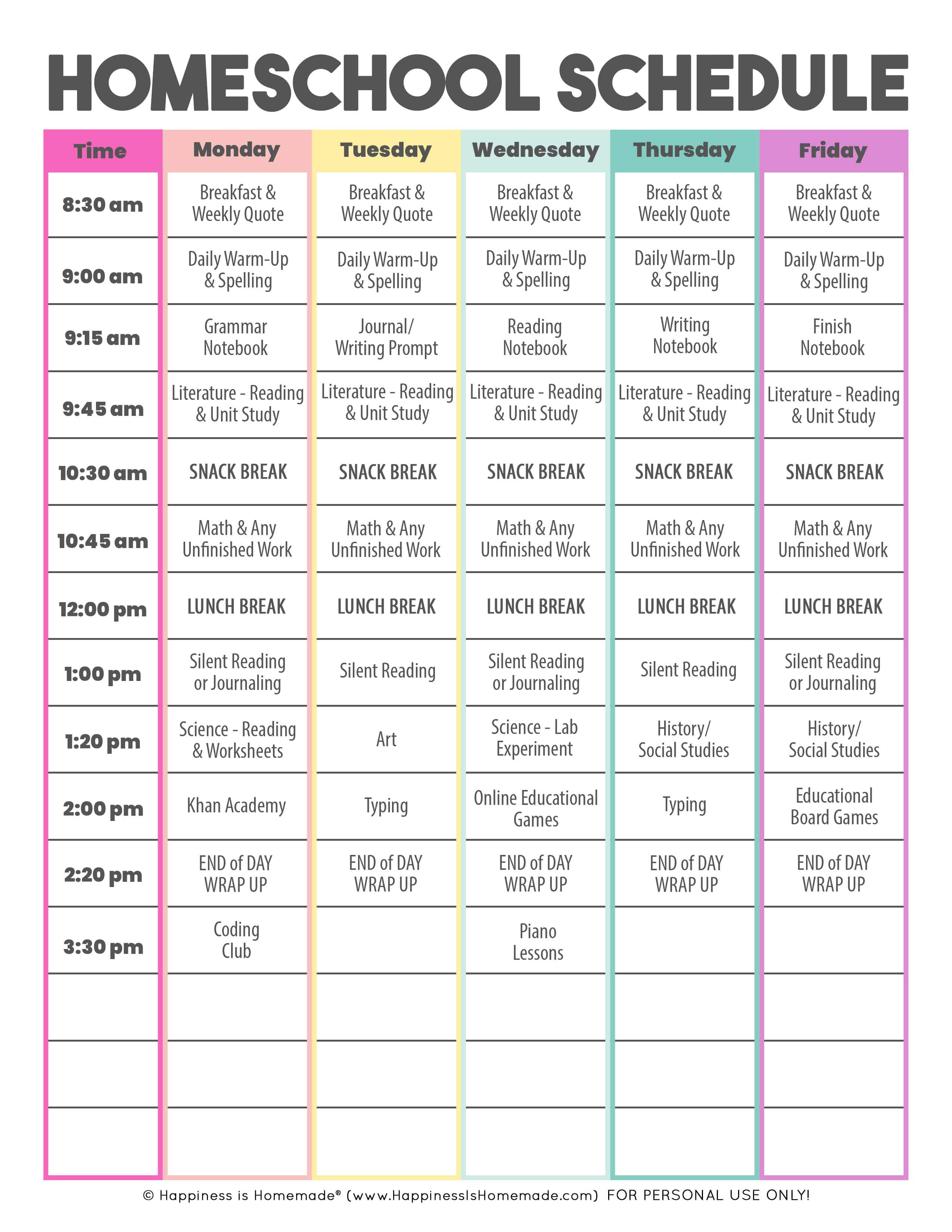 Use our Sample Daily Homeschool Schedules to help you plan and arrange your homeschool days so that your days will run smoothly and you don't have any gaps in your education.
Even though there are specific times assigned on our daily homeschool schedule, we build in a lot of flexibility and leniency in order to stay in the work flow. This might mean that we end up spending an extra 20 minutes on journaling and a little less time on online supplemental games that day. Or maybe the kids decide to do their art project in the morning and take a late lunch that day. The point is, our daily time slots are not nearly as rigid and specific as they are laid out on our schedule – we use our schedule as a guideline more than a hard and fast rule.
Of course, you could choose to do the exact opposite and stick very firmly to the timeline that you lay out! Every family will have a different approach that works best for them, and it may take a few weeks of trial and error to learn how long your lessons in each subject area will take your child(ren) to complete. Adjust your schedule as needed until you find a flow that works best for your unique situation!
---
Free Printable Homeschool Schedule Template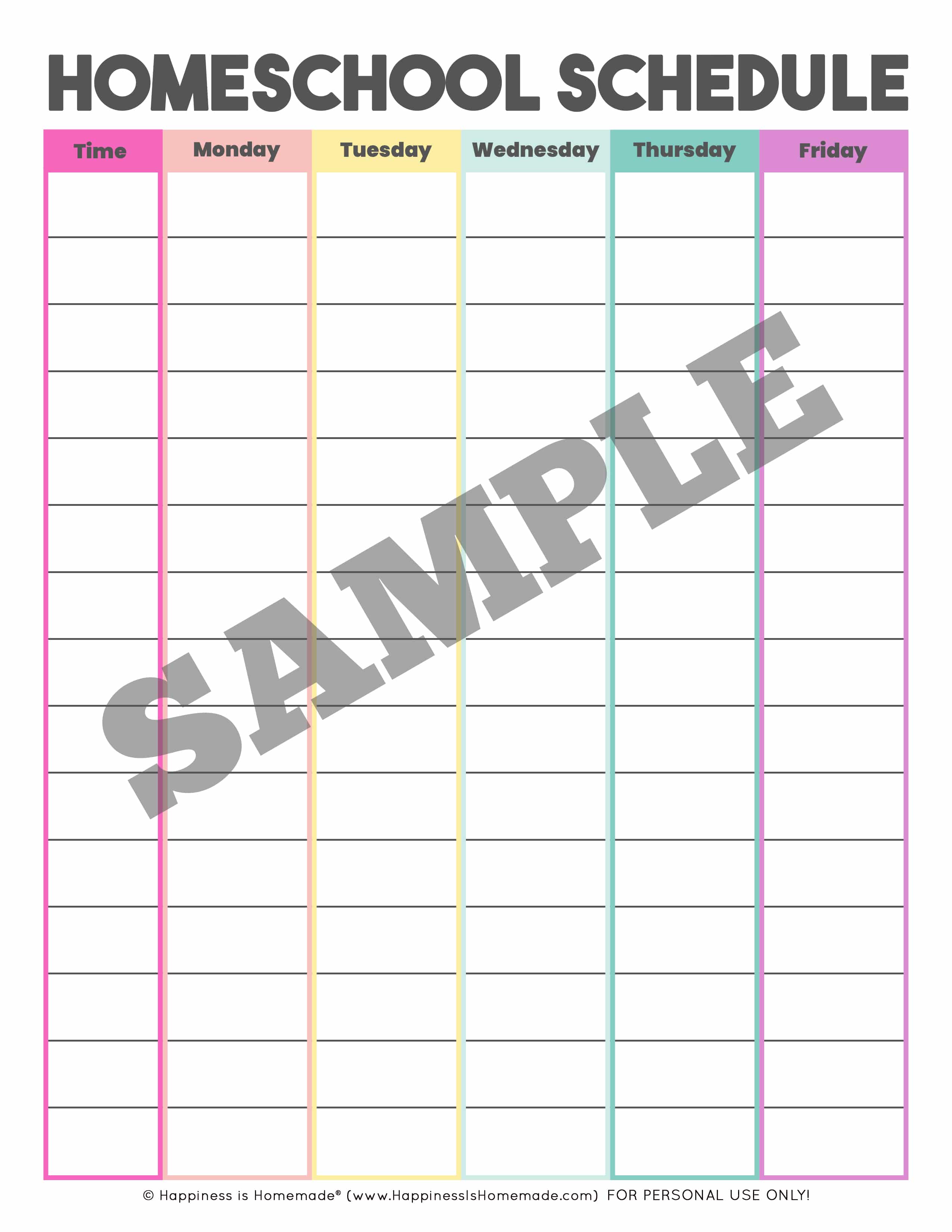 Use our free printable homeschool schedule template to fill in your own time blocks and subjects. We recommend starting with 30 minute blocks and then adjusting the times as needed – older students will likely require longer blocks of time, while kindergartners may only require 15-20 minute blocks.
To get the Printable Homeschool Schedule Template, enter your name and email address into the form below and click the "Get It Now!" button!

You May Also Like:
Don't Forget to Pin This Homeschool Schedule Template for Later!