Iced Pumpkin Cake Donuts
This post and its photos may contain affiliate links. As an Amazon associate I earn from qualifying purchases. If you make a purchase through these links, I may receive a small commission at no extra cost to you!
These delicious Iced Pumpkin donuts are SO good & super easy to make! They're perfect for a crisp fall morning, Sunday brunch, breakfast in bed, or just about ANY occasion!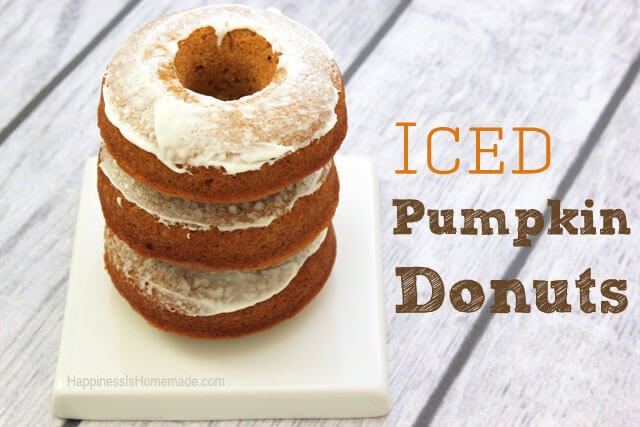 This post may contain affiliate links. I will receive a small commission from these sales at no additional cost to you!
It was chilly outside this morning, and the yellowing leaves on the trees reminded me that fall is right around the corner. After all that talk about gluten free donuts the other day, I was dying to whip up a batch of pumpkin cake donuts to hang on to that almost-fall-feeling. This pumpkin donut recipe is not gluten free, but I'm sure that it could be altered with the substitution of gluten-free flour if necessary.
You May Also Like These Donut Recipes:
Iced Pumpkin Cake Donuts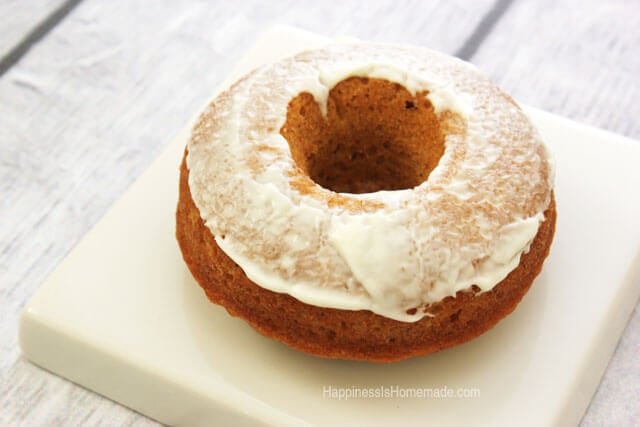 I used my favorite pumpkin bread recipe to make these donuts, and I have to warn you that it makes a huge batch. I made a dozen donuts and still had enough batter left over to make an entire 9″x13″ sheet cake, so if you don't have a small army of growing boys to feed, you may want to halve the recipe.
INGREDIENTS:
3 cups sugar
1/2 cup canola oil
1/2 cup applesauce
2/3 cup water
4 eggs
15 oz. can of pumpkin puree
3 1/2 cups flour
2 tsp. baking soda
1 tsp. baking powder
1 1/2 tsp. salt
1 tsp. pumpkin pie spice
1 tsp. cinnamon
1/2 tsp. nutmeg
Preheat oven to 350 degrees. In bowl #1 mix together oil, sugar, applesauce, eggs, pumpkin puree and water. In bowl #2 mix together flour, baking soda, salt, baking powder, and spices. Combine both bowls and mix well. Spray donut pan and/or cake/loaf pan lightly with cooking spray. Bake donuts for 8-11 minutes; 9″ x 13″ cake pan for 25 minutes; loaf pans for 45 minutes. Cool on wire rack before lightly icing (I cheated and used store-bought cream cheese frosting to top off our donuts since I had hungry kiddos waiting!). Enjoy!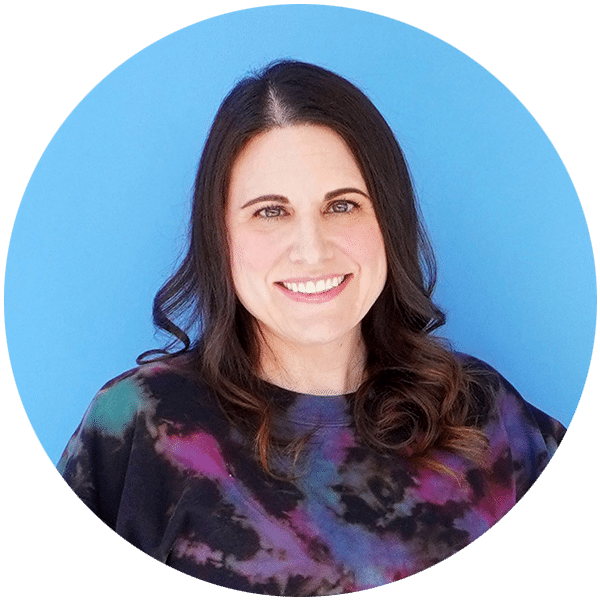 Heidi Kundin has captivated the hearts of millions with her colorful and inspiring approach to crafting, celebrations, and family fun. With over 15 years of experience, Heidi's website has become a must-visit destination for those seeking quick and easy creative ideas and last-minute solutions. Her warm personality shines through her posts, inviting readers to join her on a creative journey that's fun, rewarding, and achievable.