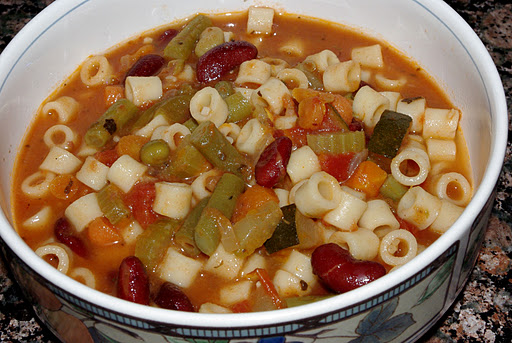 Sutton has been requesting "Kids Cook!" dinners practically every night these past couple of weeks – perhaps I have a budding Emeril on my hands? – so we've been making a lot of quick and easy to put together meals that the kids can prepare with minimal assistance from Mom. The most recent was minestrone soup and homemade french bread, perfect for using up all the leftover vegetables in your refrigerator and freezer!
(Note: ALL amounts can be modified to suit your taste and what you have on hand!)
* 1/2 onion
* 3 stalks celery
* 2 carrots
* 1 cup diced green beans
* 2 1/2 cloves of garlic (minced)
* 1 zucchini
* 1 can kidney beans (black beans and cannellini beans are great too!)
* 1 can of diced tomatoes
* ANY leftover vegetables in your fridge, freezer or pantry! We used a can of Veg-All and frozen corn.
* Large container of chicken broth
* 1 tbsp. of Italian seasoning
* 1 tbsp. of tomato paste
* 2 tbsp. olive oil
* 1 cup of uncooked pasta
* In a large skillet, saute the onions, garlic, celery, carrots and green beans in the olive oil until the onions are translucent.
* Add your sauteed vegetables to a large stockpot and add the remaining vegetables, seasonings and chicken broth. Stir well and simmer on the stove for 2-3 hours on low heat.
* In a separate pot, cook the pasta until it is about halfway done, and then add to the soup. Continue to simmer until pasta is cooked.