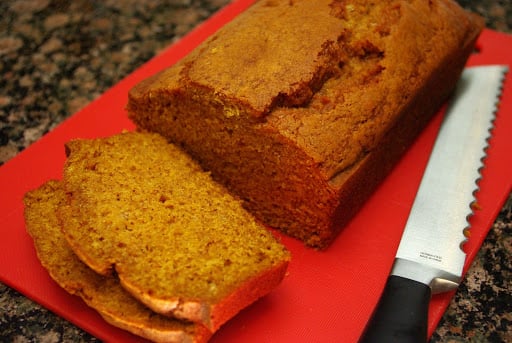 Nothing says "Welcome, fall!" like baking a big batch of pumpkin bread. This year the big boys decided to bake it all by themselves, and they did a fantastic job! It looks like all those years of helping out in the kitchen (and doing Kids Cook! nights) has really paid off!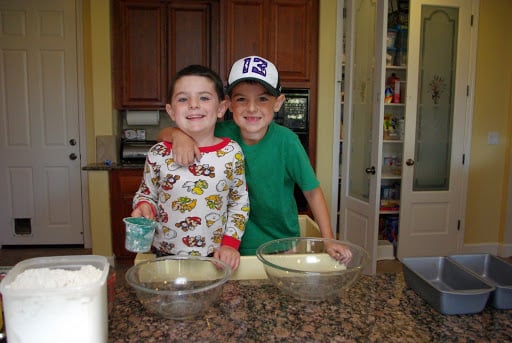 If you have two kids, I highly recommend giving them each a bowl for wet/dry ingredients and letting them be in charge of measuring all of the ingredients for their own bowl. Eggs, of course, are the exception since everyone loves to crack eggs!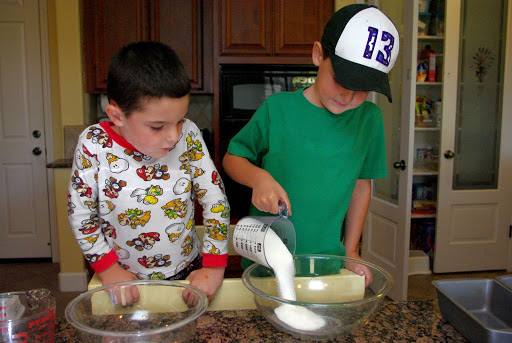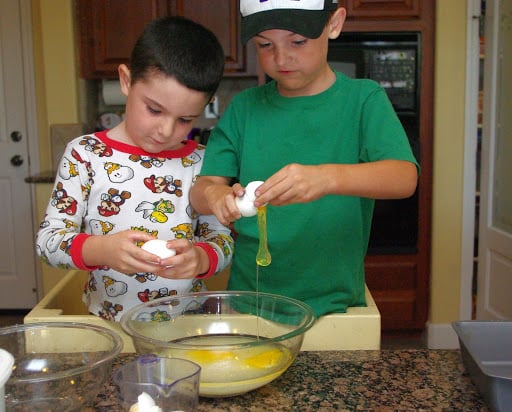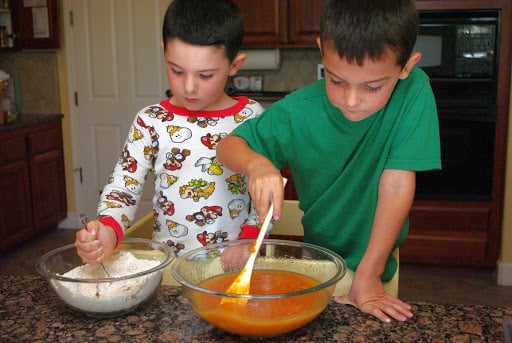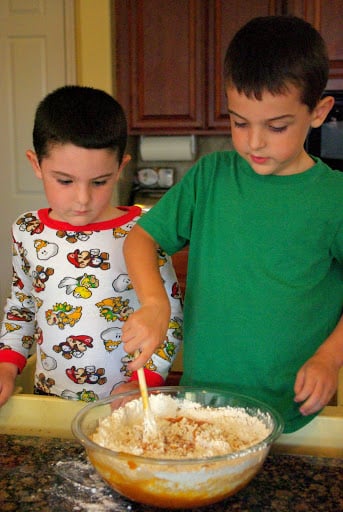 Combine the bowls, and make sure to switch off so that everyone gets a turn mixing it all up. Pumpkin bread has a tendency to end up with tiny lumps of unincorporated flour mixture in it, so let them have at it and stir away until you're sure it's adequately combined.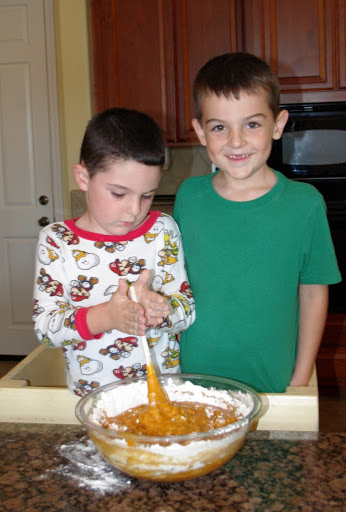 Pouring the batter into the pan and putting it in/out of the oven are still "Mom jobs" in our house, so I didn't get any pictures of the rest of the process. After about an hour we had hot pumpkin loaves, and our house smelled fantastic! We welcomed fall with our fresh baked goods, mugs of tea, and a dollop of cream cheese frosting. Yum!
* 3 Cups Sugar
* 1/2 Cup Vegetable Oil
* 1/2 Cup Applesauce
* 4 Eggs
* 1 15oz. Can of Pumpkin Puree
* 2/3 Cup Water
* 3 1/2 Cups Flour
* 2 tsp. Baking Soda
* 2 tsp. Salt
* 1 tsp. Baking Powder
* 1/2 tsp. Nutmeg
* 1 tsp. Pumpkin Pie Spice
* 1 tsp. Cinnamon
Preheat oven to 350 degrees. In bowl #1 combine oil, applesauce, eggs, pumpkin puree and water. In bowl #2 combine flour, baking soda, salt, baking powder, and spices. Combine both bowls and mix well. Prepare two loaf pans by lightly spraying with cooking spray. Pour batter into loaf pans and bake for approximately an hour.