I've made homemade Play Doh dozens of times, but it was only recently that we decided to try coloring our dough with Kool-Aid. All I can say is, "YUM!" Well, not really "yum" since it probably tastes pretty gross (though it is 100% edible), but wow, does it smell delicious!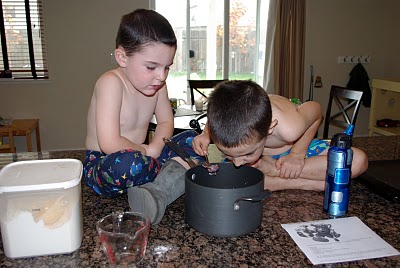 (Note: it was 85 degrees here yesterday, so please excuse their shirtless attempt to hang on to the last bit of Indian Summer!) The boys couldn't stop smelling it even as we were mixing it up! We used two packets of Kool-Aid (grape and black cherry) just because each boy was determined to use their own choice of flavor/scent. I'm sure that one packet would have been sufficient though 🙂
Ingredients:
1 cup water
3 teaspoons of Cream of Tartar
1 cup of flour
1 package of Kool-Aid Mix (any flavor of unsweetened)
1 tablespoon of cooking oil
1/2 cup of salt
Mix dry ingredients in a medium saucepan. Add water and oil. Stir over medium heat until it looks like dough. Allow to cool for 15 minutes, and knead one more time before playing.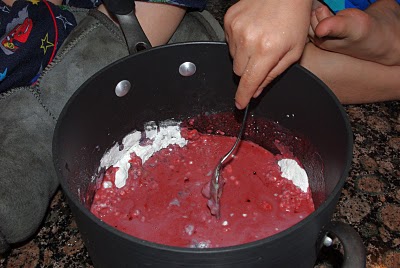 The only thing different about Kool-Aid dough (other than the scent) was how dramatically the color changed once we cooked it. It looked like this while mixing…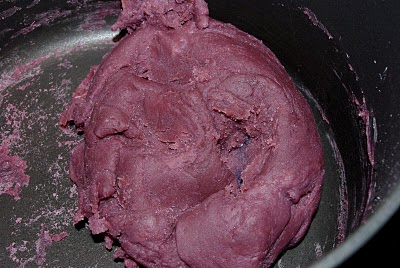 …and came out a much darker shade of purple after cooking.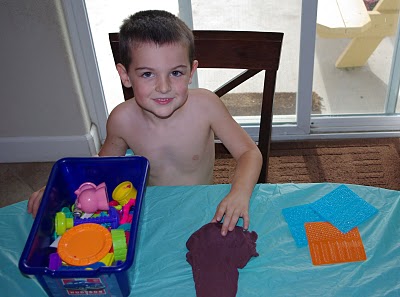 We love the consistency of homemade playdough so much more than Play Doh. It's just as firm, but a little more moist, so it it really feels great to squish little hands into it.
I'm not sure if it was the addition of the yummy fragrance or not, but this batch of Kool-Aid playdough kept the big boys entertained until the sun went down two and a half hours later – amazing!