LEGO Jurassic World T-Shirt
This post and its photos may contain affiliate links. As an Amazon associate I earn from qualifying purchases. If you make a purchase through these links, I may receive a small commission at no extra cost to you!
This is a sponsored post written by me on behalf of Universal Pictures. All opinions are 100% mine.
Check out the awesome new LEGO Jurassic World: The Indominus Escape animated series at JurassicWorld.com and make this fun alpha raptor t-shirt for your kids!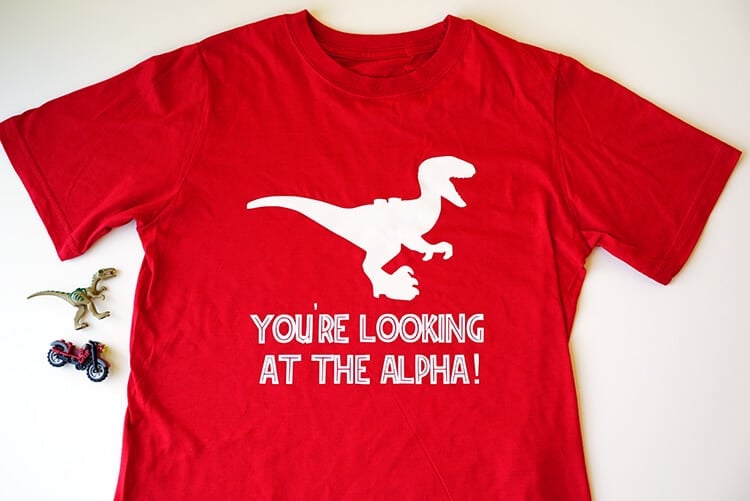 Have you been watching the new online series, LEGO Jurassic World: The Indominus Escape? (If you haven't seen it yet, click here to watch the trailer! ) It is a ton of fun, and my kids and I are hooked! If you have children who love Jurassic World and/or LEGO, this series is sure to be a HUGE hit with them!
The 5-part miniseries, which started on Monday, October 3rd and will wrap up tomorrow on Friday, October 7th, is a family-friendly reimagining of some of the most popular scenes and elements from the Jurassic World movie, in LEGO form, of course! Many of the main actors from the film reprised their roles for the LEGO version including Bryce Dallas Howard (Claire), BD Wong (Dr. Wu), and Jake Johnson (Lowery). If you haven't watched the series yet, don't worry! There's still plenty of time to catch up on all of the episodes just in time for tomorrow's big finale!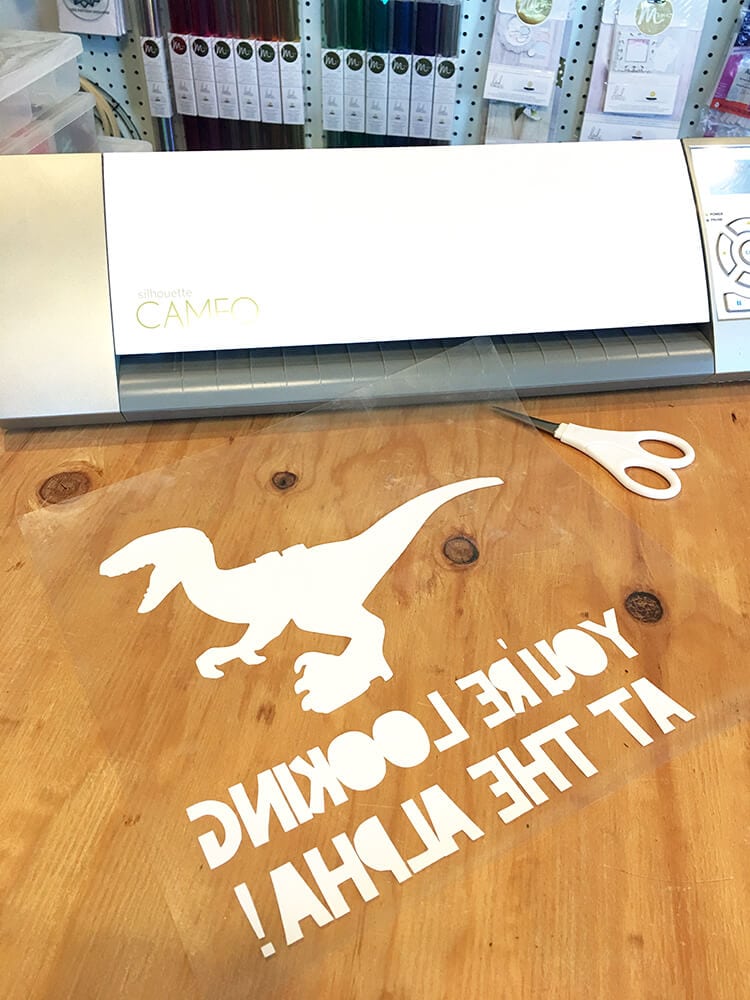 One of my boys' favorite lines from LEGO Jurassic World: The Indominus Escape (Episode 1) is when Owen confidently tells The New Guy, "It's all about showing [the raptors] who the alpha is…and you're looking at him!" My oldest son is a huge fan of LEGO and Jurassic World, and he definitely thinks he's the alpha male of the kid's crowd, so I decided to make him an alpha LEGO raptor shirt. I used my Silhouette Cameo to cut white heat transfer vinyl in the silhouette of a LEGO raptor, and I used the Jurassic Park font to add the words "You're Looking at the Alpha!" underneath.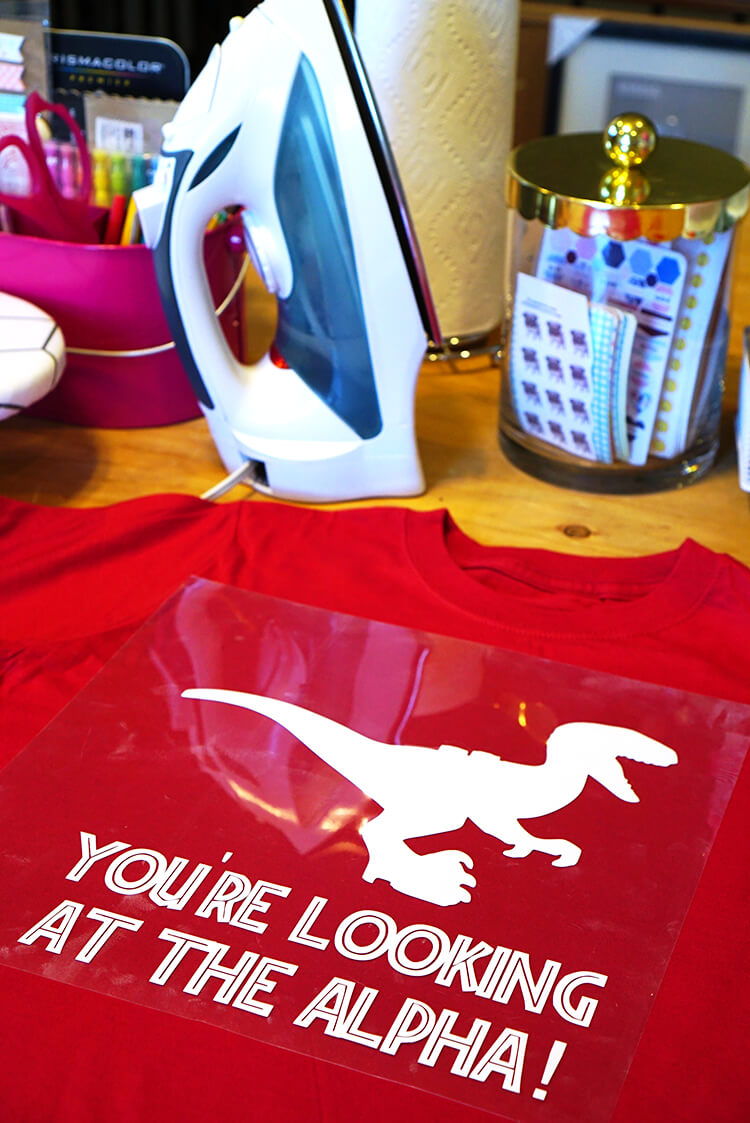 Once I weeded out the excess vinyl, I simply ironed the vinyl transfer on to my t-shirt – easy peasy! That LEGO raptor is seriously super cool, and I love that you can see the telltale LEGO brick nubs on his back!
Our beloved raptors played a large role in today's episode of LEGO Jurassic World: The Indominus Escape (Episode #4 – Click here to watch the complete episode!), which was packed with non-stop action as Owen and the raptors race through the jungle to stop Indominus Rex from attacking an innocent hot dog (you'll just have to go watch the episode to find out what I'm talking about!). During the chase, an accident causes Claire's vehicle to shatter into a pile of bricks, which results in some awesome "surfing" action! We can't wait to see what happens in tomorrow's finale after today's cliffhanger ending!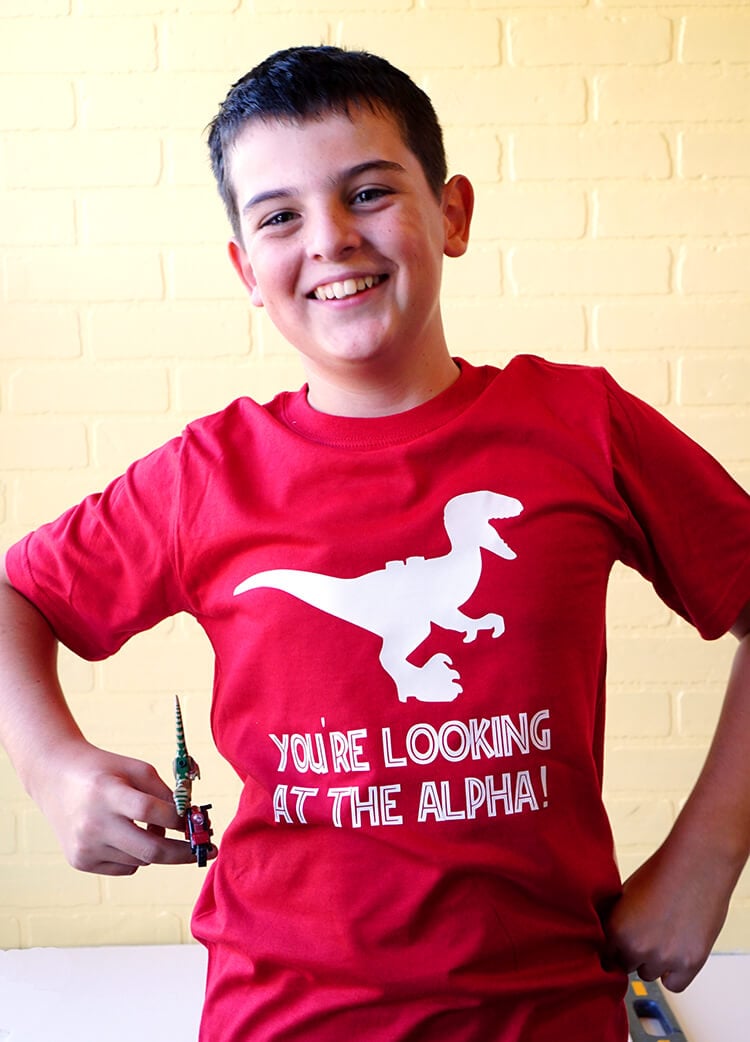 I'm sure you can tell by the gigantic smile that the shirt was definitely a hit! He said that he's going to wear it until after we watch the finale tomorrow, and we all can't wait to see what happens next!
Visit JurassicWorld.com/videos and catch up with us!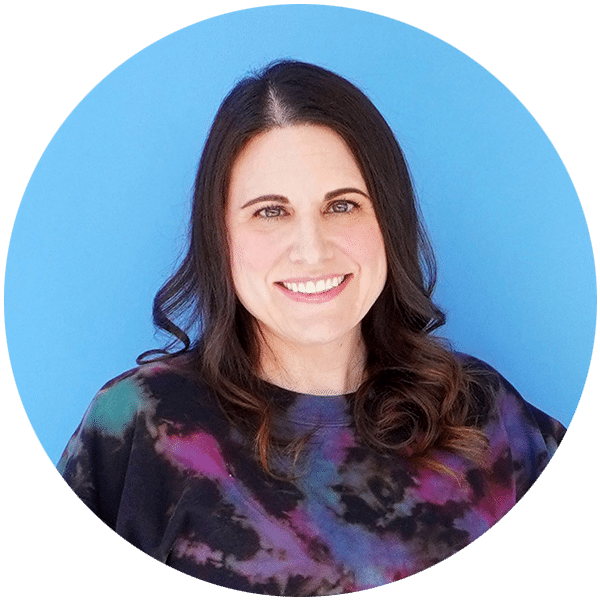 Heidi Kundin has captivated the hearts of millions with her colorful and inspiring approach to crafting, celebrations, and family fun. With over 15 years of experience, Heidi's website has become a must-visit destination for those seeking quick and easy creative ideas and last-minute solutions. Her warm personality shines through her posts, inviting readers to join her on a creative journey that's fun, rewarding, and achievable.