We're hosting a food drive to Feed the Hungry and #LightTheWorld! Get all the details on how you can help out (hint: you don't need to be local to join in!) plus discover our best tips and tricks for how to host a food drive of your own!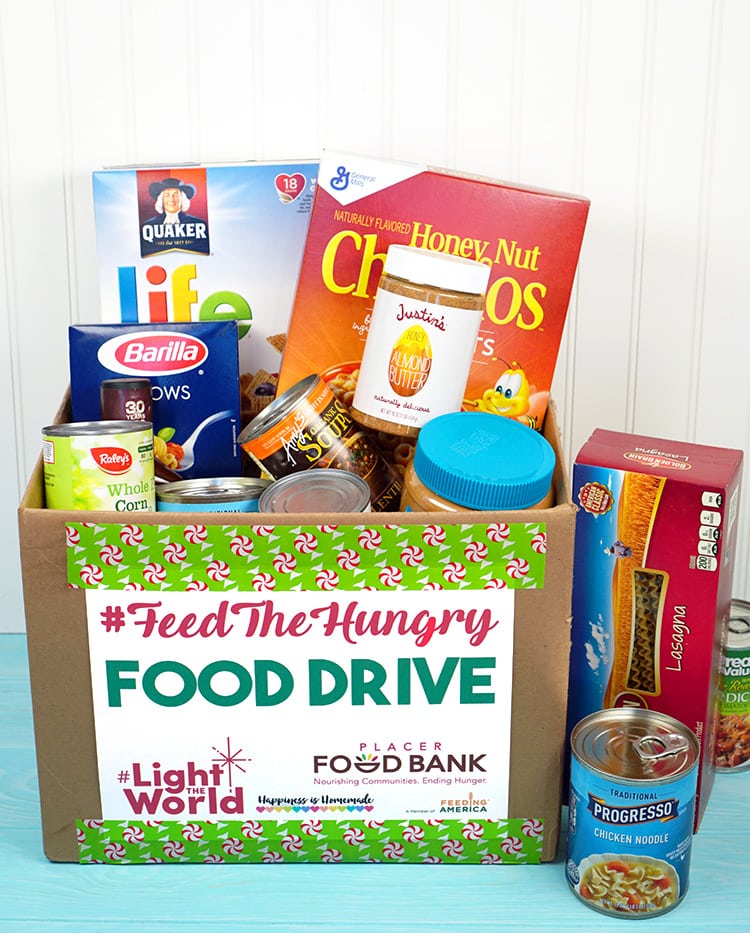 Happiness is Homemade is teaming up with Placer Food Bank to host a food drive to feed the hungry, and we need your help! Placer Food Bank is the primary food collection and distribution center for all of the hunger-relief efforts in Placer, El Dorado, and Nevada counties in Northern California. Each month, Placer Food Bank partners with more than 70 local charities to feed an average of 53,000 people (and often upwards of 70,000+ people!) – EACH MONTH! They are an incredible organization that does amazing work, and I'm so happy to be donating the proceeds of this #LightTheWorld + Feed the Hungry Food Drive to them!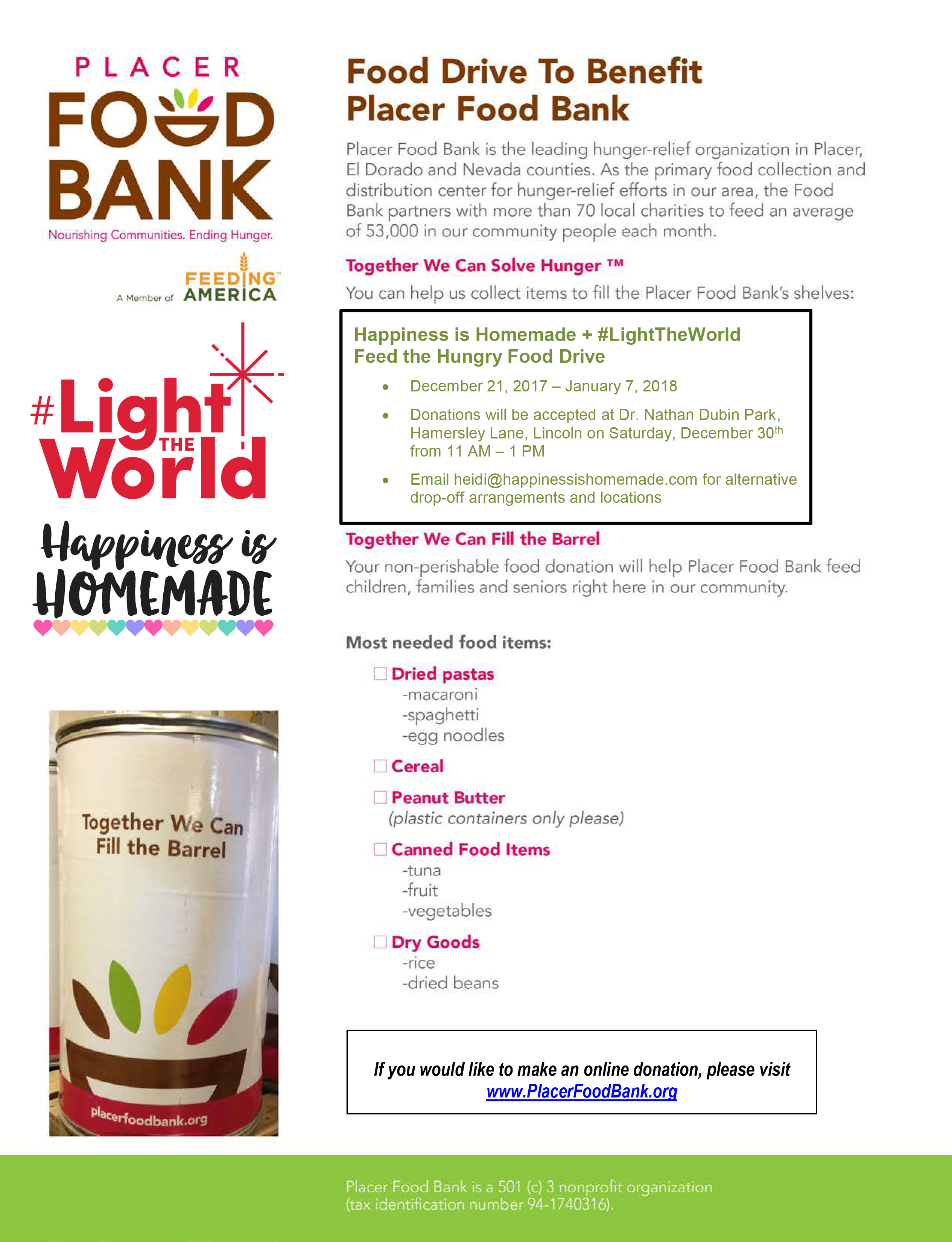 If you're local, you can donate food at our drop-off location listed on the flyer above (or send an email using this contact form for alternative drop-off arrangements), and if you're not local, we still need your help, too! You can make an online donation to Placer Food Bank here easily and securely. Placer Food Bank is a member of Feeding America, so every single dollar donated provides 20 meals to hungry people! You can also help by shopping Amazon.com via this link, and Amazon will donate a small percentage of your purchase to Placer Food Bank via the Amazon Smile program. Together we can help to feed the hungry and #LightTheWorld!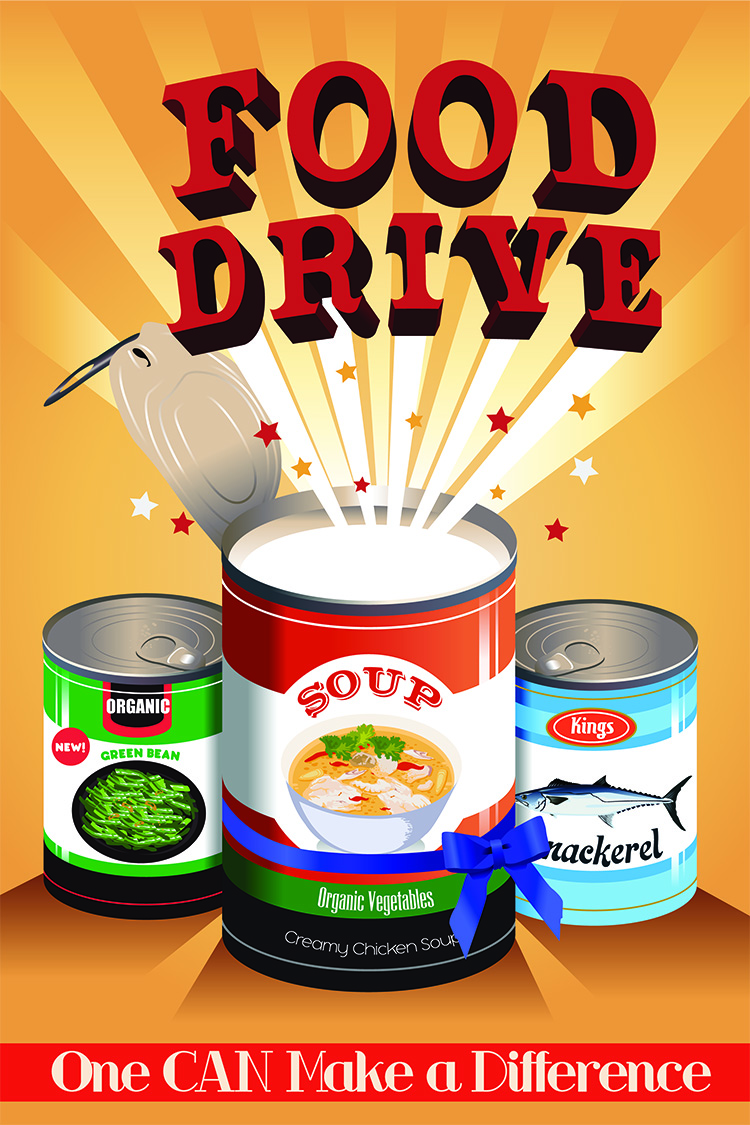 Food drives most often are held around the holiday season, but food banks need food all year long! Consider holding a food drive in your area to support your local food banks and help feed the hungry – it's easy!
HOW TO HOST A FOOD DRIVE:
Find your local food bank & contact them to make arrangements for dates, times, etc. Most food banks will loan you supplies to collect your food donations (barrels and boxes), and they will also give you information about which foods are the most needed at their location.
Get the word out! Share the details of your food drive on social media and via email, and don't forget about traditional methods of communication – newspaper ads, community newsletters, local bulletin boards, and flyers delivered to homes and businesses near the food drive collection location work very well to spread the word!
Get creative with your food drive incentives! Host an event and reduce the attendee's admission price with a donation of canned goods (this can be as simple as a neighborhood backyard movie night!). Play bingo – for every donation of five or more items, give the donator a bingo card. If their donated items match the items on the card in a bingo, they win a small prize! Host a competitive food drive with friends, neighbors, or colleagues to see who can collect the most donations. There are SO many ways that you can make your food drive fun!
After the final date of your food drive, contact the food bank to arrange drop-off of your donations and any barrels or boxes that you borrowed.
Share the results of your food drive on social media – people LOVE to see how many donations you collected! We'll be sharing our results after our food drive ends on January 7th!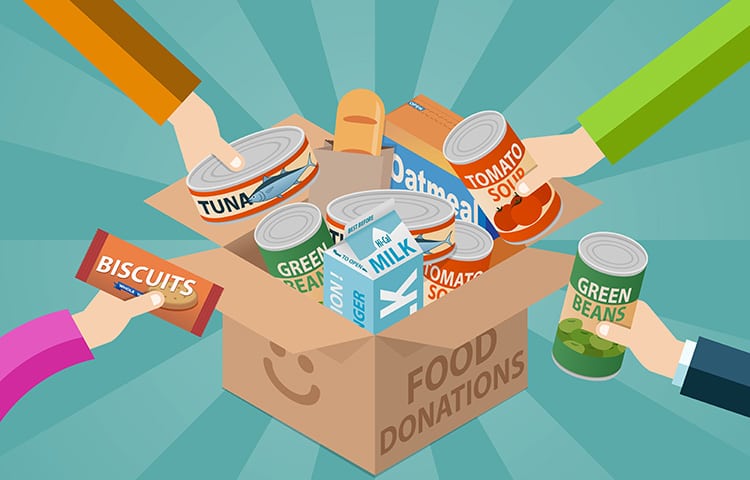 Other Ways You Can Help Feed the Hungry:
Cook meals for local families in need.
Volunteer at a soup kitchen or homeless shelter.
Deliver sack lunches to the homeless.
Give grocery store gift cards to the needy.
Overabundant garden? Share your garden's bounty with AmpleHarvest.org to reduce fresh food waste.
Thank you so much for supporting our food drive efforts, and don't forget, it's easy to donate online to Placer Food Bank and help #LightTheWorld this holiday season! Happy holidays!