My boys were desperately low on pajama shorts this year, but for some reason we seem to have plenty of short sleeved tops around (I think a few were from short sleeve/long pants combos). Since I'm way too frugal to spend money on whole new pajama sets when we already have enough tops, I decided to whip up a few quick pairs of shorts on my own.
I made a couple of pairs last year following THIS TUTORIAL for bandana pants, and they have held up really well, so I chose to use the same pattern again this year. I find that actual bandana fabric (like they use in the tutorial) is just a bit too thin, so I decided to use regular cotton fabric in prints that I let the boys choose all by themselves. Normally I'd buy fabric at Joann's or Beverly's, but this time we swung by Walmart's fabric section on a whim, and nothing we bought was over $4.88/yard! With some careful cutting, each pair of shorts only cost around $2.50 to make, including the elastic for the waist, and they took about 30 minutes to make. Easy peasy!
In the end, after measuring the boys, I needed two 18″ x 21″ pieces for each pair of shorts, so two fat quarters would also have worked perfectly with even less cutting required (my boys are sizes 4/5 with a 21″ waist). When using the pdf pattern above, note that you'll want your print to run so that you're viewing it right side up in steps 2-4 (ie not upside down or sideways). If you choose to use cut fabric instead of bandanas you'll also need to add a hem to the bottom of each leg, unless you're down with the fraying raw edge look. I'd also suggest double stitching the crotch and inseam for extra reinforcement – I like to use a straight stitch and then go back over it with a zigzag.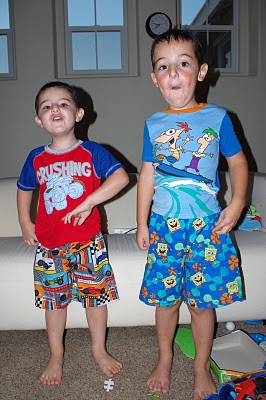 This picture shows off their shorts better, but was accompanied by a chorus of "Can we please, please, please make funny faces this time?" 🙂
I originally intended on these shorts being just for bedtime, but the boys love them so much that they want to wear them all day long when we're just lounging around the house. I have heard them beg and plead, "Can we pleeeease have a jammie day today?" more in the past few weeks than ever! I'm glad they like them so much because we've amassed quite a collection of Mom-made shorts this summer!