This post brought to you by Blue Bunny Ice Cream. All opinions are 100% mine.
It's officially summertime, and I'm determined to make every moment count this year! Every time I turn around it seems like my boys have aged another two years, and I realize how important it is to spend time with them while they're young. In just a few short years we will hit the stage where they proclaim that it's no longer cool to hang out with mom and dad, so I'm soaking up these precious moments while they're plentiful.
This is Sawyer, our eight-year-old son. He is the oldest of the bunch, born after a sixteen month struggle with infertility followed by months of extreme hyperemesis and preterm labor. He reminds me of myself when I was the same age – inquisitive, independent, responsible, capable and mature. He has the biggest heart, and despite his tough guy exterior he's really a big softie, especially when it comes to his family. All of his younger cousins gravitate towards him, and he is always willing to do something silly to make everyone laugh.
After dealing with infertility, we were beyond surprised when we found out that we were expecting again a mere five months after Sawyer was born (and while I was taking birth control pills nonetheless!). Sutton, our seven-year-old son, made a dramatic entrance into this world when he was accidentally born at home. I went into labor at 37 weeks, and it was only 45 minutes from the very first contraction until the time the paramedics delivered him on our bathroom floor. Because I had been diagnosed as a borderline gestational diabetic, Sutton required a bit of extra care after his birth due to blood sugar issues, but fortunately they were not long lasting. From the day he was born he has always been a super sweet and affectionate kid, and I'm pretty sure he's a budding computer genius.
Simon is the baby of our family, and I now finally understand why my own parents let my youngest sister get away with everything. I constantly find myself thinking that I will never experience these sweet little three-year-old moments again, so consequentially this smart little stinker has wrapped all of us around his little finger (it doesn't hurt that he's so dang cute, too!). I experienced a really difficult pregnancy with Simon, and it was the first time that I was diagnosed with full blown gestational diabetes. I was required to monitor my blood sugar four times a day and follow a strict diet to control my insulin levels. I still occasionally experience hyper and hypoglycemic episodes, so I keep a close eye on my sugar intake and monitor my blood sugar levels from time to time to make sure that everything is in check. November is National Diabetes Month, and I will be sharing a little bit more about my experiences and my favorite sugar-free products with you then!
All of the trials and troubles that I faced to become Mom to these three guys was worth it. Every single tear, all of the countless hours of hospital tests and monitoring, the weeks upon weeks of sickness, the numerous IV rehydrations and the neverending series of glucose drinks and finger pricks – I'd do all of it again in a heartbeat to be their Mom, and you can bet that I'm going to cherish every single moment of it.
This summer we are letting go of our structured homeschool days and overflowing schedule, and we've been allowing ourselves to go with the flow and see where the day takes us. Just this week we've spent hours in the pool, built sandcastles, splashed in the ocean and picked a TON of apricots from our overloaded tree to make homemade jam. It's been really nice to relax and take that time to focus on my family.
One of the other things we've been doing a lot of lately is ending our day with ice cream and a game of catch or a campfire in the backyard.
These kids seriously love their ice cream!
Despite their love for ice cream, I hate giving my boys too much sugar, especially late in the evening, so I was excited to discover that Blue Bunny has a line of sugar free ice cream, bars and cones.
The size of the cones and ice cream bars are perfect for an after dinner treat, and I love that they all contain just around 100 calories per serving so I can indulge guilt free. The fact that the Sweet Freedom line is sugar free also means that I can enjoy it without having to worry that I'm going to throw my blood sugar out of whack. Win-win!
These are the moments that I live for.
(even the crazy brain freeze moments!)
I love these munchkins more than anything, so if you see a little less of me hanging around on the blog here this summer, you know where to find me.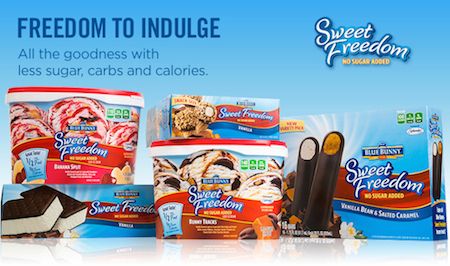 For more information about Blue Bunny and the Sweet Freedom line of products check out their Facebook and Pinterest pages.