Side Yard Makeover
This post and its photos may contain affiliate links. As an Amazon associate I earn from qualifying purchases. If you make a purchase through these links, I may receive a small commission at no extra cost to you!

Our side yard was a sad and neglected space, but we're bringing it back to life with colorful DIY benches and a fire pit area that's perfect for s'mores!
In the nine years that we've lived in our home, the eastern side yard has gone through many different incarnations – pumpkin patch, pool area, and most recently, a dismal catch-all for the toys and outdoor furniture that were past their prime. The side yard had never had a true plan or purpose, so this year we set out to change that. We decided to create a large garden space with built-in seating and a fire pit area where we could spend our evenings roasting marshmallows and hanging out with friends.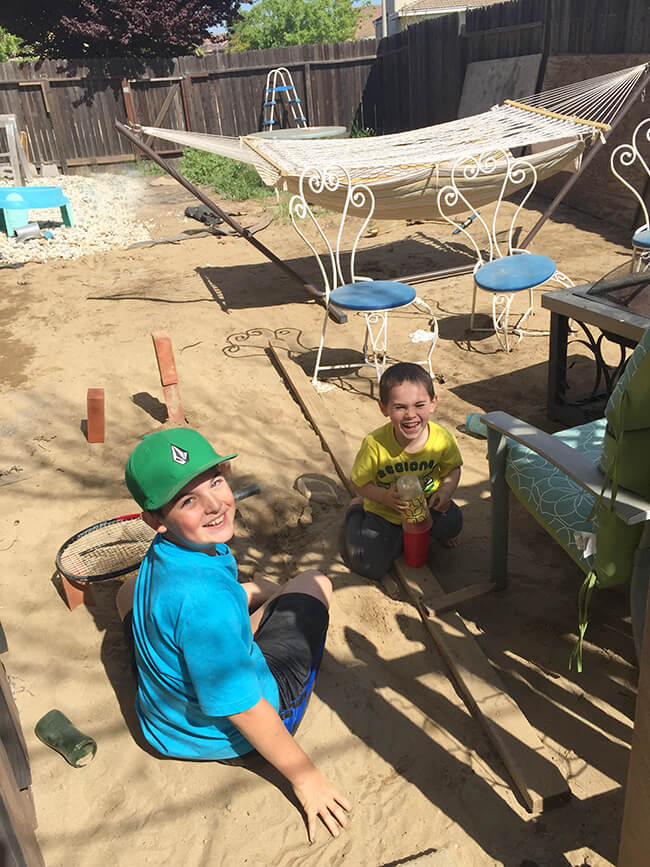 Last year at this time, our side yard looked something like this. The boys had turned it into their own personal fort construction zone, and it was turning into a wasteland for unused equipment and outdoor decor. The only time that we ever really used the space was on Saturday night when we would hang out around the fire pit. The rest of the week, it was a sad and neglected space.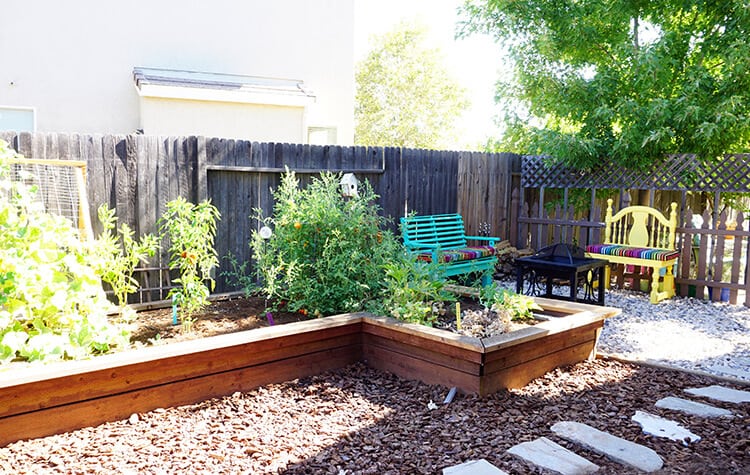 Earlier this spring we built a large L-shaped redwood garden bed and added bark and river rock ground coverings along with a flagstone pathway. The far side of the garden bed is topped with a long bench that sits directly across from our beloved fire pit. Along the garden fences are two bright and colorful DIY benches that we put together from odds and ends that we had laying about in our garage. I love their fun quirky personalities!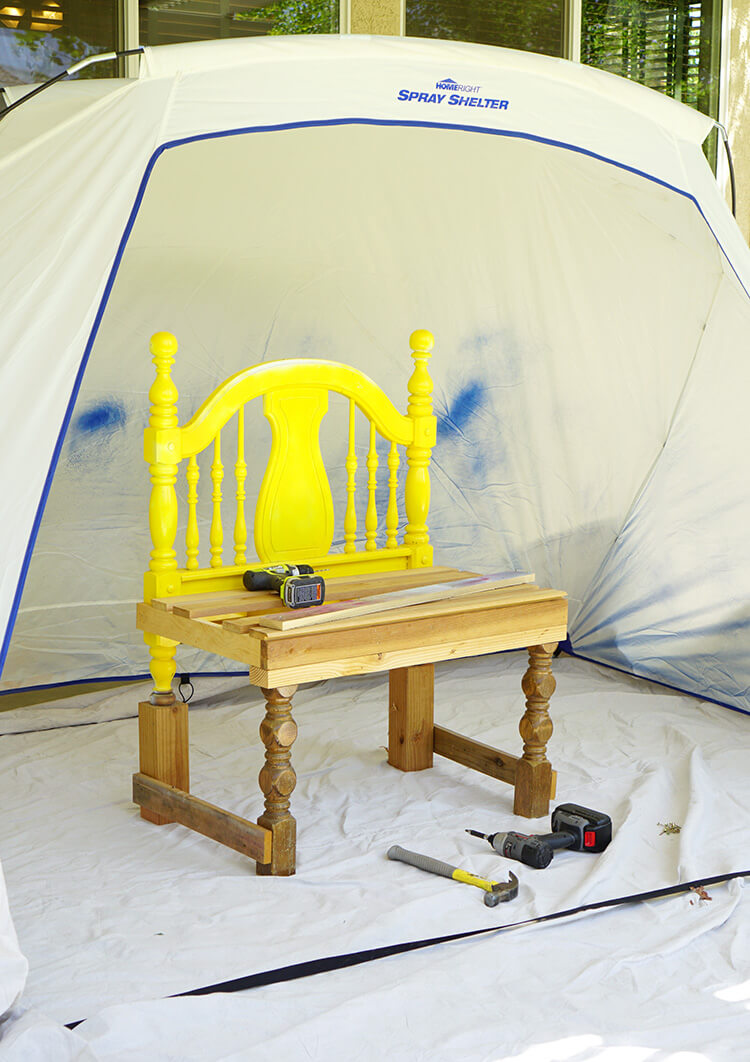 This bench was made from a $1 yard sale headboard, a spindle, and some leftover wood. It looked a bit like Franken-bench when we first assembled it, but then it spent some time with a couple of my favorite HomeRight products!
I always enjoy partnering with HomeRight because I seriously LOVE their products! The Finish Max paint sprayer is one of my most favorite and beloved tools, and I have been known to speak to total strangers at great lengths about my deep appreciation for HomeRight's Spray Shelter (The. Best. Thing. Ever.). I use the Large Spray Shelter on a regular basis, and I'm dying to get my hands on their new Small Spray Shelter! Honestly, every HomeRight product that I've used has been a total game changer.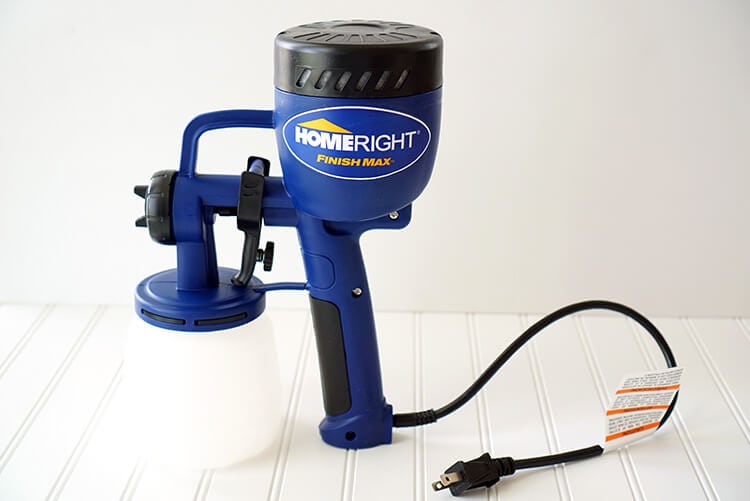 The Finish Max paint sprayer delivers an ultra fine mist of paint for a super smooth finish and excellent coverage. It's seriously awesome and super easy to use (just make sure that you pick up the rapid clean kit as well!).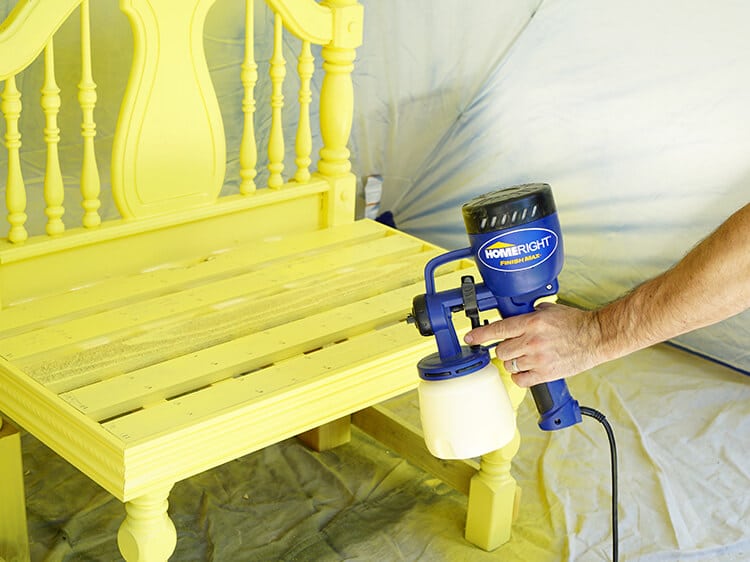 We used the Finish Max to give the headboard bench a couple of coats of bright buttery yellow, and we painted a porch-swing-turned-bench a brilliant turquoise.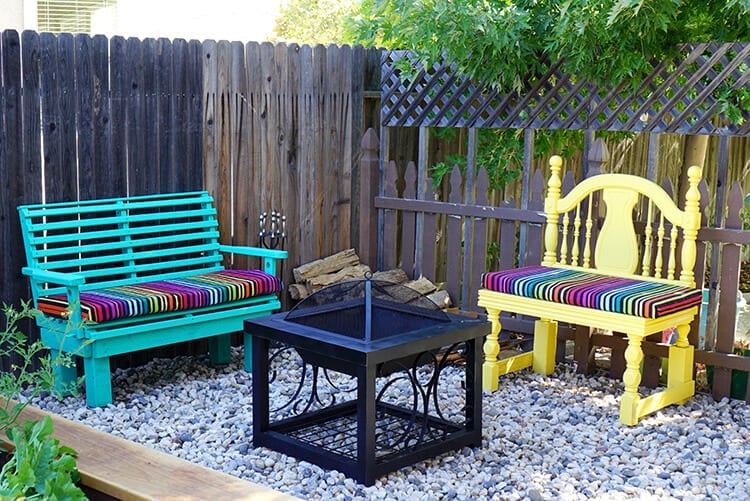 I topped both of the benches with colorful rainbow cushions, and gave our old fire pit a fresh coat of high heat spray paint. We still have plans to add some string lighting and more colorful accents to the space, but for now, we're ready for s'mores!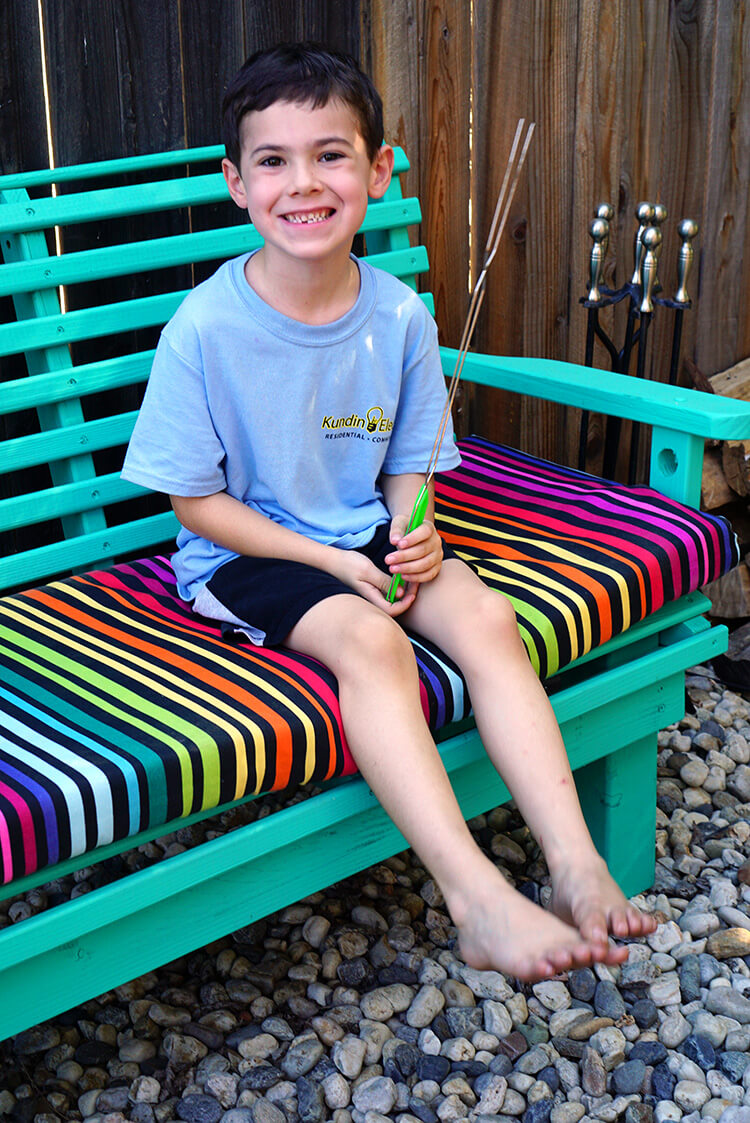 Seriously, when it's time to make s'mores, we can't seem to get the fire started fast enough for these kiddos!
Fortunately for those impatient kids, I've discovered yet another wHomeRight product that's changed the way we do things! The ElectroLight fire starter takes us from zero to flames in under two minutes, without the need for lighter fluid or other starter chemicals!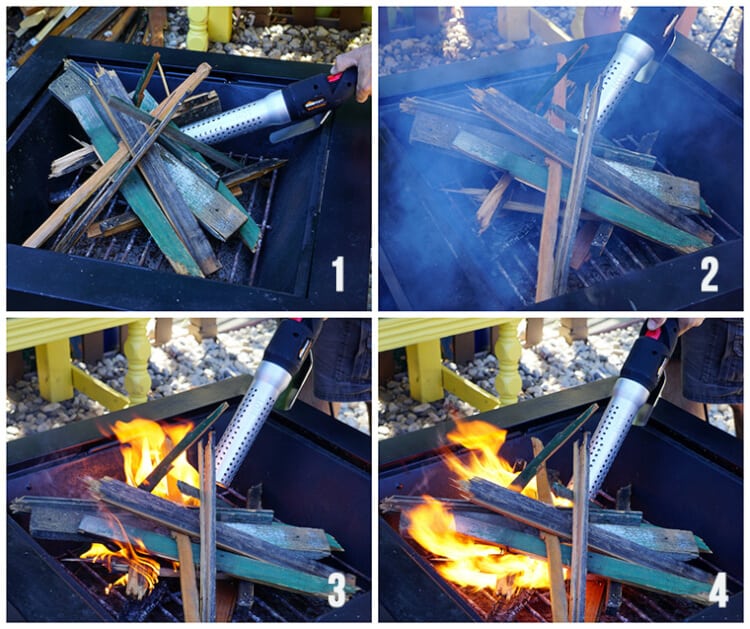 The ElectroLight uses 1300 degree air to ignite the fire along with a built-in blower to quickly build the heat and flames.
Simply touch the tip of the barrel to the charcoal or wood (at 1300 degrees, you will have more than two times the temperature required to ignite wood).
Wait a few moments until you see smoke start to appear.
Once you start seeing embers, while leaving the button depressed, pull the tip slightly away. The blower will continue to fan the flame.
Continue until you get the desired level of flames.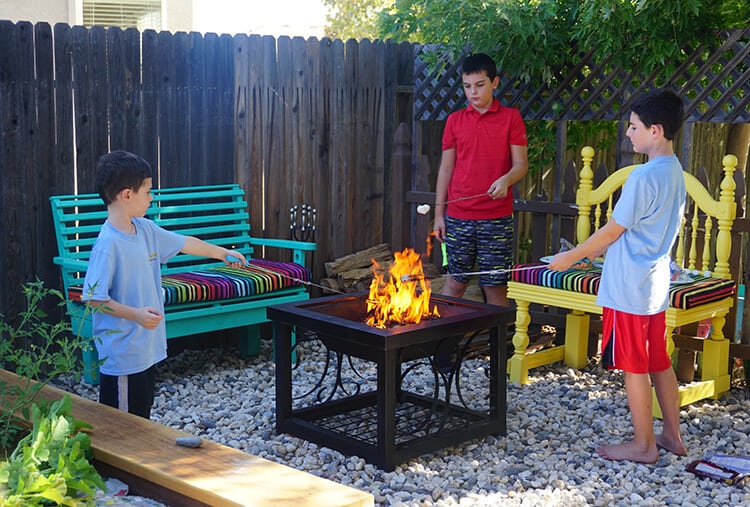 You'll be ready to roast marshmallows in no time!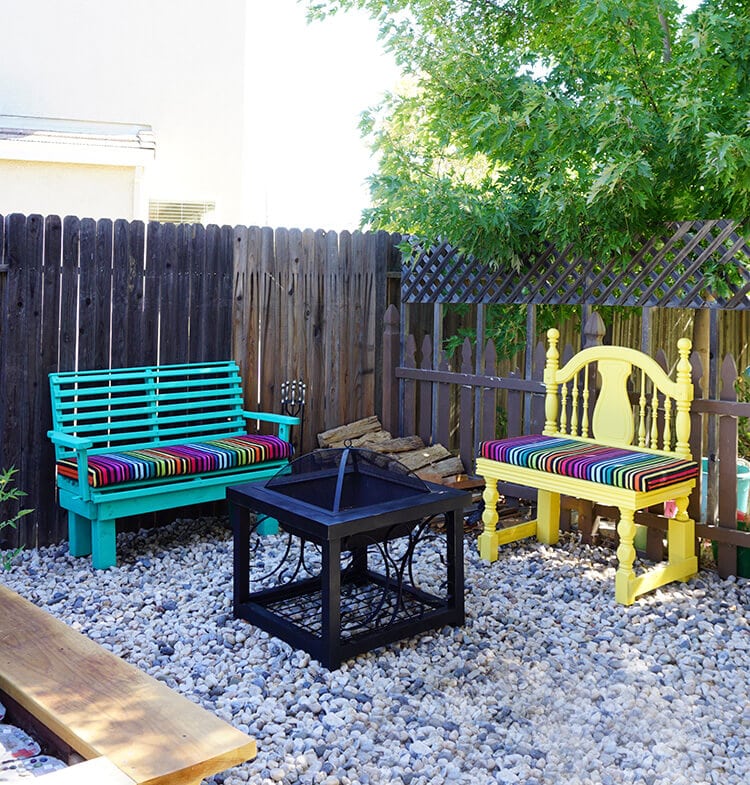 We're loving our new side yard and fire pit area, and we can't wait to show off the final finished space in a few weeks!
Want to win an ElectroLight Fire Starter? HomeRight is giving one lucky Happiness is Homemade reader an ElectroLight of their very own! Enter via the Rafflecopter form below: a Rafflecopter giveaway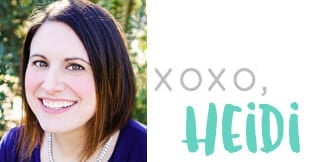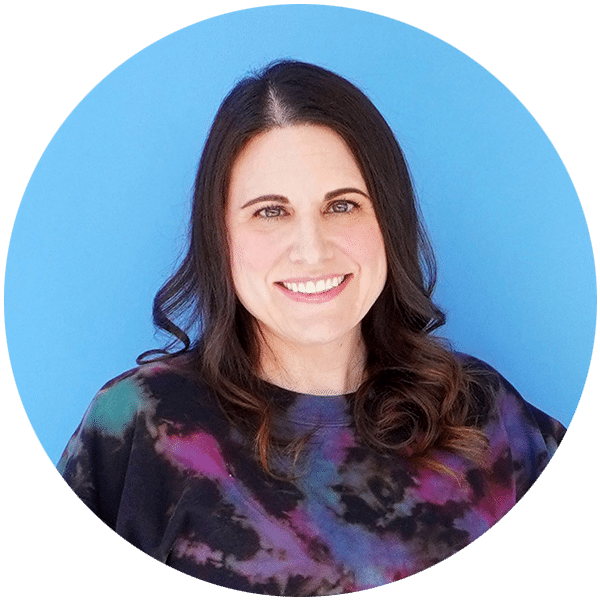 Heidi Kundin has captivated the hearts of millions with her colorful and inspiring approach to crafting, celebrations, and family fun. With over 15 years of experience, Heidi's website has become a must-visit destination for those seeking quick and easy creative ideas and last-minute solutions. Her warm personality shines through her posts, inviting readers to join her on a creative journey that's fun, rewarding, and achievable.