No-Sew Halloween Flag
This post and its photos may contain affiliate links. As an Amazon associate I earn from qualifying purchases. If you make a purchase through these links, I may receive a small commission at no extra cost to you!
Everyone give a warm welcome to HIH Contributor Laurie from Gallamore West! I am SO happy to have her here, and I'm sure you are all going to love her ideas as much a I do! 🙂
Hi Everyone! I'm Laurie from Gallamore West and I'm thrilled to be here at Happiness is Homemade for my 1st contributor post. I'm a busy mom of 4 little boys who fill my days with nonstop fun, giggles, and more than my fair share of mud!

Today I'm sharing my DIY No-Sew Garden Flag with you. It's a super fun and easy project that is a great finishing touch to our Halloween Burlap and Broomsticks front porch decorations.
All you need is:

-a piece of burlap (mine was 13 inches wide x 18 inches long)
-a stencil to paint on your burlap
-freezer paper
-iron
-paint
-paint brush
-hot glue gun
-ribbon
-Fabric stiffener (optional)

First, cut your burlap. Cut it the width that you actually want it to be, but make sure you make the length about 2- 3 inches longer than you actually want so you can make a pocket. To make a pocket to hang the flag from the garden flag pole, I just folded over a couple of inches to the backside of the top of the flag and glued it down.

Next, choose your stencil. If you don't have a Silhouette or other cutting machine, that's okay. Just print any shape you want on your computer, and make a stencil out of it! I used my Silhouette to cut out this cute spider on freezer paper.
Iron your stencil onto the burlap on the highest setting with the shiny side of the freezer paper facing down onto the burlap. Freezer paper is amazing for creating stencils on fabric because it works great and it's super cheap! You can find it with the plastic bags and aluminum foil in your grocery store.

Once your stencil is ironed on well, grab your paint and paint brush and fill in the stencil with paint. Allow it to dry.
Once my cute spider was dry (it took just a couple of minutes), pull up the freezer paint, toss it out, and start embellishing. I just used a bit of ribbon to add the string he's hanging from and a couple of accent ribbons along the bottom using my hot glue gun. Optional: To keep the edges of the burlap from fraying too much, gently brush on fabric stiffener along all of the edges using a foam paint brush (I used Stiffy brand).
That's it! It took less than 30 minutes and just a couple of dollars to make because I used supplies I already had on hand. And I'm loving how it ties together our Halloween Burlap and Broomsticks front porch.

Thanks so much for having me here today on Happiness is Homemade, Heidi! I hope you'll all come visit me soon at Gallamore West. I'm always busy crafting up something fun. xoxo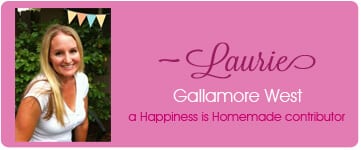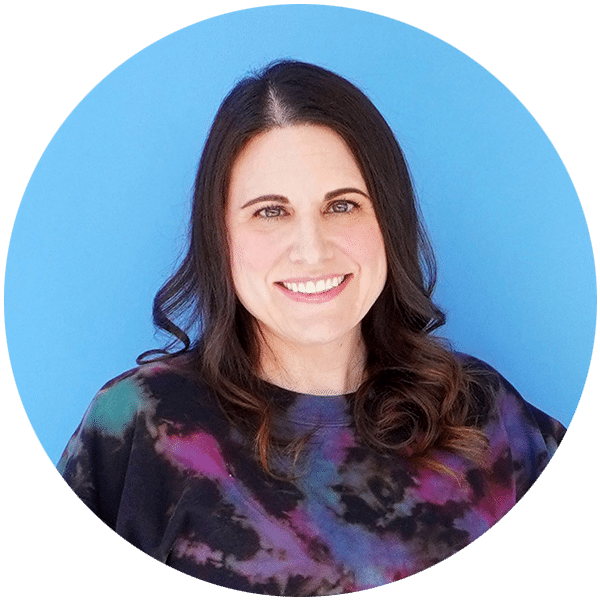 Heidi Kundin has captivated the hearts of millions with her colorful and inspiring approach to crafting, celebrations, and family fun. With over 15 years of experience, Heidi's website has become a must-visit destination for those seeking quick and easy creative ideas and last-minute solutions. Her warm personality shines through her posts, inviting readers to join her on a creative journey that's fun, rewarding, and achievable.