Sonoma Cutrer Vineyards: Nor Cal Day Trip
This post and its photos may contain affiliate links. As an Amazon associate I earn from qualifying purchases. If you make a purchase through these links, I may receive a small commission at no extra cost to you!
Take a Northern California day trip to Sonoma-Cutrer Vineyards, a Sonoma County winery famous for their coastal chardonnay and pinot noir. Tour their gorgeous vineyard and then taste their delicious wines!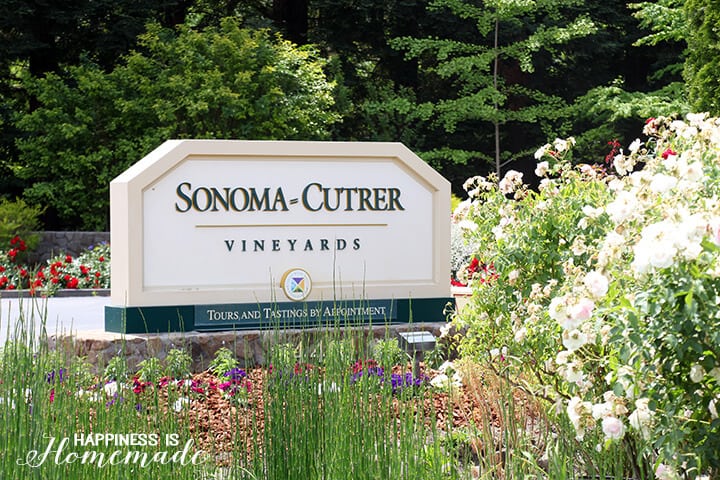 This is a sponsored post written by me on behalf of Sonoma-Cutrer Vineyards. All opinions are 100% mine.
My husband and I recently took a day trip to visit and tour the Sonoma-Cutrer Vineyards in Sonoma County, Northern California. The vineyard is an easy 2-hour drive from the Sacramento area, and just a hop, skip and a jump away from the San Francisco Bay Area.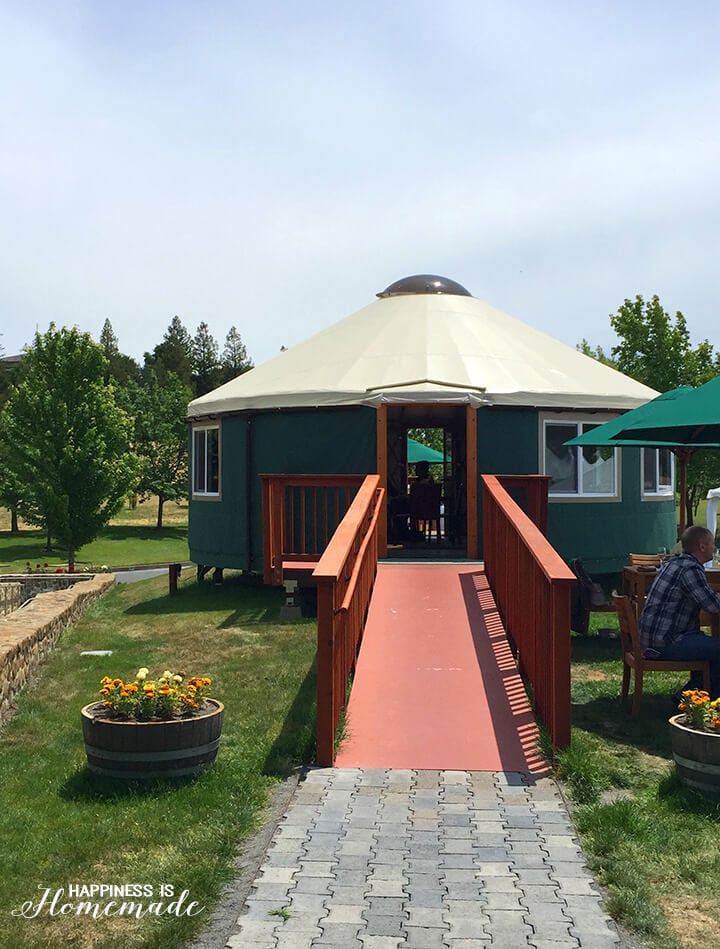 As soon as we drove up the long welcoming driveway into the Sonoma-Cutrer vineyard, I felt the stress of our busy work week start to melt away. The vineyard's main buildings are currently under construction, and they anticipate that the new tasting room will be open in just a few weeks. In the meantime, tastings are held in this cute little yurt that is packed with so much charm it's a shame it's only a temporary structure. There is a limited amount of seating inside of the yurt and the surrounding patio area, so reservations are required for tours and tastings (Click here to reserve a Winery Tour)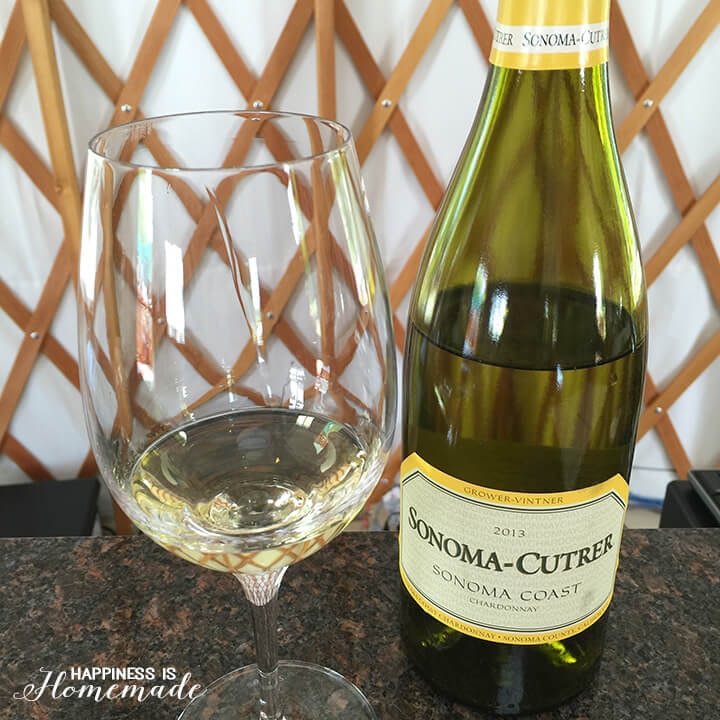 We arrived a few minutes early for our tour, so we sat outside and enjoyed a glass of Sonoma Coast Chardonnay while we waited for the rest of the tour group to arrive. The Sonoma Coast was the perfect way to start our day of tasting – crisp and brightly acidic with strong notes of pear and apple.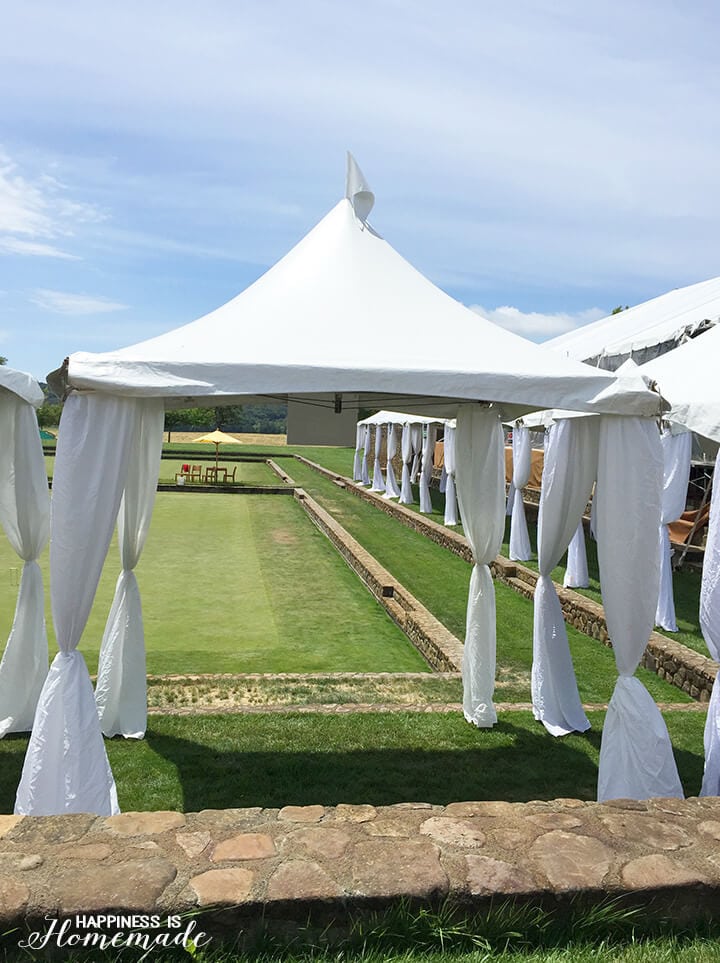 The North American Open croquet championship game was underway when we arrived, and the vineyard had just hosted a large Make-a-Wish fundraiser (which raised nearly a million dollars!) the previous night. Rows of white tents set the stage for the special events, and they looked lovely flapping gently in the breeze along the croquet lawns.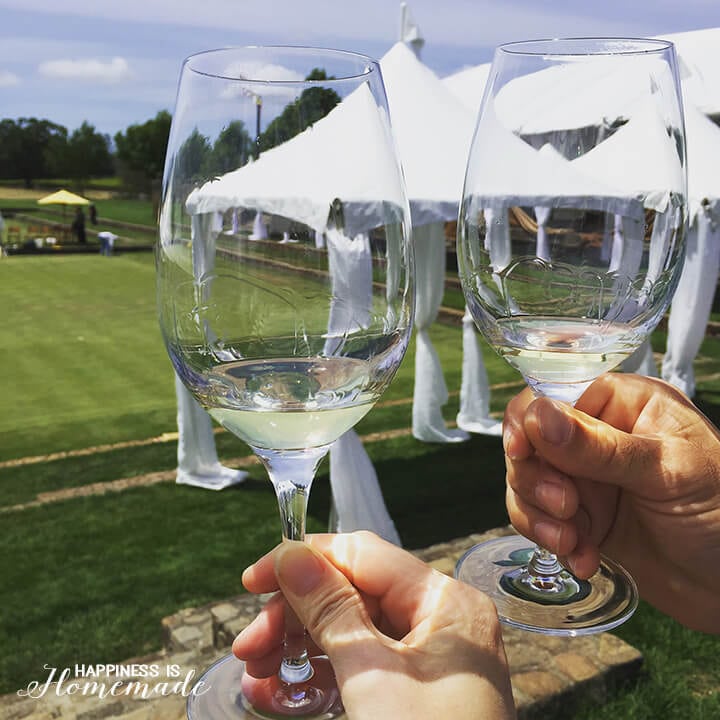 We enjoyed our Sonoma Coast Chardonnay and watched the remaining championship croquet players finish up their games. I would love to come back for one of Sonoma-Cutrer's monthly Croquet & Chardonnay events and play some croquet myself!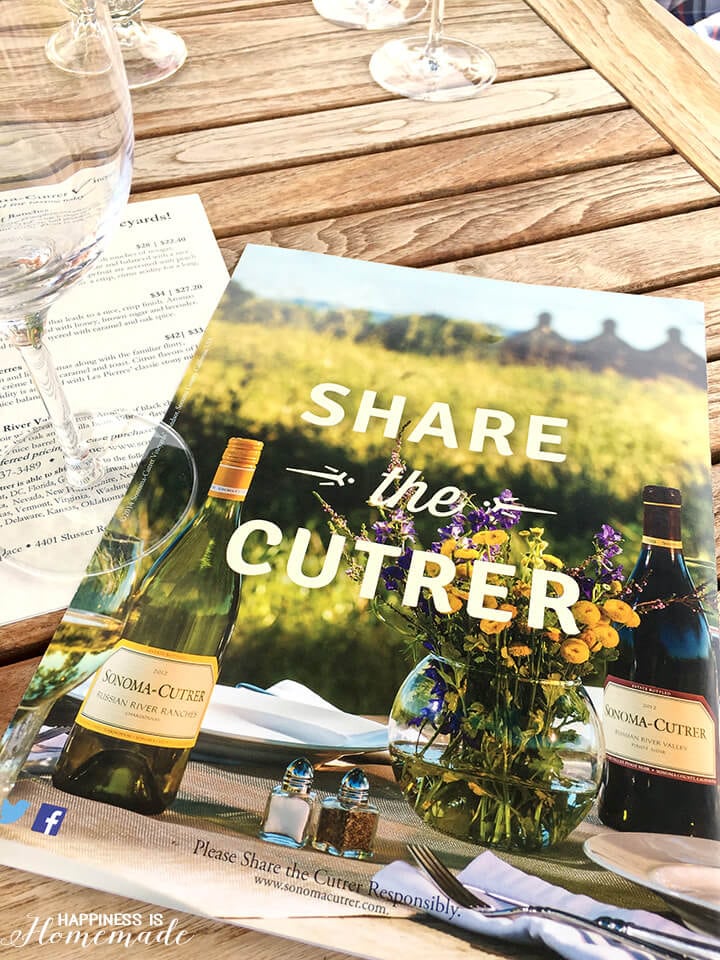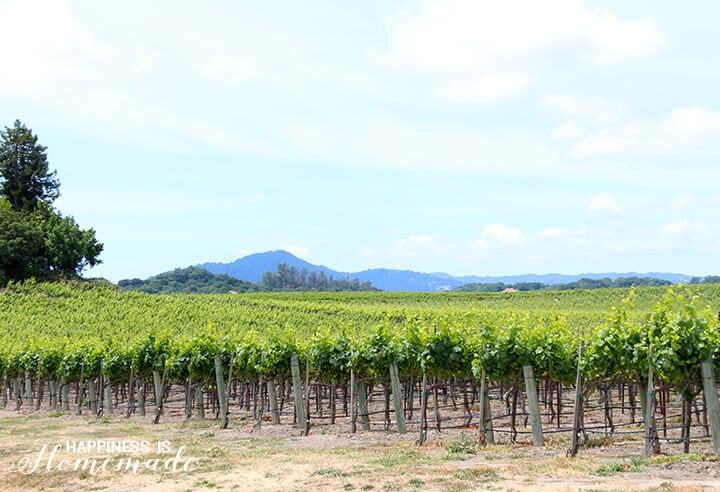 The vineyards sit only 12 miles away from the ocean, and the cool coastal fog makes for perfect growing conditions for chardonnay and pinot grapes. We toured several different areas of the vineyards, and I learned a lot of interesting information about wine making that I never knew before. I had no idea that so many different types of soil could exist in one single location!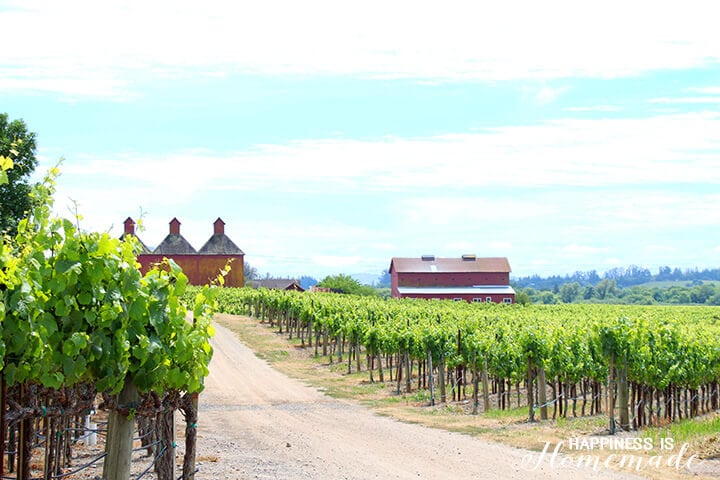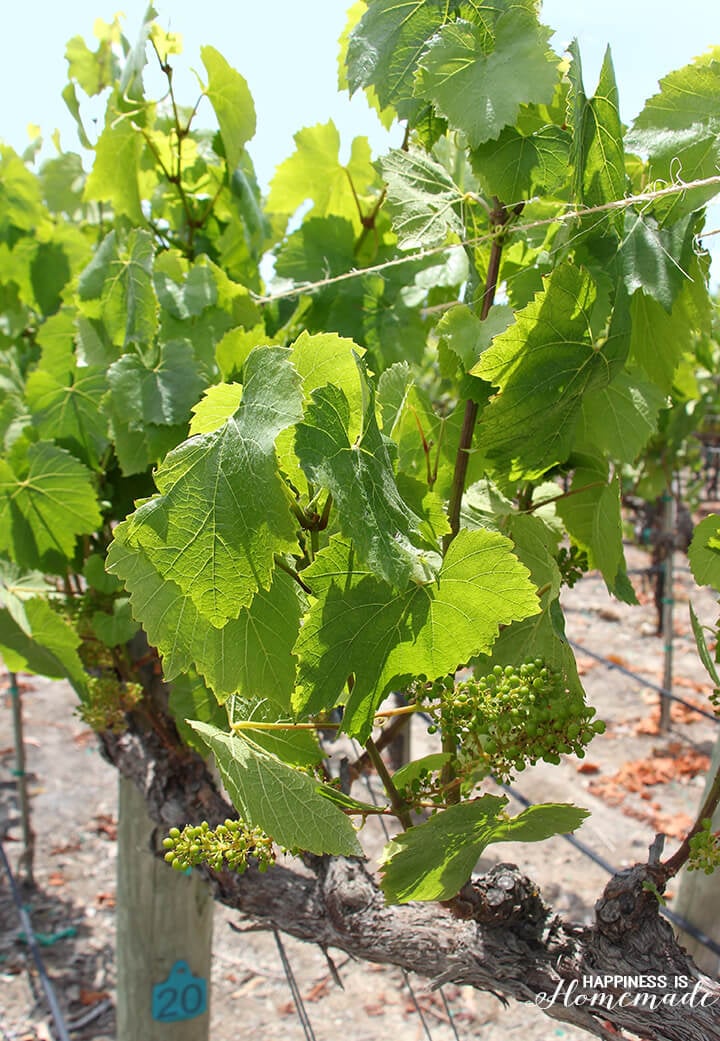 These baby chardonnay grapes will be ready to harvest around August. If you tour the vineyards during that time, chances are favorable that you'll be able to sample the different varieties of grapes and taste firsthand how the different soils affect the flavor of the grapes.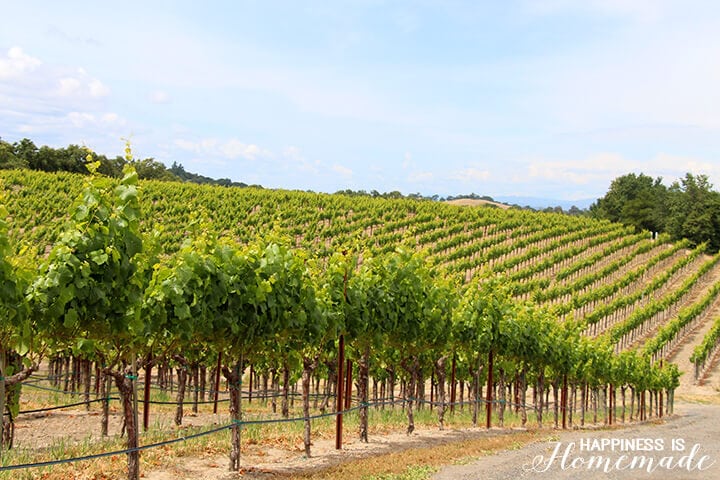 The endless rows of grapes make for some really incredible scenery. The entire vineyard is very picturesque, and it sort of feels like you're in the middle of a gorgeous movie set.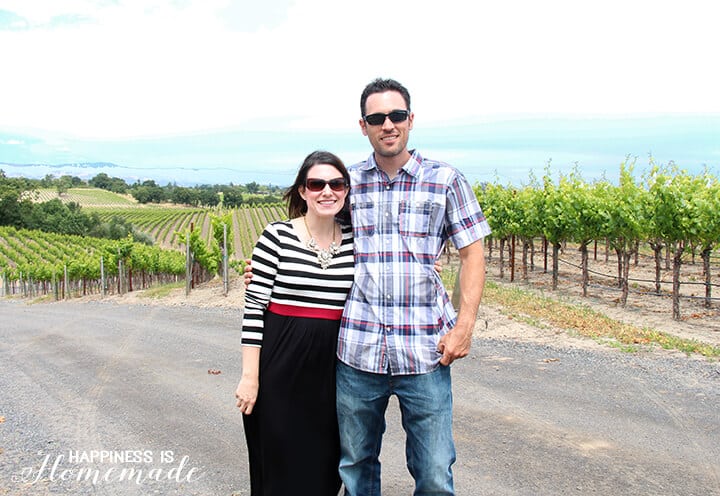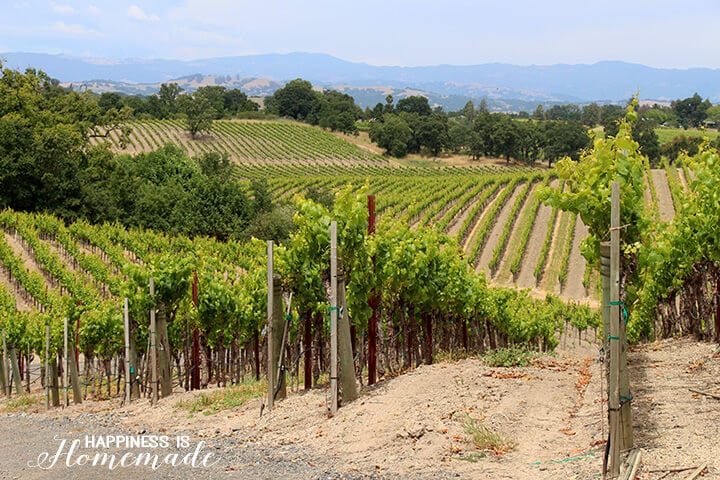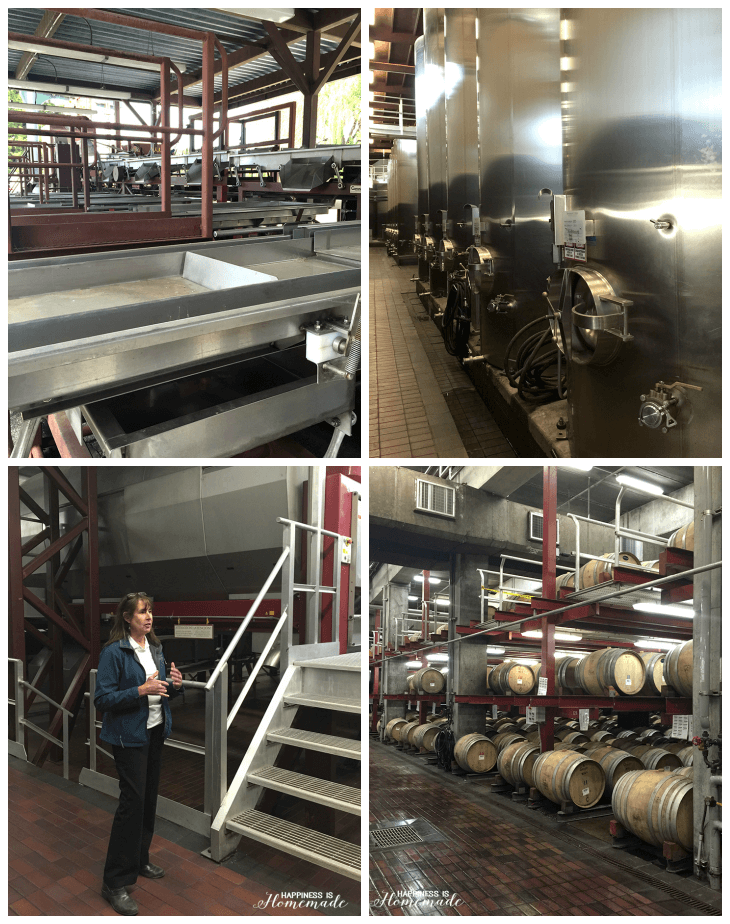 After touring the vineyards, we took a peek at the cooling tunnels, the grape presses, the fermenting room, and the wine cellar.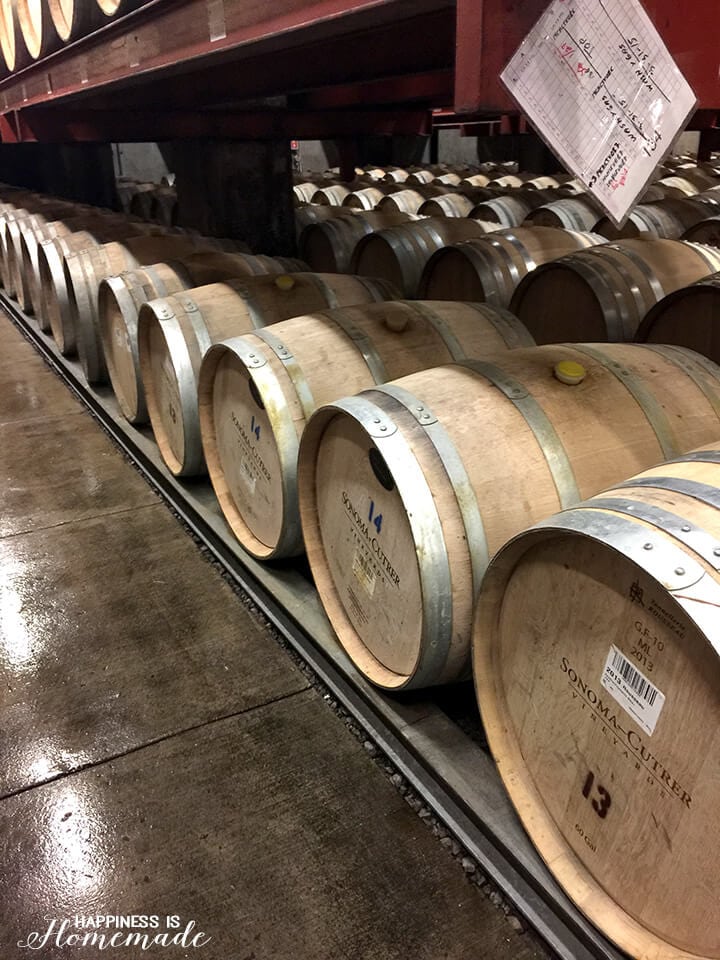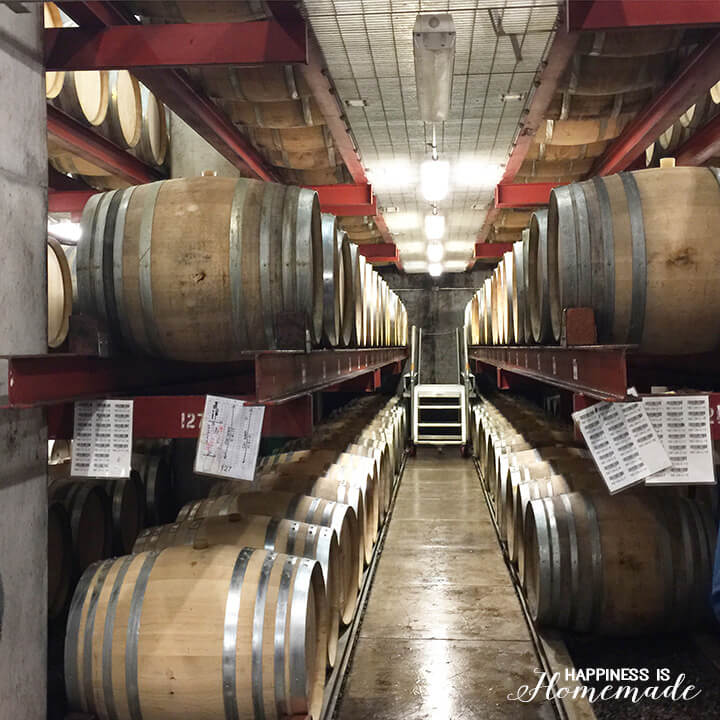 The "wine cave," built into a hillside, is a constant 90% humidity and 58 degrees, so it stays very moist and chilly inside while the wines age. The french oak barrels are the best of the best, and they are key to producing Sonoma-Cutrer's award-winning wines. The winery is so serious about their barrels that they hire special Merrandiers to select the specific trees from forests in the heart of France that will be used to make their barrels!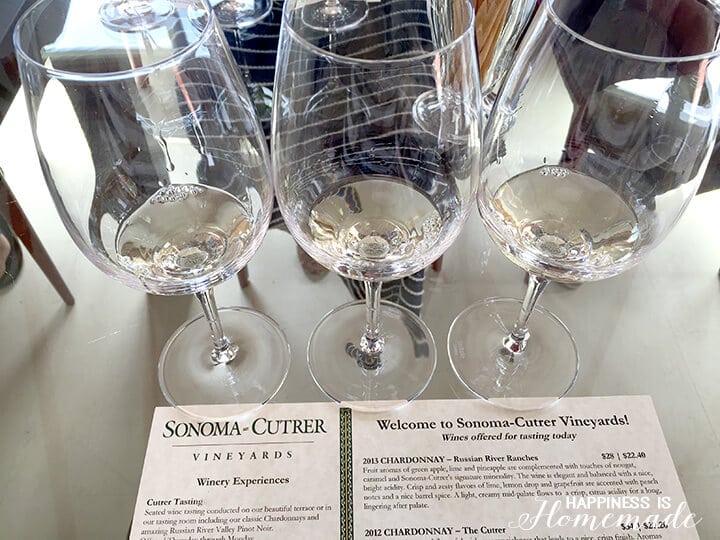 After touring the vineyards and getting a behind-the-scenes look at the wine making process, it was time to sample some of the wines!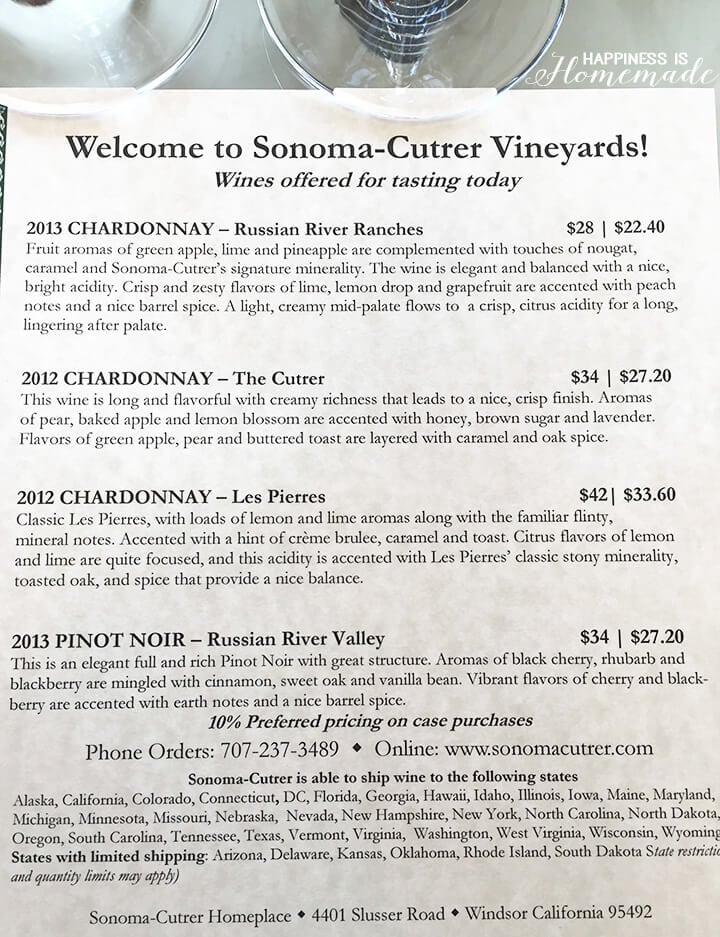 The tasting menu for the day included three Chardonnays, Russian River Ranches, The Cutrer, and Les Pierres, and one Pinot Noir, Russian River Valley. My husband and I both enjoyed the apple and citrus flavors of the Russian River Ranches Chardonnay, but the richness and crisp finish of The Cutrer was our favorite. The Les Pierres was the favorite of our tour guide, Donna, and it definitely delivered on the smooth and buttery creme brulee flavor that she promised us.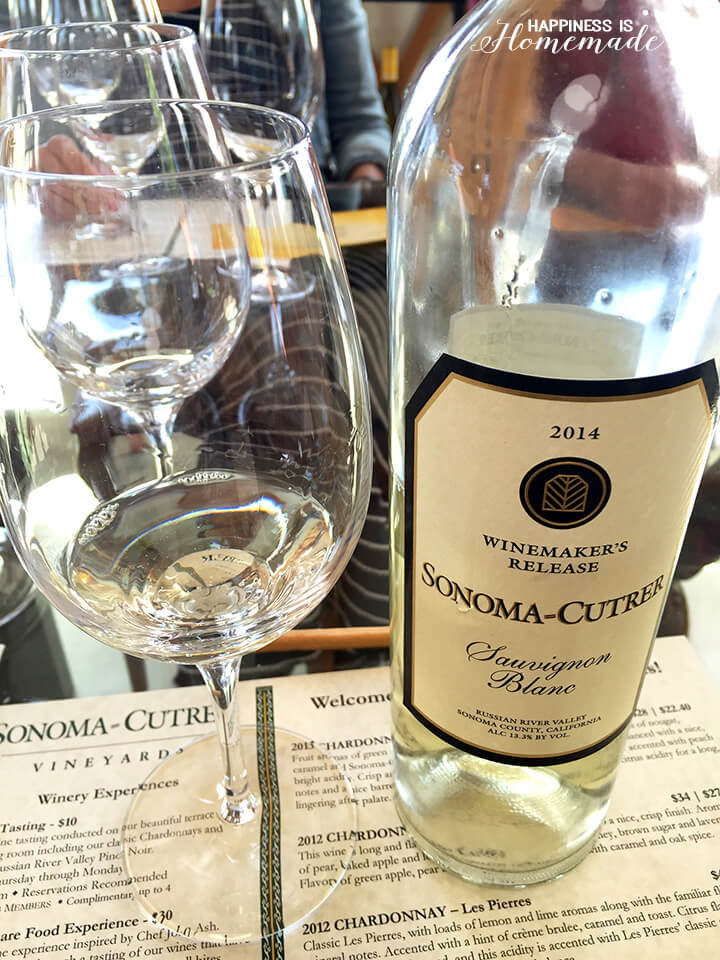 This year the winery is offering a Sauvignon Blanc exclusively to Sonoma-Cutrer wine club members. Membership to the wine club is free, and members receive a substantial discount on wines along with complimentary tickets to several Sonoma-Cutrer events held at the vineyard each year. The wine club offers three exclusive shipments each year including a special limited release selection from current Winemaking Director, Mick Schroeter. The Sauvignon Blanc contains fruit from four unique Russian River Valley vineyards, which lends itself to a delicious combination of flavors like passion fruit, guava, and citrus along with a creamy smooth finish. It's definitely worth joining the wine club for a chance to get your hands on one of these bottles! (Shhh, we also got the insider's scoop on next year's exclusive club selection, and it sounds AMAZING…and bubbly!)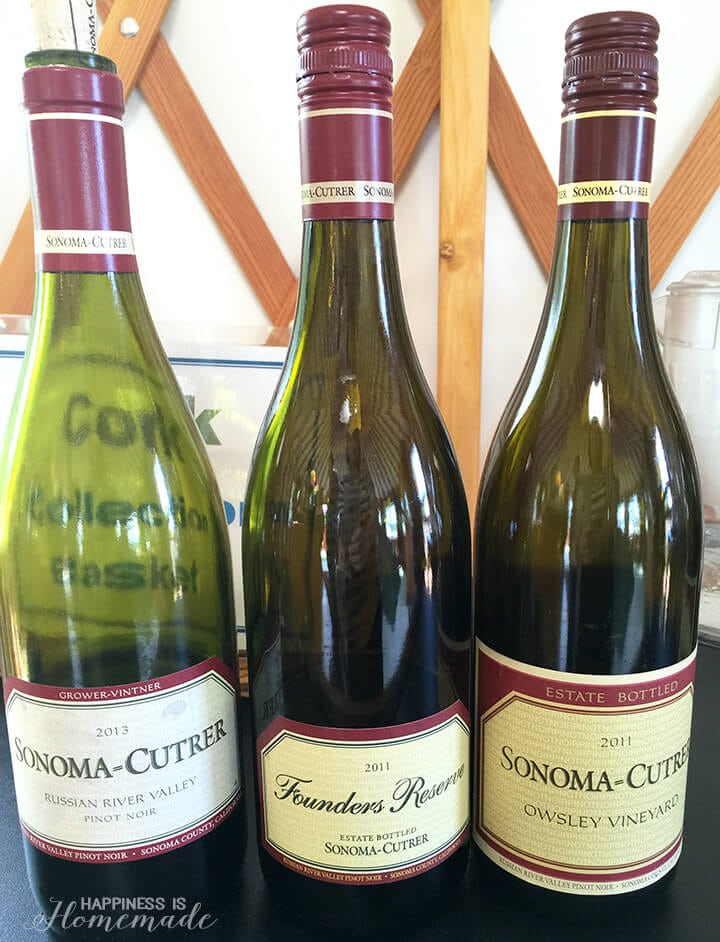 We also had the opportunity to taste several of the Pinot Noir selections that Sonoma-Cutrer offers (several are available only to club members). We enjoyed all of them but came home with a bottle of the 2011 Owsley Vineyard which tastes like berries and black cherries along with a hefty dose of warm spice. Delicious! After all of the tastings were completed, we decided to bring home a bottle of the Owsley Vineyard Pinot Noir, The Cutrer Chardonnay, and the Sauvignon Blanc.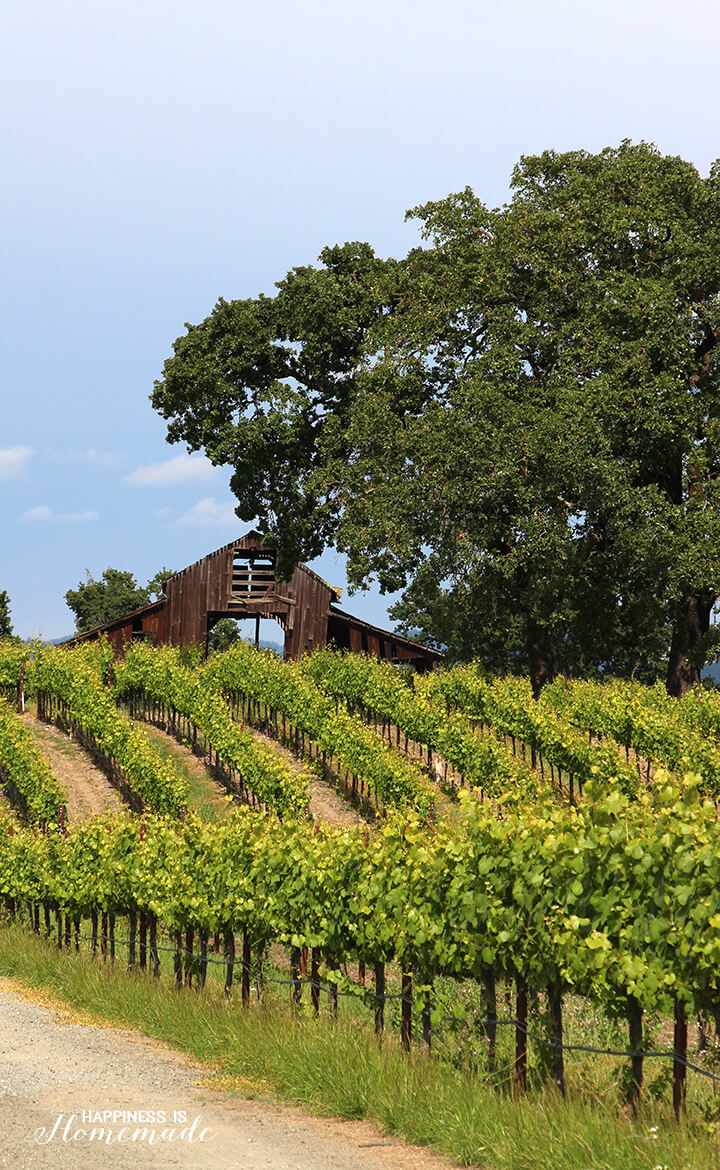 I couldn't resist stopping to take a quick photo of this quaint barn and vineyard just down the road from the winery. For gorgeous scenery and fabulous wines, I highly recommend visiting the Sonoma-Cutrer Vineyards! They are located at 4401 Slusser Road, Windsor, CA 95492, and the tasting room is open Thursday – Monday, 10:00am – 4:00pm. Reservations are required, so call 877-797-3489 or visit www.sonomacutrer.com/tours for more information and to make reservations online. Follow @SonomaCutrer for the Sonoma-Cutrer Facebook and Sonoma-Cutrer Instagram pages to stay up to date on the latest events and product information!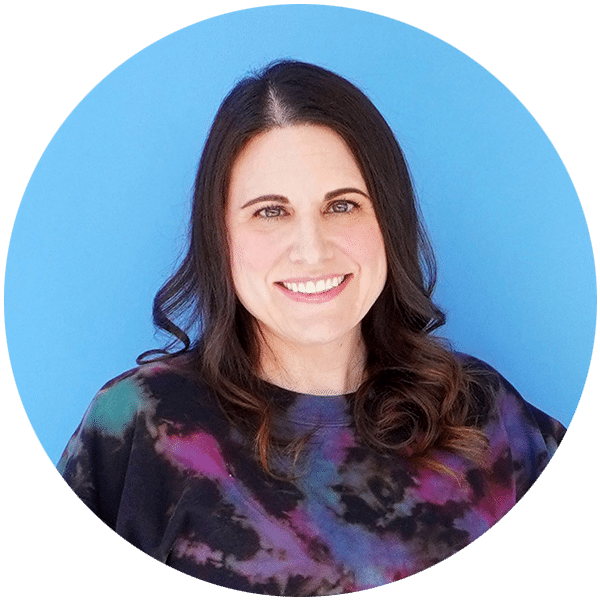 Heidi Kundin has captivated the hearts of millions with her colorful and inspiring approach to crafting, celebrations, and family fun. With over 15 years of experience, Heidi's website has become a must-visit destination for those seeking quick and easy creative ideas and last-minute solutions. Her warm personality shines through her posts, inviting readers to join her on a creative journey that's fun, rewarding, and achievable.