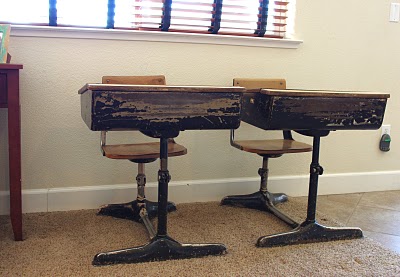 I have wanted to get my hands on these vintage school desks forever, so I was thrilled when I stumbled upon a school estate sale that was selling off all their old desks and tables for an affordable price. We got them for $25 – much less than the usual $75-100 each that seems to be the going price on Craigslist. I've been seriously considering homeschooling next year for kindergarten, so I was even more excited than usual to get these. It gives me great peace of mind knowing that I have a school-like set up now where the kids can sit in their own space and do their work. Now, the all-important question…what color do you think I should paint them? 🙂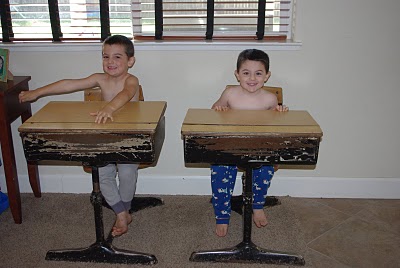 The boys LOVE their new desks, and they're thrilled to have their own workspaces since their little table and chairs have long been outgrown (especially when they both try to sit at it together and do two different tasks!). We're going to repaint the table and chairs set and pass it on to their 2-year-old cousin for Christmas. Hopefully I'll get some pictures of that too, because it's one of the rare occasions that I get to do a girly project 🙂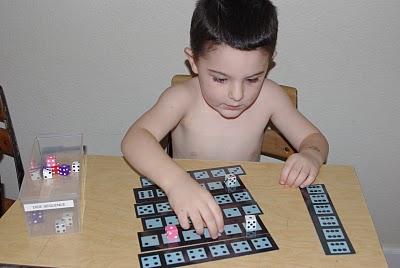 Sutton got to work right away on a dice sequencing activity – he's the math and numbers lover in the family.
Sawyer, our engineer and building-minded one, was so excited to have a place to do his puzzles and build with his Legos without getting everything knocked around by his little brother.
I can't wait until the holiday rush is over so I can start refinishing these!