Sensory Play Time: Water Beads & Light
This post and its photos may contain affiliate links. As an Amazon associate I earn from qualifying purchases. If you make a purchase through these links, I may receive a small commission at no extra cost to you!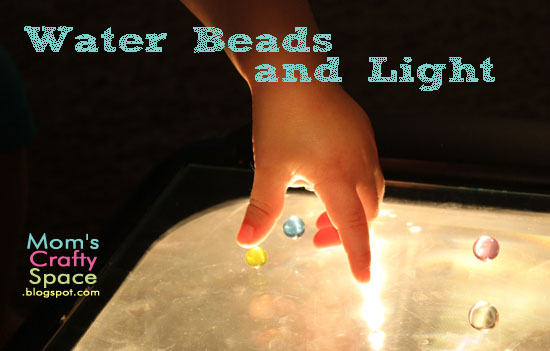 Have you introduced
water beads
into your play time yet? If not, I highly recommend that you do so. Soon! These squishy little balls start out as hard pinhead sized orbs, but after a few hours in a tub of water they turn into soft beads that deliver an almost silky sort of texture as you run your hands through them. I truly believe they are one of the greatest sensory experiences you can give your child…not to mention that they bounce, which is always a big hit around here!
Sutton is keen on using the overhead projector whenever he has the chance, so he immediately asked if we could play with the beads in the light.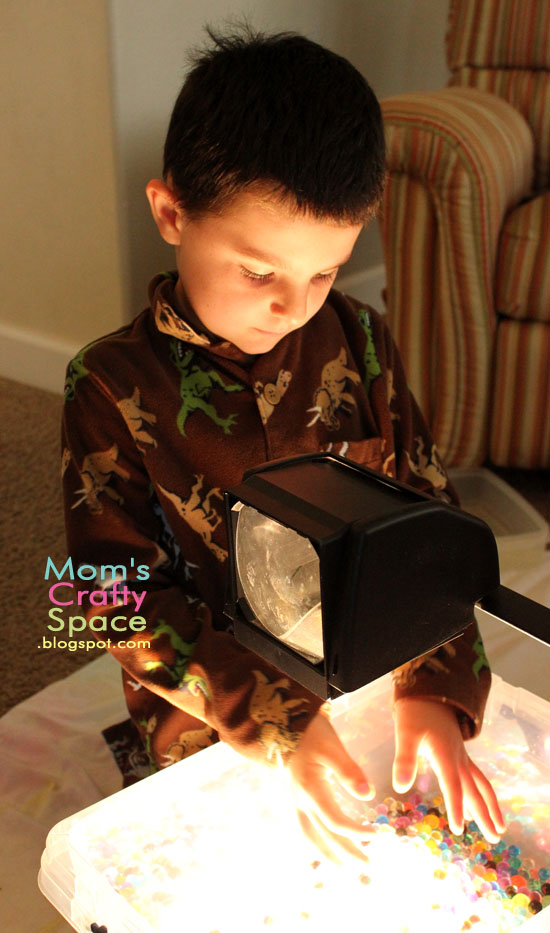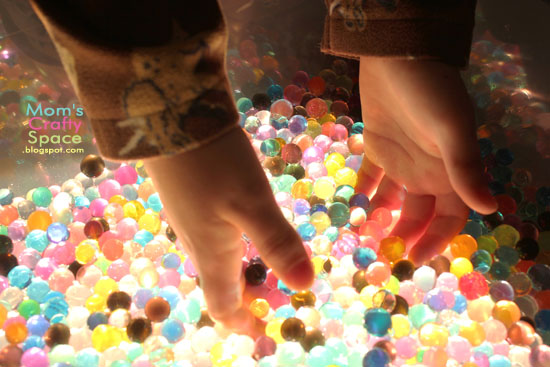 They look so pretty and gem-like glittering in the bright light!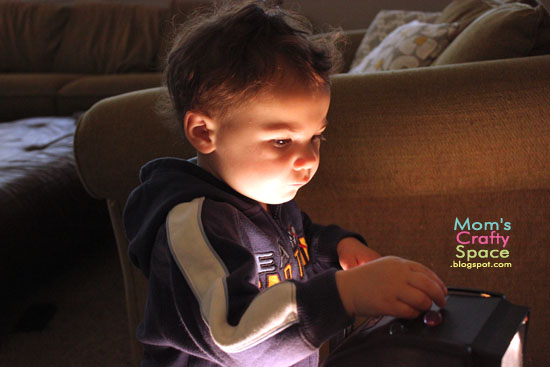 Simon worked on his fine motor skills by stacking the water beads one-by-one on to the top of the light housing. Since he's only 19 months I make sure to keep a ridiculously close eye on him when we're playing with water beads. They claim to be non-toxic, but I can't imagine that swallowing something that absorbent could be good for your stomach!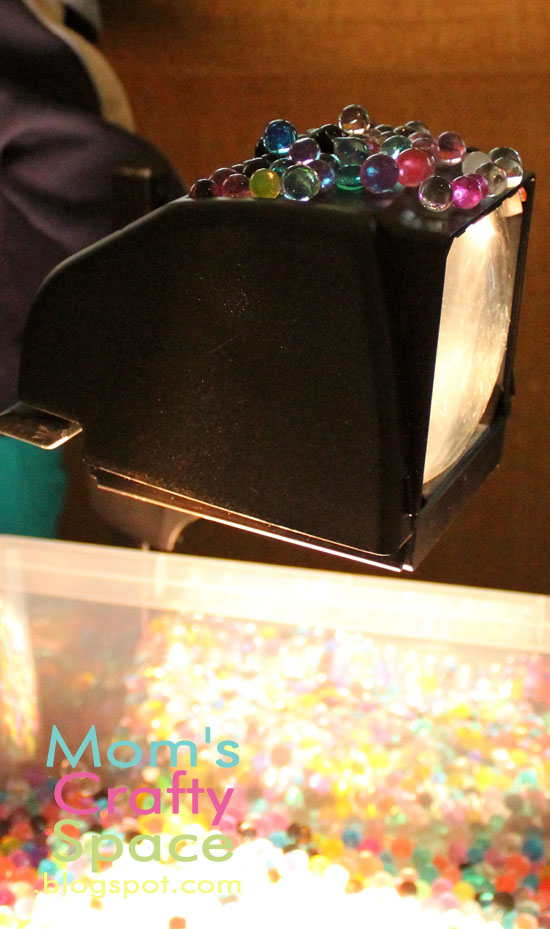 He really liked to balance them on top, so he got in lots of pincher grip practice today!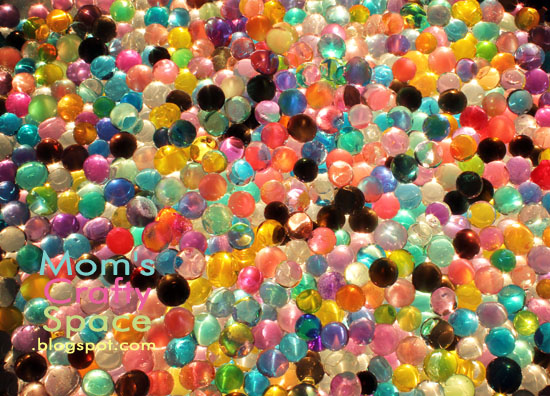 We used an assorted mix of colors this time, but water beads are also available packaged as individual colors – perfect for creating seasonal or holiday themed sensory tubs (check out this seaside themed tub at The Imagination Tree!)!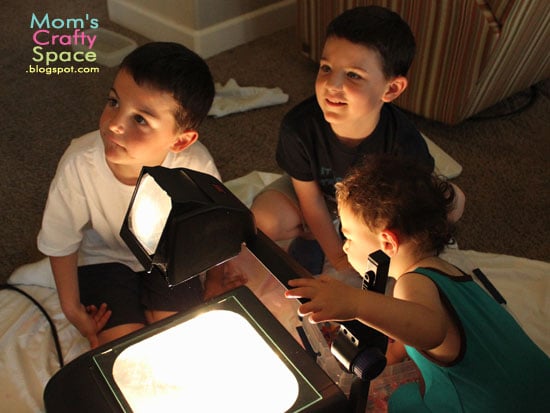 They played in the water beads for the better part of the day, and Sawyer joined in on the fun when he got home from school. They had a blast arranging the water beads on the projector screen to make pictures and pretty colored patterns appear on the wall.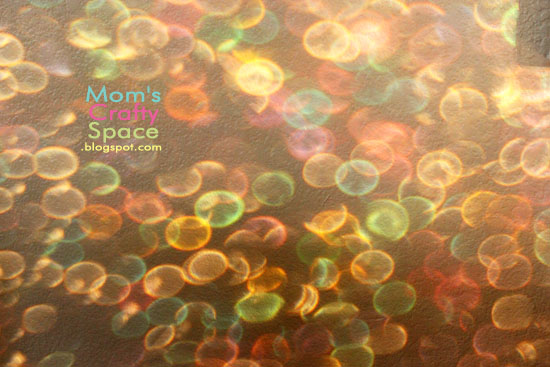 The water beads look like glowing bubbles projected upon the wall. They're really quite lovely and kaleidoscope-like.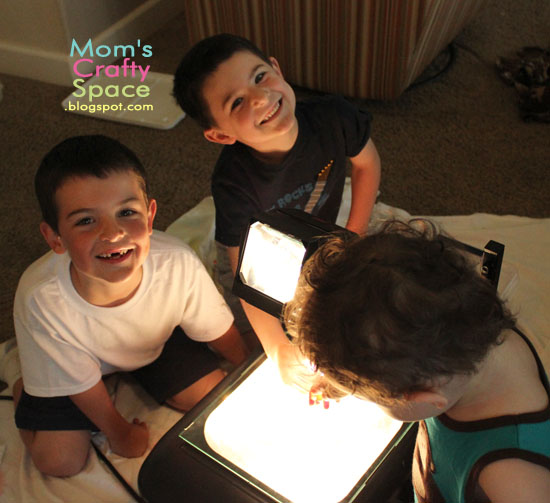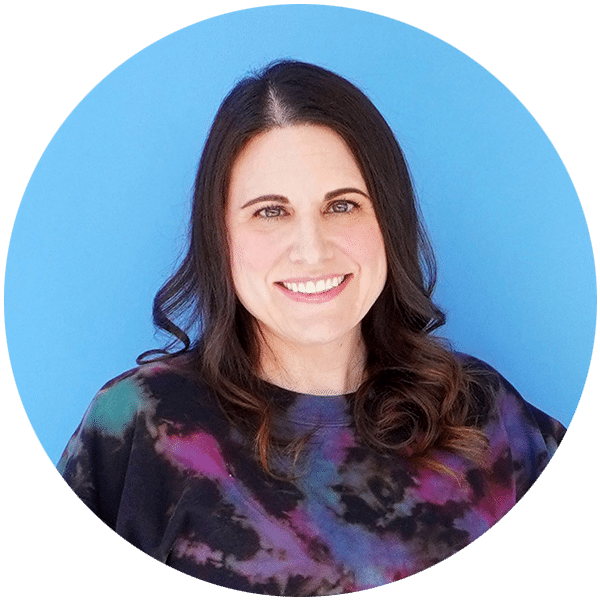 Heidi Kundin has captivated the hearts of millions with her colorful and inspiring approach to crafting, celebrations, and family fun. With over 15 years of experience, Heidi's website has become a must-visit destination for those seeking quick and easy creative ideas and last-minute solutions. Her warm personality shines through her posts, inviting readers to join her on a creative journey that's fun, rewarding, and achievable.