This awesome play mat is SUPER easy to create with just a simple inexpensive shower curtain liner, a Sharpie marker, and some crayons! Hours of fun for kids!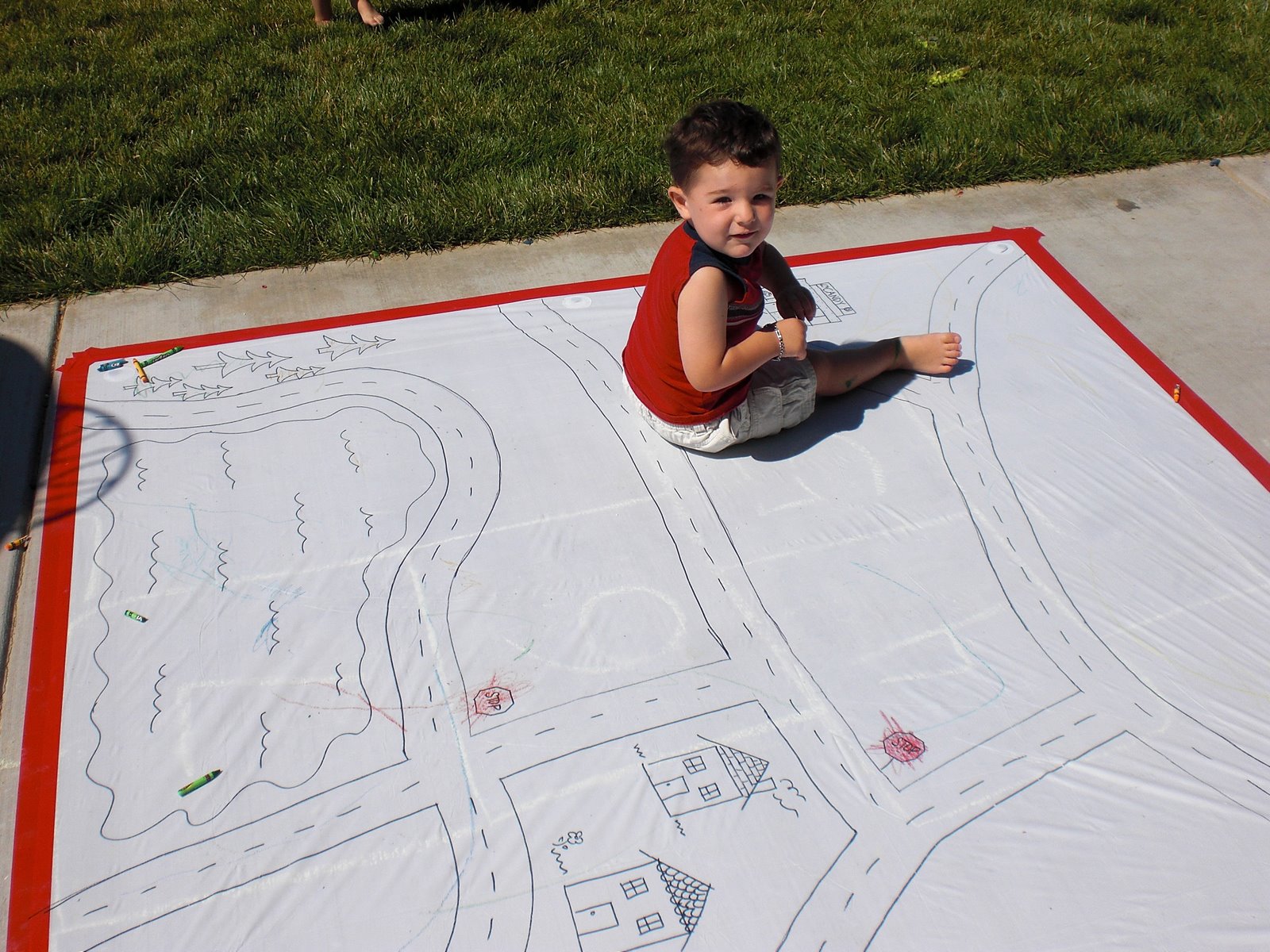 This post may contain affiliate links. I will receive a small commission from these sales at no additional cost to you!
DIY Shower Curtain Play Mat
My little boys love playing with their cars on their play mat rug, but it's just a little bit too small for both of them to spread out and enjoy at the same time. When I ran across this shower curtain play mat idea at Filth Wizardry, I knew it was the perfect solution and couldn't wait to give it a try!
Supplies Needed to Create a Shower Curtain Play Mat:
I picked up a shower curtain liner at the dollar store, grabbed two Sharpie markers, and some crayons and we were ready to create our own little town!
We created our play mat outdoors, but you can also do this indoors if you have hard floors. We didn't have any issue with the Sharpie bleeding through the shower curtain, but do a test spot first, especially if you're using it indoors on nice flooring!
First, I taped the shower curtain to our back patio concrete using colored duct tape. In hindsight, I should have used painter's tape as the duct tape did leave a little bit of sticky residue on the concrete, so that's what I've recommended above.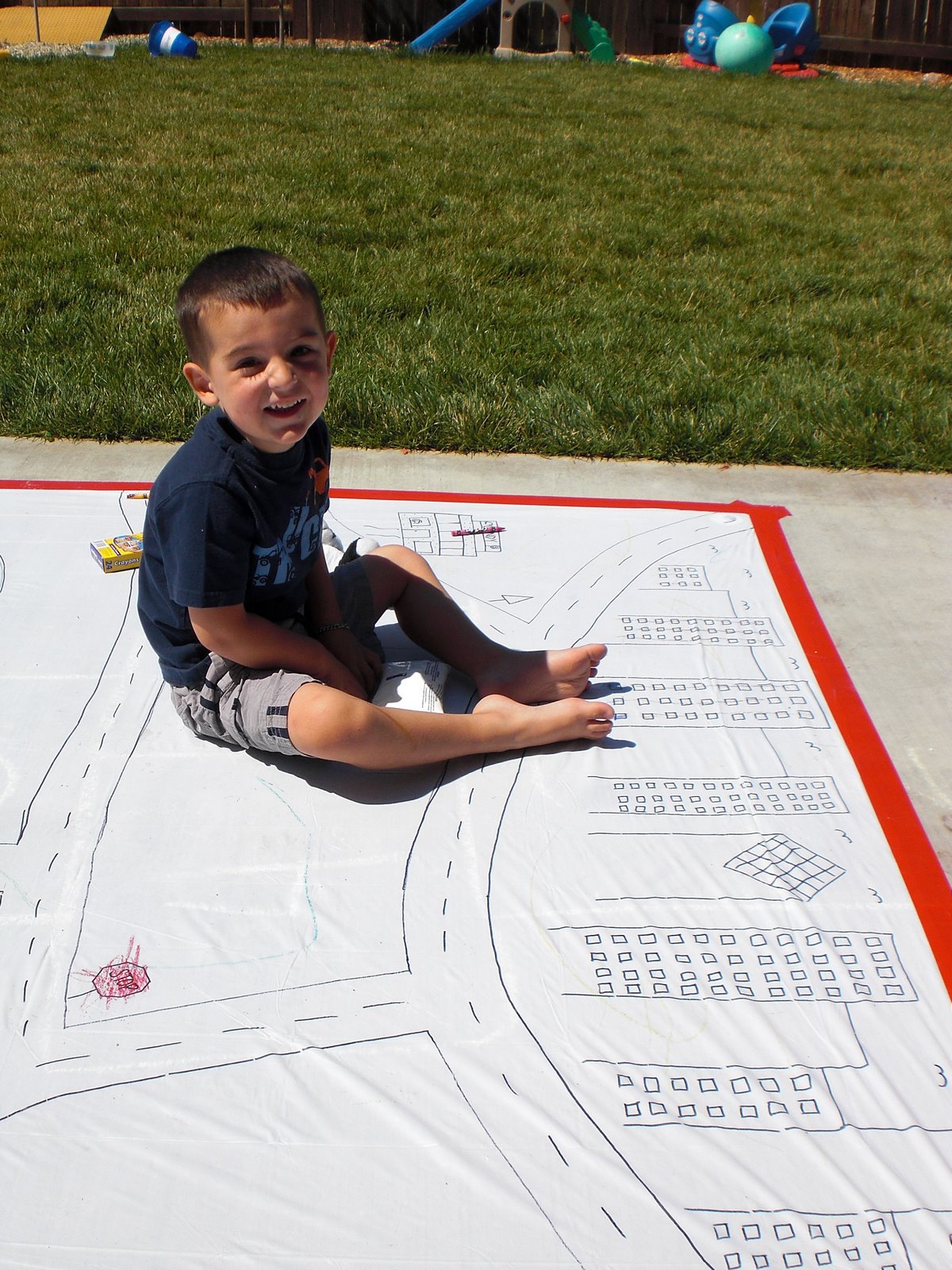 To draw the roads, we taped two Sharpie markers to the crayon box, and drew both lines simultaneously to keep everything clean and equidistant. Then we started to fill in other aspects of our city. Sutton requested a lake, Sawyer wanted a Home Depot store, and their friend, Hattie, wanted lots of houses.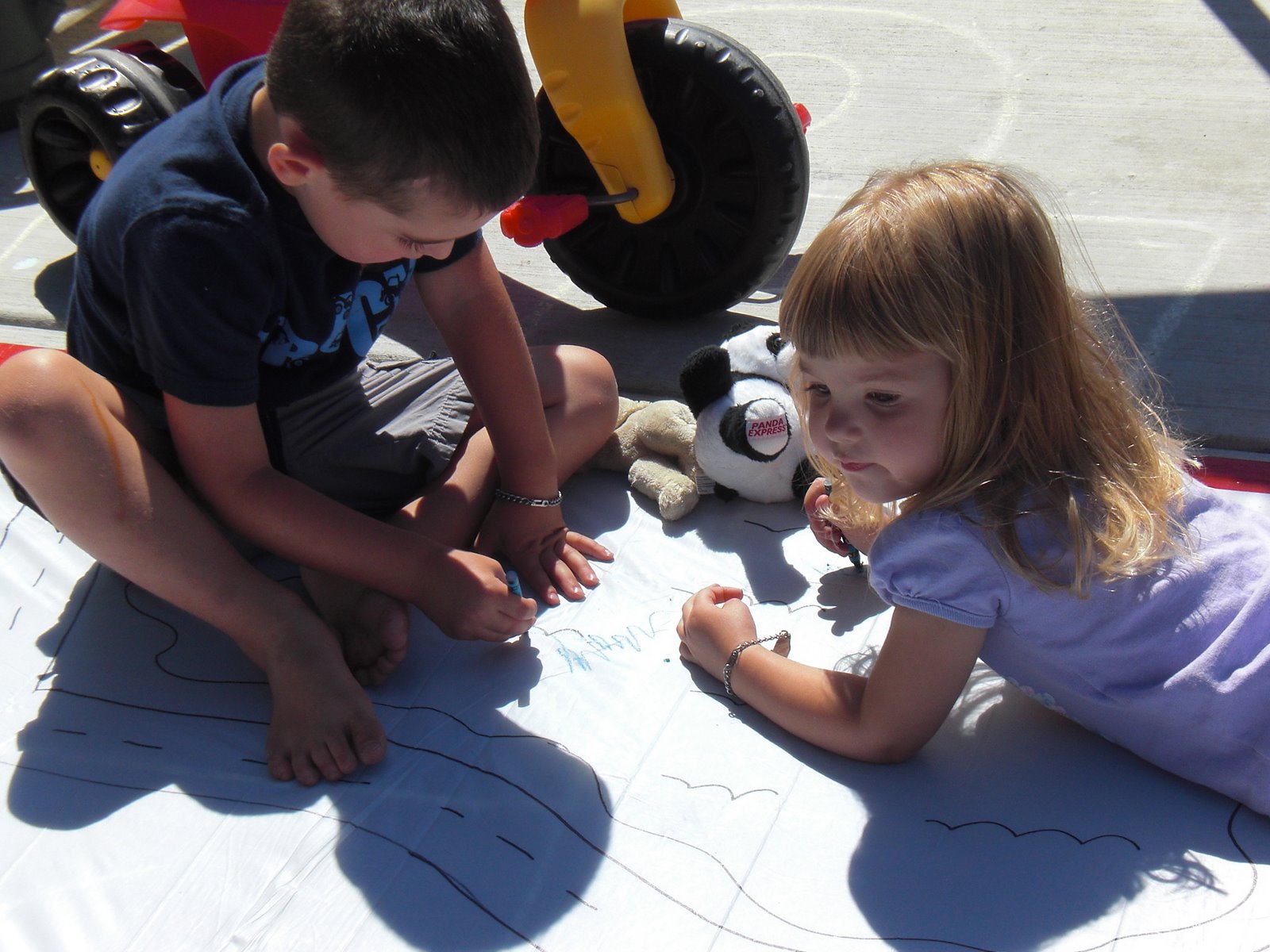 After I drew a few of the basic outlines, I let the kids start coloring in all of the roads/buildings/etc. with crayons. The textured side of the shower curtain is perfect for crayons, and the crayons glided on smoothly and easily.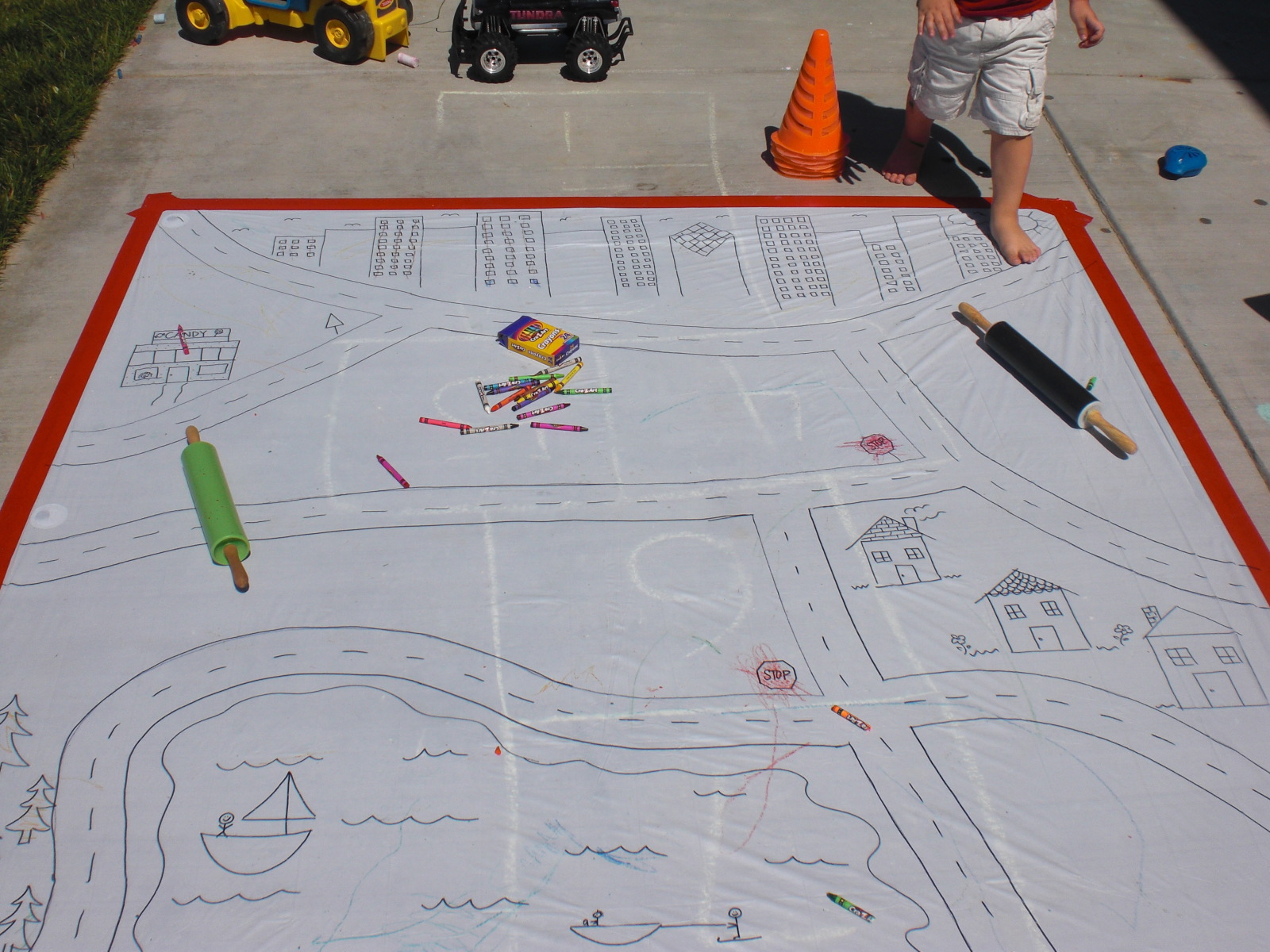 Here it is about halfway finished (and before we added the requested Target and Home Depot). Sadly, I forgot to take a picture of what it looked like when it was completely finished, but you get the general idea!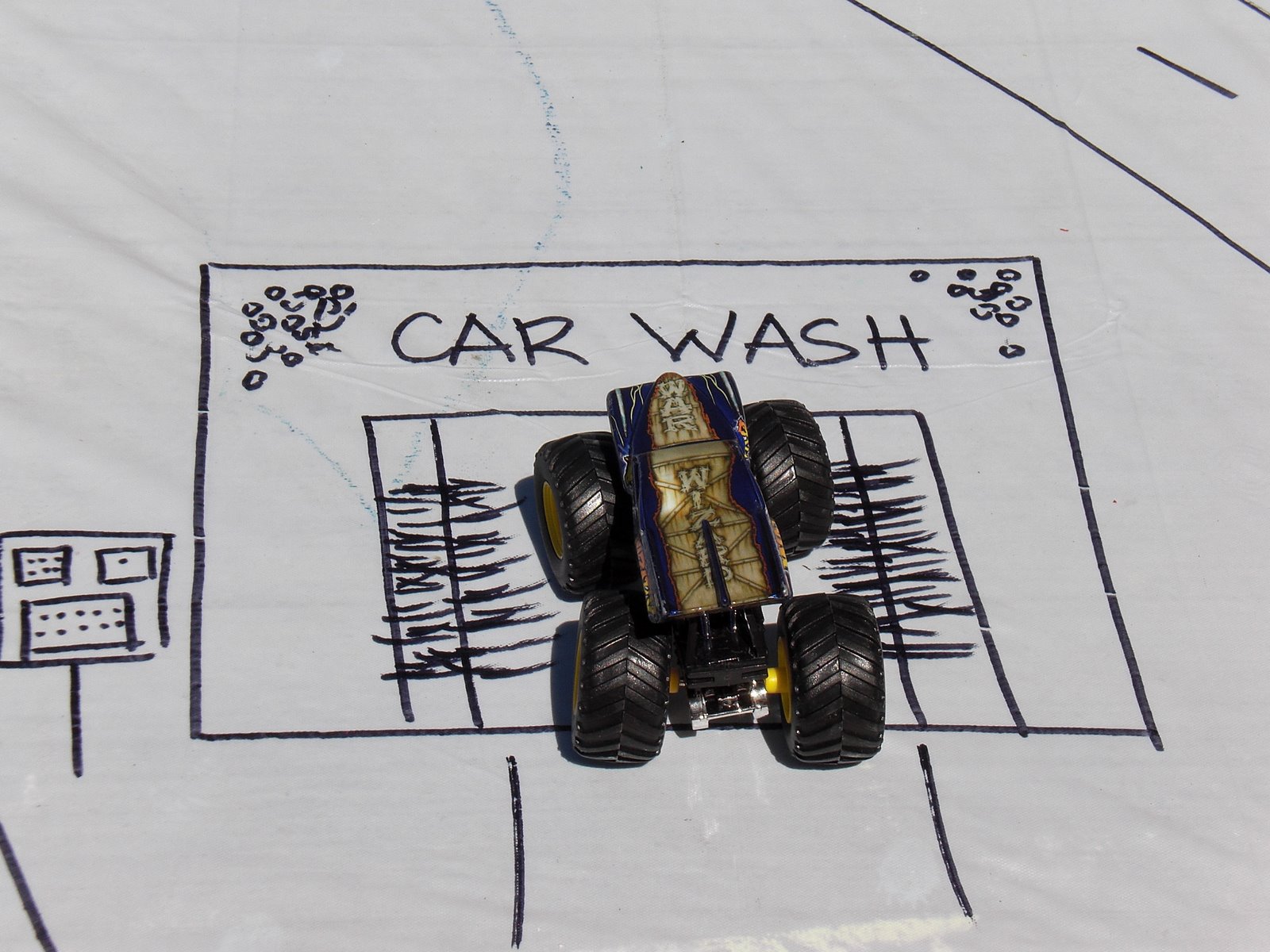 Sutton's favorite part ended up being this car wash. He "washed" every single monster truck he could find! The boys' cars and trucks definitely had a TON of fun driving all around the roads of our new town!
So, for a whopping total of $1 spent, we had an entire day full of fun in the backyard! I am sure we'll be doing this again in the future!