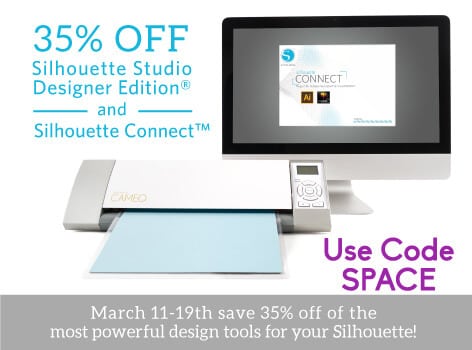 One of my favorite things about my Silhouette machine is its ability to cut any design that I can dream up. I use the Silhouette Studio® Designer Edition software, and it allows me to create all of kinds of amazing projects with these great features:
Open, manipulate and cut .svg files
Rhinestone tools allow me to convert designs into rhinestone templates and create my own rhinestone designs
Sketch tools convert designs into several styles of sketch art
Creative knife tools allow me to clip designs using different patterns (one of my favorite features!)
Enhanced eraser set to modify designs with more precision
Built-in ruler and guide lines for precision alignment and drawing
The options really are limited only by my imagination, especially when I also use the new Silhouette Connect™ plug-in that allows me to cut directly from Adobe Illustrator or CorelDraw. It's pretty incredible! Now anything that I can draw can be cut with my Silhouette machine! I just recently starting playing around with the Connect plug-in, and I can't wait to show off all the cool things that I've been making with it! 

If you'd like to get your hands on the Silhouette Studio® Designer Edition software or the Silhouette Connect™ plug-in, head on over to the Silhouette shop and enter code SPACE at checkout to receive 35% off from now until March 19th!