I got back home from SNAP! a couple of days ago, and I am still trying to catch up on my sleep and regain my energy! We spent five whirlwind days in Utah absorbing a ton of great information and having a blast with new friends. Here's a recap of a few of the things that I learned and/or discovered on my trip:
When they tell you that you're going to need an extra suitcase to stuff all of your swag in, they mean it. For reals, yo. Even though that plaid duffel bag was more than half empty on the flight out, I still had to go to Walmart to purchase an extra rolling carry-on bag for the flight home!
When the rental car agent asks if you can drive a stick shift, and you say no, it doesn't automatically mean that he isn't going to give you one anyway. We almost had this sweet ride for the week…until Kelley sat down in the driver's seat and realized that it was a manual transmission! Booo! We ended up with a Dodge Durango.
Amazing places we discovered in Utah:

The gorgeous snow capped mountains that surrounded the area.
A ginormous Cabela's complete with a huge "Lifestyle Camo" section, massive taxidermy mountain display and floor-to-ceiling aquariums filled with sporting fish.
The Outlets at Traverse Mountain, home to the world's nicest and cleanest outlet mall restroom.
I learned invaluable lessons on SEO and ad networks from Dennis, Court and Beckie. I have a TON of work to do, but I'm super excited about it all. I also learned some great branding tips from Becki, Lara and Lisa and found a tremendous amount of inspiration from the hearts of Amy and Desiree. There were SO many great speakers and classes, and my head is still spinning from all of the info that I learned in such a short time.
I took home a bunch of great tips from Michelle and Mariah on how to create awesome parties on the cheap. Their class was a ridiculous amount of fun, and it was a fantastic break from the heady classes I'd previously been attending that day.
Oooh, honey, let's talk about all the swag! We got an unreal amount of goodies from the conference sponsors. That photo in the middle is just what I walked away with afterregistration on the first day! This necklace from the r house couture is one of my favorite pieces that we receivedand is stamped with "Create Joy," the theme of the conference.
A rental car is worth its weight in Starbucks gold after all of those late nights. The closest Starbucks was about a 10 minute drive from the hotel, and we were happy to be able to get up and drive there as soon as we rolled out of bed.
If we didn't have a rental car we might have also missed out on the world's greatest canine driver in the Walmart parking lot (where we were also offered tamales in a Ziploc baggie from a stranger)! This dog was hysterical! He totally knew that we were staring and laughing at him, but he wouldn't turn his head even half an inch to look at us!
If you take the shuttle to the Tulip Festival, and the little old driver named Phil tells you to ignore the "Last Shuttle Pick Up at 1:00" sign because he'll be running the route all afternoon…just know that he only drives 15 mph, and you might get stranded there and just barelymake your afternoon class! (I have to say there's probably not a more gorgeous place to have been stuck for an extra hour though!) I have way too many photos from the Tulip Festival, so they'll get their own post if I ever find the time to edit them all!
Pajama parties ROCK! I wasn't brave enough to wear actual jammies, so I rocked some black leggings and this super soft baseball tee from The Printed Palette. LOVE them!
I am ridiculously excited for the new Scotch® Expressions tapes to hit the market (a few are available now, but most won't be out until back-to-school). I have a lot of love for washi tape, and this stuff is even better(I know, it's amazing!).
Creative bloggers are a colorful bunch, and we can rock some bright skinny jeans like none other!
OMG I won a $50 shopping spree to the Queen Bee Market! When Tauni Everett, the woman who makes SNAP! possible, handed over my prize she gave me the hugest hug, and I just about cried because she is just SO darn nice and welcoming. Thank you so SO much for all of your hard work, Tauni! xoxo
Waffle food trucks are absolutely my favorite kind, and these were out-of-this-world delicious!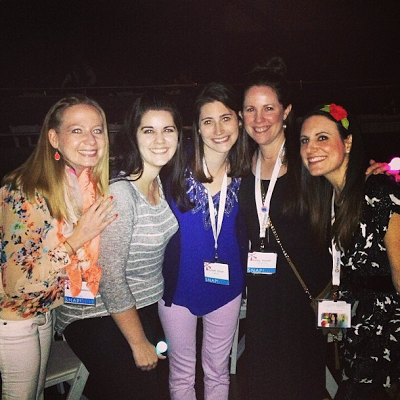 Candie, Debbie, Liz, Kelley & Me – love these ladies!
To be honest, when I was suddenly surrounded by 350 incredibly talented women, I started to feel a little socially overwhelmed. It was superhard for me to just step up and snag a stranger to basically tell them "Hi, I totally love you, but I'm not sure that you even have a clue who I am, so I sort of feel like a stalker right now since I know your whole life story." I pretty much stuck to introducing myself to whoever was at my table for classes/dinner and the few ladies who were brave enough to reach out to me to say that they recognized me (I know, I'm a totalhypocrite since I loved it when they reached out to me, but I was too freaked out to do it myself!).
I might have been just a teensy bit starstruck when I met both Mandi and Char. I've been following both of their blogs for ages, and they are both even nicer in person than I imagined!
Creative bloggers can tear it up on the dance floor! Throw in some glow sticks and flashing jewelry, and we'll rock it all night long!
I love, love, LOVE these girls! I finally stepped out of my shell at dinner on the last night and met two of the most awesome people at SNAP! – Liz and Candie of Craft Baby. We had a TON of fun, and I seriously miss them already!
I had a fantastic time at SNAP!, and I can't wait until we go back again next year! Thank you so much to the SNAP! team who worked incredibly hard to put the conference together and to the wonderful sponsors that showed us lots and lots of love. We all appreciated it so much!