St. Patrick's Day Party Favor Bags
This post and its photos may contain affiliate links. As an Amazon associate I earn from qualifying purchases. If you make a purchase through these links, I may receive a small commission at no extra cost to you!
These St. Patrick's Day Party Favor Bags are super fun and easy to make! Add a chipboard rainbow charm and tassel to make things extra special!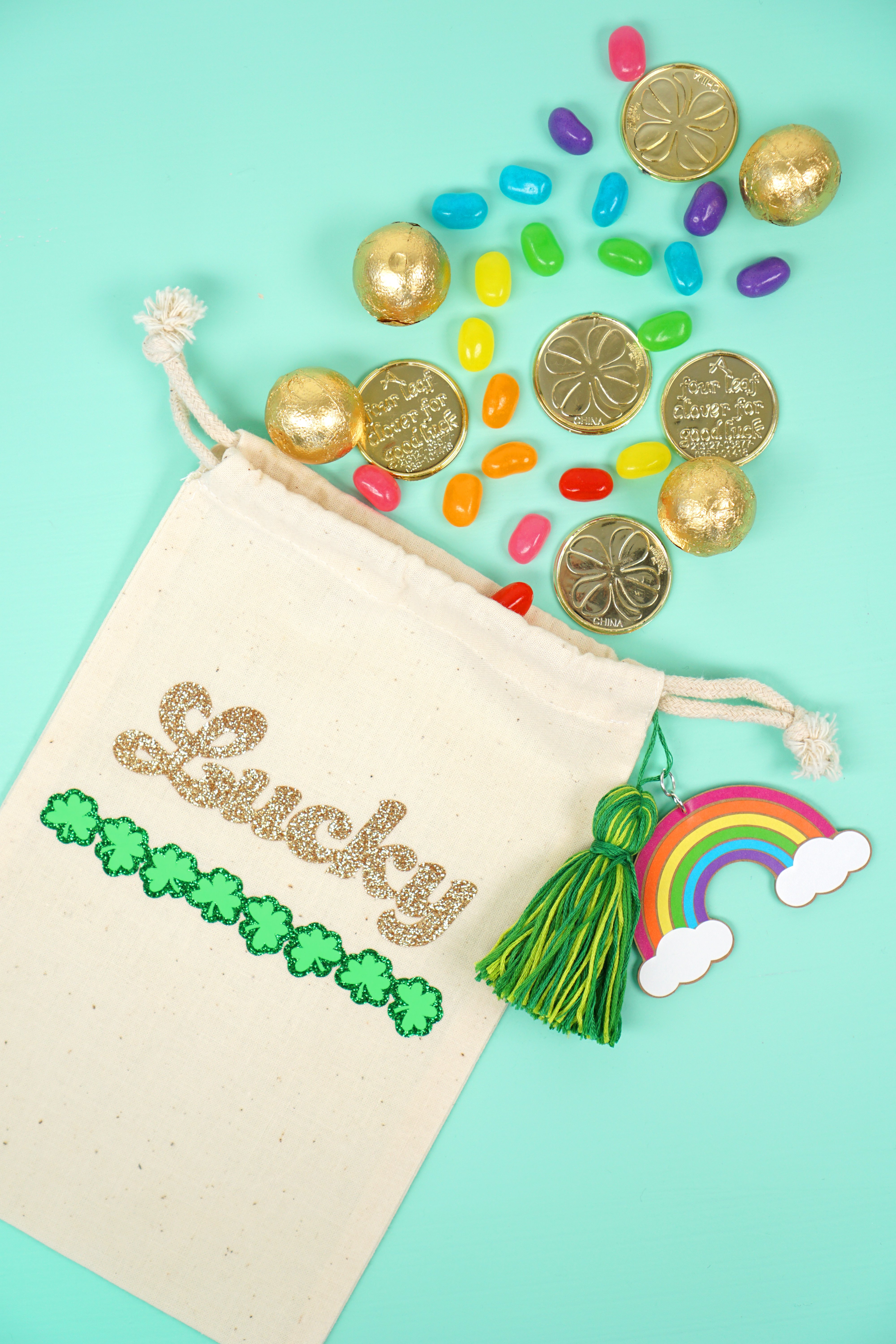 This post may contain affiliate links. I will receive a small commission from these sales at no additional cost to you! This post is sponsored by Cricut. All opinions are my own.
St. Patrick's Day Party Favors
These adorable "Lucky" St. Patrick's Day treat bags make excellent party favors and holiday treats! Fill the party favor bags with rainbow jelly beans, gold coins, chocolates, and add a sweet rainbow charm and tassel to top everything off!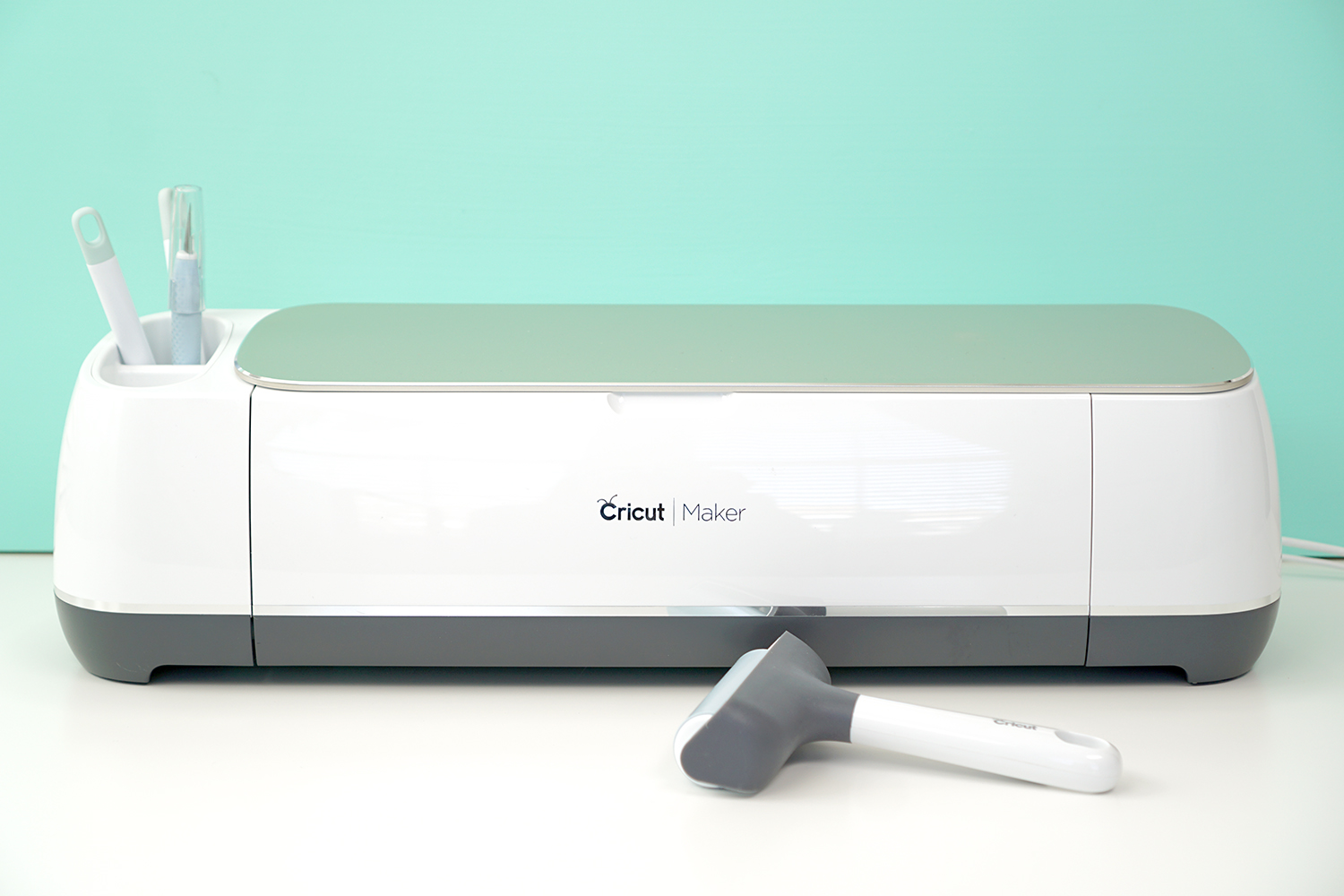 I used my Cricut Maker to create these St. Patrick's Day party favors, because honestly, I have been using my Maker for at least 80% of the projects that I've been making lately! Once you realize how easy the Maker makes crafting, you'll always want to use it, too!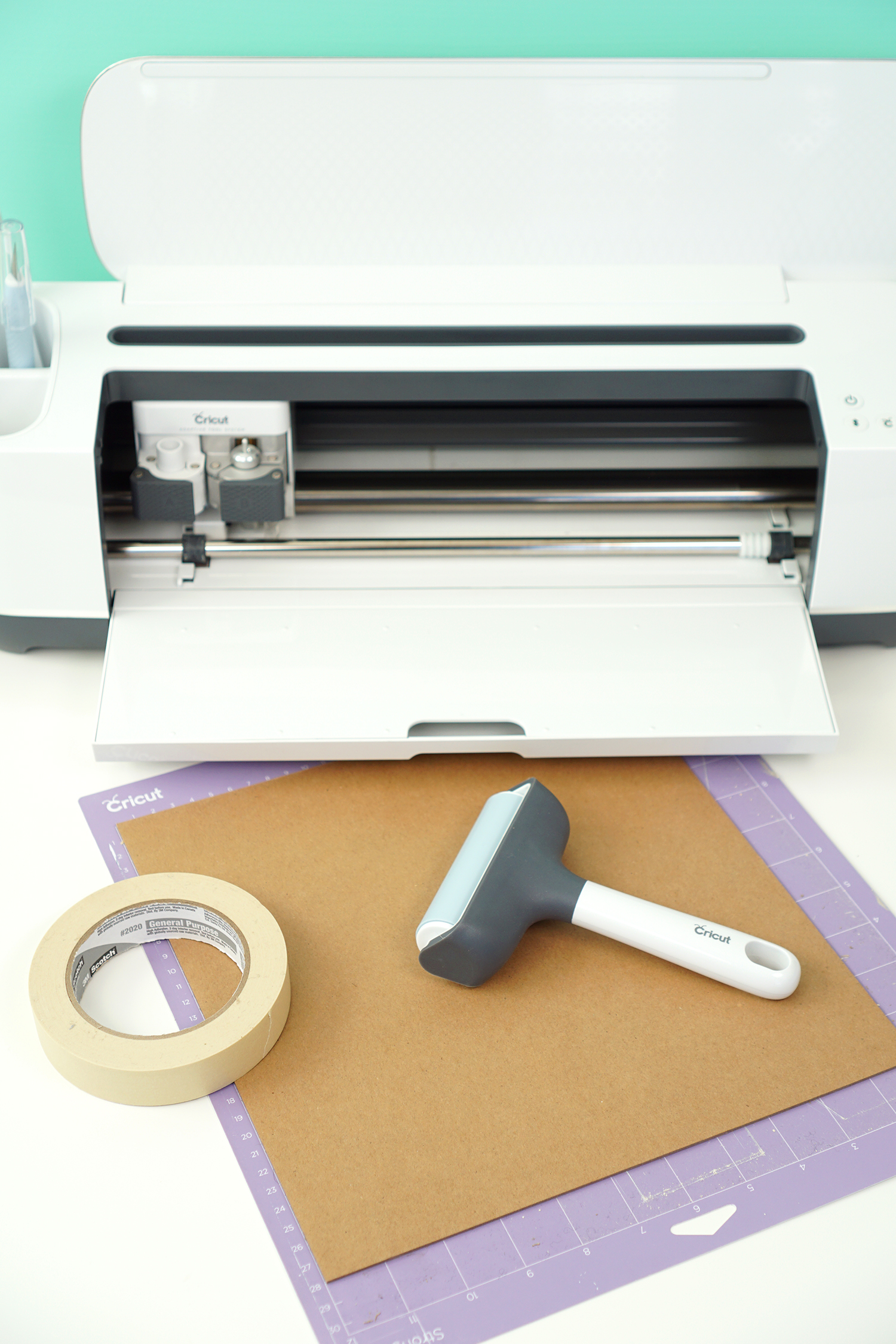 Supplies Used for St. Patrick's Day Treat Bags: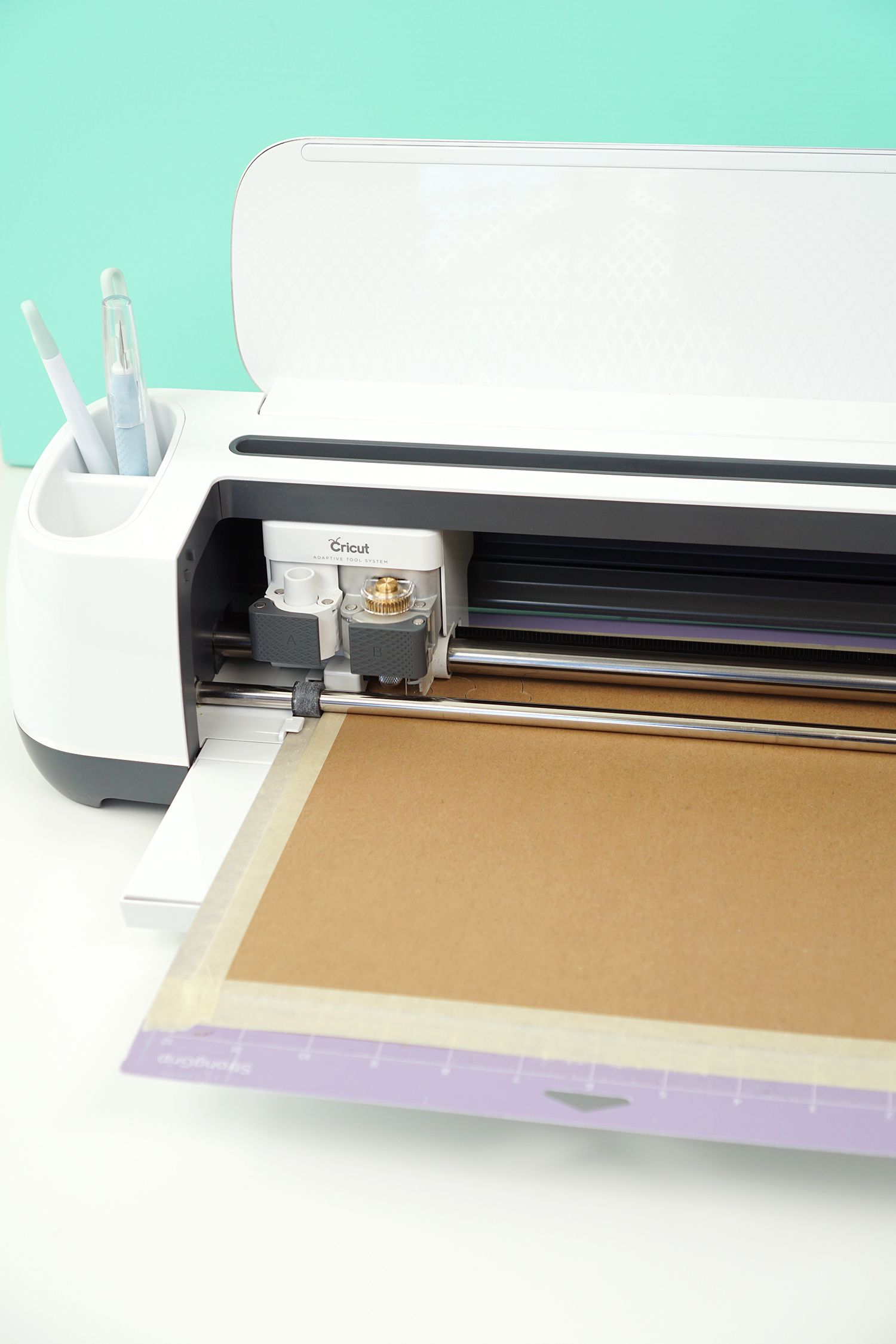 To begin, cut the rainbow charm base out of Cricut Chipboard. When cutting chipboard on the Maker, you will need to use a StrongGrip mat and to secure the chipboard to the mat on all four sides with masking tape. I also like to use a brayer to firmly press the chipboard down into the mat before taping the edges.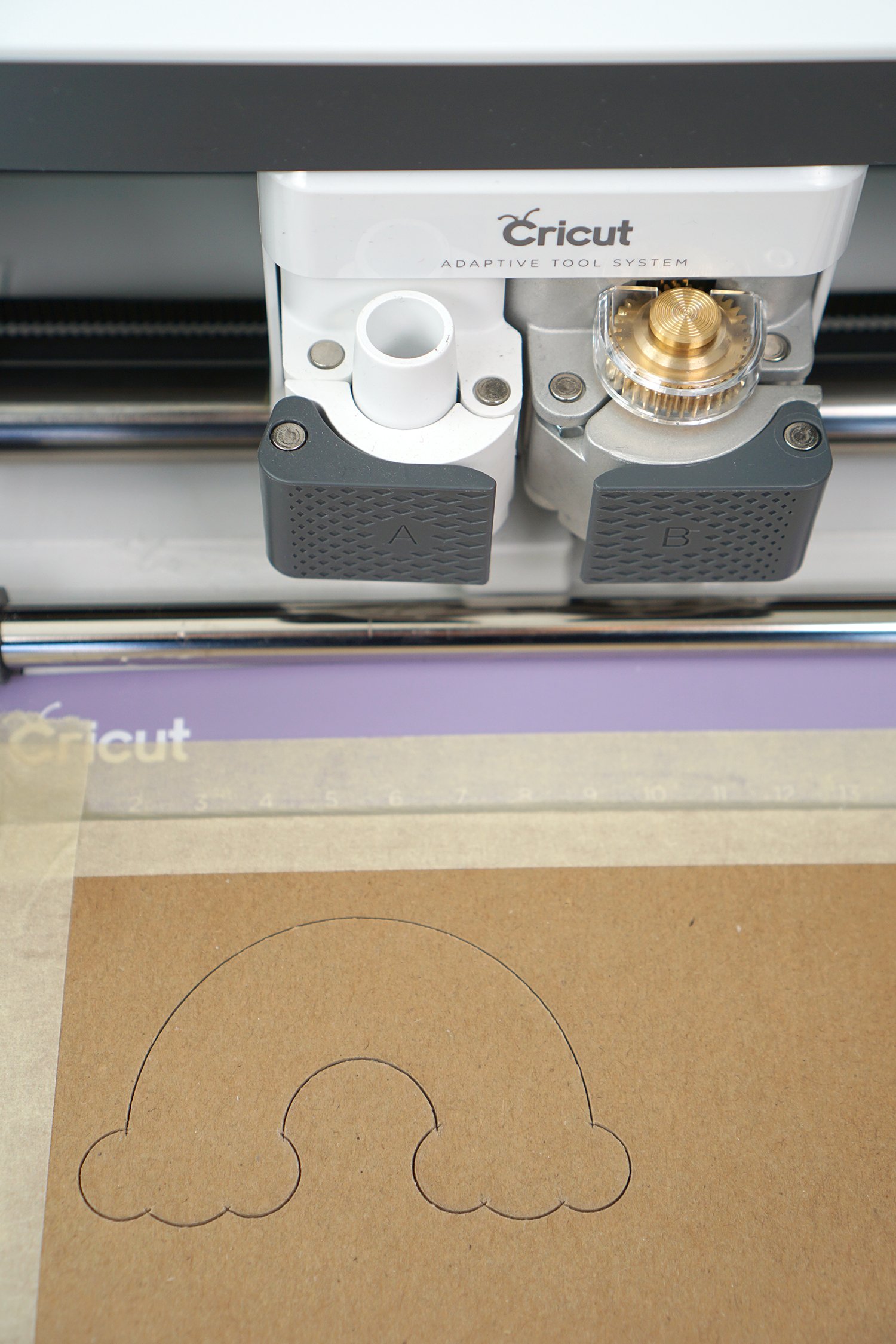 Taping the chipboard down ensures that you'll get a perfectly smooth and precise cut pass after pass (it takes about 18-20 passes of the Knife Blade to cut through 2 mm thick chipboard!).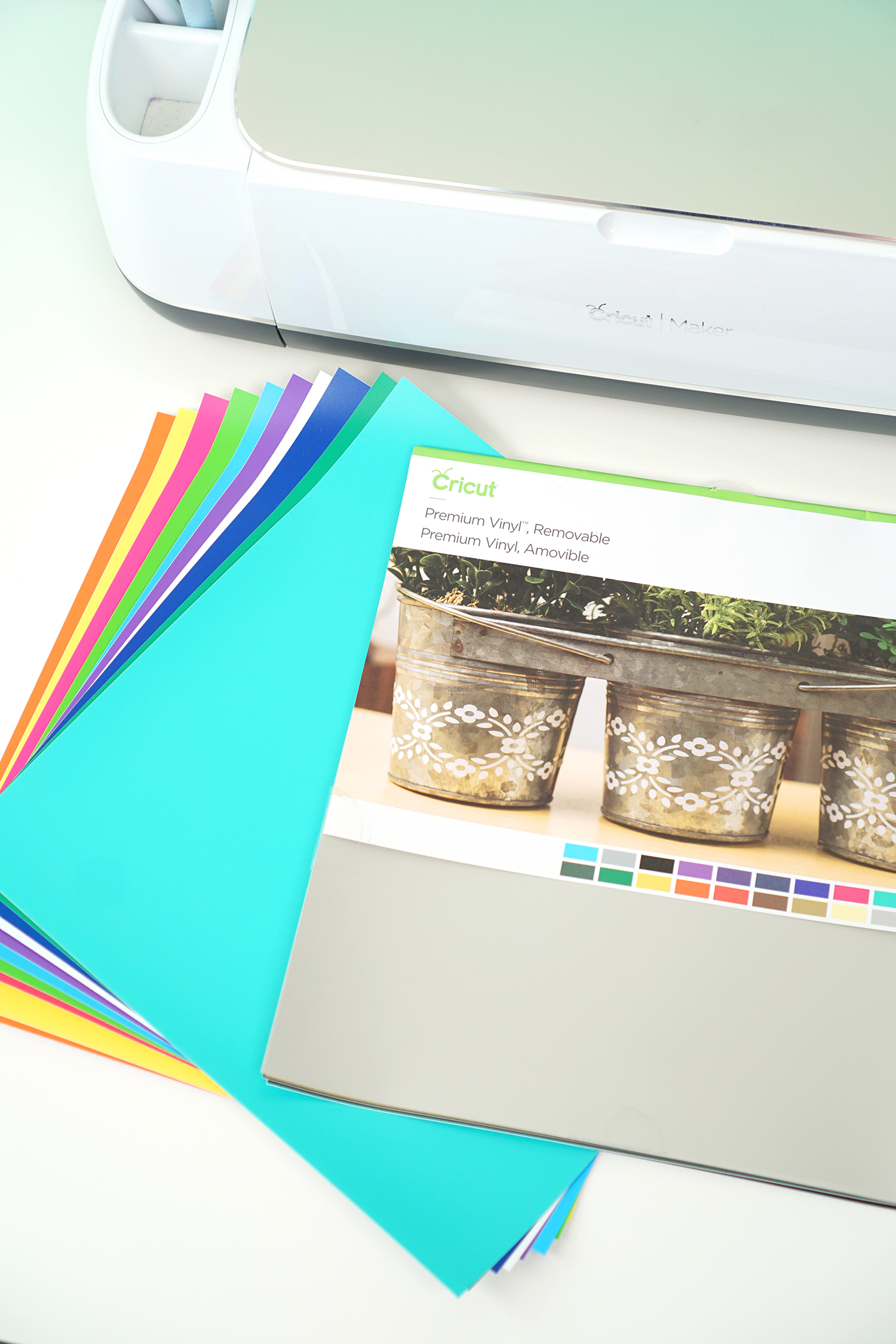 This "Vibrant" colored Premium Vinyl Value Pack is perfect for the rainbow colors!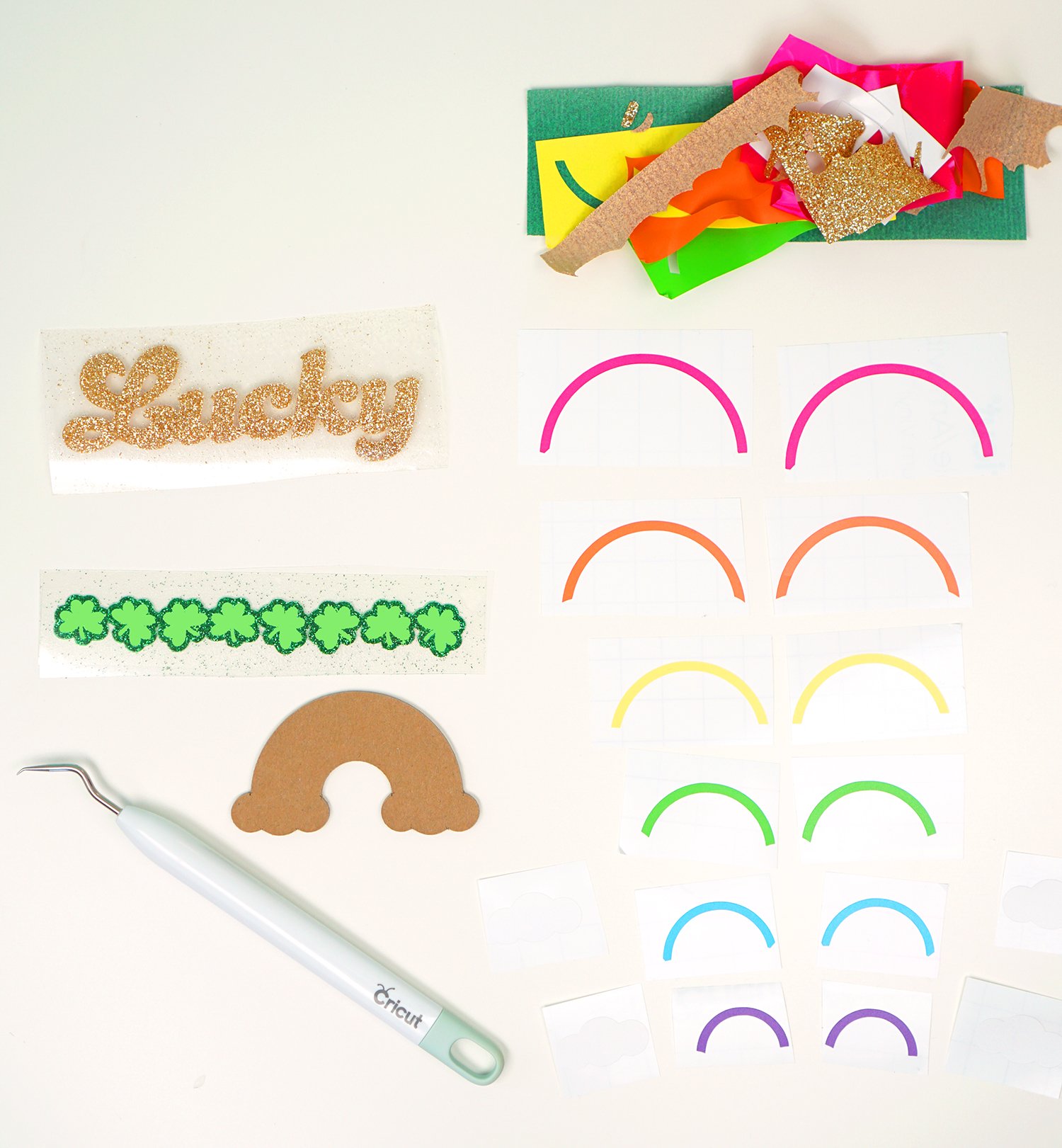 I cut all of my rainbow pieces from the Premium Vinyl and used Glitter and Everyday Iron-on for the "Lucky" text and clovers.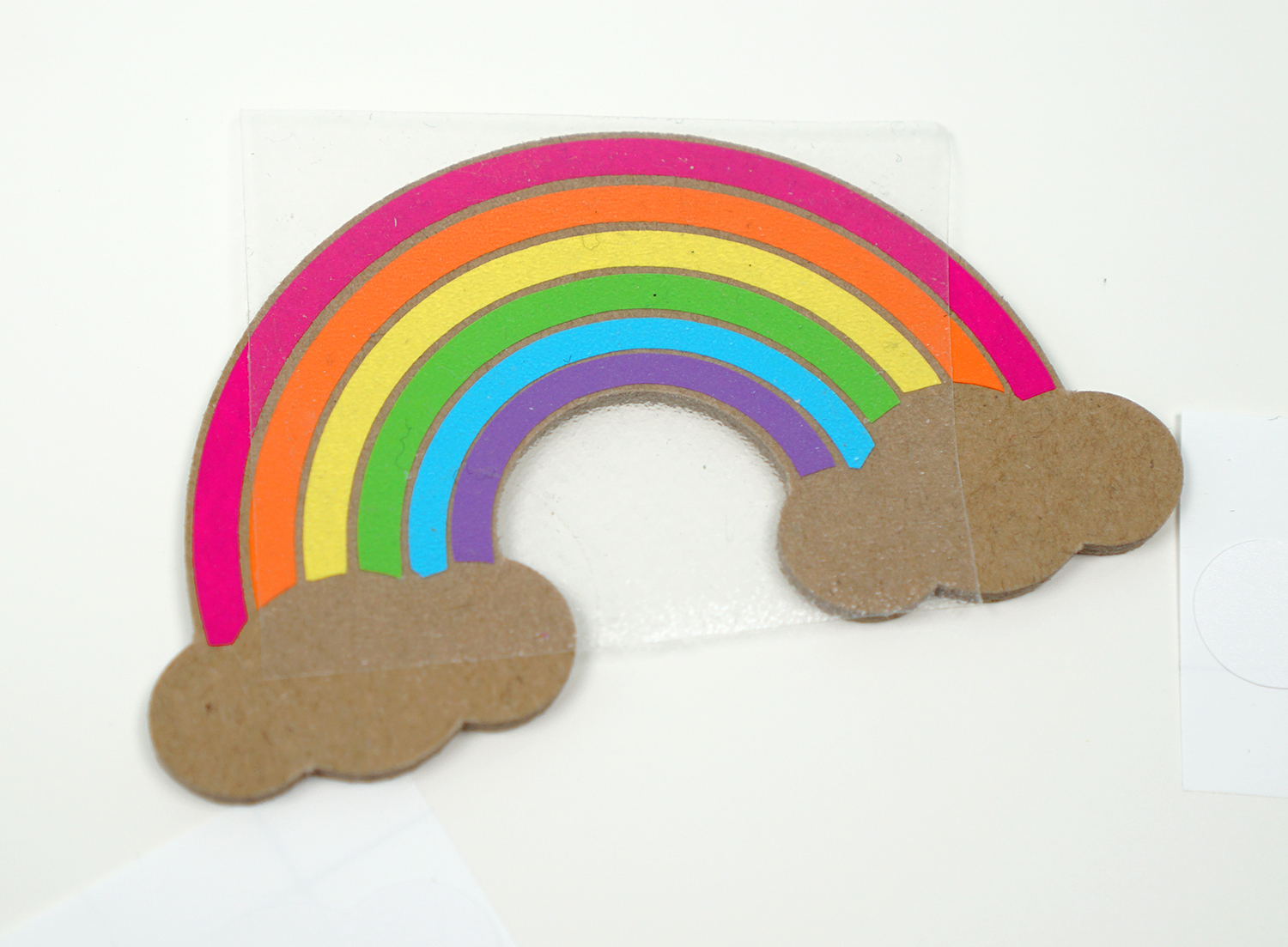 Use a sheet of transfer tape to place the rainbow pieces on to the chipboard (repeat the process for the opposite side).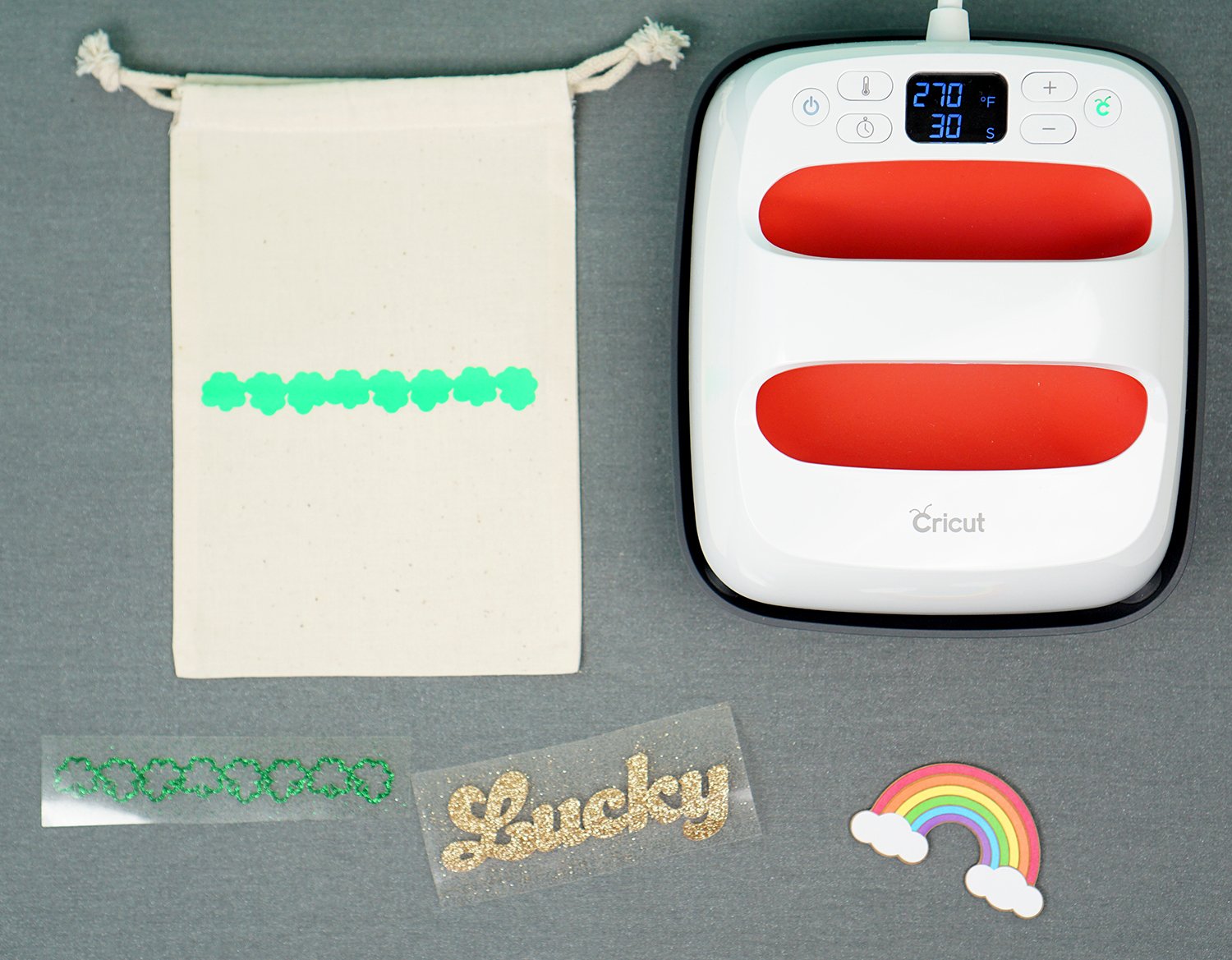 The EasyPress 2 is perfect for a small jobs like these favor bags! Because the Glitter Iron-On requires a lower temperature setting than the Everyday Iron-On, start by ironing on the Everyday and then lowering the temperature to adhere the remaining glitter pieces.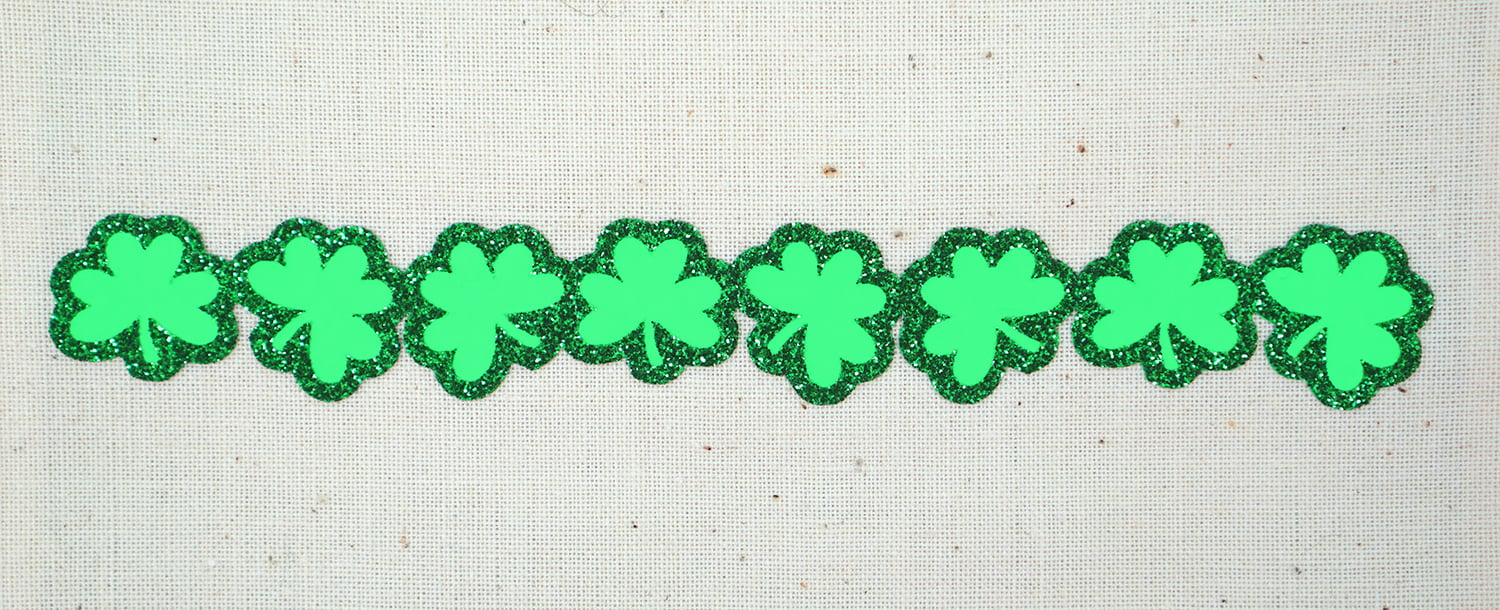 I just love that sparkly outline! Glitter makes everything more fun!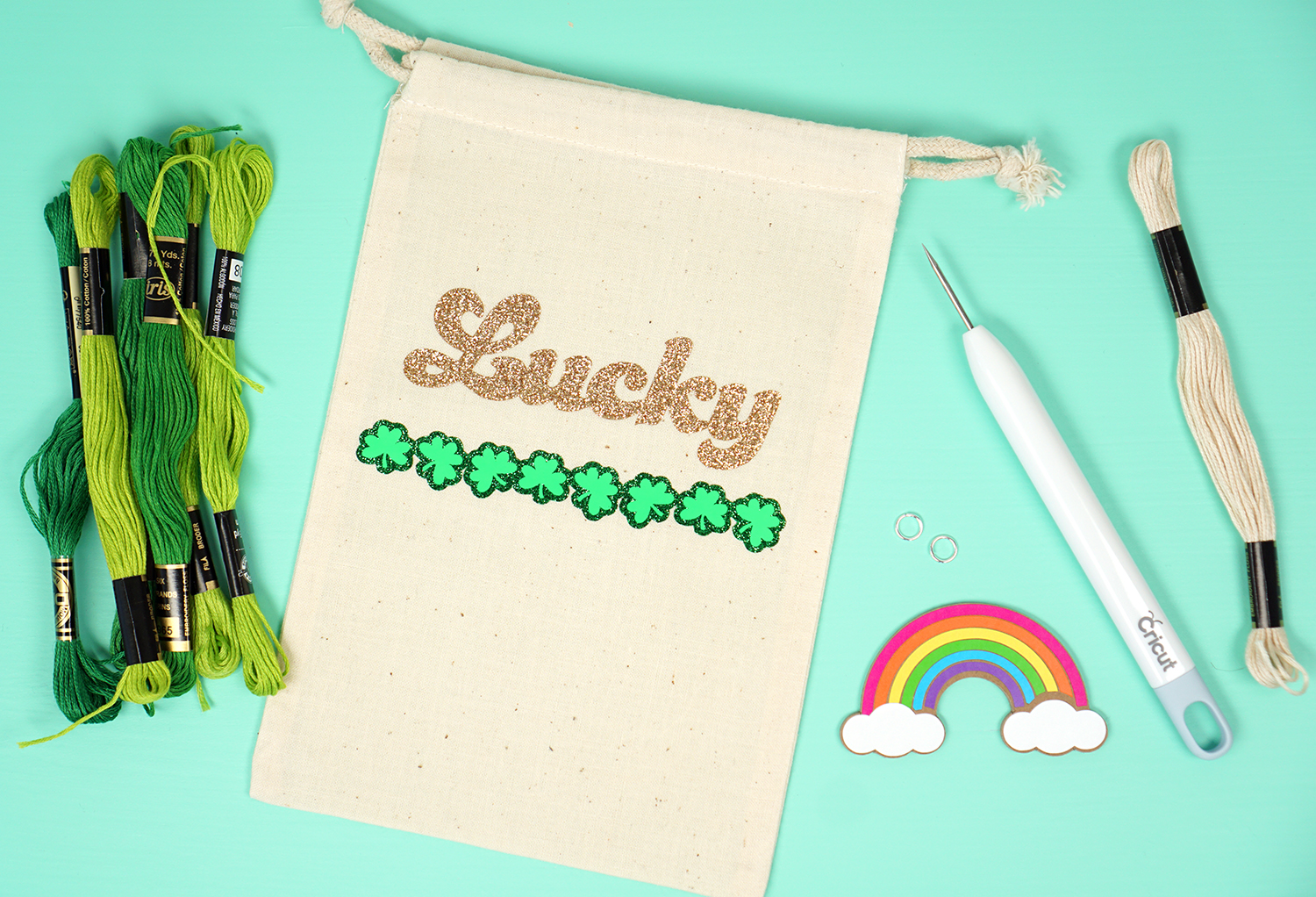 I wanted to add a few extra special embellishments to these party favor bags, and I thought that a fluffy green tassel would be the perfect compliment to the rainbow charm.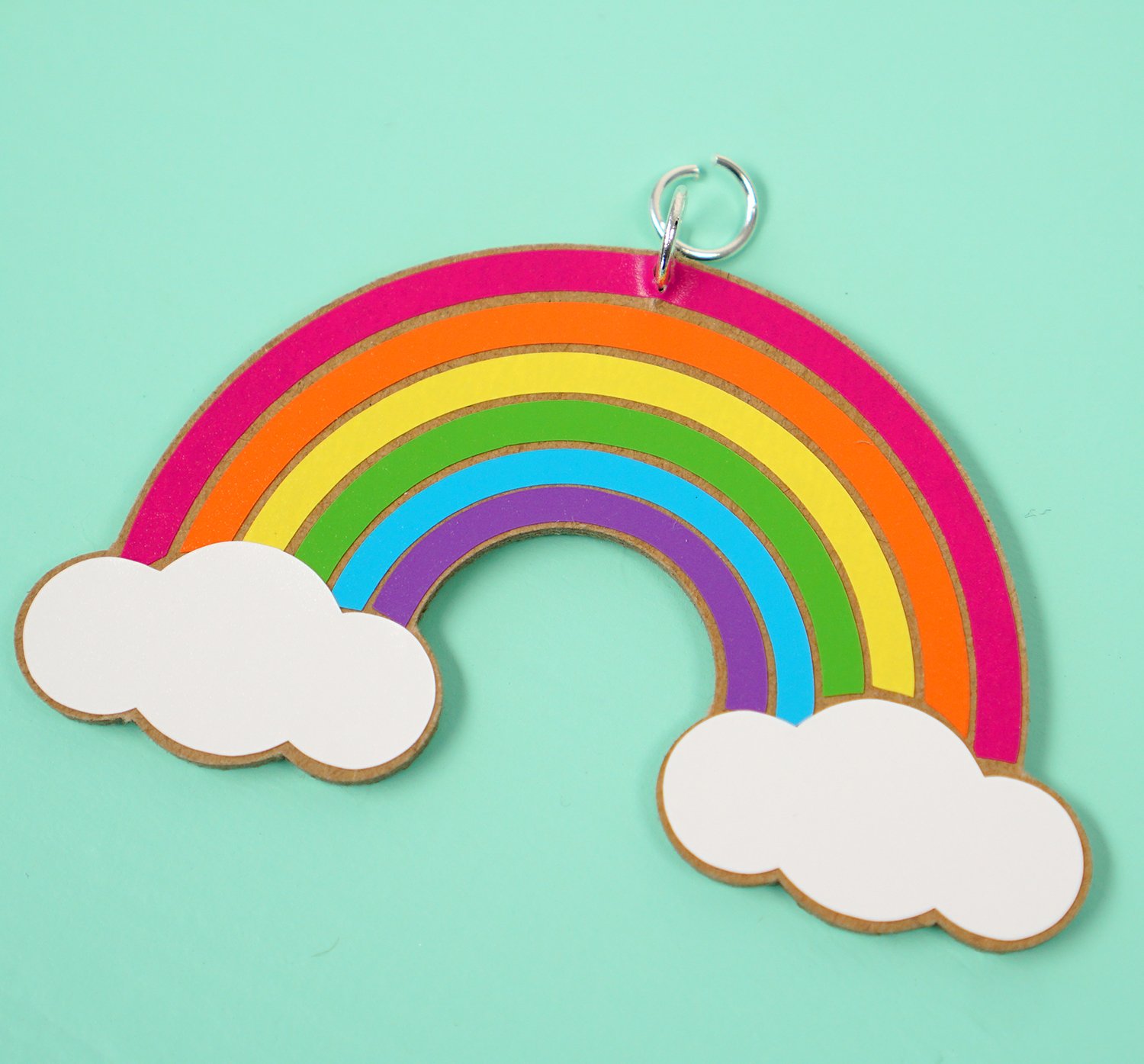 Use the paper piercing tool to poke a hole in the chipboard, and then attach two conjoined jump rings to the charm.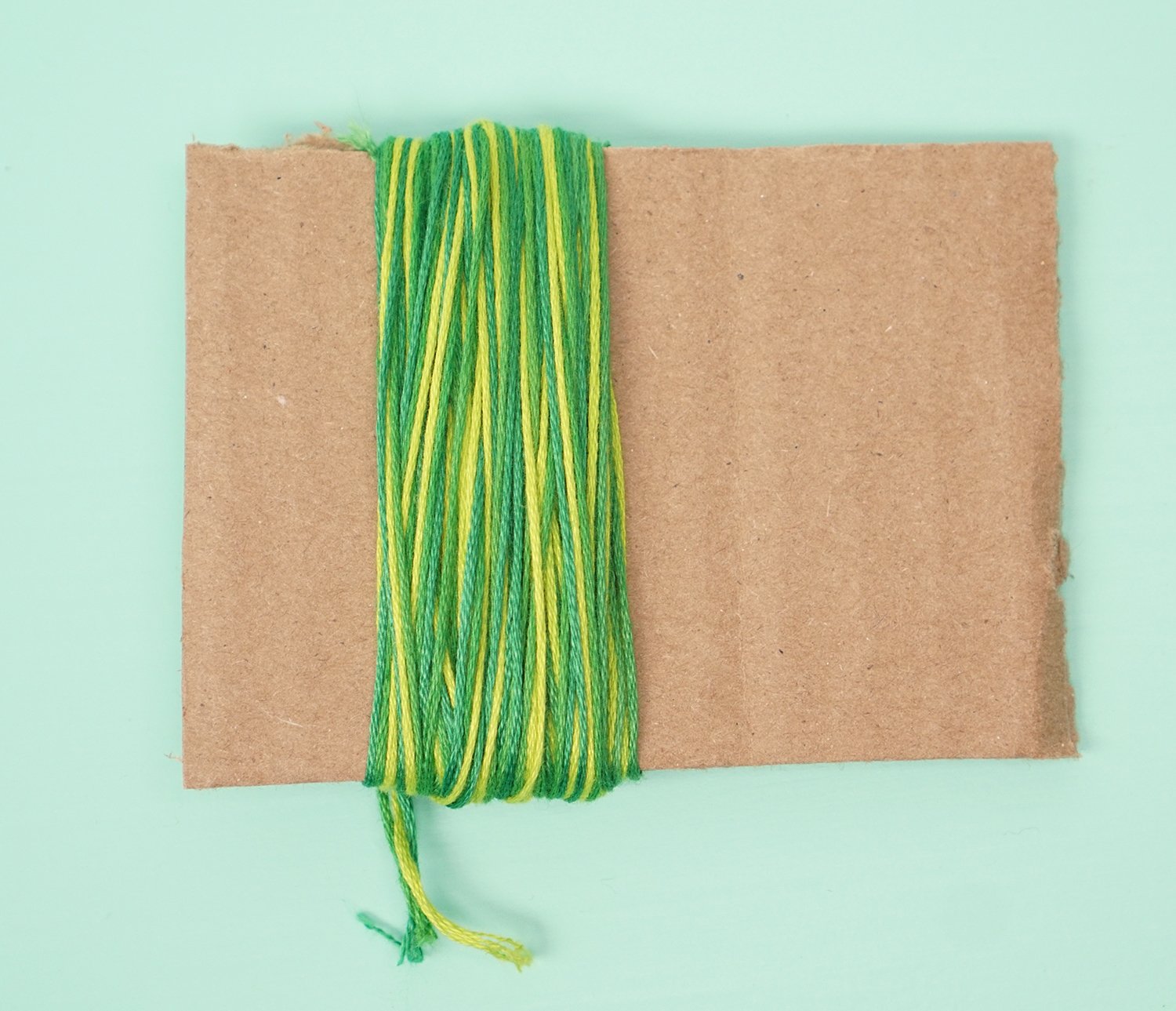 Use the embroidery floss to make a fluffy multi-hued green tassel (you can get the full tassel tutorial here!).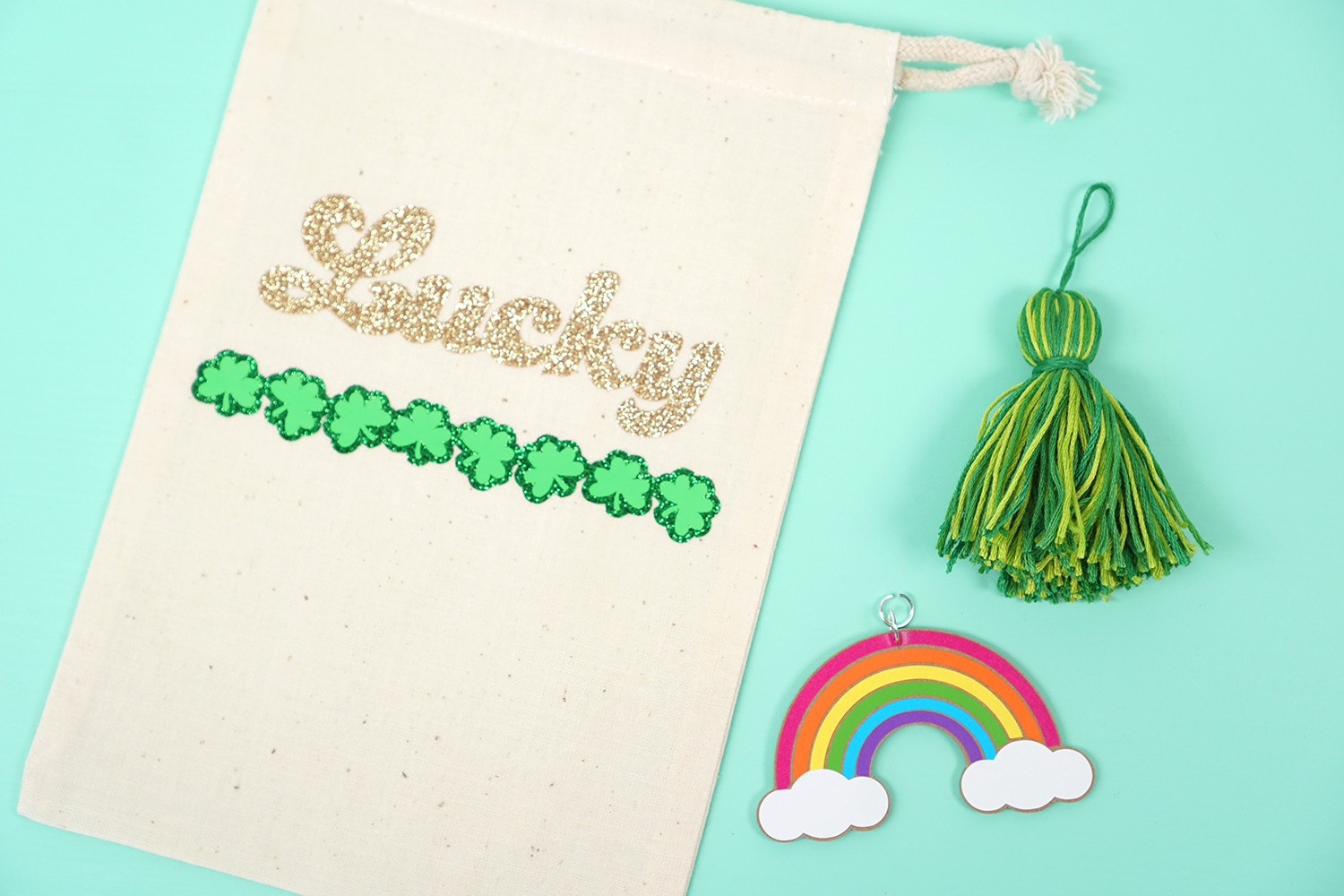 Use a piece of natural-colored embroidery floss to attach the tassel and the rainbow charm to the favor bag.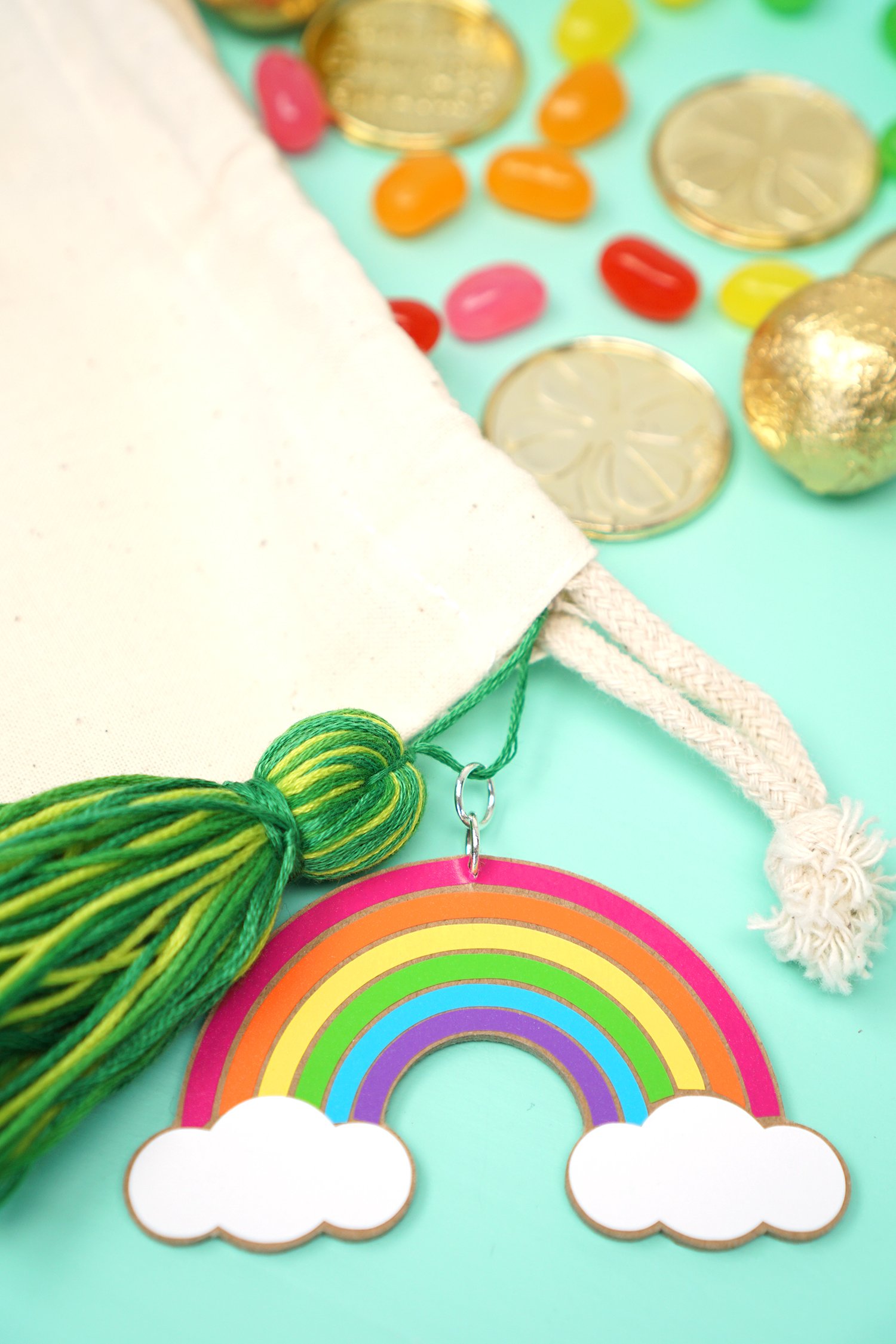 SO. Dang. Cute. Amiright? Once you're done with the treat bag, the tassel and charm can easily be snipped off and clipped on to your backpack, purse, jacket, key chain, or more!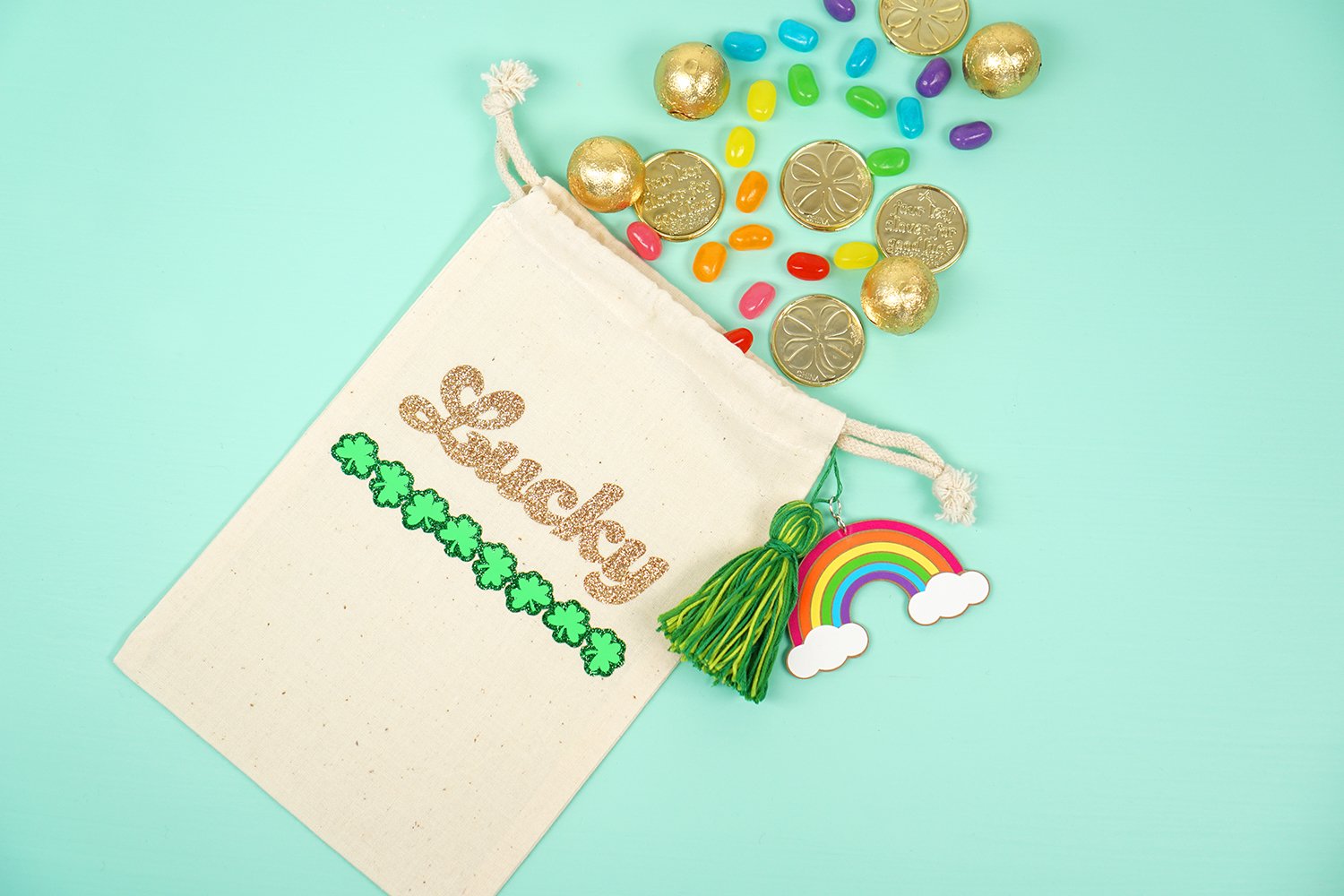 Fill the party favor bags up with gold coins, chocolate, and rainbow jelly beans for a fun St. Patrick's Day treat idea that's sure to please all ages (you can even add mini bottles of your favorite Irish whiskey for adults!)!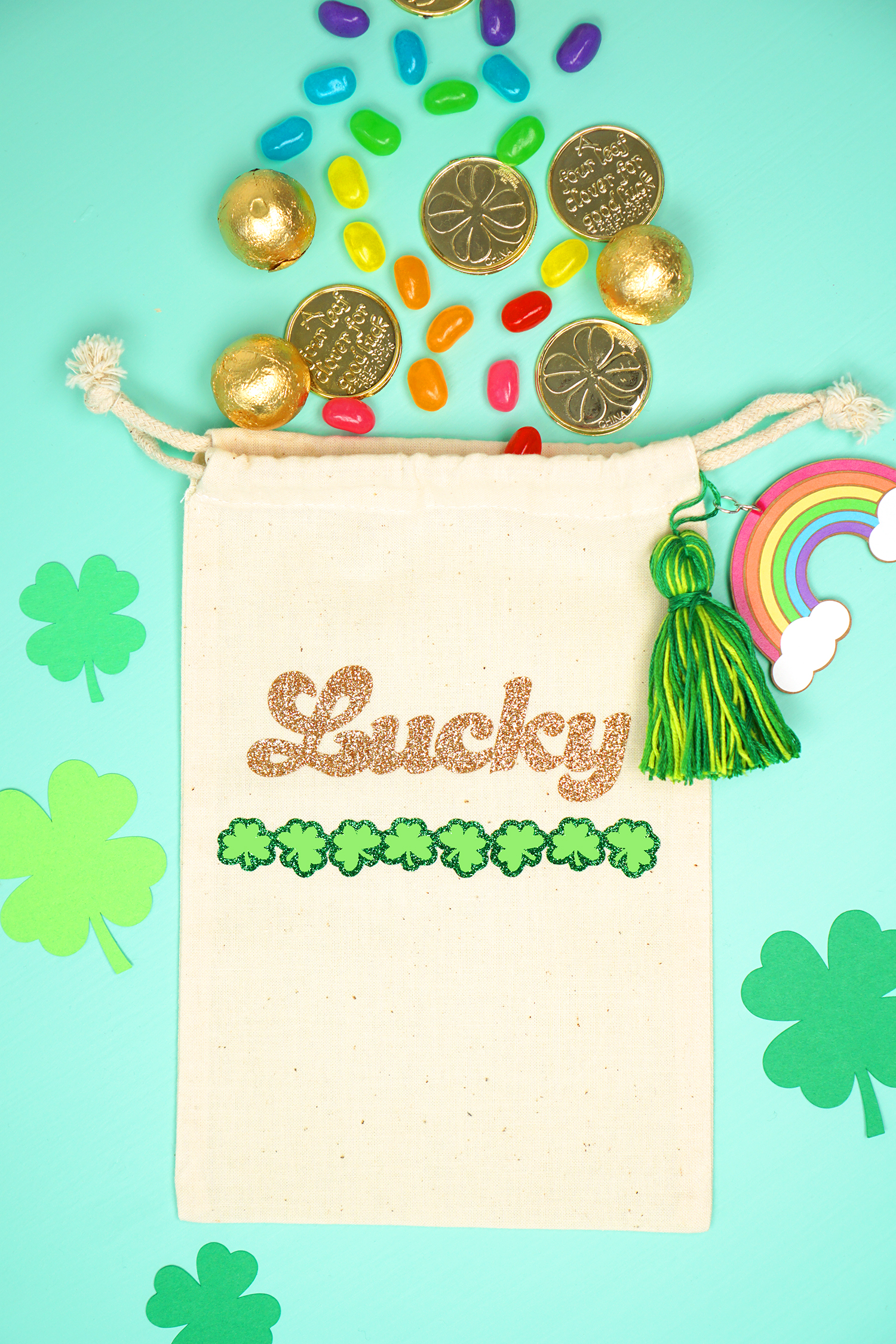 Here's another fun idea! Do your kids set leprechaun traps in the hopes of capturing a sneaky leprechaun? Leave one of these goodie bags in their otherwise empty trap as a gift from the leprechaun who got away!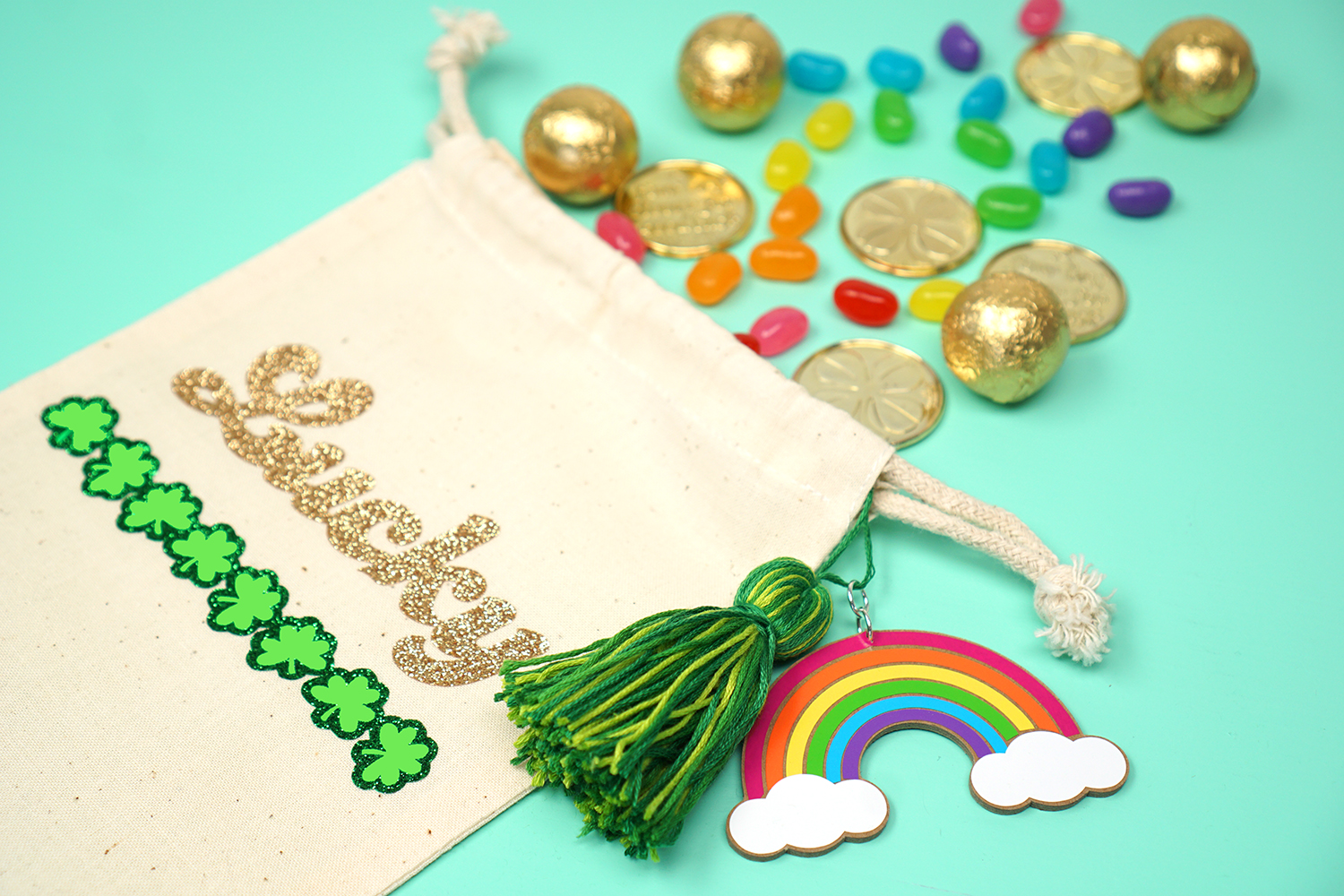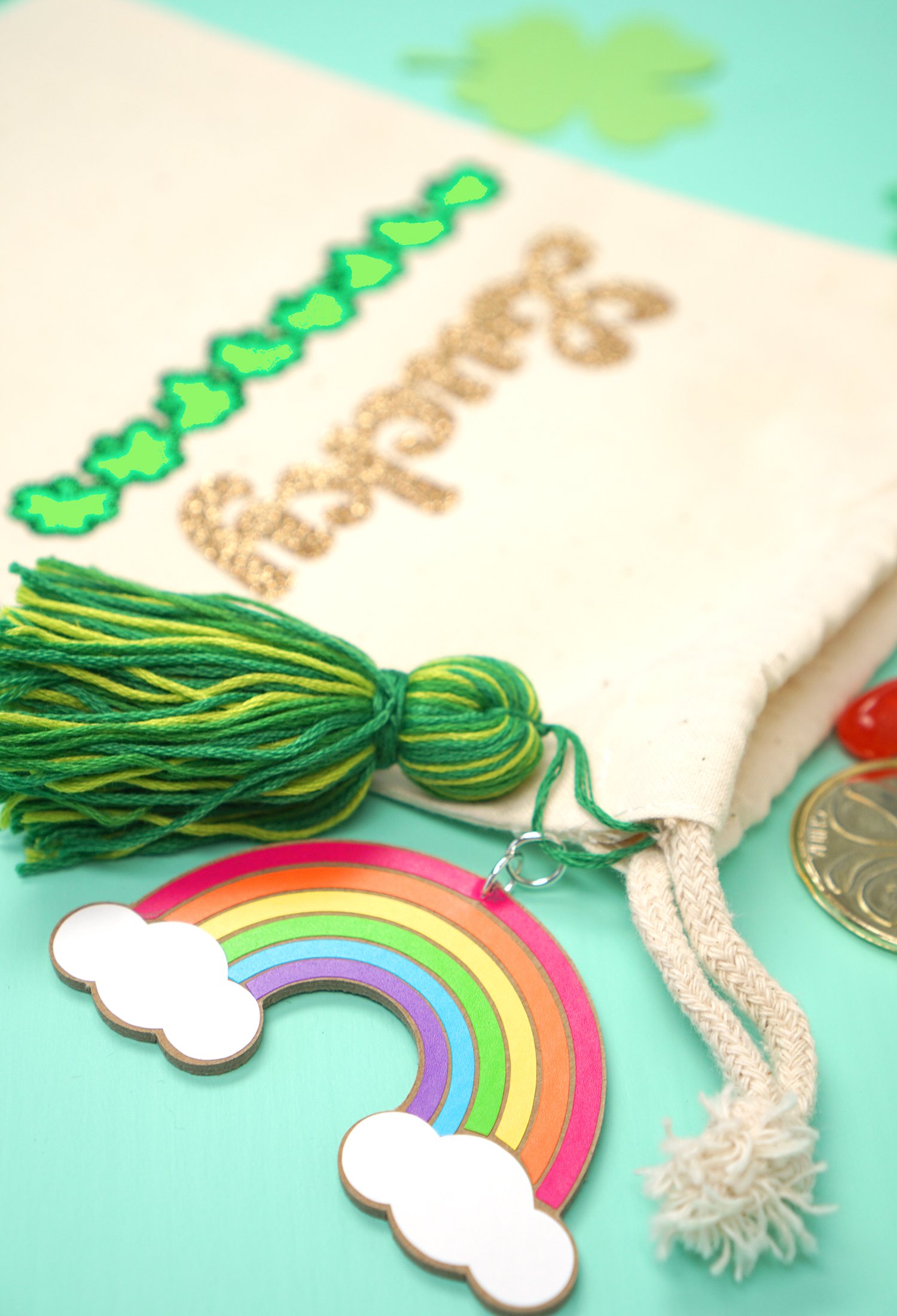 These fun St. Patrick's Day party favor bags are easy-to-make and tons of fun for everyone!

Check Out These Other St. Patrick's Day Ideas!
You May Also Like: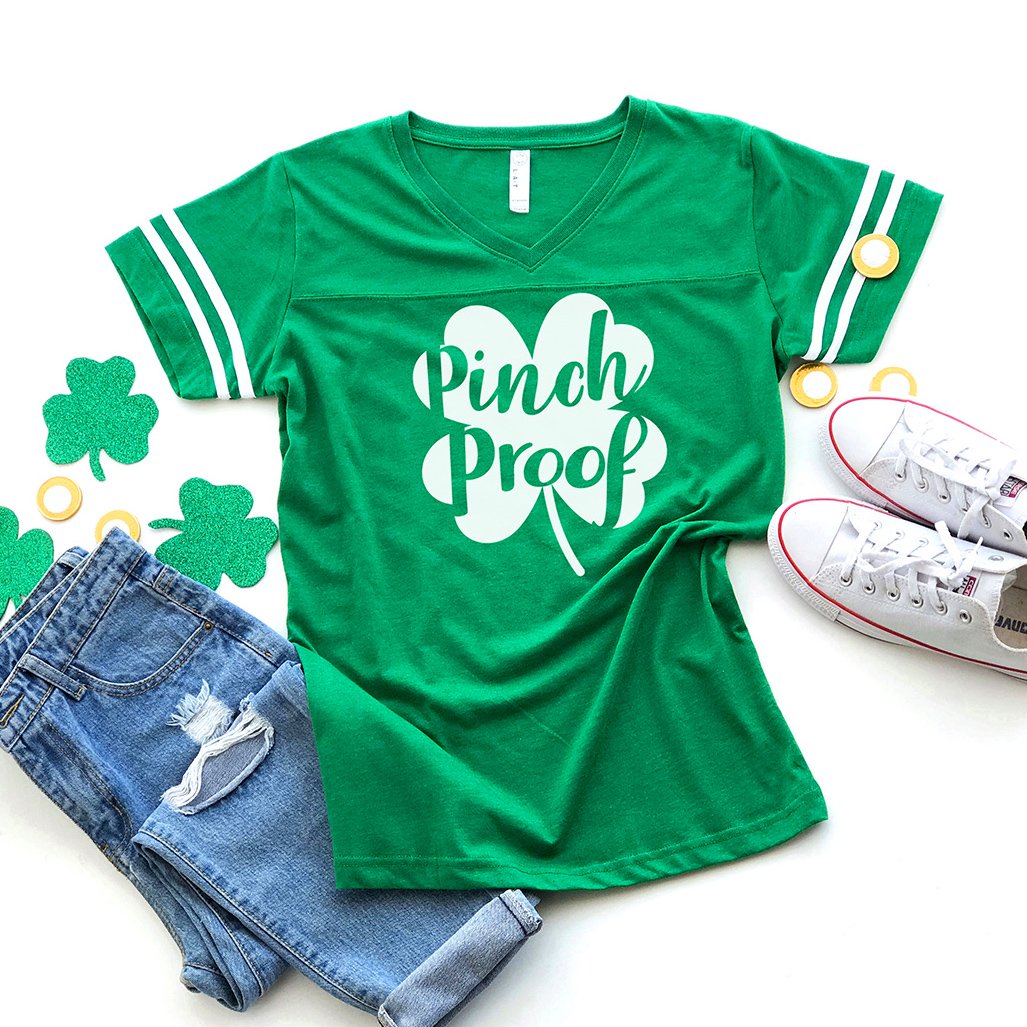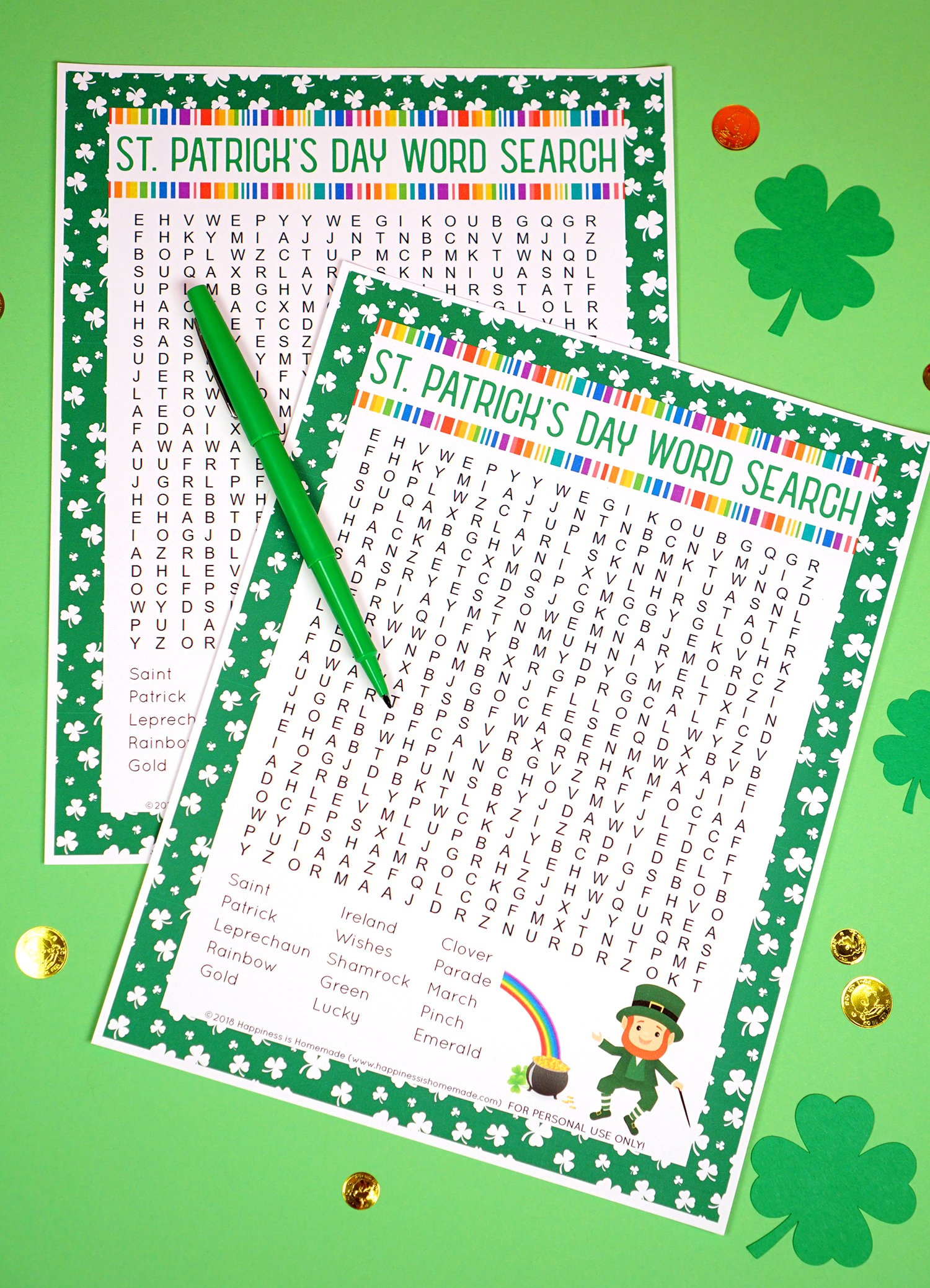 Pin these St. Patrick's Day Party Favor Bags for Later!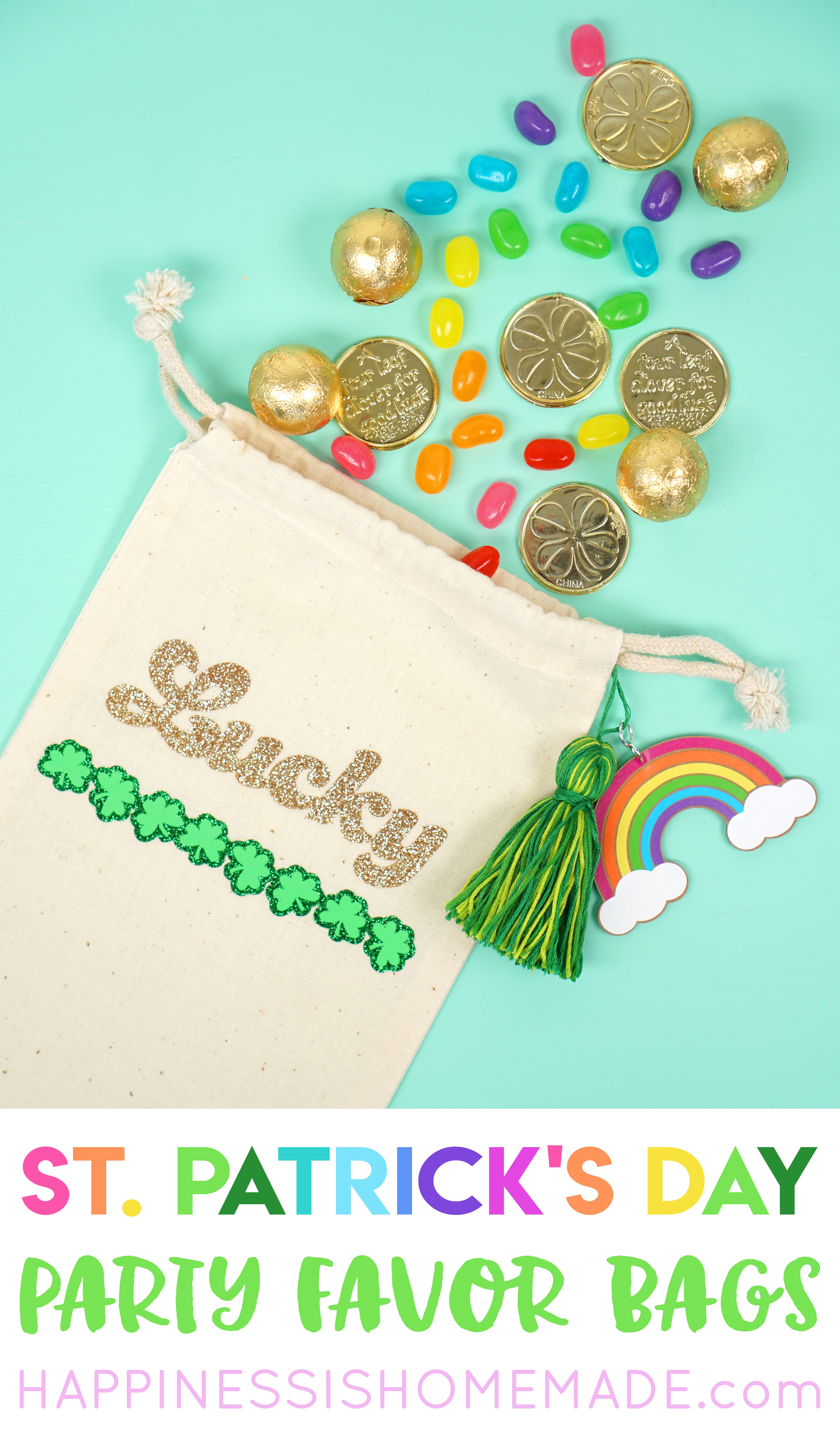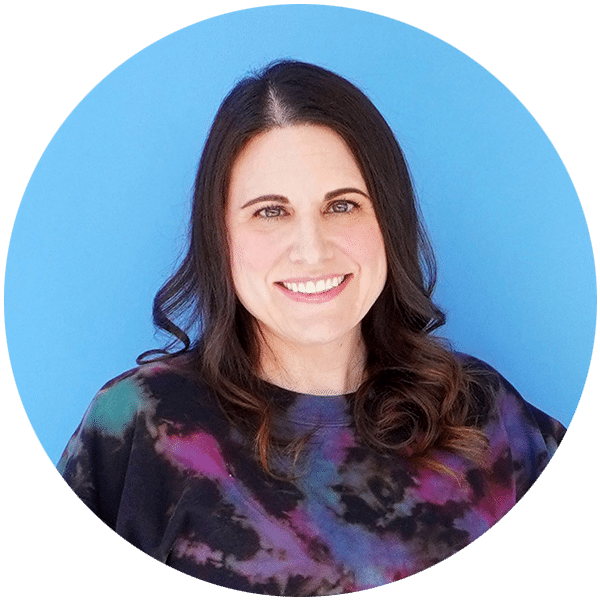 Heidi Kundin has captivated the hearts of millions with her colorful and inspiring approach to crafting, celebrations, and family fun. With over 15 years of experience, Heidi's website has become a must-visit destination for those seeking quick and easy creative ideas and last-minute solutions. Her warm personality shines through her posts, inviting readers to join her on a creative journey that's fun, rewarding, and achievable.