This post brought to you by Unilever Ice Cream. All opinions are 100% mine.
(My sisters, Krista, Kari & Jessica, preparing dinner)
Today is my birthday, and I celebrated early the other night with a fun family BBQ and dessert party. My sisters and I cooked enough shishkabobs to feed an army, and we sat around and relaxed while our kids ran around my parents' huge backyard (their yard even has a pirate ship and clubhouse!).
After dinner it was the moment the kids had all been waiting for…ice cream and popsicle time! We picked out a few new varieties along with a couple of old favorites, and they couldn't wait to taste them ALL!  We decided that since it was summer vacation and a special occasion that they could sample as much dessert as they could handle (aren't we nice?!).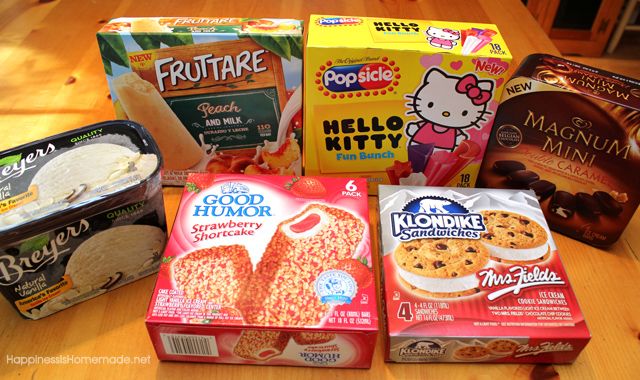 There's something for everyone's tastes here! Breyers ice cream, Peach & Milk Fruttare bars, Double Caramel Mini Magnum Ice Cream , Strawberry Shortcake Good Humor bars, and Mrs. Field's Klondike sandwiches.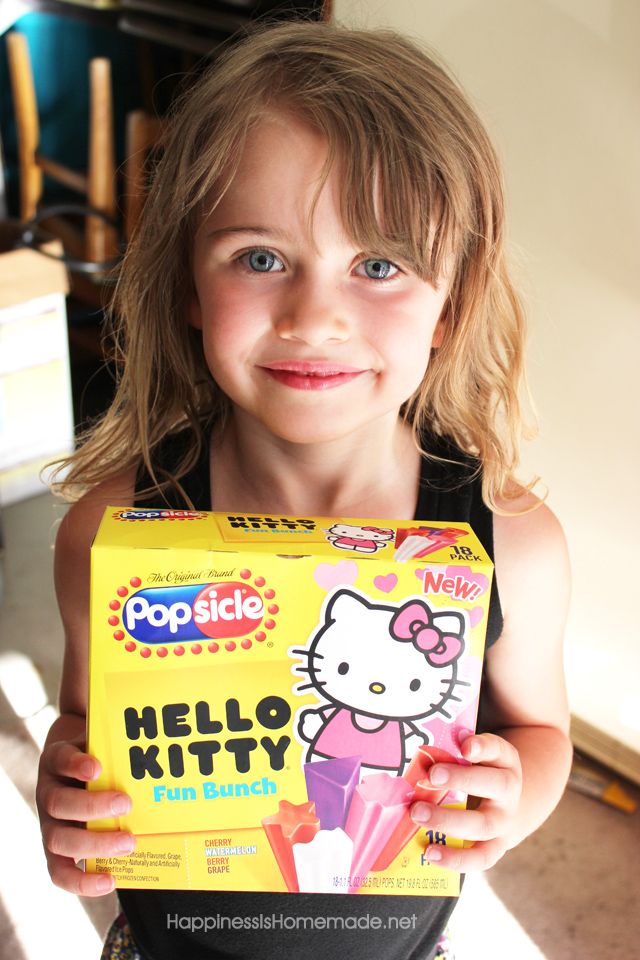 The kids were excited about all of the treats, but these Hello Kitty Popsicles were the ones they were most anxious to try because they loved the different shaped pops. These popsicles came in cherry, watermelon, berry and grape flavors, which was a huge bonus for my boys who aren't as fond of lemon and lime.
The Hello Kitty Popsicles were definitely the kids' favorite – they each had at least two!
My sister, Jessica, was super excited to choose a strawberry shortcake Good Humor bar – her favorite!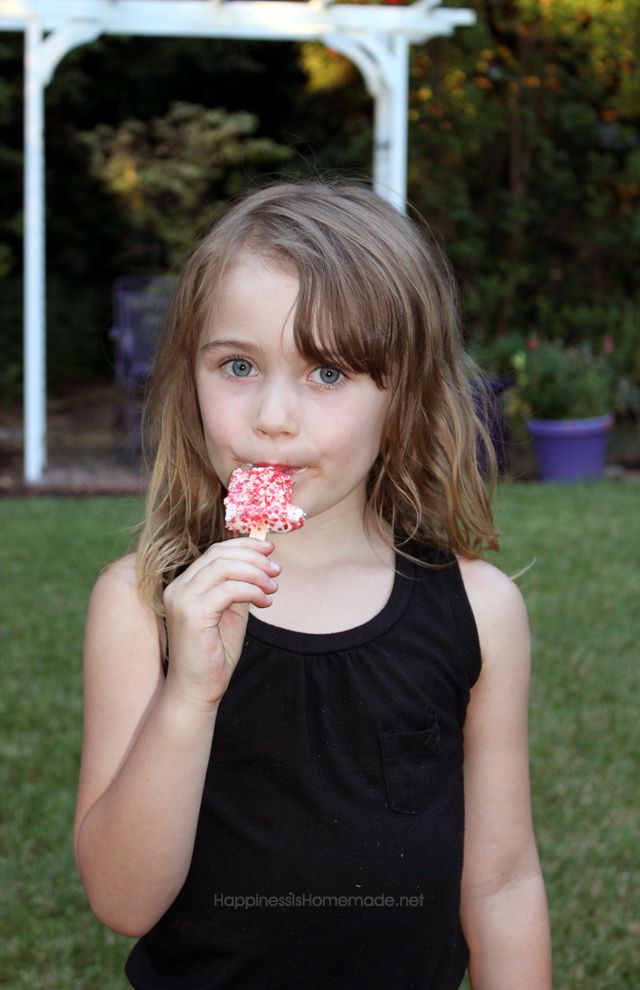 Her daughter, Stella, seemed to agree that they were delicious as she quickly finished one herself!
My guys always get excited about chocolate chip cookie ice cream sandwiches, and my husband declared that these Mrs. Field's Klondike sandwiches were "seriously amazing!" and Sawyer said, "these are the bomb, Mom!"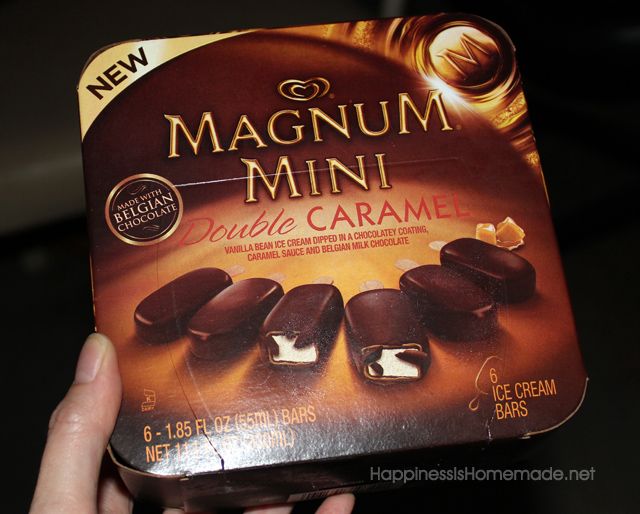 I can't even tell you how rich and delicious these Double Caramel Magnum Ice Cream bars were! They are double dipped in chocolate with a layer of caramel sandwiched in between the layers of chocolate. OMG, amazing! These were the mini size, but they were decadent and filling enough that I can't even imagine eating one of the full sized bars by myself.
This is my youngest son, Simon, the chocolate hater, begging his dad for "more, more, please!" I couldn't believe he was eating chocolate since he usually spits it out, but he couldn't get enough of it!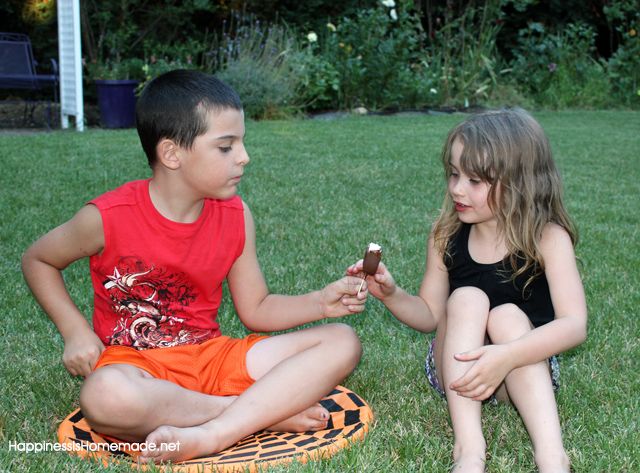 Sawyer and Stella shared one since they were so super rich (and they'd already eaten 2-3 other treats!).
Personally, I prefer my desserts fresh and fruity, so I tested the Peach & Milk Fruttare bar. It was light and smooth – the perfect way to cap off a hot summer day! These bars are new to the US market, and you can bet I'll be going back to try the strawberry and mango bars too!
Unfortunately, we were all too stuffed to try the Breyers ice cream that night, but it's one of my family's long standing favorites. In fact, it's the ONLY ice cream we buy! We love to top a dish of Breyer's natural vanilla ice cream with fresh strawberries and banana slices. SO good!
One lucky reader is going to get an opportunity to sample all of these tasty cool treats as well! Enter via the Rafflecopter form below – Good Luck! 
a Rafflecopter giveaway