You've Been Booed! Free Halloween Printables
This post and its photos may contain affiliate links. As an Amazon associate I earn from qualifying purchases. If you make a purchase through these links, I may receive a small commission at no extra cost to you!
"You've Been Booed!" Free Halloween Printables
These "You've Been Booed" Halloween printables are SO much fun! Does your neighborhood boo each other at Halloween time? Not sure what that even means? Read on, and I'm sure you'll be excited to "Boo," too! It's such a fun new tradition!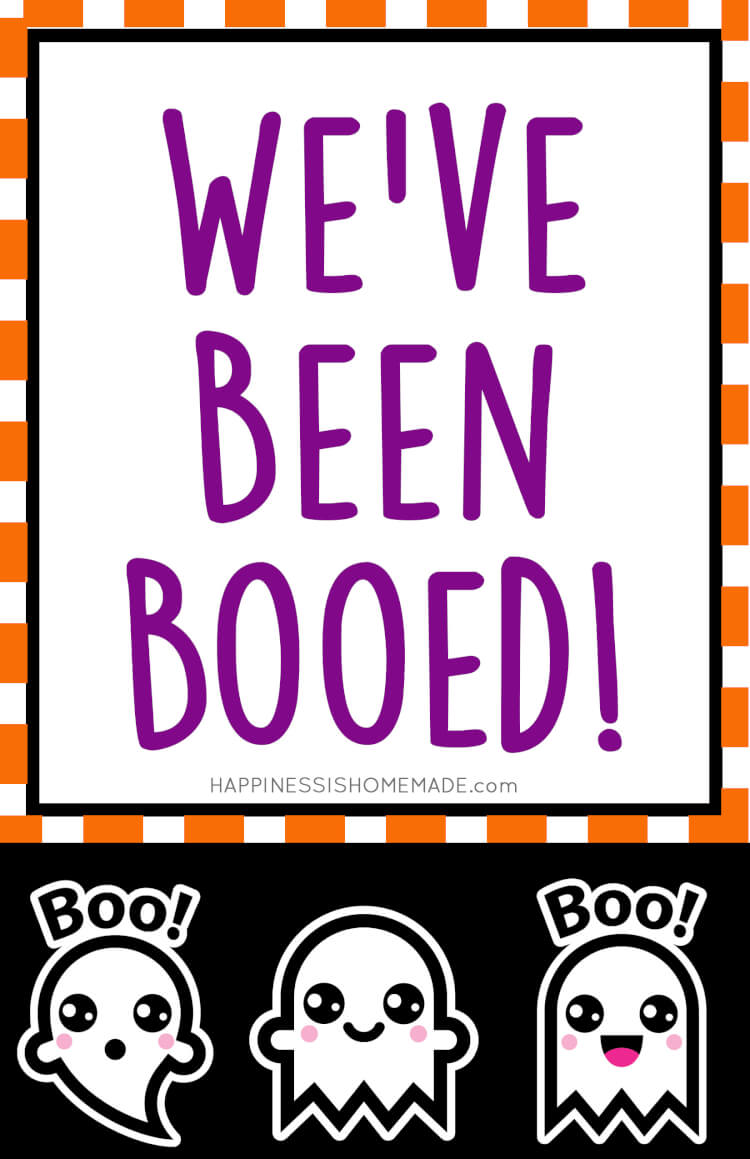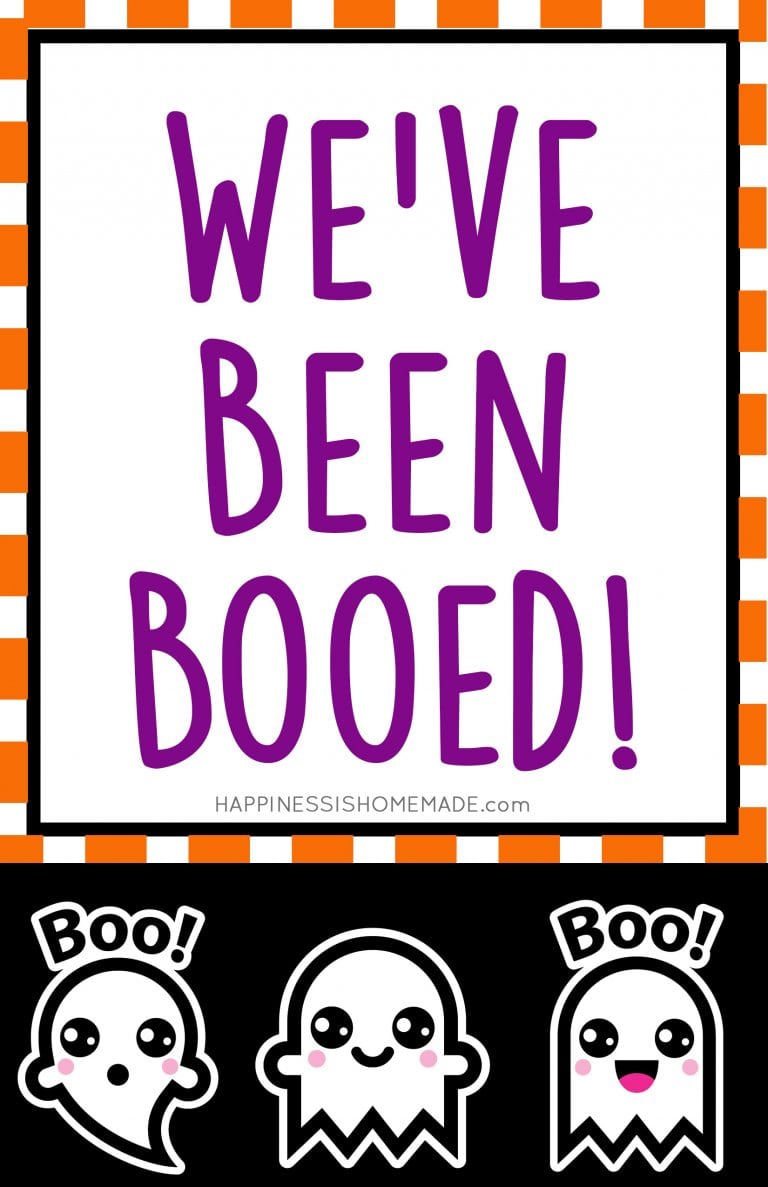 I had always wanted to live in a neighborhood that "Boos" each other at Halloween time, so I was beyond thrilled when we opened the front door of our new home one October morning to discover a plastic pumpkin packed full of treats and goodies for my kiddos. Attached was a note instructing us to place the included "We've Been Booed" sign on our door or in our front window to alert the other neighbors that we had been booed. The note also instructed us to pack up two baskets of goodies along with a copy of the sign/instructions and deliver them secretly to two other neighbors who hadn't been booed yet.
That was eight years ago (!), and my boys STILL talk about their very first Boo experience! Every year, we have a blast making up two baskets of candy, treats, and small Halloween trinkets and party favors for our favorite neighbors, it's a fun modern tradition that our neighborhood has FULLY embraced!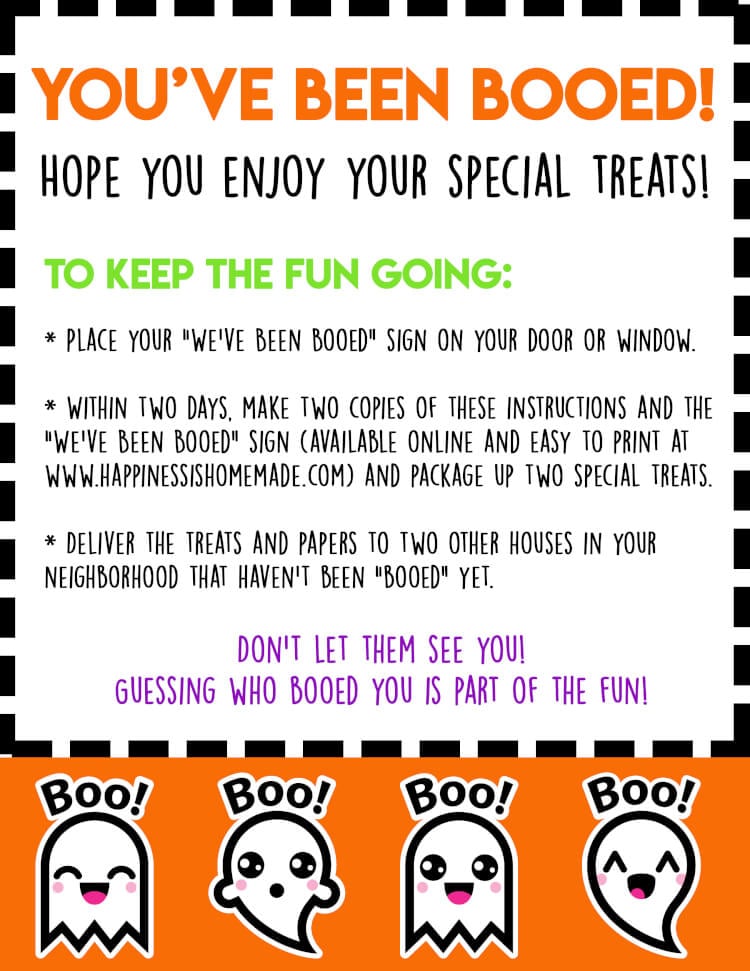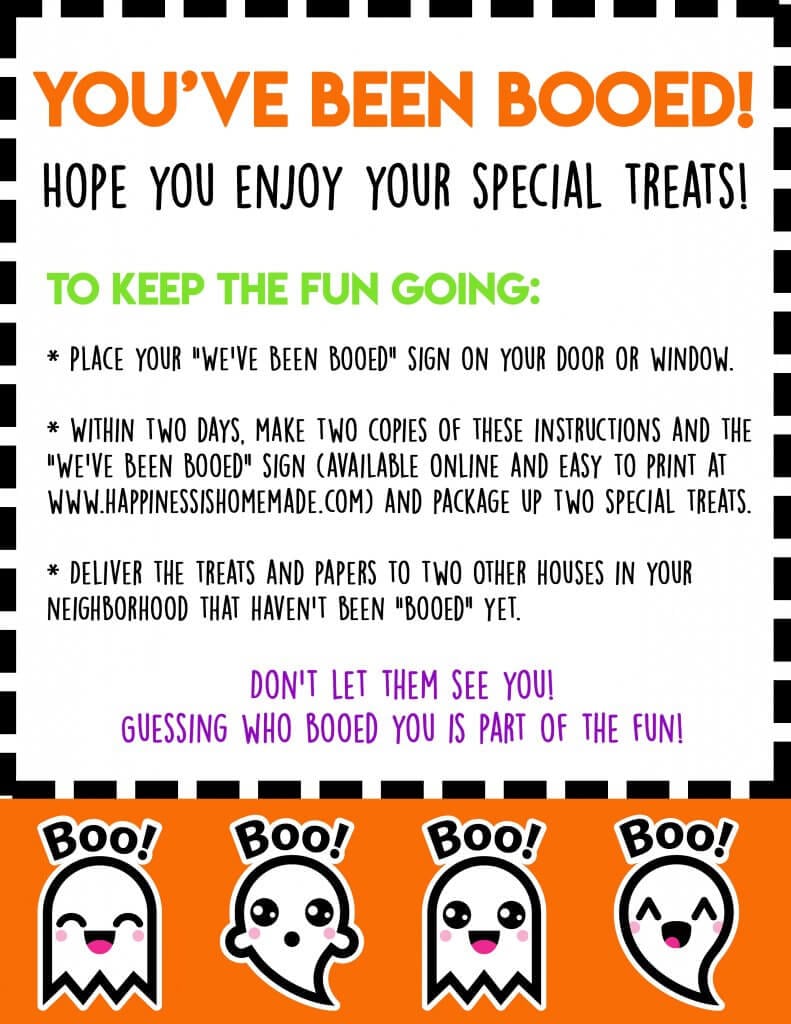 You Boo basket treats can be as simple or elaborate as you want them to be! I've seen "You've Been Booed" signs left on the desk of office co-workers along with a cup of Starbucks coffee and a muffin, and I've seen neighborhood kids deliver colorful plastic pails overflowing with homemade popcorn balls, candy, and Halloween DVD movies! Anything goes, as long as it keeps with the giving nature and the fun Halloween spirit of the game! BUT, a Boo basket doesn't have to cost a ton of money! A plate of homemade cookies makes a great Boo basket treat, and you can find LOTS of inexpensive Halloween toys, candy, and goodies at dollar stores and discount stores!
(Note: when delivering edible homemade treats, I always like to include a separate small envelope addressed to the parents with a note letting them know who the boo treats are from so that they know they're safe to eat!)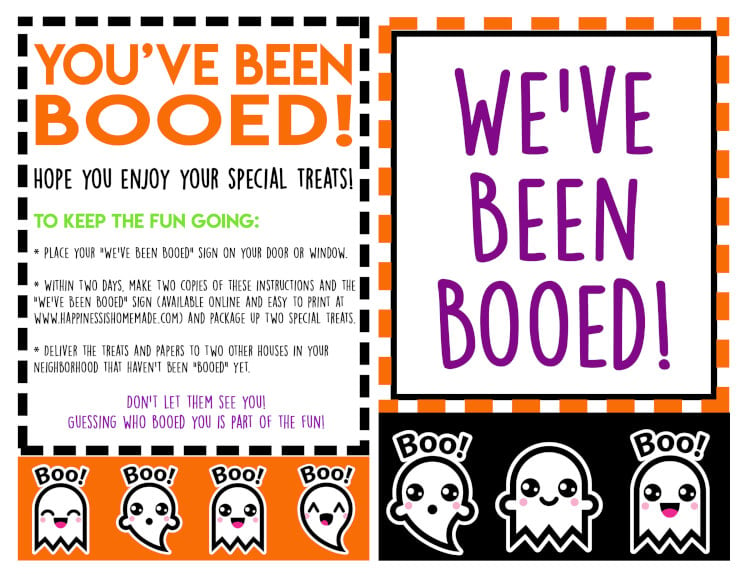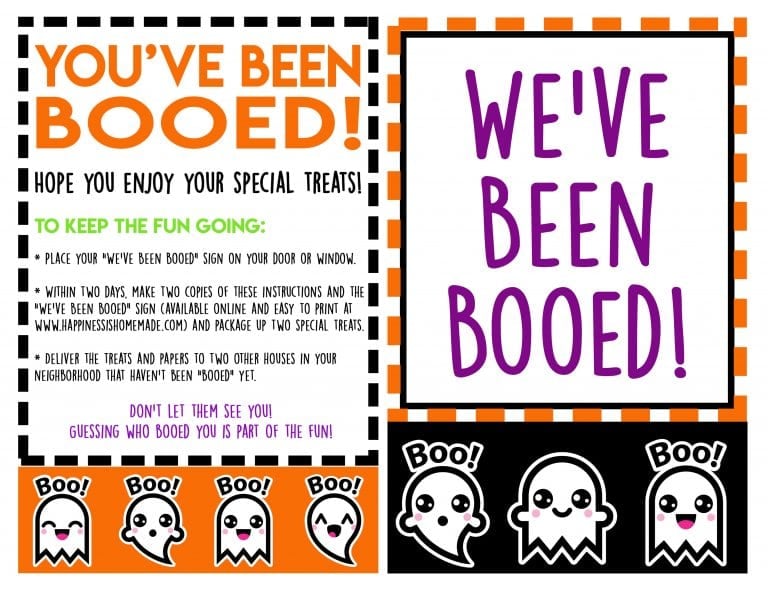 For instant access to the Boo Printables, enter your name and email below, and click the "Get It Now!" button!
We'd love to hear your Boo stories and see your Boo basket photos! Please feel free to drop me a note using this contact form to share, and let me know if you'd like to be added to our "You've Been Booed" reader gallery!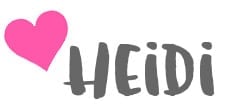 If you like these "You've Been Booed" Printables, Don't Forget to Pin 'em!

You May Also Like: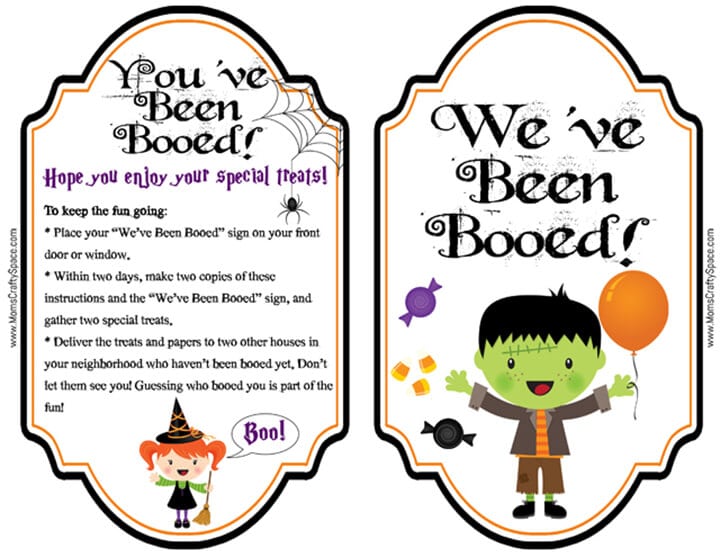 The Cutest You've Been Booed Printables Ever!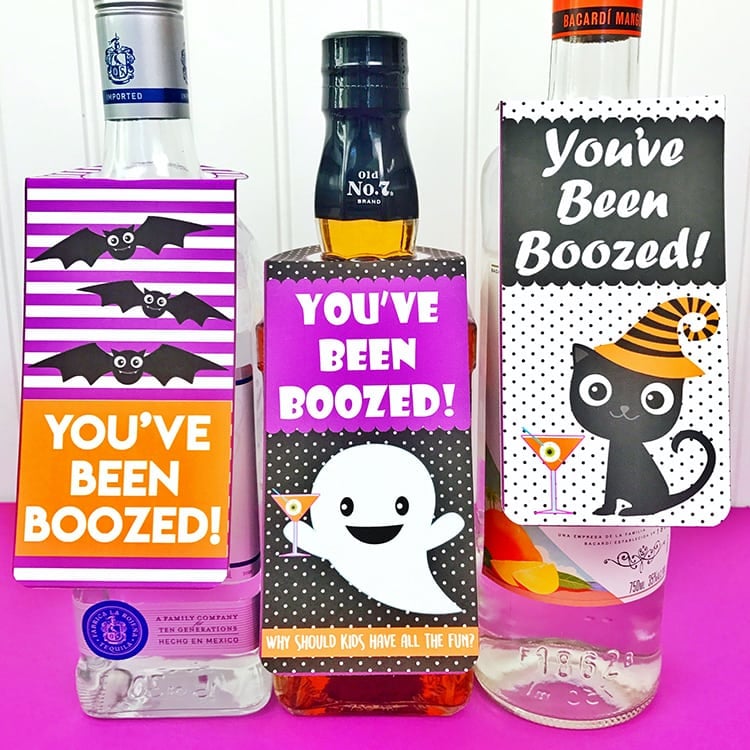 "You've Been Boozed!" Halloween Treat for the Adults!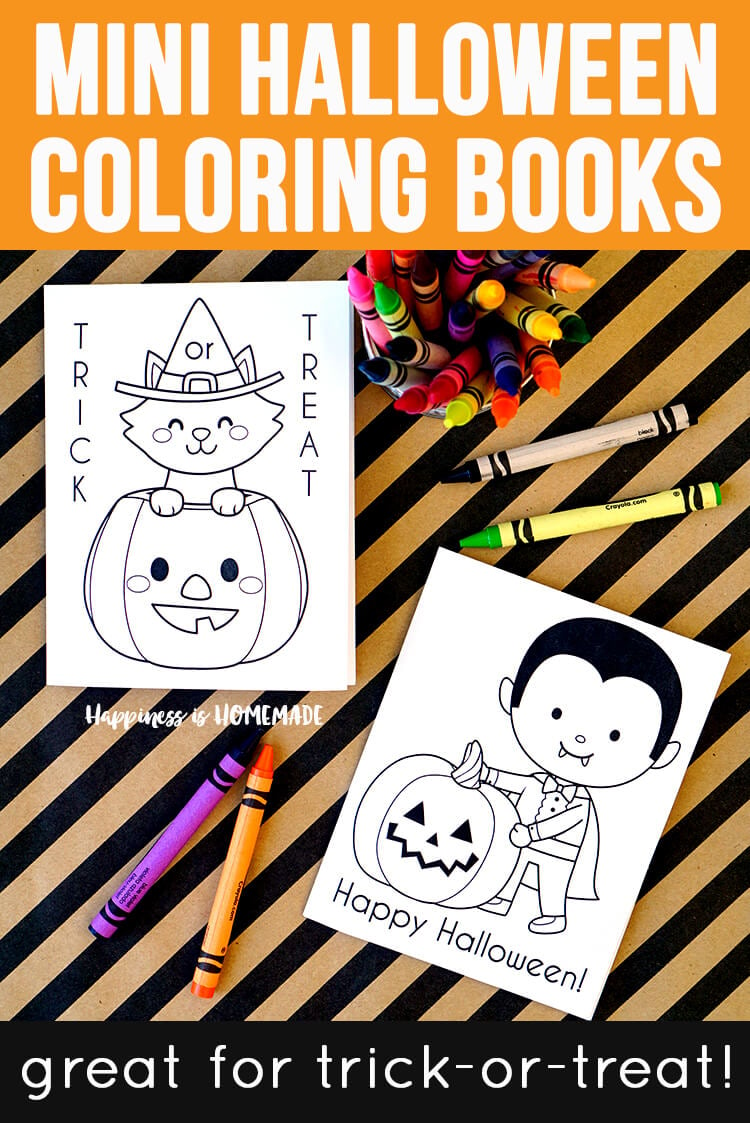 Printable Mini Halloween Coloring Books
40+ FREE Halloween Printables!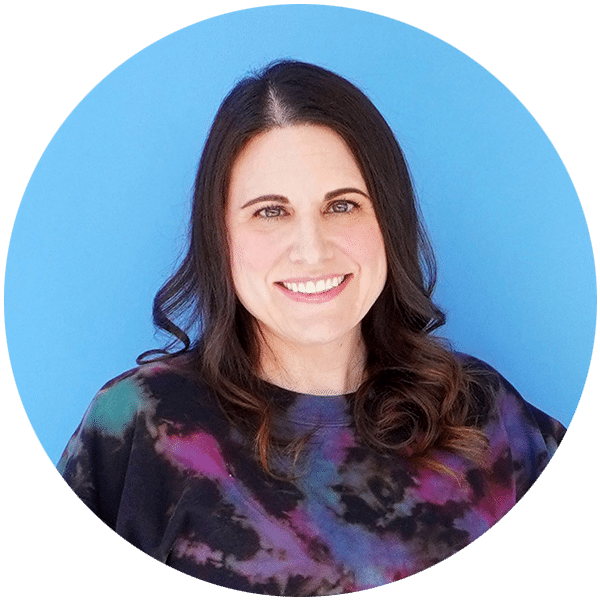 Heidi Kundin has captivated the hearts of millions with her colorful and inspiring approach to crafting, celebrations, and family fun. With over 15 years of experience, Heidi's website has become a must-visit destination for those seeking quick and easy creative ideas and last-minute solutions. Her warm personality shines through her posts, inviting readers to join her on a creative journey that's fun, rewarding, and achievable.