10-Minute DIY: Honey Lavender Soap
This post and its photos may contain affiliate links. As an Amazon associate I earn from qualifying purchases. If you make a purchase through these links, I may receive a small commission at no extra cost to you!
This Honey Lavender Soap smells incredible, and you can whip up a batch in just a few minutes! Makes a great quick and easy DIY homemade holiday gift idea that's perfect for friends, family, neighbors, and teachers!
I love these honey lavender soaps for their sweet delicate aroma and for the awesome skin benefits (did you know that lavender and honey are both fantastic for your skin?), but what I love even more is the fact that I can whip up an entire batch of these beauties in under 10 minutes! They take a little bit longer to firm up, but the actual "work" part is done in less than 10 minutes – can't beat that!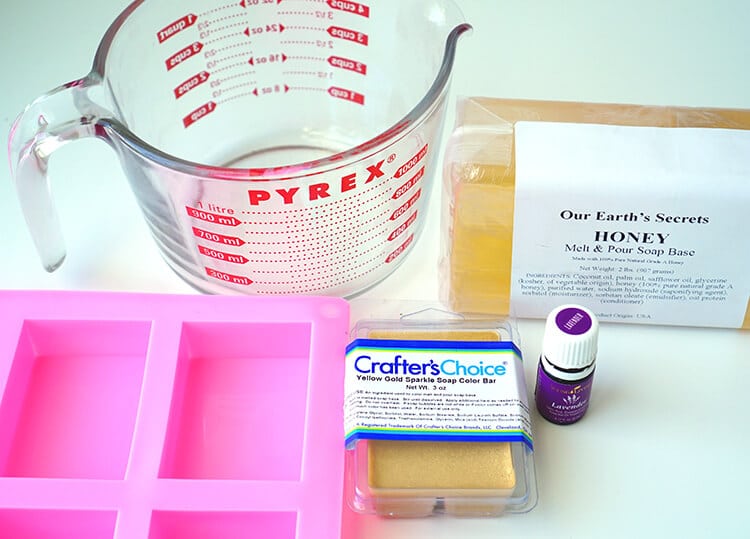 What You'll Need to Make Honey Lavender Soap: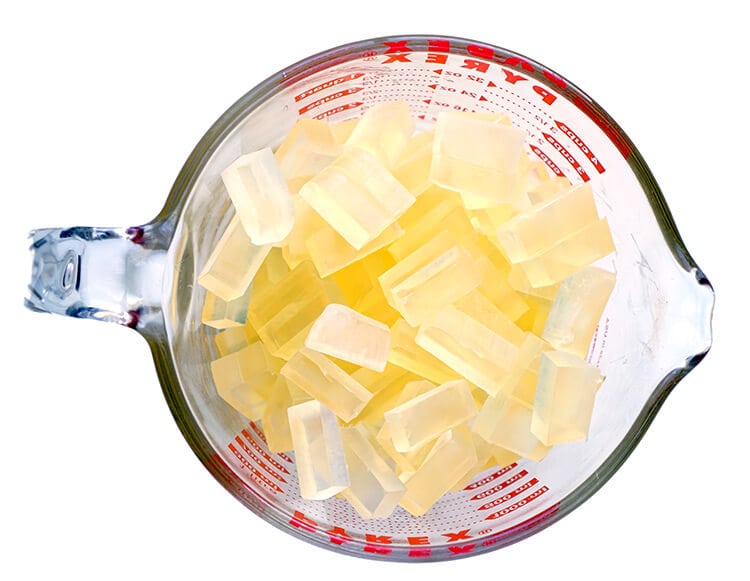 I usually work with about 1 lb (or half of the block) of soap base at a time, which makes four large 4-ounce soaps. I slice the soap base into cubes (it cuts easily with a kitchen knife), place them inside a 4-cup Pyrex measuring cup, and melt in the microwave in 20-30 second increments, stirring well after each microwave session to ensure that the soap is completely melted. For 1 lb of soap, I generally microwave for 30 seconds, stir, microwave for another 30 seconds, stir once again, and microwave a final time for 20 seconds.
When the soap base is completely melted, add in the gold soap colorant (about 1/3 of a cube) and lavender essential oil (about 10-15 drops). Stir until the colorant is melted and well mixed, and pour into the silicone soap mold.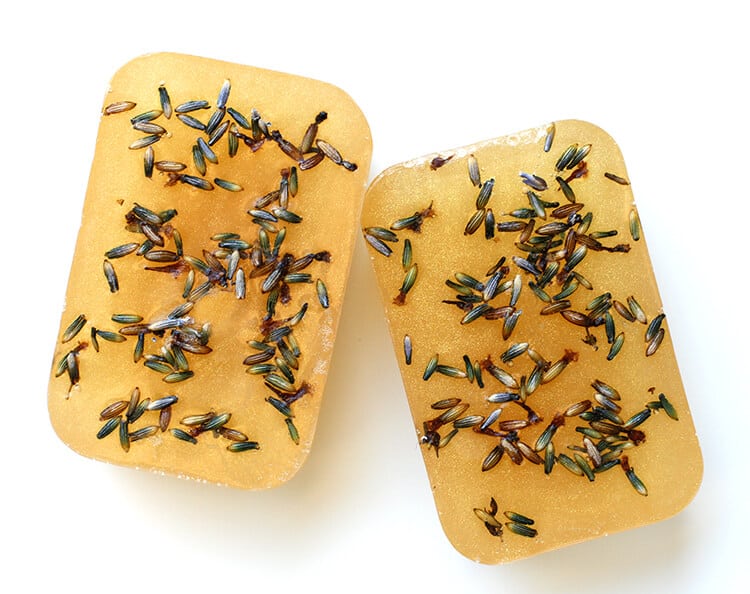 If desired, sprinkle the tops of the melted soap with lavender buds (note: buds may discolor slightly). Allow the soap molds to sit undisturbed until completely cool (about 30-90 minutes depending on temperature/humidity).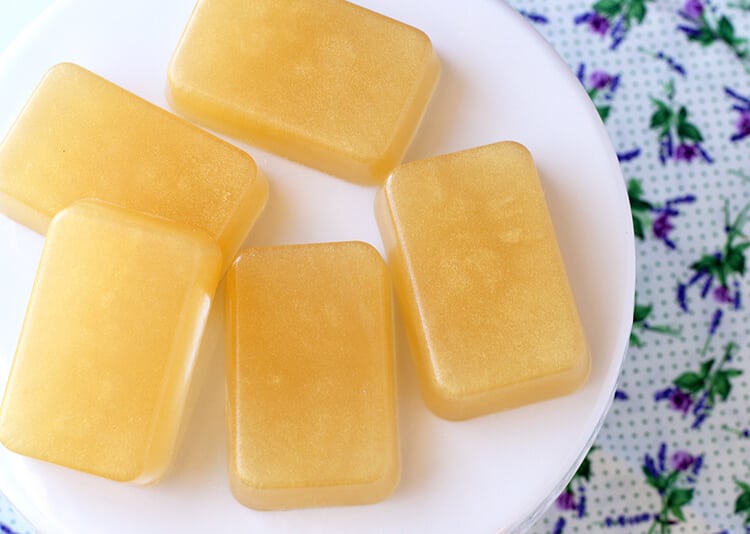 When the soaps are cool and firm, carefully remove them from the silicone mold. I love the way that the gold colorant adds a TON of shimmer and sparkle to the finished soaps!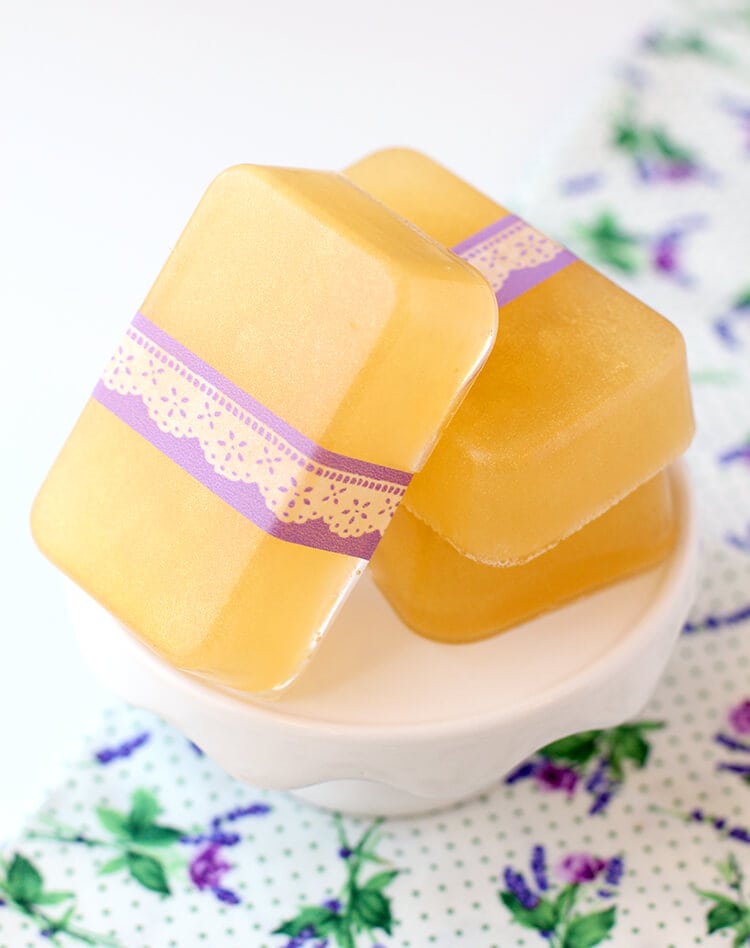 Wrap the soaps with pretty washi tape, baker's twine, or ribbon for an easy and inexpensive DIY gift idea!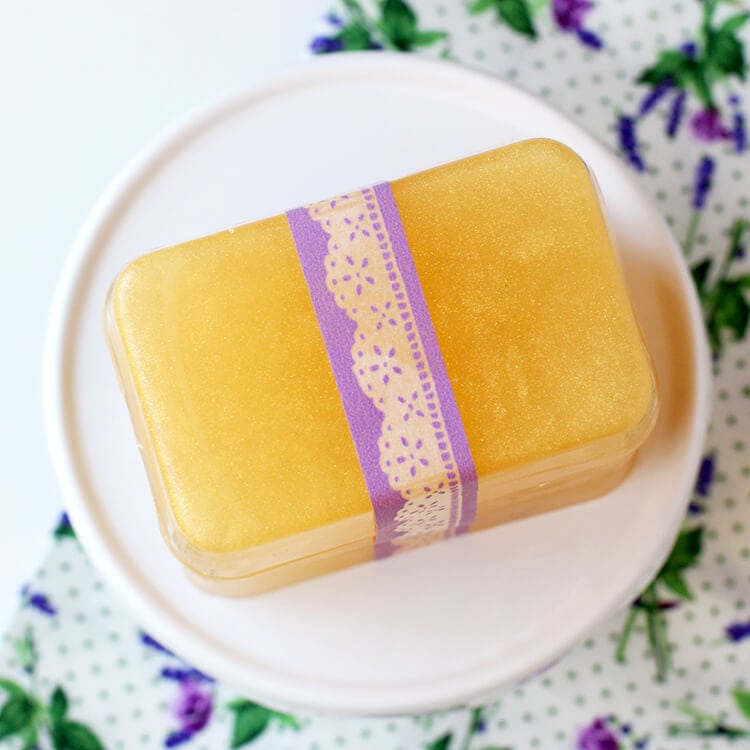 The fragrance combination of lavender and honey smells incredible, and the aroma is soothing and relaxing. Perfect for a hot bath at the end of a long day!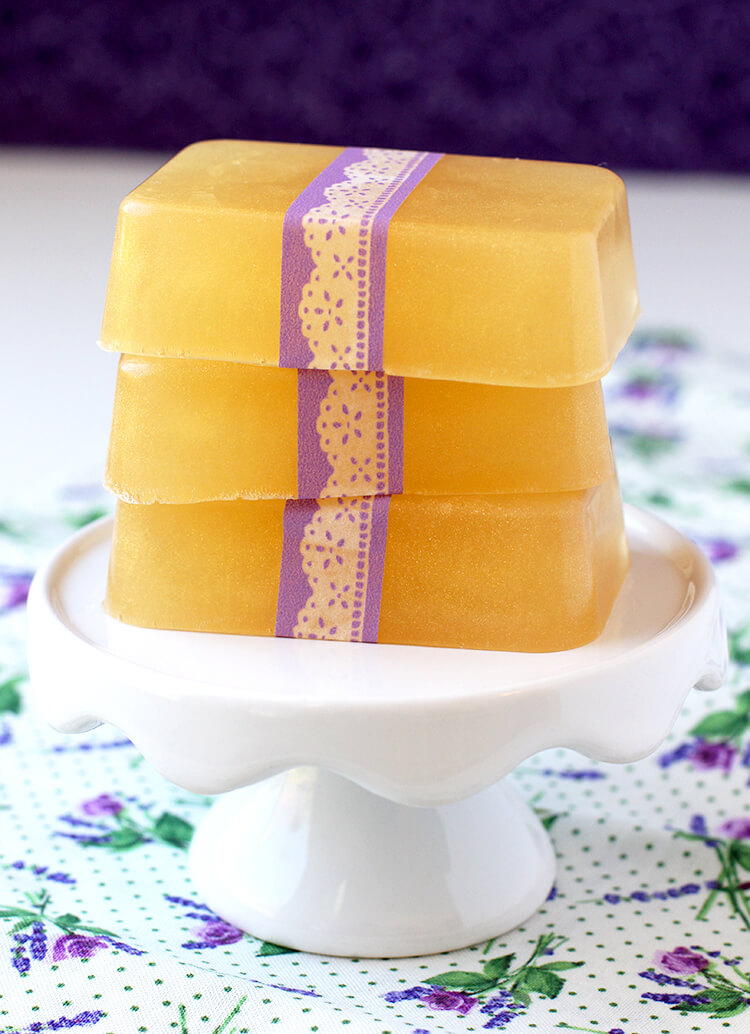 These DIY honey lavender soaps make a fantastic homemade gift – perfect for friends, family, teachers, coaches, and neighbors (or ANYONE on your gift list!). They're great for fundraisers and craft fairs, too!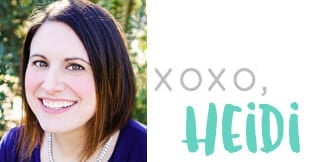 If you like this idea, don't forget to pin it!

You may also love these other DIY Bath & Body Products:
[riview id=297 num=2000 orderby=title order=asc size=200×200 showtitle=always lightbox=0]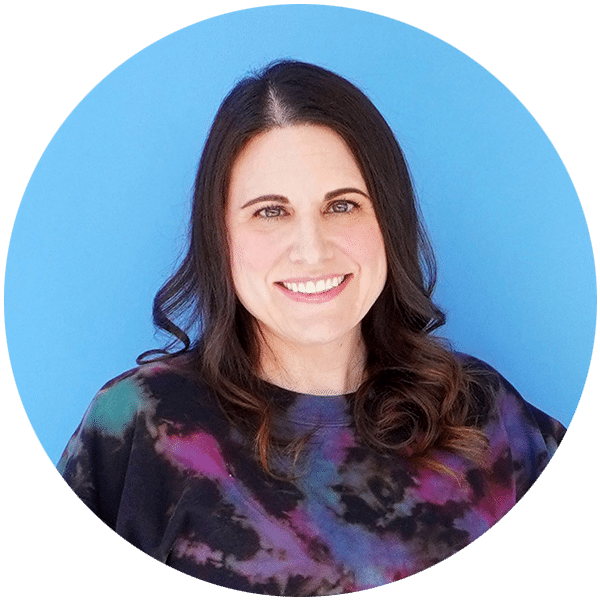 Heidi Kundin has captivated the hearts of millions with her colorful and inspiring approach to crafting, celebrations, and family fun. With over 15 years of experience, Heidi's website has become a must-visit destination for those seeking quick and easy creative ideas and last-minute solutions. Her warm personality shines through her posts, inviting readers to join her on a creative journey that's fun, rewarding, and achievable.