5 Simple Activities for Quality Family Time
This post and its photos may contain affiliate links. As an Amazon associate I earn from qualifying purchases. If you make a purchase through these links, I may receive a small commission at no extra cost to you!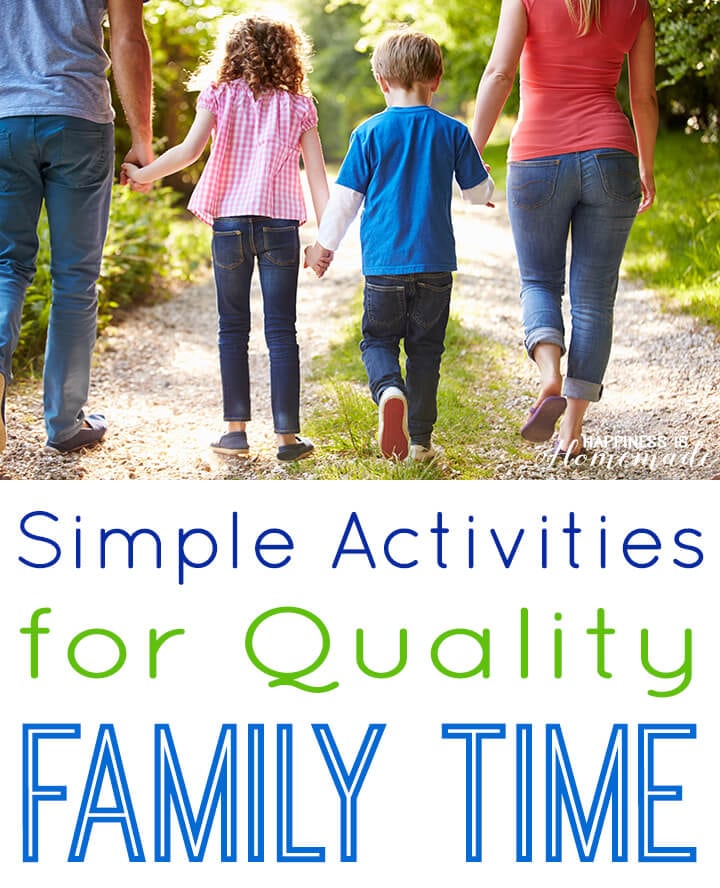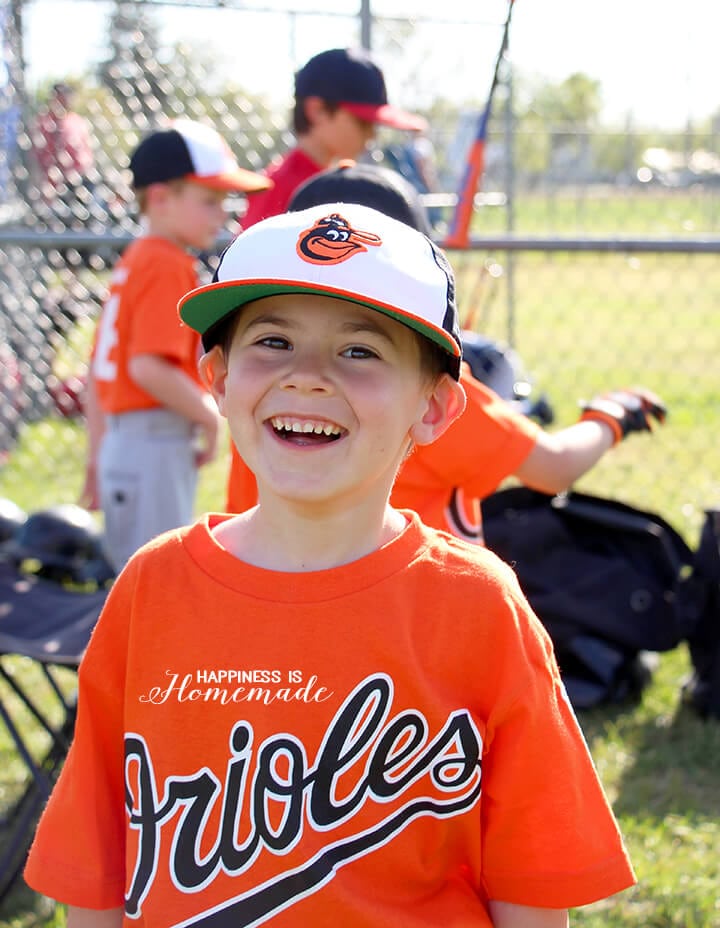 Between homeschool, scouts, sports practices, games and coaching, our family spends a lot of time together (and that's just how we like it!). Not all time spent together is quality time though, and in fact, we spend many of our days hustling and hurrying from one event or activity to the next. When we find ourselves in a chaotic and busy season in our lives, we step back and try to focus on easy ways to squeeze more quality family time into our schedules. I truly believe that there is nothing more important than family, and finding the time to connect with one another each day is essential.
Here are five simple ways that my family has been spending our quality time lately: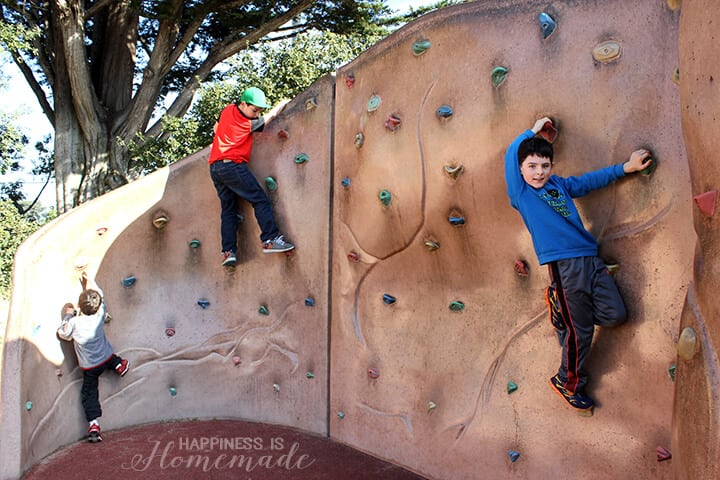 1. GO OUTSIDE!
It can be as simple as taking a quick adventure to a park that you have never visited before or as elaborate as planning a week-long camping trip, but immersing yourself in the outdoors is always a fantastic way to connect with your family. The outdoors provides a welcome relief from the buzz of modern electronics and provides a vast array of activities that you can enjoy with your family. Take a hike, go on a bike ride, jump on the trampoline or relax on the beach. Getting outdoors is one of the best ways to spend your quality family time!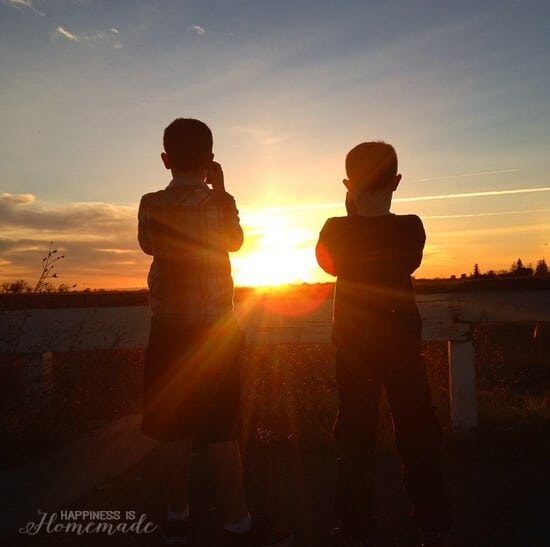 Spend some time taking in those gorgeous sunsets together (and make sure to bring your cameras!)!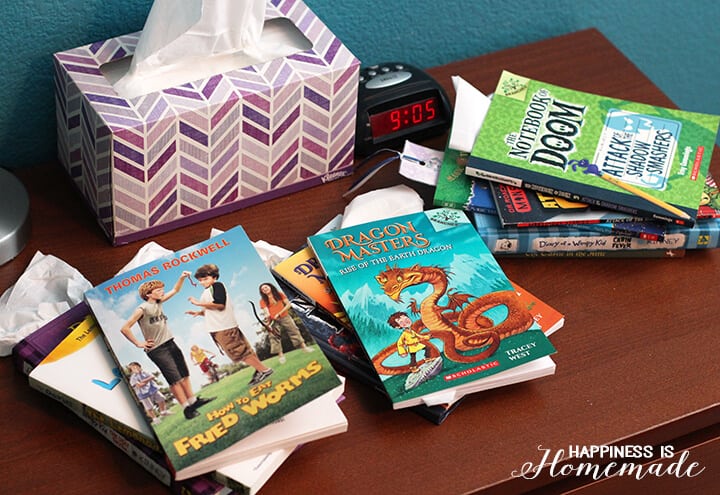 2. READ TOGETHER!
Reading also provides a quiet and focused atmosphere that is free of distractions. Snuggle up together before bedtime with a book, and take turns reading pages or chapters to each other. It's a great way to connect one-on-one with your children, but it makes for an engaging and entertaining activity for the entire family as well. We recently shared a list of our favorite chapter books for new readers if you're looking for some recommendations!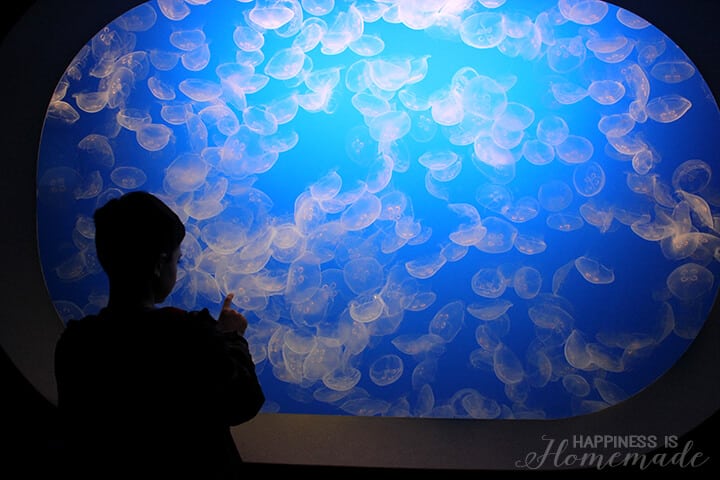 3. GO SOMEWHERE!
Change up your usual routine and head somewhere unexpected! Visit a local museum, aquarium, botanical garden, or zoo. Take a train ride, go on a historic tour, listen to an outdoor concert, or take a drive to look at wildflowers. Discovering and exploring new places is a wonderful family bonding activity!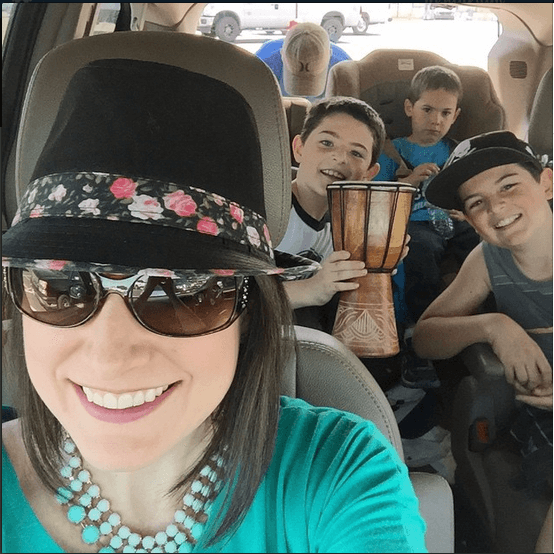 Our family recently spent a day at the local flea market and swap meet. We each had a $10 budget for the day, and we spent the entire morning browsing and searching for the perfect treasure to take home. We ended up with a floral fedora, a dreamcatcher, a metal sign, a bongo drum and a yappy plush puppy that does backflips. It was SUCH a fun day!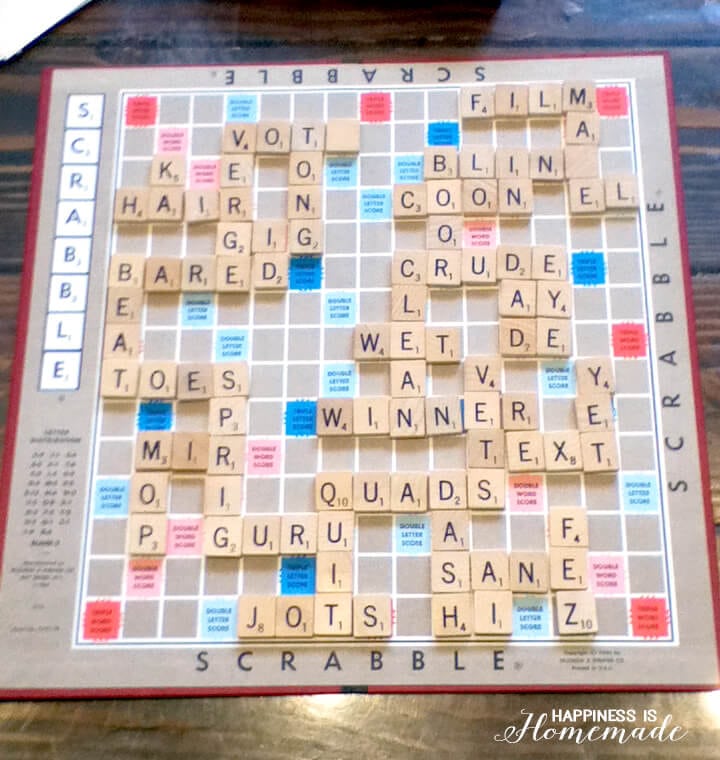 4. PLAY A GAME!
Board games are one of my family's favorite ways to spend time together, particularly in the evenings. Monopoly, Sorry and Bananagrams are always a hit around here, and we've engaged in lots of lengthy Battleship wars lately. The other day Sutton and I completed a Scrabble game using all of the tiles, and he was so proud of it that he took this picture of our finished board!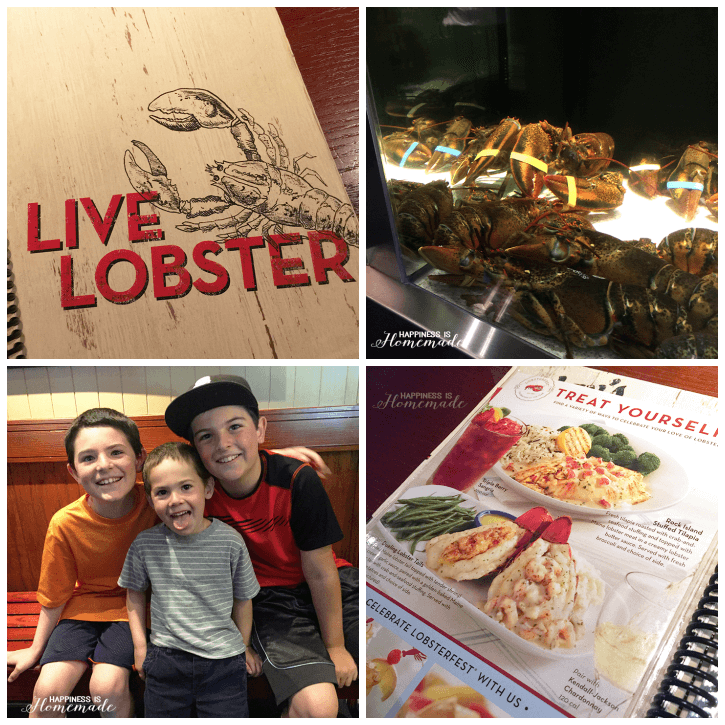 5. DINE OUT!
Having quality family time around the dinner table is an age-old tradition, but the added bonus of not having to cook or clean up always makes me have even more fun while dining out! My boys know that when we're dining out at a restaurant they are expected to use "restaurant manners," and we do not allow electronics at the table. We are able to have a nice family-focused conversation while we sit and wait for our meals to arrive, and if the boys behave themselves, we treat them to a yummy dessert.
The other day we went out to dinner at Red Lobster for Lobsterfest (going on now for a limited time!), because spending time with family is always a "lobsterworthy" celebration! During Lobsterfest you can choose from an huge variety of lobster dishes, with options on virtually every page of the menu at a wide array of different price points.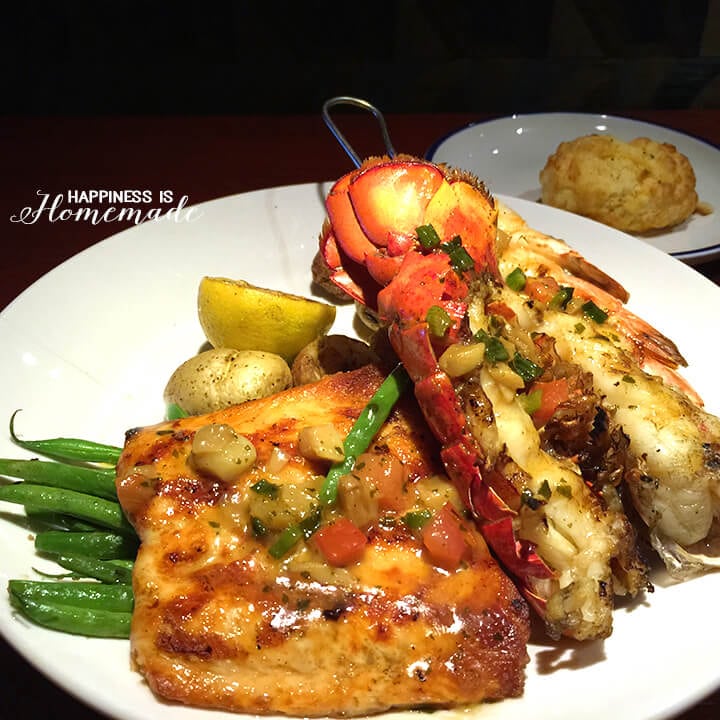 My husband wanted a sampling of several different seafoods, so he chose the Wood-Grilled Lobster, Shrimp and Salmon – a Maine lobster tail, jumbo shrimp skewer and fresh Atlantic salmon, wood-grilled and finished with brown butter. With unlimited Cheddar Bay Biscuits, of course!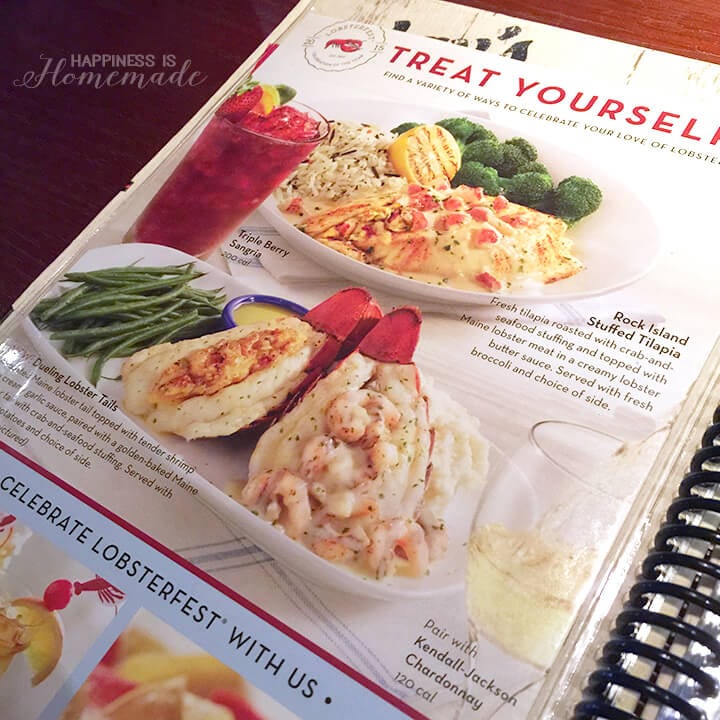 I was initially drawn towards the Dueling Lobster Tails – two Maine lobster tails, one roasted and topped with tender shrimp in a creamy garlic sauce, the other golden-baked with crab-and-seafood stuffing. YUM!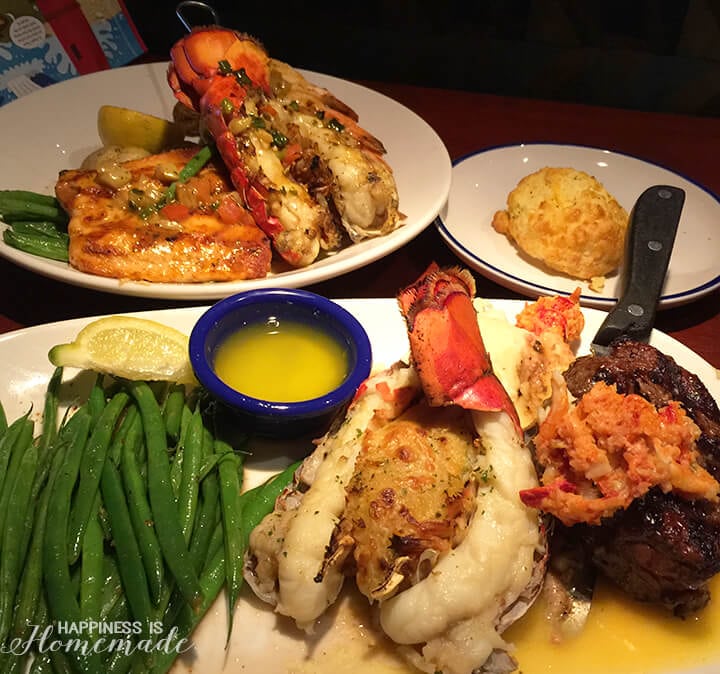 In the end I decided on the new Ultimate Surf & Turf – a Maine lobster tail baked with crab-and-seafood stuffing, paired with a peppercorn-seasoned grilled sirloin topped with Maine lobster meat in a citrus-hollandaise sauce. It was soooooo good!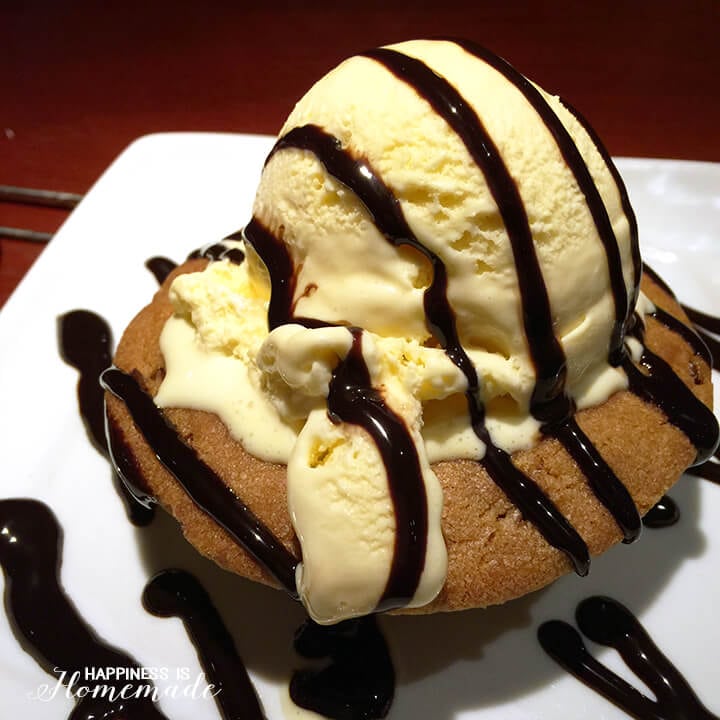 We couldn't resist sharing a couple of their Warm Chocolate Chip Lava Cookies a la Mode for dessert!
Delicious food, great service, and an opportunity to spend some quality time with my family (AND I didn't even have to cook or clean!). That's my kind of meal! Red Lobster is the worlds largest seafood restaurant company with over 700 stores in the US and Canada, so there's a good chance you can find one nearby to celebrate your "lobsterworthy" occasions. What would you visit Red Lobster to celebrate?
What's your favorite way to spend quality time with your family?

I was selected for this opportunity as a member of Clever Girls and the content and opinions expressed here are all my own.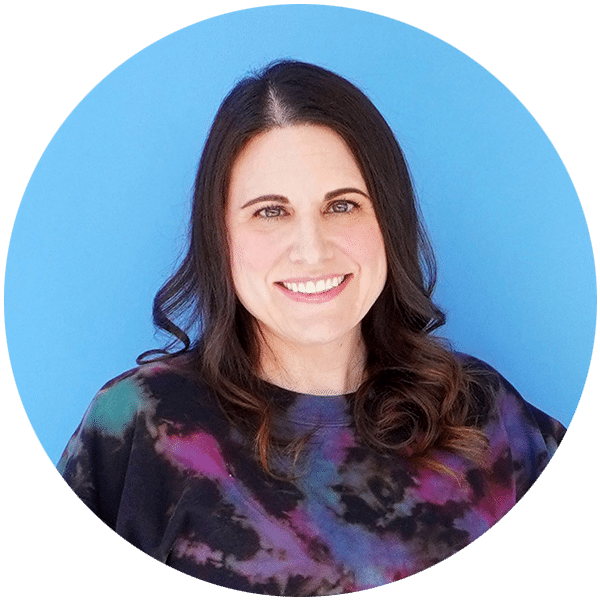 Heidi Kundin has captivated the hearts of millions with her colorful and inspiring approach to crafting, celebrations, and family fun. With over 15 years of experience, Heidi's website has become a must-visit destination for those seeking quick and easy creative ideas and last-minute solutions. Her warm personality shines through her posts, inviting readers to join her on a creative journey that's fun, rewarding, and achievable.