Beauty and the Beast Oreo Pops
This post and its photos may contain affiliate links. As an Amazon associate I earn from qualifying purchases. If you make a purchase through these links, I may receive a small commission at no extra cost to you!
Beauty and the Beast Oreo Pops are the perfect sweet treat to celebrate the new live-action Disney movie premiere, and they're super quick and easy to make!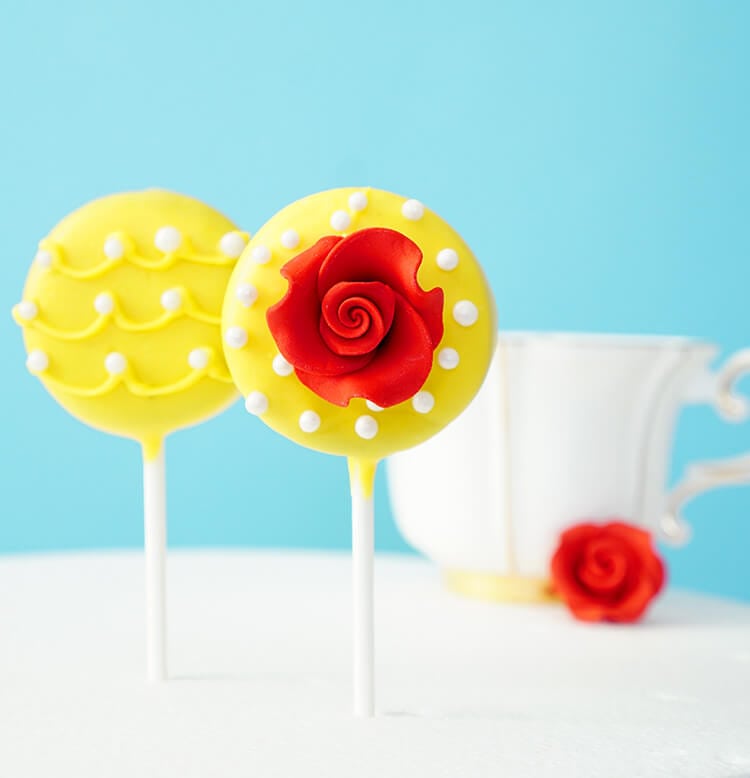 Beauty and the Beast is one of my favorite classic Disney movies, and I can't wait to see the new live-action version that's coming out this week! To celebrate the release of the film, I created some fun Beauty and the Beast Oreo Pops for my family to enjoy while we pass these last few days until the movie's release. Did I mention that I seriously CAN'T wait!?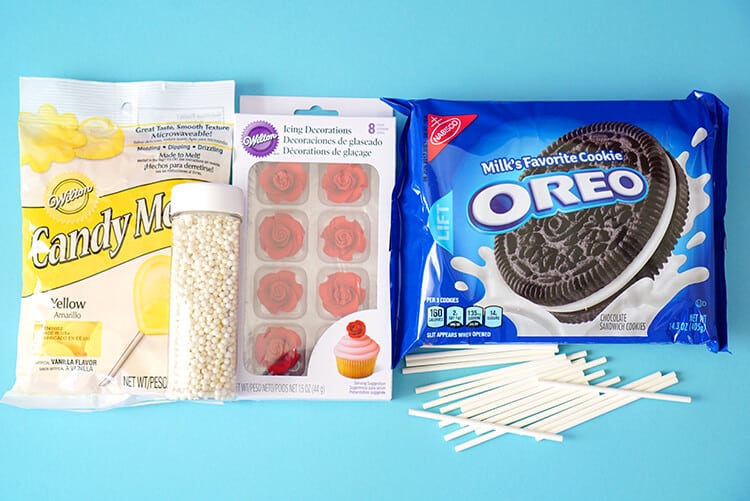 Supplies for Beauty and the Beast Oreo Pops: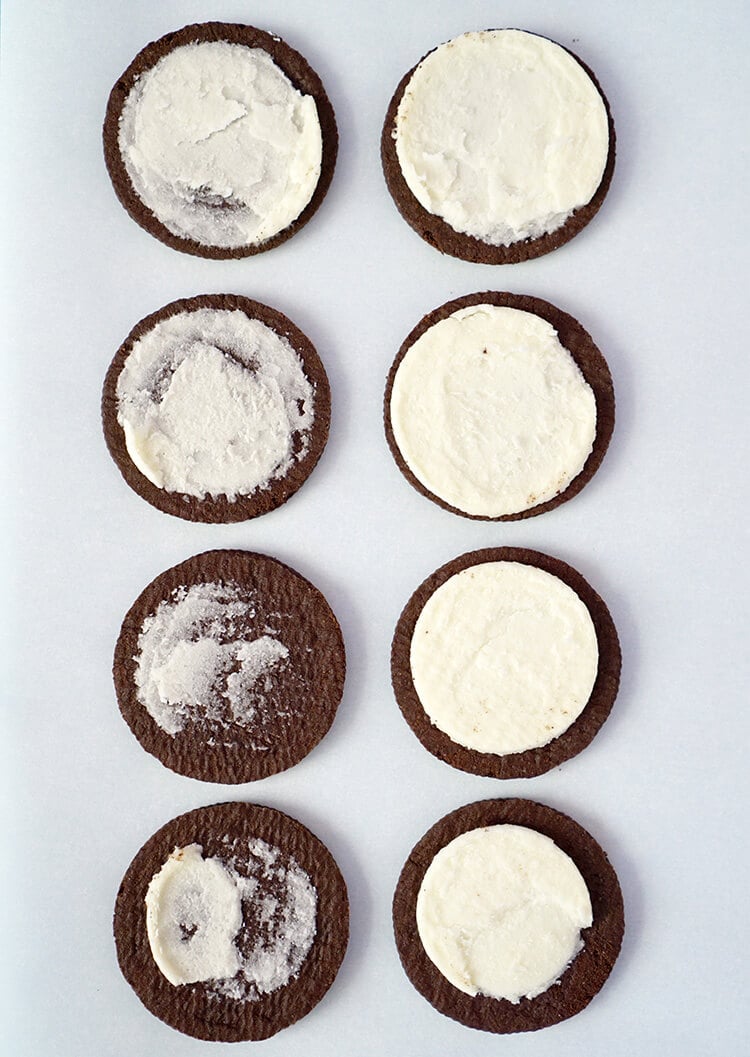 Start by carefully twisting your Oreo cookies into halves and placing the pieces side-by-side.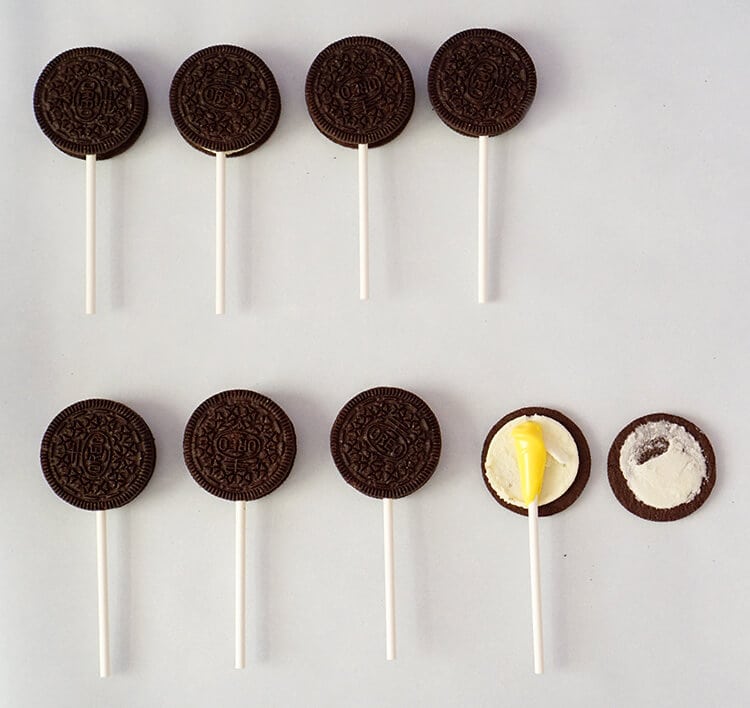 In a 2-cup Pyrex measuring cup (or similarly sized microwave-safe container), melt a handful of candy melts in the microwave in 20-second increments, stirring well after each. Dip the end of a lollipop stick into the melted candy, and sandwich it between both halves of the Oreo. Allow the candy to cool and firm completely before moving on to the next step – a quick trip to the freezer will speed up the process if you're in a hurry!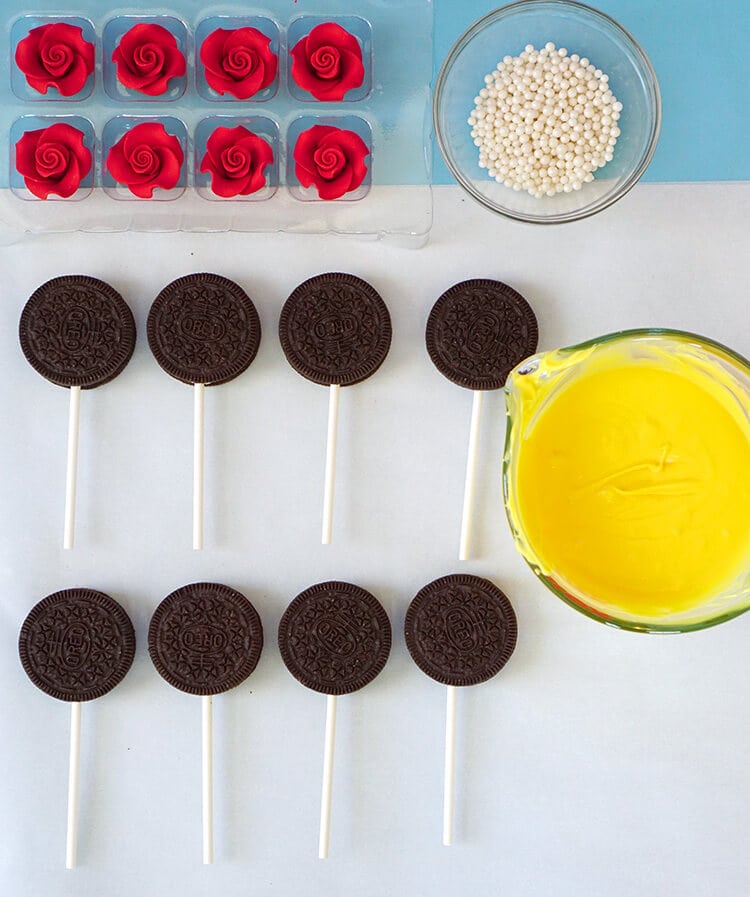 Get your decorations ready because once you dip the Oreo pops into the candy melts, you'll only have a few minutes to add the pearl sprinkles and roses before the candy starts to harden again. Fill the measuring cup 3/4 full of candy melts, and melt in 30-second increments, stirring well after each, until the candy is fully melted.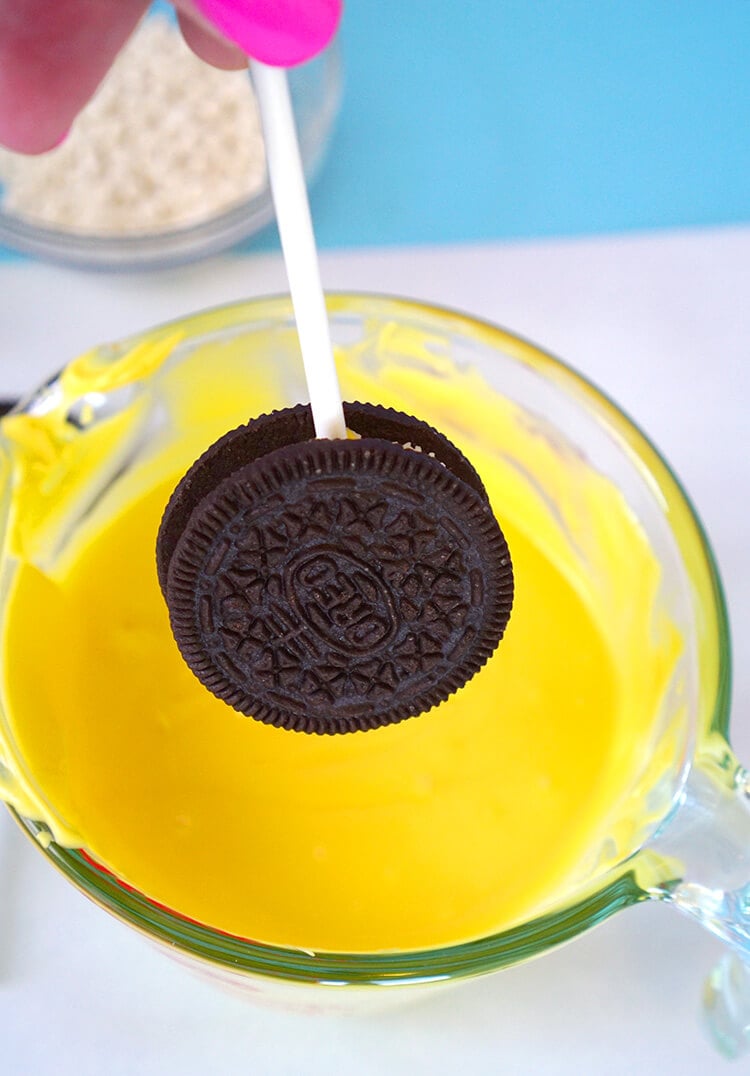 Dip the Oreo pop into the melted candy, making sure that the entire Oreo is covered, and carefully lay the pop onto a sheet of parchment paper.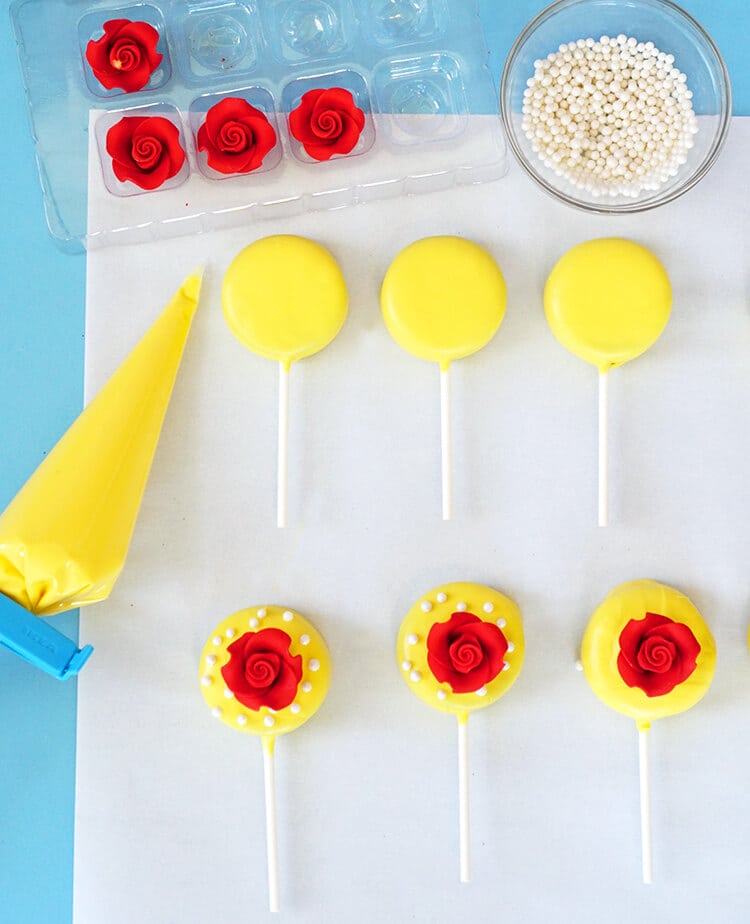 Decorate the Oreo pops with red roses and sugar pearls as desired. I decorated a few pops with red roses, a few with red roses and pearls, and I also made a few pops that resemble the skirt of Belle's infamous yellow ball gown. To make the ball gown pops, simply melt another handful of yellow candy melts in a candy decorating bag, and pipe a few scalloped lines across each pop, and embellish with sugar pearls.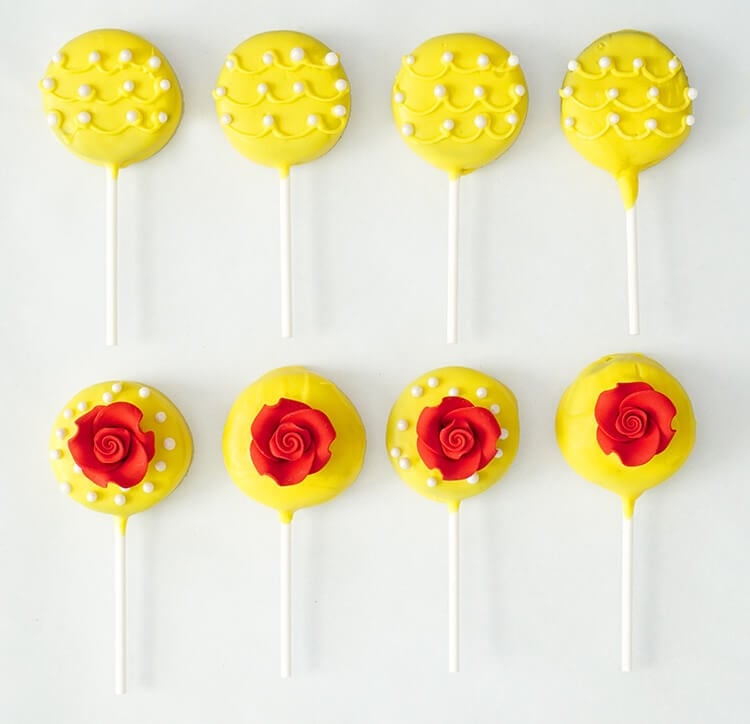 Easy peasy, and totally adorable!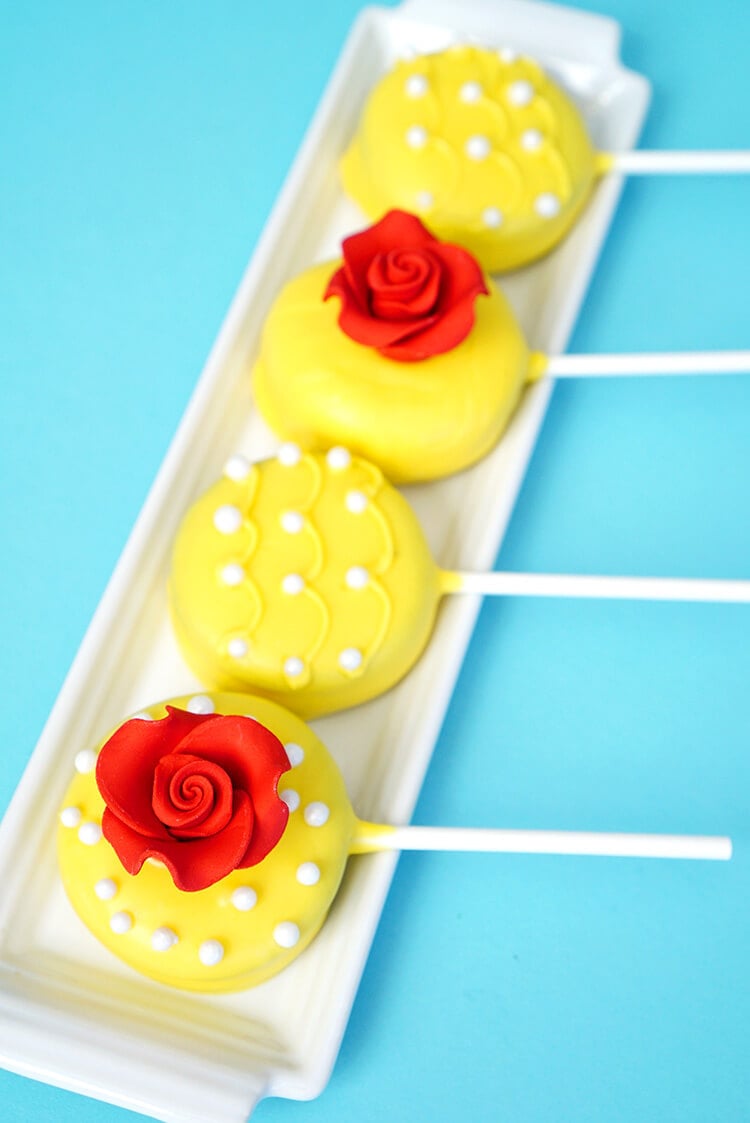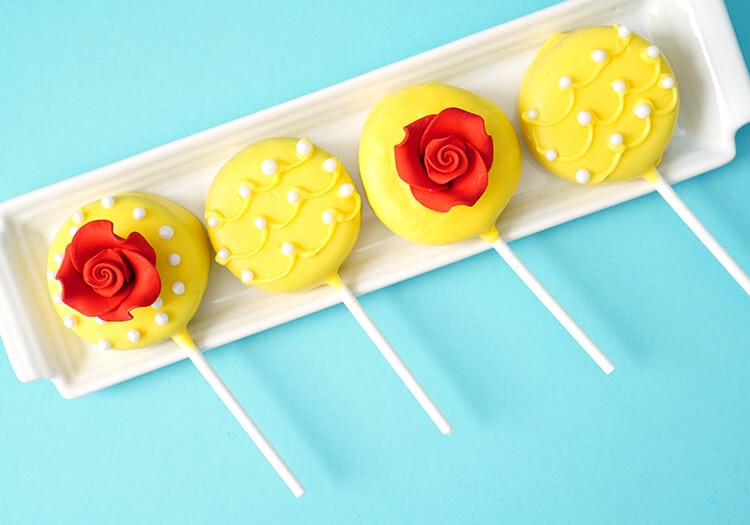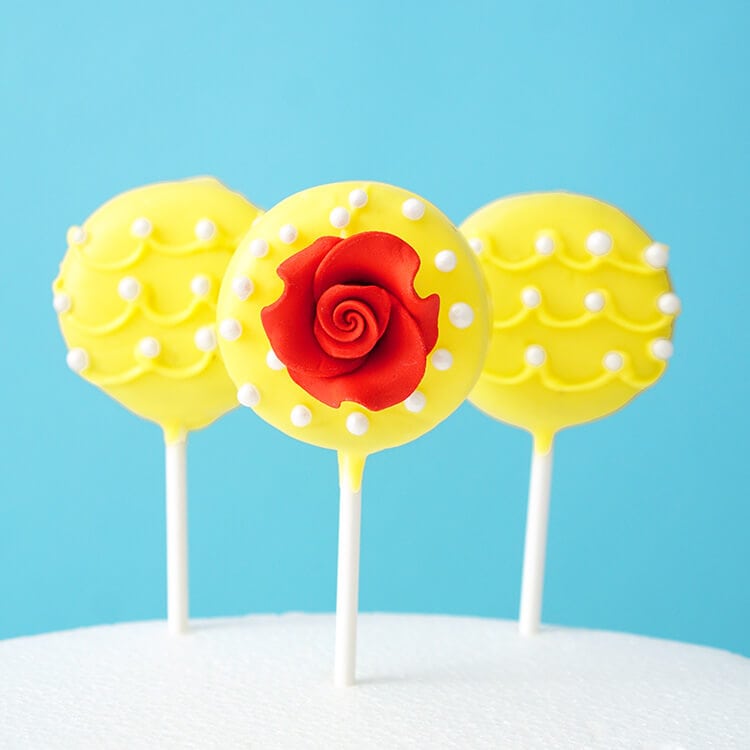 I've made quite a few Oreo pops in my day, but I think these are my favorite ones yet! They're just SO dang cute and perfect for Beauty and the Beast!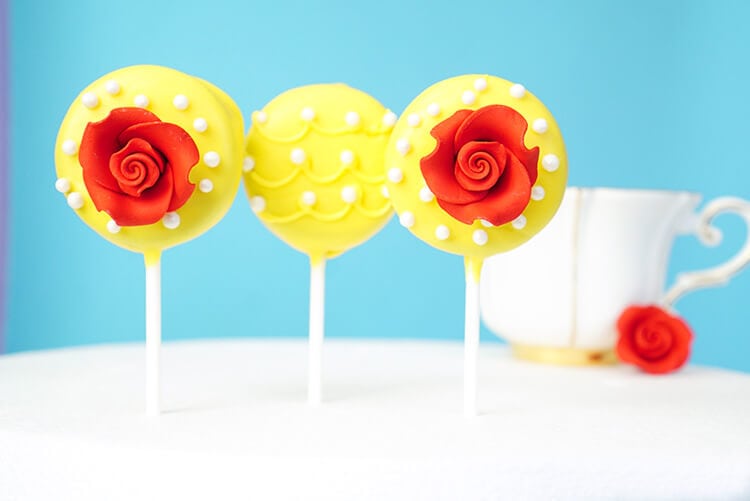 If you love Beauty and the Beast, be sure to check out these delicious recipes and fun ideas from my friends!
Be Our Guest Grey Stuff Recipe | The Love Nerds
Beauty and the Beast Cupcakes | Cupcake Diaries
Faux Wood Beauty and the Beast Earrings | Simply Made Fun
Chip Beauty and the Beast Necklace | The Benson Street
"The Grey Stuff" Mousse Teacups | Sprinkle Some Fun
Easy DIY Beauty and the Beast Shirts | Play Party Plan
Belle Cupcakes – Beauty and the Beast | Kid's Fun Review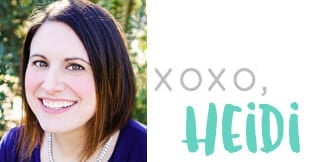 If you like this post, don't forget to pin it!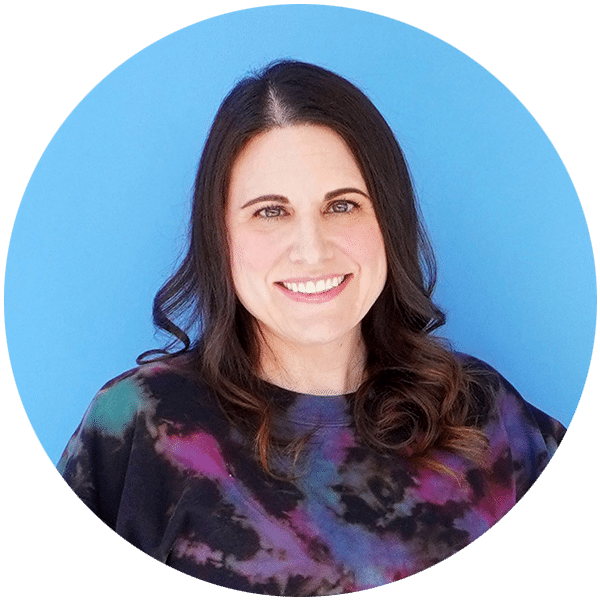 Heidi Kundin has captivated the hearts of millions with her colorful and inspiring approach to crafting, celebrations, and family fun. With over 15 years of experience, Heidi's website has become a must-visit destination for those seeking quick and easy creative ideas and last-minute solutions. Her warm personality shines through her posts, inviting readers to join her on a creative journey that's fun, rewarding, and achievable.