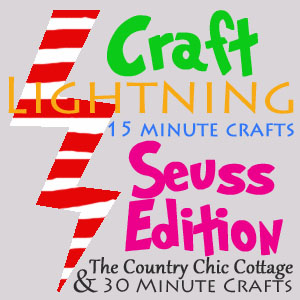 It's time for another round of Craft Lightning – crafts that can be created in 15 minutes or less – and the theme of this edition is Dr. Seuss! We're huge fans of Dr. Seuss around here, and we always come up with a fun kids craft to celebrate his upcoming birthday (March 2nd). This year my boys whipped up these quick and easy Cat in the Hat perler bead pendants that can be used to create necklaces, keychains, zipper pulls and more!
Our favorite Dr. Seuss books are The Lorax, The Sneetches and Other Stories (we love "What Was I Scared Of?!", and Oh, the Thinks You Can Think, but nothing is more classically Seussian than The Cat in the Hat.
We started out with black, red and white perler beads (also called hama beads or fuse beads), a peg board, and a copy of this picture graph activity from Teachers Pay Teachers. The graph activity is made up of small squares that are easily adaptable to a perler bead pattern. We chose to make the hat a tiny bit thinner and taller than the pattern calls for.
Fuse together the beads with a hot iron. Allow to cool and then iron the back side as well.
Use a nail to poke a hole in the top of the hat, and insert a jump ring to create the pendant.
Attach the pendant to a keychain, necklace or zipper, and proudly show off your new creation!
Once you start making perler bead art, I can pretty much guarantee that you're going to want to make more (and more and more and more!). If you're feeling extra ambitious, check out this amazingly detailed perler bead Cat in the Hat from the EK Success Gallery!
You May Also Like:
Green Eggs and Ham Pretzel Bites by That's What Che Said