Kids Art Lesson: Kandinsky Inspired Concentric Circles Collage
This post and its photos may contain affiliate links. As an Amazon associate I earn from qualifying purchases. If you make a purchase through these links, I may receive a small commission at no extra cost to you!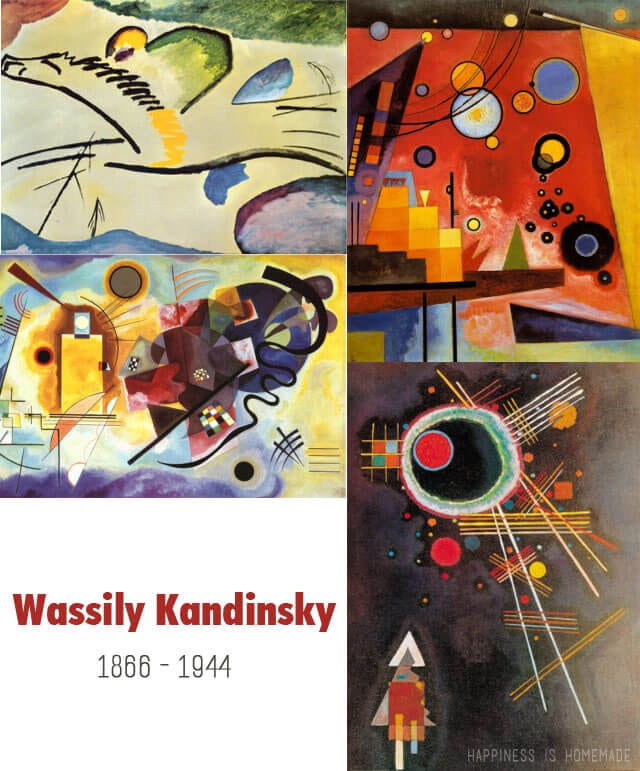 For this week's homeschool art lesson, we studied Russian-born French Expressionist painter Wassily Kandinsky. Though many of Kandinsky's works look more like the ones shown above, one of his most recognizable pieces of artwork is his color study Farbstudie Quadrate (also known as Squares with Concentric Circles/Rings).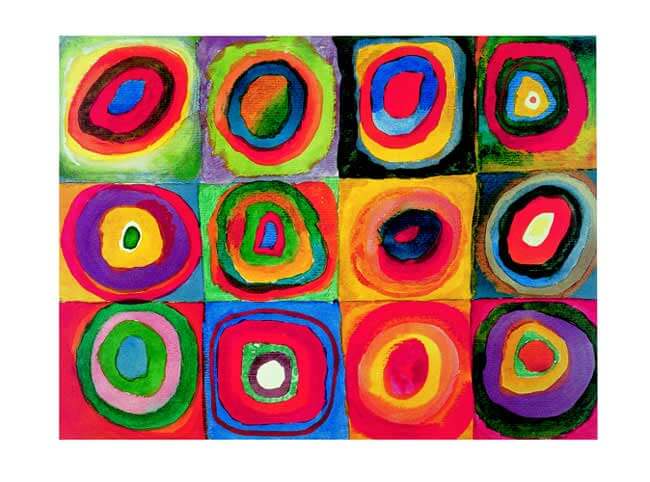 When I showed my boys this example of Kandinsky's art, they were immediately drawn to it and wanted to try their hand at recreating it for themselves. We started by attempting a crayon and watercolor painted version, but it proved to be more time consuming than they were interested in that day. Instead, I whipped out a few alternative materials and came up with a different version that was a ton of fun to make and kept everyone engaged for an entire afternoon.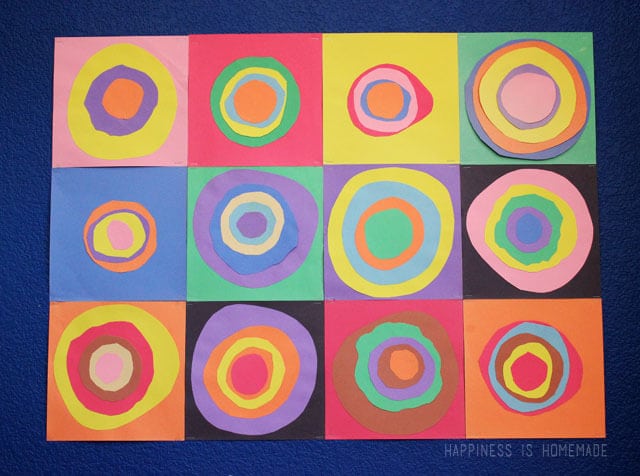 This is one of those projects that we did on the spur of the moment, so I apologize for only having a couple of quick iPhone photos to show for it! All that you need for this activity is a bunch of heavyweight construction paper (about 60-70 sheets; assorted colors), scissors and kid-friendly glue or glue sticks. If you'd like, you can also set out a few different sized bowls, plates, etc. for the kids to trace to create their circles.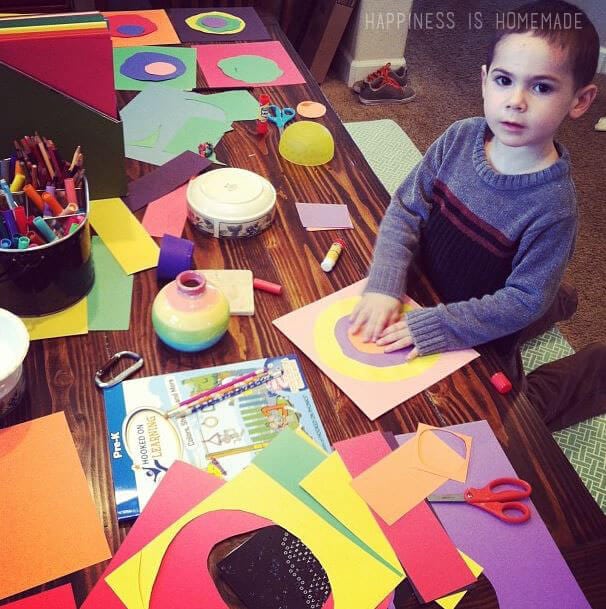 I started by cutting our base papers into 9″ squares, and I gave each of my three boys four squares to work with. Next, the boys cut circles of varying sizes to layer on to the base squares. They used about 4-5 circles for each square – sometimes working start-to-finish on one square base at a time, and sometimes cutting a whole bunch of circles to mix and match before gluing them to their squares.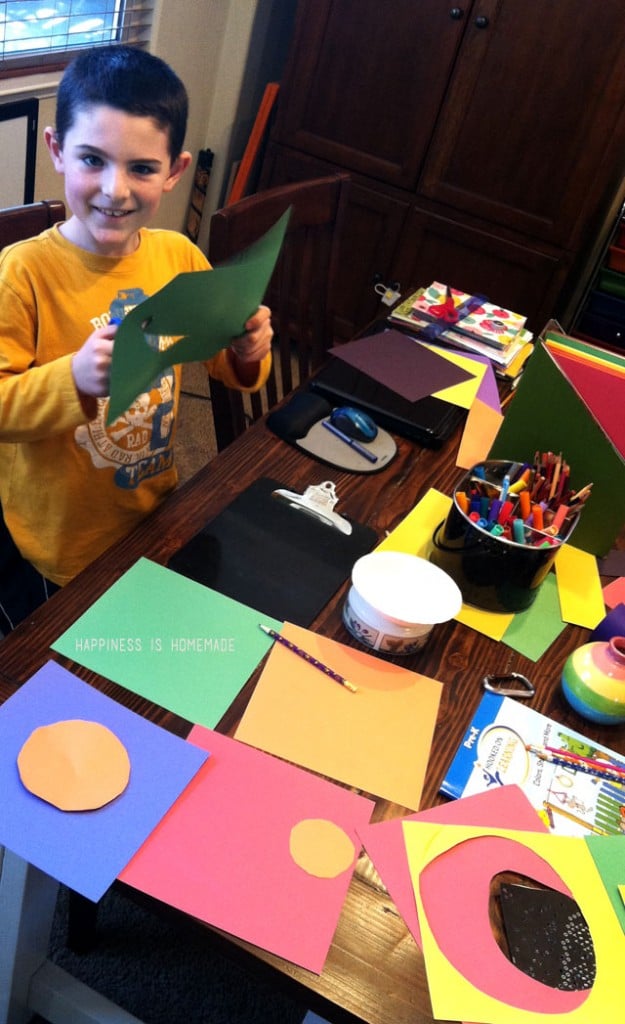 While we worked on our project, we discussed how Kandinsky used color as his means of expression. Kandinsky was known for his color theory, and his range of color expression was far greater than average. For example, many people will assign the color green to jealousy, red to love, etc., but Kandinsky was known to associate different colors with everything, including days of the week! We worked with music playing in the background, as Kandinsky often did, and my boys selected color combinations that they found fitting to the music and how it made them feel.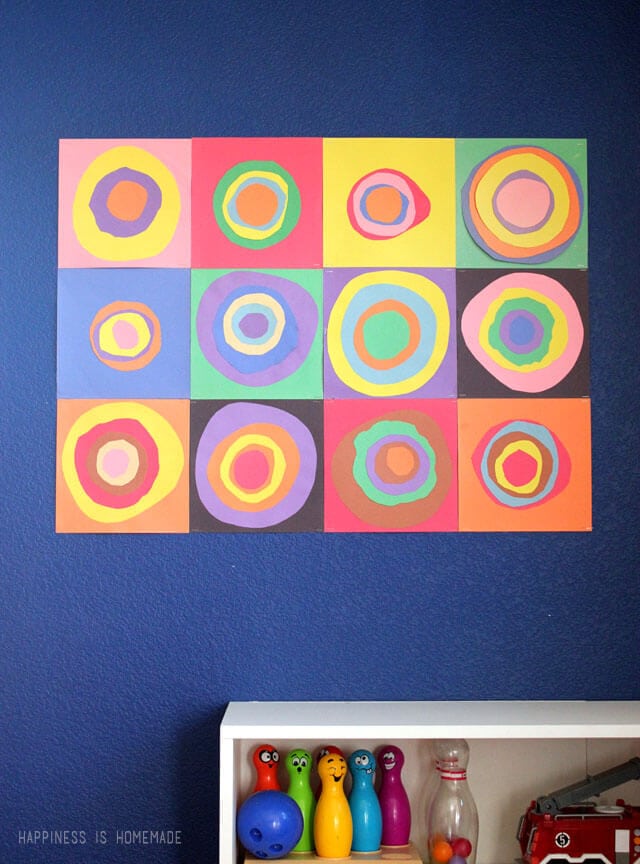 When the boys were finished creating their squares, I arranged them into a larger piece of artwork for the playroom wall where it hangs alongside their Jackson Pollock and Piet Mondrian inspired pieces – I love that their play space is full of their own customized versions of famous artworks! To hang it, I simply stapled the four corners of each square to the wall – easy peasy!





<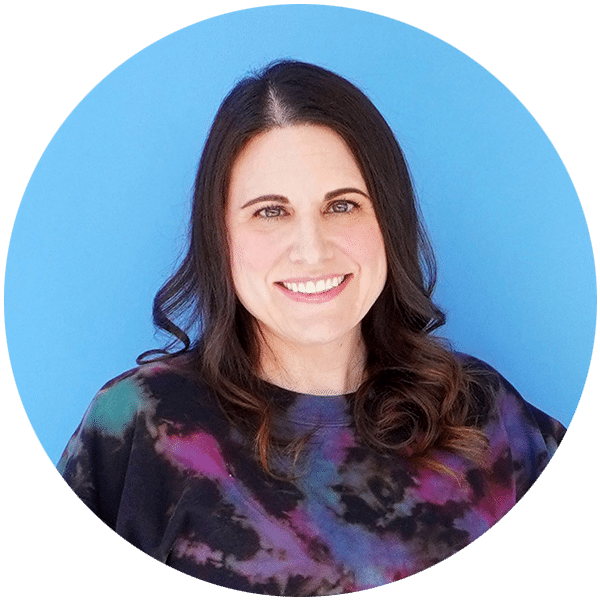 Heidi Kundin has captivated the hearts of millions with her colorful and inspiring approach to crafting, celebrations, and family fun. With over 15 years of experience, Heidi's website has become a must-visit destination for those seeking quick and easy creative ideas and last-minute solutions. Her warm personality shines through her posts, inviting readers to join her on a creative journey that's fun, rewarding, and achievable.