Sugar-Free Pumpkin Spice Caramels
This post and its photos may contain affiliate links. As an Amazon associate I earn from qualifying purchases. If you make a purchase through these links, I may receive a small commission at no extra cost to you!
These pumpkin spice caramels are melt-in-your-mouth delicious, and they're so easy to make! Makes a great holiday hostess gift or party dessert!
Throughout my three pregnancies, I had issues with gestational diabetes (being borderline diabetic for the first two pregnancies and having full-blown gestational diabetes with the third). After giving birth to my youngest son five years ago, my blood sugar levels have never quite returned to normal, swinging often from hyper to hypoglycemic. I keep a close eye on my sugar intake because it directly correlates with how well I'm feeling, how focused I am, and how much energy I have.
Too much sugar might have a strong impact on my body's system, but I have a huge sweet tooth, so I love to experiment with dessert recipes that are made with alternative sweeteners. I was testing a recipe for Agave In The Raw® sweetened pumpkin bars yesterday, and I decided to try my hand at whipping up a batch of agave caramels while I was at it.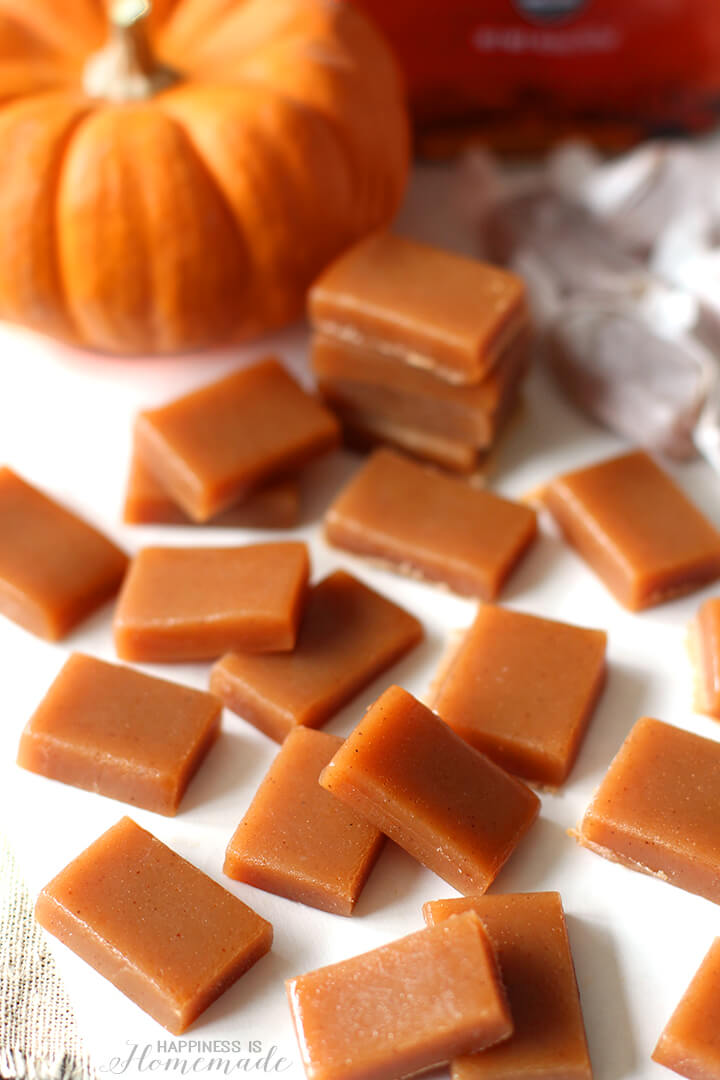 Oh. My. Gosh. These simple caramels turned out even better than the pumpkin bars, and I knew that I had to share the recipe with you! Trust me when I say that you're going to want to make these for everyone you know this holiday season! These silky smooth pumpkin spice caramels make a great hostess gift, and they're the perfect treat for friends and neighbors.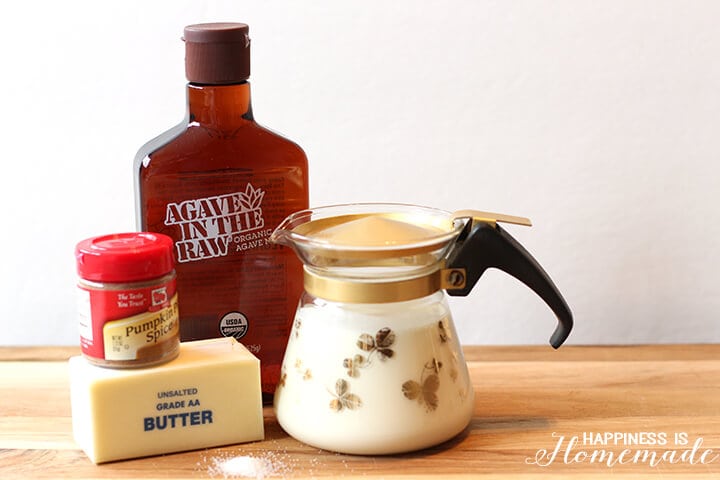 It only takes four ingredients to make these tasty caramels with no sugar added – Agave In The Raw, heavy cream, butter, and pumpkin pie spice. Agave In The Raw is the perfect sweetener for making caramels because it reacts the same way that sugar would in this recipe, turning a deeper amber color and developing a richness of flavor as it reaches the soft candy stage. Agave In The Raw has a much lower glycemic index than sugar though, so it's a LOT gentler on my sugar-sensitive system. I also added a small amount of salt to my caramels to help balance the sweetness, but I'll let you decide if you want to salt yours or not.
(Note: click here to locate Agave In The Raw in a store near you, and download a coupon, too!)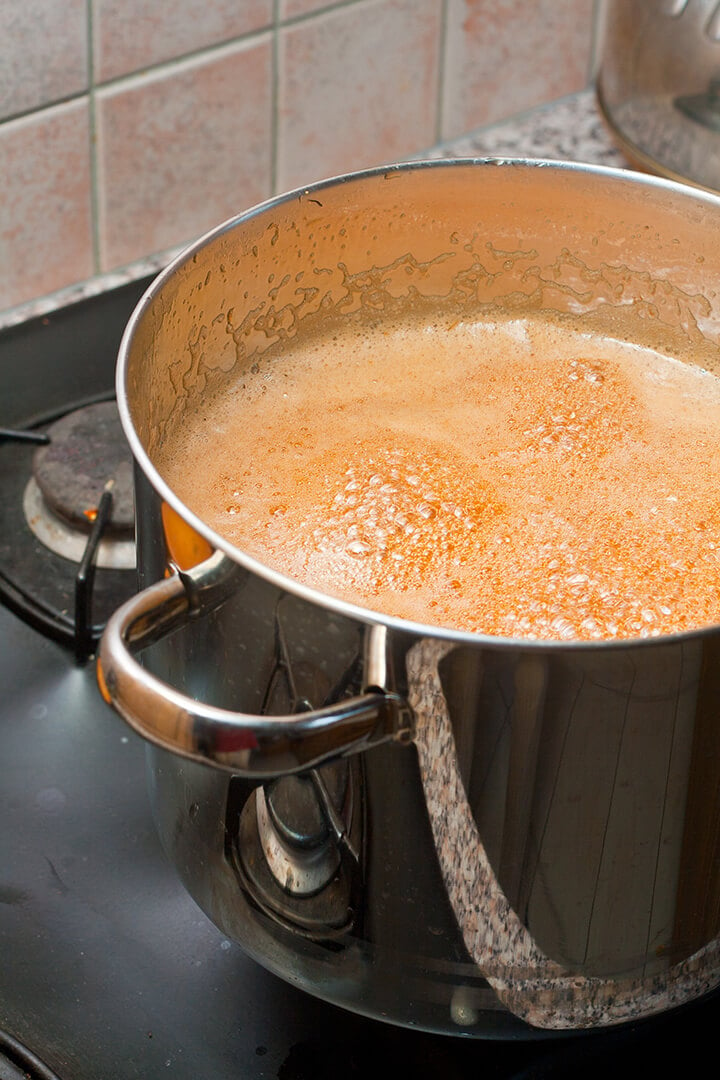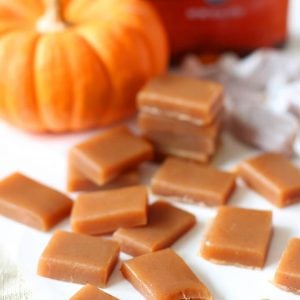 What You'll Need:
1

cup

Agave In The Raw

1/2

cup

Heavy Whipping Cream

1

tsp.

Salt

4

Tbsp.

Unsalted Butter

1

tsp.

Pumpkin Pie Spice
Instructions:
Line the inside of a 7x11 baking dish with parchment paper.

In a 2 quart saucepan or larger, heat the Agave In The Raw, cream and salt over medium-high heat, stirring frequently until mixture begins to boil.

Reduce heat to medium, and continue to boil (and stir!) until the mixture reaches 248 degrees F.

Remove from heat, and stir in the butter and pumpkin pie spice.

Carefully pour the caramel into the baking dish, and refrigerate until firm.

Slice into bite sized pieces and wrap in parchment or waxed paper. Stores best if refrigerated.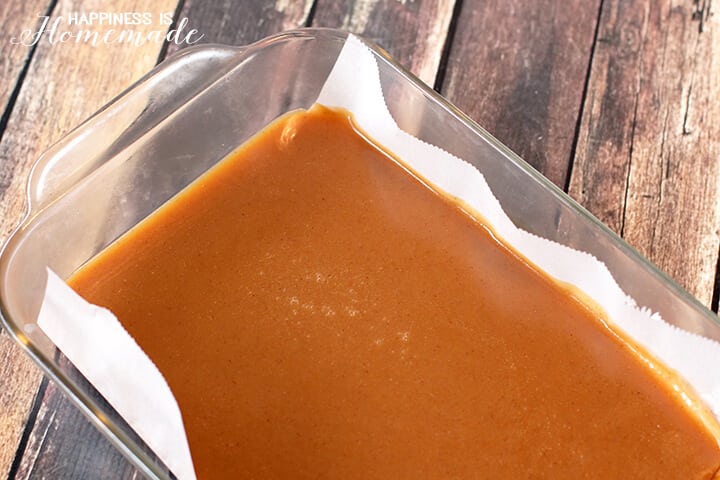 Allow the caramels to firm up in the refrigerator before removing them from the pan and cutting into squares. I used a pizza cutter to slice my caramels, and it worked great!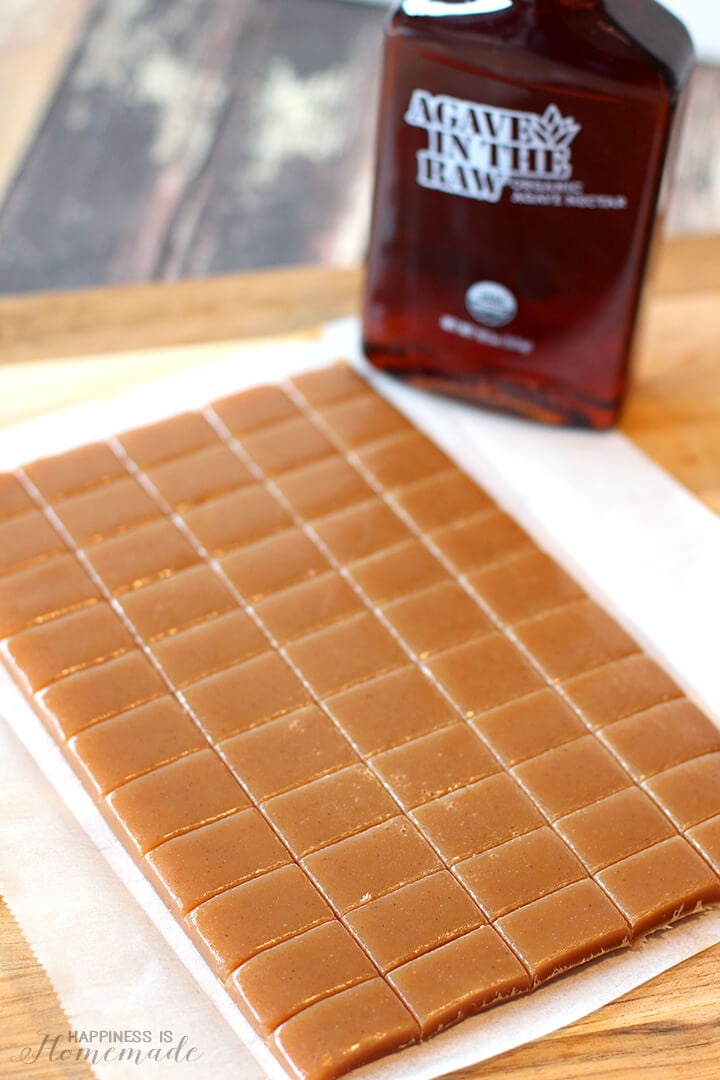 I cut my pumpkin spice caramels into medium-sized pieces, and this recipe yielded about 60 pieces of candy.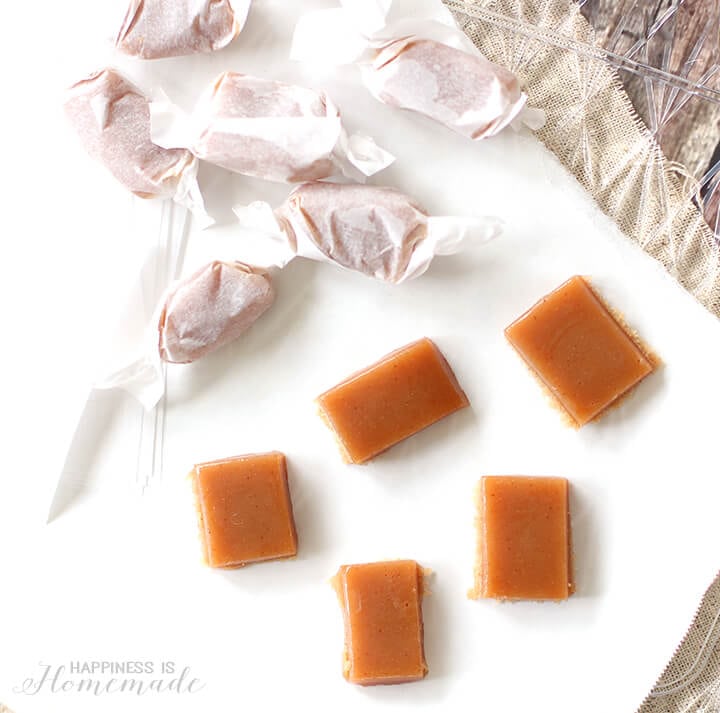 Wrap each of the caramels in a square of parchment or waxed paper and store in the refrigerator for best results.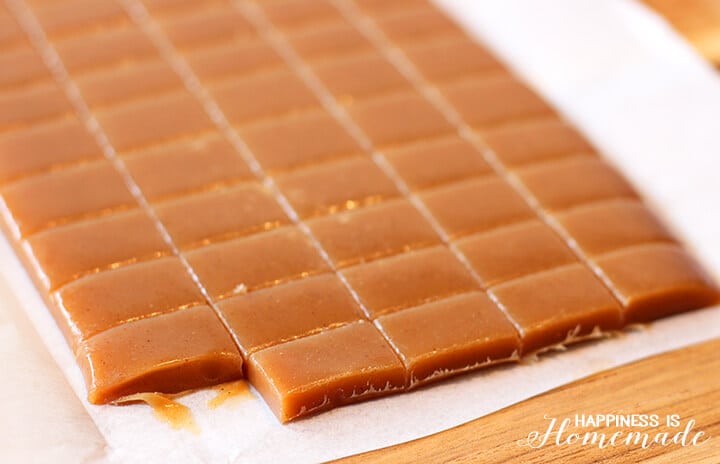 Yum! My husband said he would never have known that these weren't made with sugar if I hadn't told him!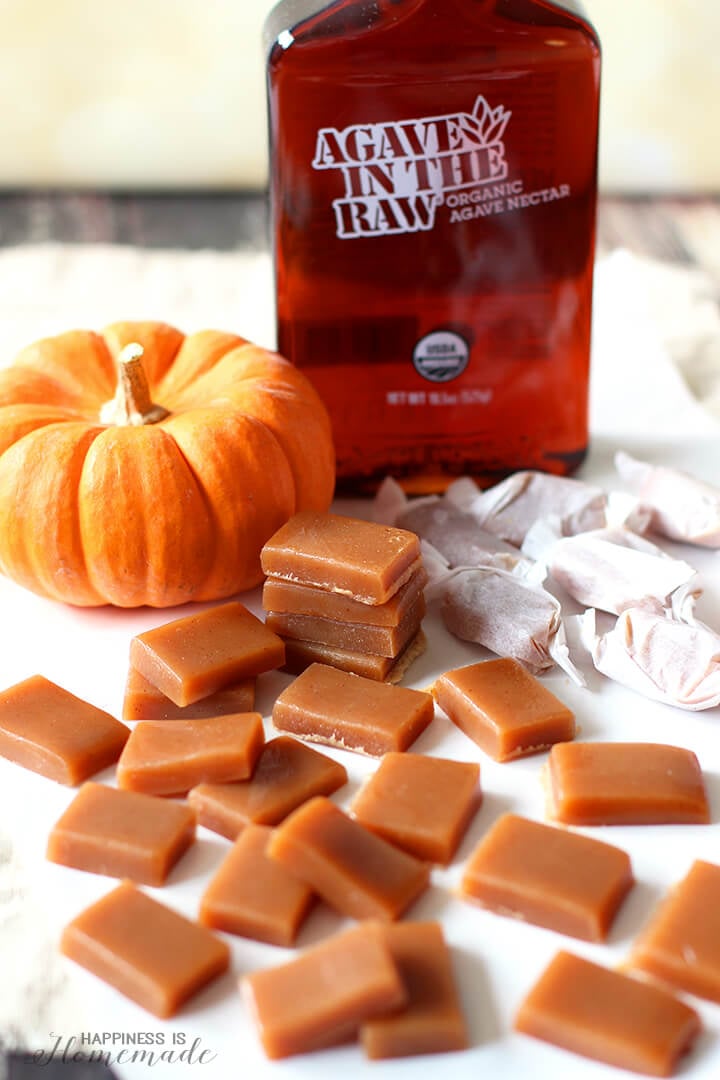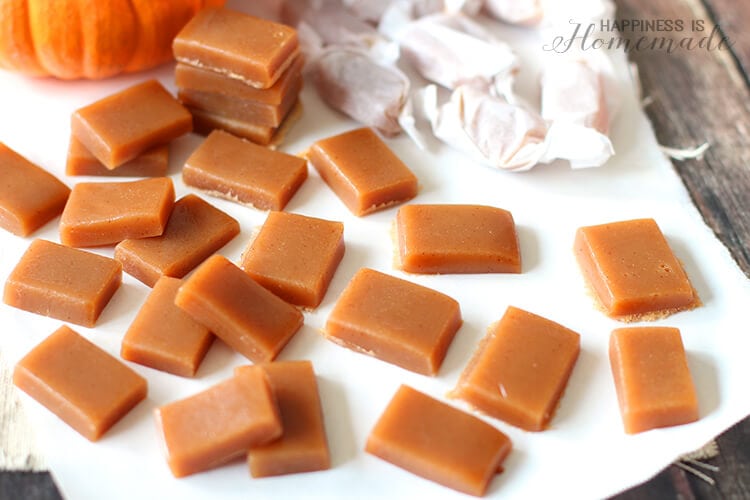 These caramels have just the right amount of pumpkin spice to kick up the flavor profile, and they're soft and smooth as silk. I'm pretty sure that this recipe would make an incredible pumpkin spice caramel sauce as well…just double the amount of butter to turn the mixture into a thick gooey sauce instead of candies! Now, if I could just perfect my pumpkin bar recipe, I would top them with this delicious sauce!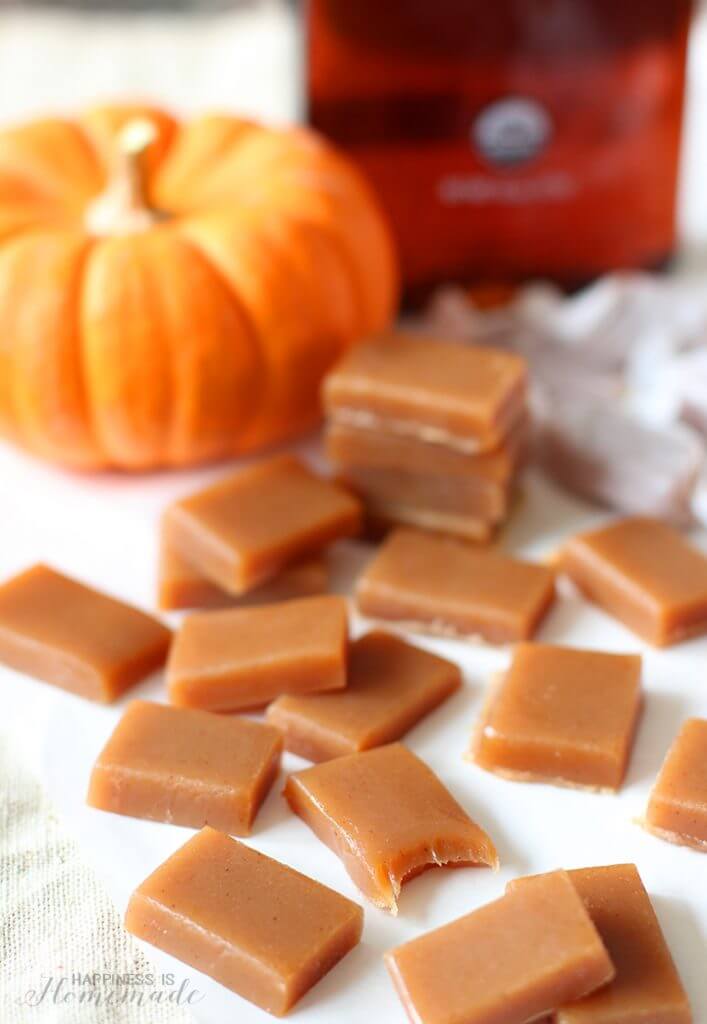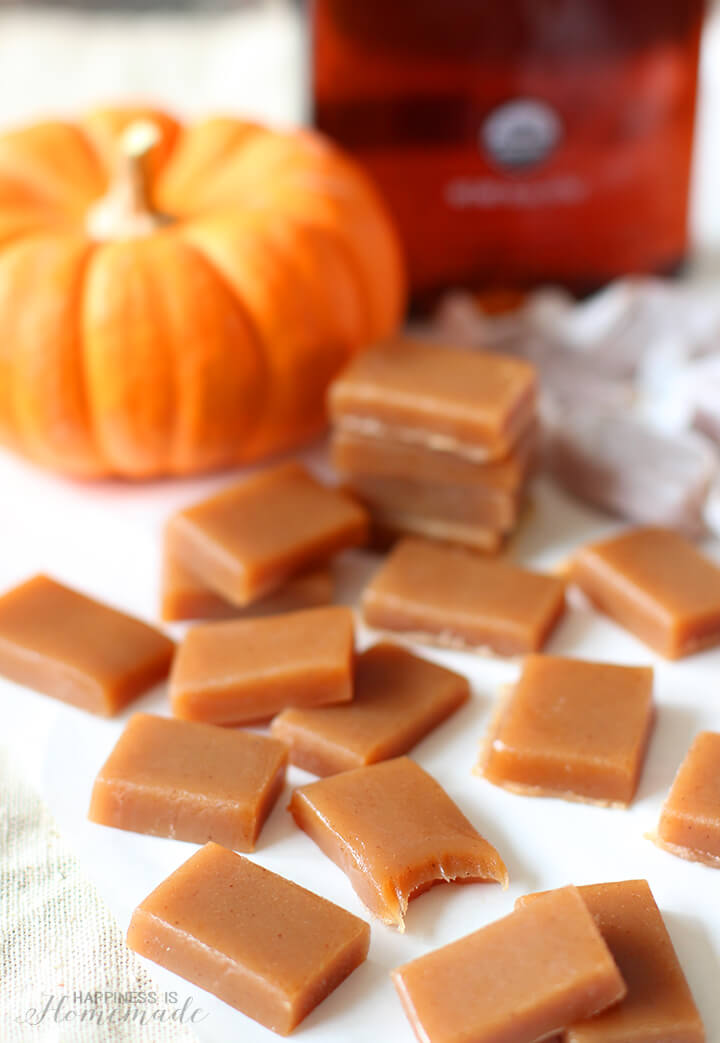 No one will notice if I just sneak a little bite out of each piece, right? I dare you to not eat them all at once!
To learn more about Agave In The Raw and discover more delicious recipes, visit the In The Raw website, and follow them on Facebook, Twitter, Pinterest and YouTube!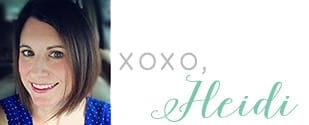 This is a sponsored conversation written by me on behalf of In The Raw via RhythmOne. The opinions and text are all mine.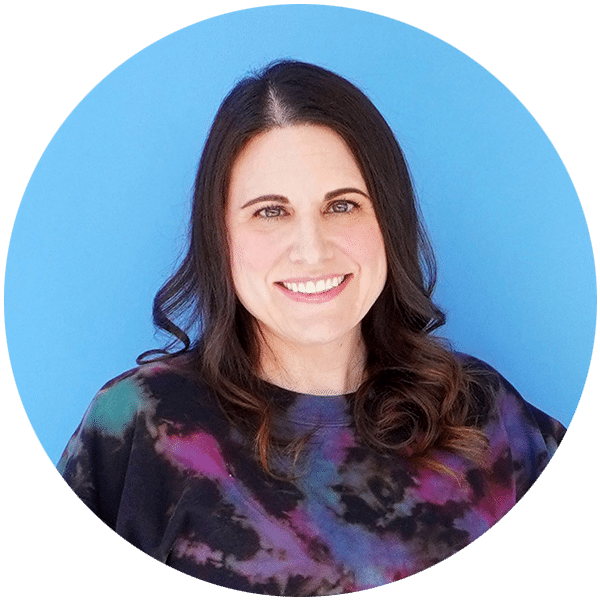 Heidi Kundin has captivated the hearts of millions with her colorful and inspiring approach to crafting, celebrations, and family fun. With over 15 years of experience, Heidi's website has become a must-visit destination for those seeking quick and easy creative ideas and last-minute solutions. Her warm personality shines through her posts, inviting readers to join her on a creative journey that's fun, rewarding, and achievable.