Lately Sawyer has been asking to tie dye another shirt (he's done two previously), but I've been really hesitant because of the time and mess committment involved. These days it seems like every time we're knee-deep in something super messy and complicated Simon decides to wake up from his nap after only 30 minutes. When I finally picked up some plain white t-shirts at Joann's earlier this week it suddenly occurred to me that I had seen "tie-dye" with Sharpie markers done once in a long-forgotten blog post from last Summer. A quick internet search of the topic led me to
Butterfly Jungle
where they had made Sharpie tie dyed fireworks shirts for the 4th of July. Sounds perfect!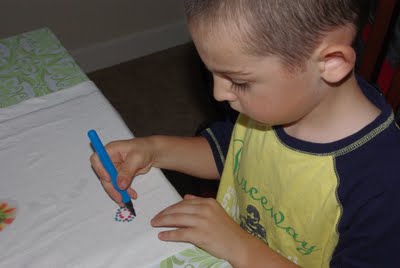 All you need are some permanent markers (we found that permanent markers from the Dollar Tree and Bic brand permanent markers worked a bit better than actual Sharpies), fabric/shirt and rubbing alcohol. We put a piece of cardboard inside of our shirts to prevent bleed through and then started by drawing a circular pattern of dots about the size of a quarter.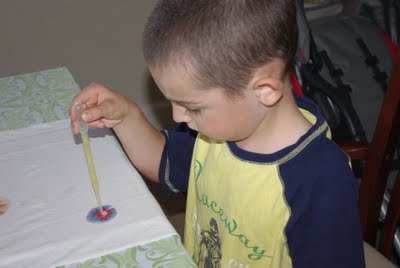 Using an eyedropper we dropped a bit of rubbing alcohol on to the center of our design and watched it spread out to create our "fireworks."
The design will spread a bit slowly at first, but will eventually fan out as far as the alcohol has spread.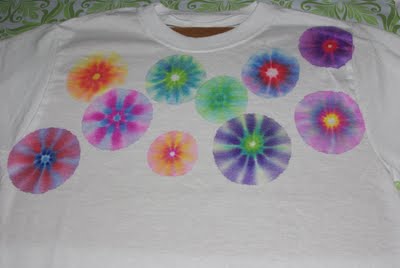 This one is mine 🙂 I'm going to do some alterations to make the cut a bit more feminine before I rock this bad boy at the fireworks display show. After the alcohol has dried completely, be sure to iron your shirt to heat set the marker.
Sawyer added some circular fireworks and then decided to add some "fire bombs and sparklers" and stuff to it too. The Sharpie brand red marker ended up bleeding out a little more pink than he was expecting, but he still thinks his shirt is super cool.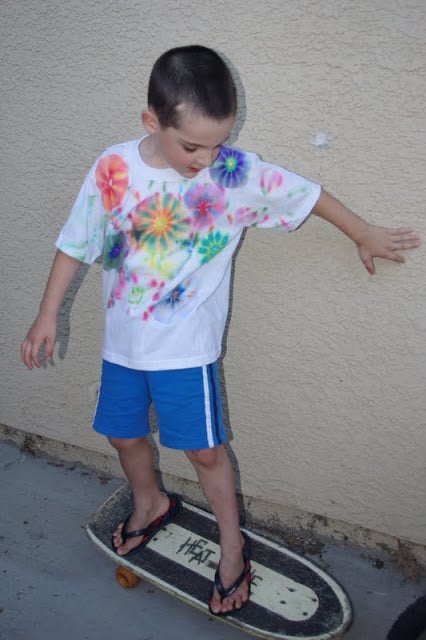 Showing off his new fireworks shirt…okay, okay so they could be mistaken for flowers too, possibly…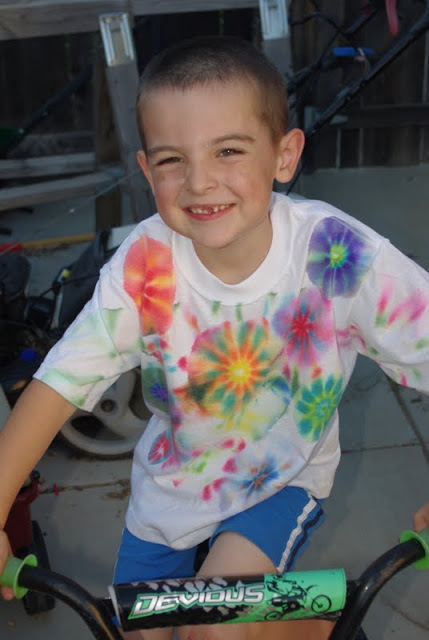 …just don't tell him that!
This activity was a ton of fun, and it required minimal mess, direction or intervention on my part. Now that we know how easy it was and how well it worked, we're going to pick up a few more white shirts and attempt a more traditional looking tie dye pattern next time!